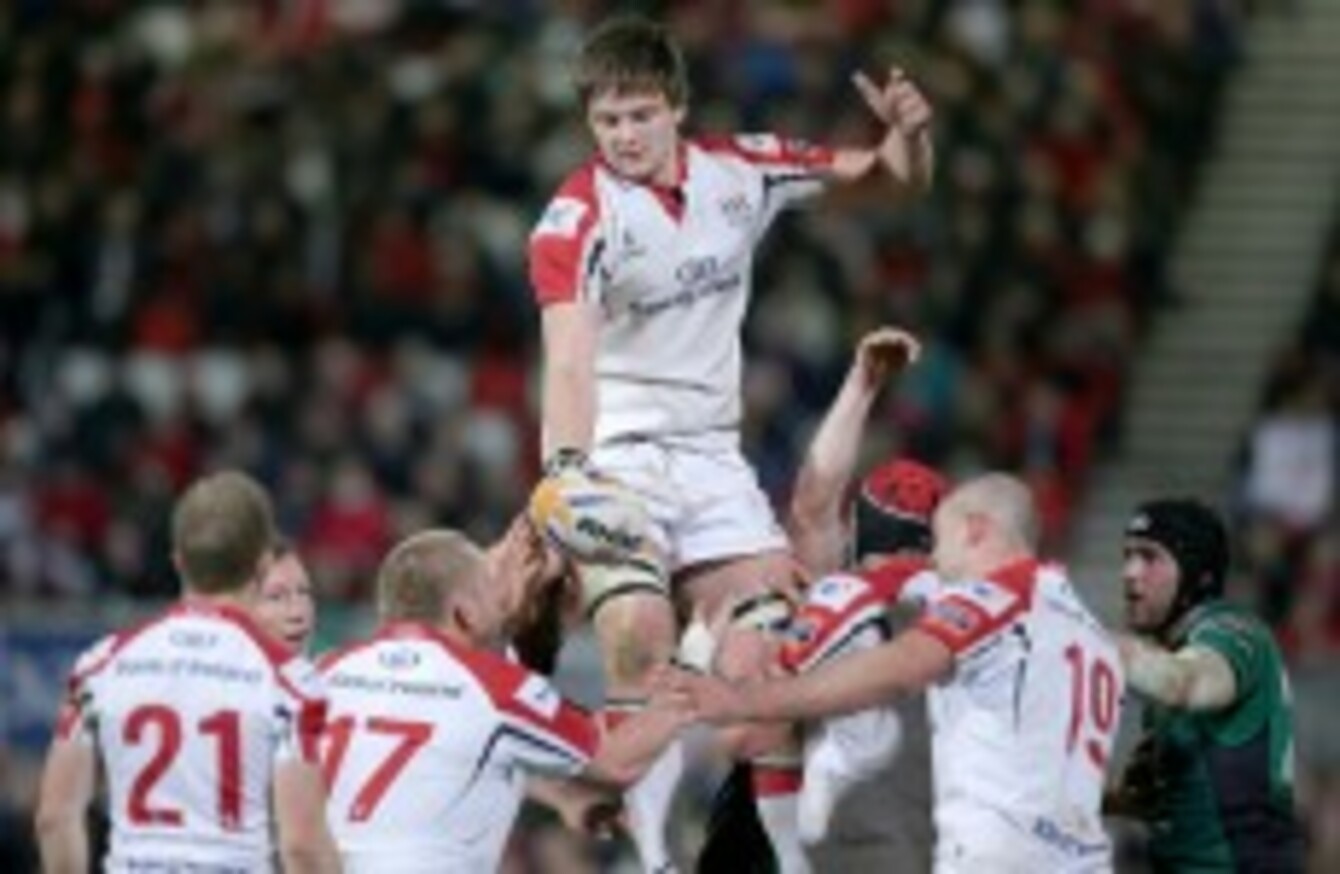 Henderson has learned vast amounts about the line-out from Muller.
Image: Morgan Treacy/INPHO
Henderson has learned vast amounts about the line-out from Muller.
Image: Morgan Treacy/INPHO
AS JOHANN MULLER faces into what he hopes will be the second last game of his professional career, Ulster teammate Iain Henderson has illustrated some of the qualities the South African has brought to the province.
The Irish international is still learning his trade at the age of 22, with Muller's input having proved invaluable in recent seasons.
"He's been absolutely massive for me," says Henderson. "For half the time he's been here, I was a fan watching him. You could see his leadership qualities just from watching him on the pitch, never mind playing with him.
Coming through to play with him, the amount he's taught me about being a leader and from a coaching aspect, taking coaching sessions, and even off the pitch he added so much to Ulster rugby over the last number of seasons.
"He's been absolutely sensational for me in terms of coaching me and teaching me the game more."
As Ulster's captain, there have always been heavy demands on Muller, whether that be in playing terms, due to media commitments, or through his work with the rugby community in Belfast and beyond.
Despite that demanding workload, Henderson explains that the 33-year-old has always made time to help his understudy learn the finer details of the game.
"If you don't have time in the squad training session, he will help you after training and come to talk to you about certain things. He's extremely good like that and always happy to take you aside, or show you some video and say, 'You could be doing this, instead of this.'
After training, he'll take you aside and say, 'In line-outs, it's better to do this' and then give you examples. He is brilliant in that way and he'll be sorely missed."
Putting those lessons into practice in games is the key to Henderson contributing as much as he can to Ulster's cause, with Saturday's RaboDirect Pro12 semi-final against Leinster the next chance to do so.
While the perception is that Leinster's handling skill levels have declined this season, there is little doubt as to the ongoing power of their forwards. Traveling to face that strength might appear a daunting task, but Henderson looks to Ulster's away record for comfort.
"It's what Leinster are all about; big scrum, big line-out, and they're a very efficient breakdown side. Having played against them a couple of weeks ago, we know what they're all about. We know that on our day, we can handle them, even if it is away.
"Going over to Montpellier, Castres, Leicester, even down to Leinster last season; turning big teams like that over away means we know we can do it. That's vital for us and I think whichever team dominates the physical battle this weekend will win the game."
Confidence in Ulster's camp was boosted by last weekend's win against Munster, when a largely second-string side delivered. Henderson was delighted to see former Ulster U20 teammates Andrew Warwick and Kyle McCall excelling, alongside other young players such as Stuart McCloskey and Rory Scholes.
Henderson points out that the performance in Thomond Park was no surprise to the more established members of the Ulster squad, who face similar onslaughts regularly away from match days.
"Everyone's always together, and even though training might get heated sometimes, it's always for the good of the cause. I think the coaches see that more than anyone, and they see that there are boys willing to put their hand up."