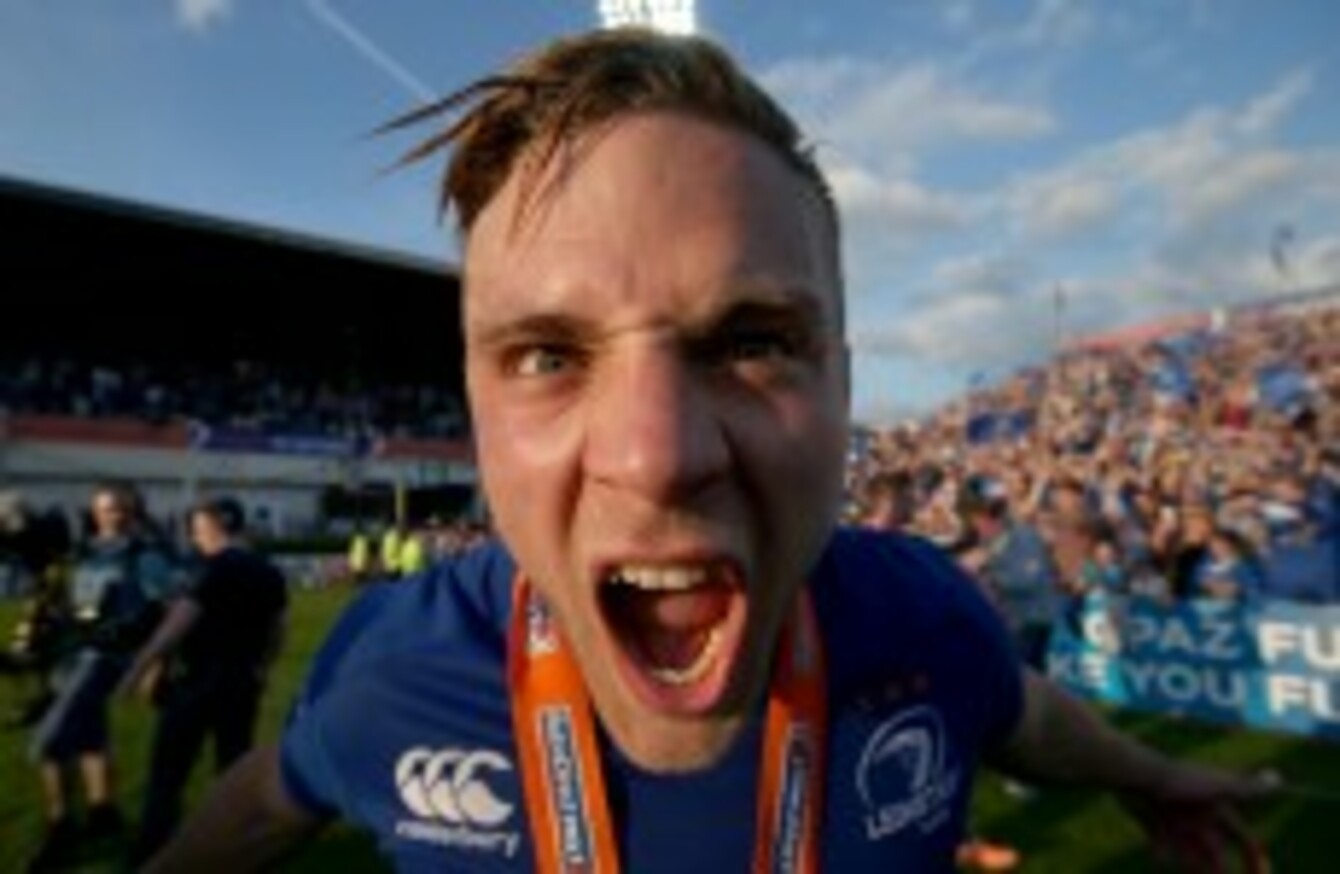 Ian Madigan celebrates Leinster's league win.
Image: Dan Sheridan/INPHO
Ian Madigan celebrates Leinster's league win.
Image: Dan Sheridan/INPHO
MUCH ATTENTION WILL be paid to whatever player Joe Schmidt names in Brian O'Driscoll's vacated 13 jersey to play Argentina, later in the week, but the inside centre call may offer a glimpse of an exciting future.
Schmidt opted to rest Gordon D'Arcy from the summer tour and it was expected that Ulster's Luke Marshall and Darren Cave would fight it out for the 12 jersey. Injury to Robbie Henshaw, however, saw Noel Reid called up. The Leinster man has played inside centre for most of the season so Cave now looks likely to be given two Tests to stake a claim at outside centre.
Ian Madigan is an outside bet to start in the Irish midfield having played there in Leinster's semi and final victories in the Pro12. Leinster coach Matt O'Connor said 'it was never in doubt' that the 24-year-old would make an impact after he replaced the injured O'Driscoll in Saturday's win over Glasgow.
"Ian is a class footballer and he's played a hell of a lot of rugby at 12," said O'Connor. "He was an extra set of hands there that created a lot of opportunities for us and asked a lot of questions of the Glasgow defence, which was integral in the result. There has never been a doubt about how good Ian Madigan is, as a footballer, from this side of the table." He added:
In his last two performances of the season, he's come on early and changed the game for us. That says to me that he is in a good frame of mind. The challenges that he's had is running the game and being the focal point [target] of the opposition. That takes time and he will develop the more and more he does that. I thought him and Jimmy [Gopperth] worked very well in tandem and it was very pleasing."
Asked if the 12 jersey was where Madigan may eventually end up, O'Connor responded, "Yeah, potentially. He is certainly great value to the squad. He kicks brilliant goals, he can play all across the backline and his game instincts are such that he can come on, fill in and do that job for us."
"Saying that," he added, "I wouldn't want him pigeon-holed as a super-sub or a replacement. He needs to continue to develop at the front end of a game and that is what we will look to do with him next year."
The Giteau standard
Former Leinster and Ireland forward Paul Wallace believes a Jonny Sexton/Madigan combination at 10/12 is worth a look in Argentina. "Where they play Madigan will be really interesting," he said. "Looking at the Heineken final and Matt Giteau, how he plays that 12 role, and someone who can develop in there.
"People say 'can Madigan play 10? He has lots of flair but is he  consistently good enough, does he make the right game management decisions?' But if you look from David Humphries, to Ronan O'Gara to Sexton… they all had two or three years of that. Ian Madigan is being stifled this year, he needed regular game time and he hasn't got it. He has shown that spark when he came on." Wallace added:
It would be interesting to see how he gets on at 12 because sometimes that is a good position to grow into to play number 10 as well. I think he has got a little something in creativity and if you play a straight-up, hard-running game against Argentina, they just love that. What you have got to do is find space and I think with an axis of Madigan coming in at 12 it could be very interesting, for one of the Test.
"I know you have Luke Marshall there as well and Cave can slip in there, but I would like to see Madigan get a run in that 12 channel. I think he would bounce very well off Sexton."
Ireland are set to name their team on Thursday and Madigan may find himself covering 10, 12, 13 and 15 on the bench. A decent run out in midfield, where he made his debut after replacing a concussed O'Driscoll in February 2013, may do him more long-term favours than 10 or 15 minute stints as Sexton's replacement.
– Additional reporting by Murray Kinsella