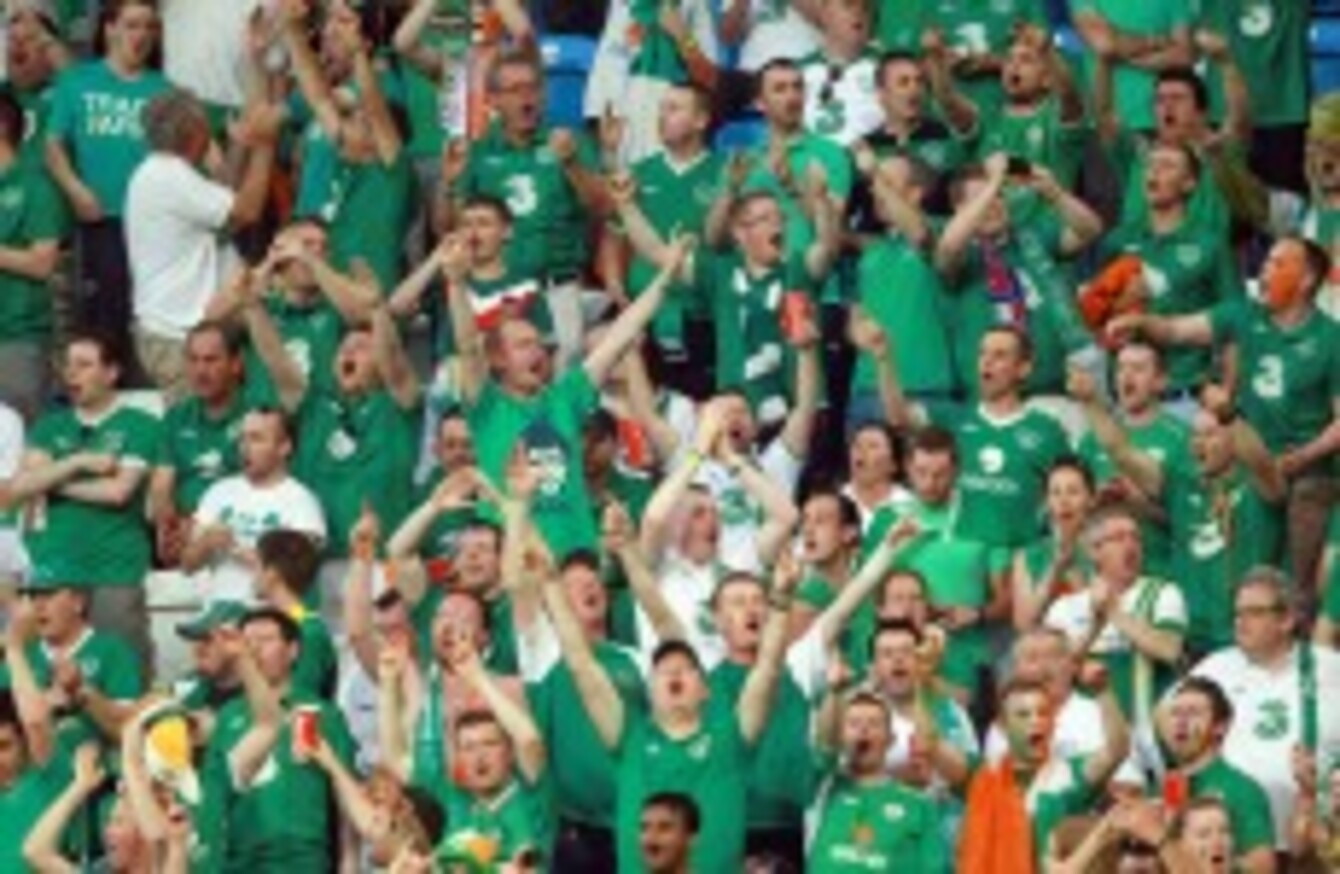 Irish fans have been praised for their vocal support abroad, particularly at the 2012 Euros.
Irish fans have been praised for their vocal support abroad, particularly at the 2012 Euros.
IRISH PEOPLE LIVING abroad have never felt more at home when it comes to watching sport.
Recognising the substantial population of Irish emigrants, places as far flung as the US, Australia and Canada invariably secure access to Irish TV, particularly during big sporting occasions.
Who could forget, for instance, the image of a tearful Oisín O'Donnell watching on in Israel as his brother played a starring role in last year's All-Ireland Senior Hurling final?
Fintan Ryan, a 26-year-old Irishman who has been living in London for the past four years, confirms that it is relatively easy to get access to Irish games in Britain, even when they're not being shown on Sky.
"Generally, you'd just go to a pub and most of the Irish pubs would go out of their way to show games," he tells TheScore.ie. "They'd use Irish satellites for Irish games — where there's a will, there's a way.
"There's loads of places around — in Clapham and in the Kilburn area. Around Fulham there's a few pubs as well.
"If you go down [to the pub], one screen might be showing the Premier League and another might be showing the GAA. They usually have loads of streams, so if you ask nicely, they'll show most sports."
The FAI is one organisation that has acknowledged the burgeoning Irish population in London of late, with a number of friendlies — including tonight's encounter with Italy — being arranged to take place at Craven Cottage in Fulham.
So whereas the attendance for last week's game with Turkey at the Aviva Stadium was relatively poor, tonight's match is likely to have a far more impressive atmosphere.
The FAI's decision to host matches in London is generally perceived as a smart move, and Ryan says he would be far more likely to attend a friendly in Britain rather than the Aviva (if he were living in Ireland), owing to the novelty factor.
"The last time Ireland played in Fulham, it was Oman — I went to that. We've travelled to see Leinster when they're over for Heineken Cup matches, and Munster games as well when they're playing in and around London, and we make a day out of it.
"I definitely would be going [tonight] if I hadn't already made plans. It wasn't advertised very well. It was only through mates at home telling me about it that I realised Ireland were playing. So it's a great thing to have and it's usually quite handy."
And while Irish sport is easily accessible in London, there is one thing he does miss — the inflammatory opinions provided by pundits such as Eamon Dunphy and George Hook compared with the more toned down brand of analysis that Sky and other British broadcasters tend to favour.
"Even if they do have an RTE stream in a bar, they wouldn't have the commentary on at half-time or afterwards," he says. "So that's a bit annoying."
While this evening's Ireland-Italy contest may not provide the usual excitement owing to the low-key nature of the game, for the big sporting occasions, certain pubs effectively turn into an Irish hangout of sorts.
"The Porterhouse or O'Neills in Leicester Square are usually really good spots to watch the game and they're absolutely jammed full of Irish people.
"I went to O'Neills in Leicester Square for my first Six Nations game over here. That was an excellent day. It was an Ireland-England game. It generally depends how well they do on the field that translates to how fun it is, but the atmosphere was great that day."
Do you have any memorable experiences from watching the Irish team abroad? Let us know in the comments section below.