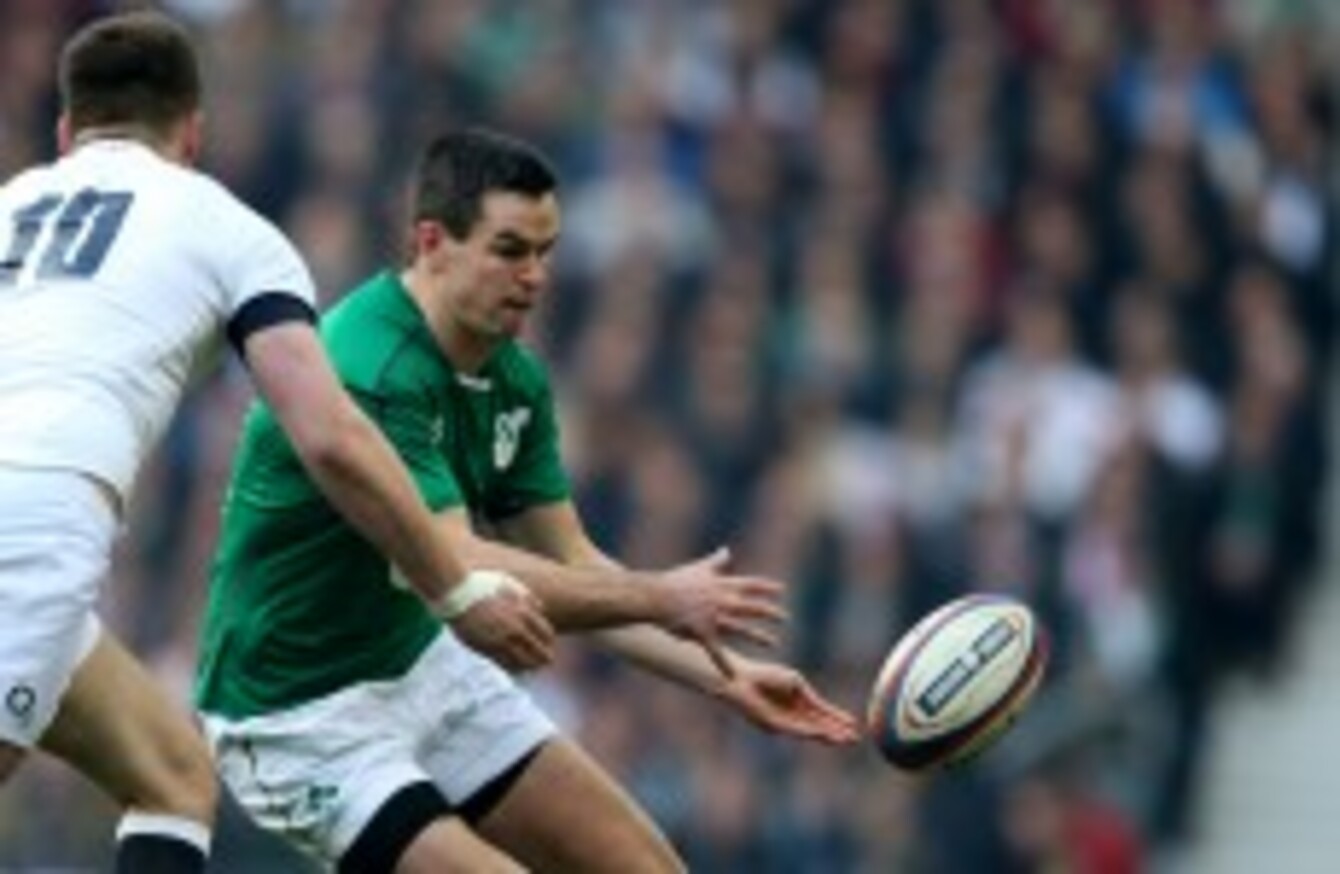 Jonny Sexton releases a pass against England on Saturday.
Image: ©INPHO/Billy Stickland
Jonny Sexton releases a pass against England on Saturday.
Image: ©INPHO/Billy Stickland
IRELAND HAVE MISSED the chance of a Grand Slam, but there is no need to overreact to the defeat in Twickenham.
There were certainly deficiencies in the Irish performance against England, as the players themselves would surely agree, but this drop in performance was nowhere near the troughs we have seen at times over the last three years.
Ireland did lots of superb work last Saturday in an international Test match of a rare high quality. Their scrum was utterly dominant, the scored a magnificent try, their defence functioned well [despite quite a few missed tackles], while their attitude and desire were never in question.
As in any defeat, there were a number of factors that went into denying Ireland victory. Joe Schmidt's apparent hesitance to use his half-backs off the bench and some poor kicking featured among them, but here we focus on Ireland's inability to convert attacking chances with ball-in-hand into more points on the scoreboard.
We have all been caught up in the significance of the kicking game at Twickenham, particularly after the role it played against Wales. While it was crucial again on Saturday, perhaps the main issue for Ireland in this game was their decision-making and the fact that it let them down.
Getting the ball into space effectively
When we looked at England's defence last week, we highlighted two areas where Ireland might be able to make gains. The space in behind Andy Farrell's front line didn't really materialise (we'll deal with that in more depth in a separate piece on Ireland's kicking), but the space out wide did.
There were numerous opportunities for Ireland to exploit England in the wide channels, but they simply couldn't get the job done in this game. Much of the credit for that goes to the excellent English defence, as they adapted to how Ireland attacked superbly.
We had spoken of the aggressive line speed England operate with defensively, and while that was present again in midfield, their backline was also intelligent in deciding when to ease off and shadow Ireland's attack across the pitch.
Stuart Lancaster's men displayed the ability to react and make decisions for themselves, whereas Ireland were a little less autonomous in their attacking play.
Decision-making lets Ireland down
Schmidt's men worked themselves into some excellent positions in attack throughout this game, even if they didn't spend as much time in England's defensive third of the pitch as they might have ideally liked.
Two of their best attacking opportunities came inside the opening 20 minutes, providing Ireland with the chance to get off to an ideal start. However, on Ireland's very first foray into the England 22, we got an early example of poor decision making.
Having gone through five phases of attacking play that really tested the gainline, Ireland were operating off good possession and worked the ball into the wide right channel. As you can see in the video above, there is no overlap, but Ireland are running at England and look threatening.
Rob Kearney's decision to grubber kick so close to the line is probably not the right call in this situation, particularly with Mike Brown covering in behind. Ireland lose possession of the ball in a really promising area of the pitch without truly testing the English defence.
Minutes later, Ireland superbly work a try-scoring chance with a pre-rehearsed first phase cross-field kick to Andrew Trimble, but again a split second decision means they don't take full advantage of the situation.
It might seem harsh to pick out in such circumstances, but had Trimble opted to pass before contact, rather than offload out of the tackle, Ireland would have had a strong chance of scoring a try through Kearney.
The pass inside to the fullback was no guarantee, with Jonny May occupying that space, but a firm flick of the wrists at the moment captured below may well have been enough to get the ball into Kearney's hands.
As you can see above, Trimble has the ball tucked into his right arm, meaning the pass is really not possible. It must be pointed out that it's very, very easy to highlight and question these little actions that happen so fast in real time when you're not actually on the pitch.
Part of the intention here is to underline the 'margins' between winning and losing a tight game like the one we witnessed on Saturday. It's not a certainty, but in the instance above a slightly different action may have resulted in an early Irish try and given the game a totally different complexion.
Again below, we see one of those split-second decisions for Ireland as they shift the ball with the intention of getting into a wide channel.
There's just a brief window in which Kearney could have passed to O'Driscoll, but the outside centre wanted the ball. You can see him open his hands in minor annoyance when Kearney opts not to pass, looking at the space outside Owen Farrell and that outside edge of England's defence.
Completion and execution of taking the wide space
One area where Ireland definitely struggled overall was exploiting that space they had pre-identified wide on the edge's of England's defensive line. It's somewhere Schmidt had clearly felt that Ireland could make big gains.
That much was evident in the way Ireland sent the ball to those wide channels with frequency. Unfortunately, their execution often let them down. In the cross-field kick above we get a wonderful example of Ireland finding that space efficiently, even if they can't finish out the passage with a score.
However, on many other occasions, Ireland were not as effective in taking advantage of the space. We're not talking about clean line-breaks every time they go wide, but rather creating situations where men like Trimble, Brian O'Driscoll and the Kearneys have a one-on-one and can get over the gainline.
Examples serve best to illustrate the point.
In the situation above, Ireland are attempting to get the ball to the left touchline by using the loop play that we have seen so much of from the national team and Leinster in the last few years.
Firstly, the execution of the actual mini-play is poor, but the issue we're looking at here is whether it's even necessary to use it. England are not in the strongest defensive position, with a lack of bodies on the right side of the ruck. This is by no means a try-scoring chance for Ireland, but it is a good opportunity to make ground up the left wing.
With Kearney lurking on the touchline and Trimble working hard to get out behind Gordon D'Arcy, the thought is that simple draw and pass from the first two men [Sexton and D'Arcy] might have better freed up Ireland's wings to make yards.
Instead, as we saw, Ireland put themselves under pressure to pull off the loop play and it doesn't work out. Again, it's worth stressing that it would be highly demanding to expect a clean line in these circumstances, but there is a chance to take advantage of that space on the outside edge if Ireland can execute.
We saw something similar in the second half as Ireland chased the game, and it was perhaps more frustrating on this occasion, as demonstrated by O'Driscoll's annoyance with himself afterwards.
Again, Ireland have worked hard to drag in defenders in the middle of the pitch and there is a favourable attacking situation. England would expect to defend what is essentially a four-on-three, or even a four-on-four depending on how hard Dylan Hartley works across, but equally, Ireland would expect a better return in this situation.
With England forced to back off and slide across in defence, there was a real chance for Ireland to run hard and square at the defence to draw in defenders before passing to that space out on the right wing.
It's easy to point this out in hindsight and with the benefit of time to pore over the match tape, but the issue is whether or not Ireland were too dependent on plays they had decided to use before the match even kicked off.
It's strange for a Joe Schmidt team to play in that way, as he generally backs his players to make decisions depending on the space they see on the pitch, then exploiting that space with excellently basic skills. While he has always looked to use pre-set patterns too, his main focus is on those basic core skills.
Getting the ball into that wide space is not easy
When a defence is working so hard to drift across the pitch in reaction to the attacking team spreading the ball wide, it is difficult to really leave one's wingers in space on the ball.
In the example above, England do really well to slide across, but again we can see that little pocket of space wide on the left. Having worked the ball into O'Driscoll's hands, there is a decision to be made, with Dave Kearney possibly calling for a grubber kick into the space.
O'Driscoll has actually carried out that particular kick quite well, and seemed very willing to do so, over the last year or so. Once again, we've got to highlight that these are split second decisions, performed under huge stress in a game when the collisions were huge.
The fact is that Ireland identified this space as attackable, but just couldn't convert that identification into gainline advantages. In the example above, O'Driscoll ends up passing to Kearney who carries the ball back inside and Joe Launchbury wins one of his superb turnovers.
In the video below, we see Ireland use one of their well carried out set-ups in phase play to get the ball into another decent positions in a wide channel, but again the outcome is a negative one.
Huge credit goes to England for the manner in which they worked so hard to cover across the pitch repeatedly throughout the game, as demonstrated in the video above, but again, we're looking for ways Ireland can improve their own performance.
The screen pass and loop play work well in midfield for Ireland, and they manage to create a favourable situation once again in a wide channel, as illustrated in the screen grab below.
While it is Mike Ross and Cian Healy lined up outside D'Arcy [on the ball] and Trimble, it's still a good chance for Ireland to make positive yardage up the right-hand side of the pitch. However, that same issue of not being able to fully stick the defenders before passing is a problem again.
Trimble gets the ball in a little bit of space, but Tom Wood manages to drift off D'Arcy and tackle the Ireland winger. Ideally, you would have liked Trimble to keep hold of the ball here, as Healy was never likely to make an more metres in such a tight space on the touchline.
Joe Schmidt's immediate reaction of apparent unhappiness highlighted the frustration he would have felt at Ireland's inability to create a more positive outcome in an attacking situation that had targeted that outside edge of England's attack yet again.
There was an example of Ireland converting that space into a clean line-break late in the game, as England's defence tired and they perhaps lacked a body on the right-hand side of the ruck.
The facets of Ireland's play in the passage below that stand out are the decoy runners and Ireland's centres really fixing defenders before passing. Launchbury does incredibly well to get back and ankle tap Kearney, but it's a really favourable outcome for Ireland on this particular attack.
The genius of Joe Schmidt
There were lots of positives in Ireland's attacking play too, and the Kiwi's touch was never more obvious than in the superb try Ireland scored just after half time.
From start to finish, the entire passage took 17 seconds over three lightning-quick phases, with every single player involved carrying out their roles accurately. Rory Best's throw was perfect, Healy and Paul O'Connell's lifting powerful, Devin Toner's jump and take followed by a well-weighted pop down to Conor Murray.
The scrum-half's pass is good, Heaslip's first carry solid, and then Ross and Henry's rucking is effective. Toner's carry around the corner really gets Ireland over the gainline, and then Jamie Heaslip's little staccato of footwork before passing is important.
The timing of the run from Rob Kearney is bang on the money, and literally everything goes according to plan for Ireland's players. O'Connell even gets away with his American Football-style blocking and pulling ahead of the ball on Launchbury.
We're obviously not fans of illegal play, but it is part and parcel of the game. You have to look to push the laws to the limit [within reason] in order to get an advantage for your team. O'Connell does that superbly in the examples above and below, and Launchbury will be disappointed that he allowed himself to get taken out of play.
We've seen almost identical examples of this set play from Leinster in the past under Schmidt's coaching, and it just shows the intelligence of the man. Obviously there is heavy involvement from the players and Ireland's analysis staff [the excellent Mervyn Murphy and Eoin Toolin], but this has Schmidt's fingerprints all over it.
The New Zealander analyses and understands the game at a strong level and little passages like the one above and below give reason to be really positive about Ireland's prospects under him. Picking out such a miniscule deficiencies in an opposition defence and then exploiting them over three rapid phases is hugely impressive.
But players must be autonomous
Alongside allowing the players to take advantage of the detail of his planning and pre-rehearsed plays, Schmidt must ensure that Ireland do not become over-reliant on what he has set out for them. Rugby is a simple game, yes, but so often things don't work out exactly how we expect them to.
This point ties in with the issues in the examples of the possible over-adherence to the loop play. On top of that, when Ireland were forced into multi-phase play in attack (i.e. anything over three or four phases), there were times when they looked as if they weren't quite sure of what to do.
The short passage in the video below gives us an example of exactly that.
While there is no audio on the video, it is clear from the images that some of Ireland's players are unsure of where to run to next, or even who the ball carrier is going to be. The sounds that were picked up on Craig Joubert's mic during the game back up those assertions.
Before Heaslip's carry, the No. 8 shouts, 'No one here,' indicating that he has little immediate support behind him. On the very next phase, Murray actually shouts 'Rossy' to indicate to Mike Ross that the pass is meant for him, but it comes after the ball leaves the scrum-half's hands.
Again, below we see Ireland a little unsure of how they are going to attack, and it's also worth noting that space on the outside edge. This time, Ireland don't have enough bodies to run one of their loop plays or screen passes, and they end up making no decision at all.
While not every single Ireland attack can be effective in creating chances or leading to penalties, the point is that Schmidt's men must be retain their own decision-making skills under pressure, that ability to play the game beyond three or four pre-planned phases.
Underpinning it all, England's excellence
Underpinning everything we have touched upon above was the fact that England defended superbly for much of the game. They hammered up aggressively off the line, as defence coach Andy Farrell likes them to do as often as possible, but they also made good decisions as to when to depart from that standard system.
As Ireland looked to attack that space on the outside edge, England's players generally made good decisions as to when to sit back a little more and slide across in defence to eventually cover that space. So whereas Ireland's players perhaps lacked a little bit of that ability to break away from what they had planned, England had the mental capacity to do so in defence.
As well as that, when they did rush up on Ireland's ball carriers, England made it count in a powerful way. They are a physically aggressive team, and that was demonstrated in the manner they won many collisions. It would be very unfair to say Ireland were physically dominated, but England did perhaps come out on top overall.
Winning those collisions so often in the middle of the pitch just meant that England had that extra edge in denying Ireland the space out wide. Had Schmidt's men been able to really get over the gainline in examples like the ones above and below, it would have made their task of getting the ball wide efficiently that much easier.
Work-ons
Every team has bad days in certain aspects of the game, and Ireland will be disappointed with lots of their decision-making, as well as their execution in turning that space in the wide channels into favourable attacking play.
As mentioned before, England's defence gets big credit for the manner in which they reacted to different scenarios, often without losing that line speed in the middle of the pitch. Still, Ireland really were not far off taking advantage of one or two of these situations and either scoring another try or forcing England into conceding penalties as they scrambled.
Moving forward to the Italy game, there are many positive for Ireland in an attacking sense, with more to come from Schmidt's reading on the opposition defence. Alongside that, he will look for improvement in his player's ability to react to the circumstances, get over the gainline in the middle of the pitch more frequently and be more decisive with their attacking skills.