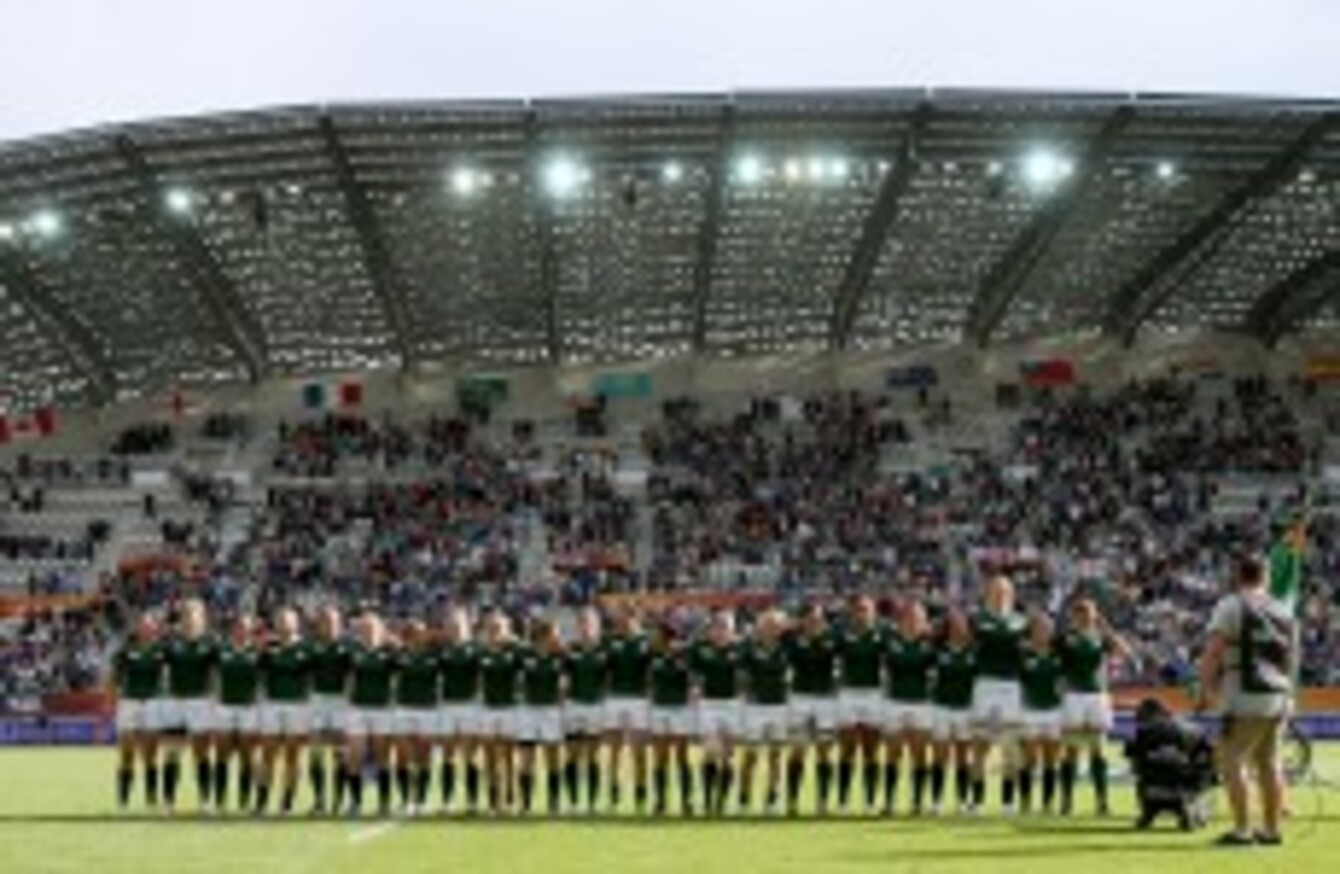 Ireland line out at the Stade Jean Bouin again this afternoon.
Ireland line out at the Stade Jean Bouin again this afternoon.
FOUR DAYS ON from Ireland Women's greatest disappointment of all – the 40-7 defeat to England in their World Cup semi-final – the players are refocused on their processes and determined to finish their campaign on a high this afternoon.
Host nation France, a powerful, heavy team, stand in the way of Ireland and a highly-creditable third place finish in the competition. Hooker Gillian Bourke admits the English match "went past us" and says she and her teammates never want a repeat feeling.
Against a French side including 95kg IRB World Player of the Year nominee Safi N'Diaye, there has been a clear and concise focus for Ireland in the build-up.
"It's going to be won and lost at the breakdown and collision areas, because we lost the collisions against England," says attack coach Greg McWilliams. "We had no set-piece control, and England just ramped it up a notch.
The collisions are going to be particularly key against France. They're big and strong, they have a good maul, good scrum. They play, at times, quite a tight game but they do it really well.
"If we can improve in the areas of collision that we let ourselves down in against England, I feel we're in a good position to compete much better."
Bourke agrees that chopping down the French ball carriers effectively is the most vital aspect of this afternoon's encounter from an Irish point of view. Improving their performance in the always-crucial 'championship minutes' is also essential.
Against England, Ireland were just 8-7 down with 34 minutes on the clock and a penalty kick to touch to come. Seven minutes later, they headed into halftime 18-7 down and with momentum utterly swept in England's favour.
"It was the quietest dressing room I've ever been in,"says Bourke. "One where you don't know what to say to each other because you're trying to figure out how to turn it around."
Mentally, one might be concerned about Ireland's position heading into this final fixture, but there is little doubt the squad have reason to be motivated. There is a point to be proven, a wrong to be put right.
"The defeat to England was magnified by the public attention," explains McWilliams. "You had people watching for the first time and to under-perform, for the girls has been tough. But that's sport, it's cruel.
If they can go out and showcase what they can do [against France], attack with real patience and really good execution, speed and variety, I'll be sitting back as the happiest man in the world."
Bourke admits that the players have not had the easiest of times in the last few days, with the sense of having missed their chance gnawing away.
"You feel like you've let everyone down, all the supporters coming from home, you feel like everyone's been too nice about it. We should have had people telling us how shit we were. That's the bottom line.
"We don't want to finish on that. One bad match doesn't make you a bad team, but we're definitely not finishing on that. It won't sit well, we have to go out there and beat them."
Ireland v France kicks-off at 3.30pm Irish time and will be screened live on TG4.
Ireland: N Briggs; A Baxter, G Davitt, J Murphy, A Miller; N Stapleton, T Rosser; F Coghlan (capt.), G Bourke; S Spence, M-L Reilly; S Fleming, C Molloy, P Fitzpatrick.

Replacements: S Lynch, KA Craddock, H O'Brien, L Guest, L Muldoon, J Shiels, H Casey.