Liveblog
Welcome along to a bumper day of Six Nations action, kicking off in Rome with Ireland looking to finish on a high.
As always, we'd love to hear your thoughts on the match. E-mail patrick@thescore.ie, tweet @thescore_ie, post a message to our Facebook wall, or leave a comment below.
You may need to refresh the page for YouTube videos and other elements to display correctly.
Italy 22-15 Ireland
Good news – it is not bucketing down in the Eternal City.
We'll kick off with the two teams.
Ireland: (15-9) Kearney; Gilroy, O'Driscoll, L Marshall, Earls; Jackson, Murray; (1-8) Healy, Best, Ross; McCarthy, Ryan; O'Mahony, O'Brien, Heaslip (c).

Replacements: Kilcoyne, Cronin, Archer, Toner, Henderson, P Marshall, Madigan, Fitzgerald.
Italy (15-1): Andrea Masi; Giovanbattista Venditti, Gonzalo Canale, Gonzalo Garcia, Luke McLean; Luciano Orquera, Edoardo Gori; Sergio Parisse (capt), Simone Favaro, Alessandro Zanni; Joshua Furno, Quintin Geldenhuys; Leonardo Cittadini, Leonardo Ghiraldini, Andrea Lo Cicero

Replacements: Davide Giazzon, Michele Rizzo, Alberto De Marchi, Antonio Pavanello, Francesco Minto, Paul Derbyshire, Tobias Botes, Tommaso Benvenuti.
Here's how Ireland downed Italy at the Aviva Stadium last year:

YouTube credit: Sundance540
RTE put together a spiffy video to pay some much deserved kudos to Brian O'Driscoll. You can check it out here.
How are we feeling out there? Get your predictions in now:

Poll Results:
Donncha O'Callaghan is out warming up on the pitch. No word of any late changes yet but, given the turbulent nature of this Six Nations campaign, nothing would surprise me.
We'll keep you posted.
Fullback Rob Kearney was frank and honest in his assessment of Ireland's current standing in the world game and his own form this season. Today's game is just his ninth start of the season:
My message to the team would be 'win'. There's a big difference between finishing third and finishing sixth. That's a big jump there. There are a lot of guys in the team who haven't really experienced what winning for their country feels like."
Just 15 minutes to go until kick-off.
Here is what Craig Gilroy had to say to IRFU TV this week. The winger could yet make it onto the Lions-filled plane to Australia this summer:

Looking at the Ireland starting XV that beat Italy 42-10 last year in Dublin – only eight players will line-out for Declan Kidney's men from the first whistle today. The backline only has Rob Kearney and Keith Earls, who started at 13. That game, on 25 February last year, was Earls' last try-scoring contribution for his country.
Dodgy camerawork there from the Italians as they skip O'Driscoll during a laborious Ireland's Call. The band dragged that out and Donal Lenihan describes it as a 'death march'.
Great noise from the home crowd and Lo Cicero, in his final game, is just about keeping his emotions in check.
Ryan is fit to start – as fit to start as a man with a consistently banged up shoulder can be. The weather is close to glorious with just the one sprawling cloud in the sky but shifting out of view.
KICK-OFF
Early penalty conceded by Italy but it is inside the Irish 22. Murray box-kicks but Parisse wins the aerial duel with Earls. Lo Cicero, still pumped, clears Ross out after the whistle goes and after Wayne Barnes gave a penalty. Kicked up the line – lineout for Ireland on the Italy 22.
Best overshoots his throw. Poor start by the hooker.
PEN: (Jackson '5) Italy 0-3 Ireland
Nice linebreak from O'Brien after good work from Ryan. Italy penalised for holding on at the breakdown. Easy kick coming up for Jackson – 25 metres out, just to the left of the posts. He slots it over.
Ryan is heaving himself around the pitch like a demon. Parisse claimed a high ball but Healy stole it from him.
Lineout number two coming up Best just about finds O'Brien at the front. Murray snipes forward before Italy slow the advance just inside their half. Murray then pins Italy inside their 22 with a fine kick in behind.
4-man lineout works well for the home side.The kicked clearance goes nowhere but Best's lineout throw misses Ryan. Ireland then concede a penalty at the breakdown. Parisse stole that. Squandered attacking platforms are spoiling an otherwise positive start.
PEN: (Orquera '13) Italy 3-3 Ireland
Lineout maul batters Ireland backwards. Parisse nearly rumbles over. Penalty conceded by a desperate Irish defence. Orquera to kick – he lands a short-ranger.
This is a disaster. The third lineout, from four, is lost as Best's throw is not straight but in the blue direction. Goos turnover at the breakdown to avert disaster. Italy regain possession but Ireland hold firm on halfway.
Garcia tried to get himself in a crash ball position but knocks forward. Barnes says the advantage has expired so the ball is thumped downfield. Italy charge back and Ross concedes a penalty for handling the ball while off his feet.
Orquera's penakty strikes the post. 20 minutes gone and Italy are stamping their authority on this game. Orquera will have another pop at goal as Jamie Heaslip gets scolded by ref Barnes. He will 'escalate' if Ireland continue to infringe.
PEN: (Orquera '22) Italy 6-3 Ireland
Starts wide of the posts but shapes back in.
Marshall tries a chip through in the crowded midfield but it is blocked. Gilroy then impedes Kearney in mid-air. Italy pounce and steam forward before a knock-on outside the Irish 22 saves them. Zanni and Parisse are everywhere in the opening 25 minutes.
Keith Earls breaks down the left, has O'Driscoll on his shoulder but opts out of a pass. We've been here before. Looks like game over for the Munster winger as he falls awkwardly following a hefty tackle from Canale. Luke Fitzgerald is on.
This is getting ridiculous. Looks like Luke Marshall's afternoon is over. He is getting treatment on the pitch. Mike Ross was looking iffy a few minutes ago.
Ian Madigan is coming on and will have to fill in at centre as Earls is the back-up at centre. Clash of heads between Jackson and Marshall did for him.
Jackson then goes right and wide with a penalty effort from 40 metres out and slightly to the left. Ireland needed that to go over.
YELLOW CARD: It's Brian O'Driscoll. Good grief! The touch judge calls him up for a stamp in the ruck. That was a penalty reversal too as Favaro was not rolling away. Indiscipline from the Leinster centre.
Super defence from Gilroy on flanker Favaro! That saves a certain try.
Fitzgerald is now in trouble and limping!
Paddy Jackson throws his slender, brave frame at an Italian prop to prevent a four on one overlap and perhaps a try. This is heart-stopping stuff as Fitzgerald tries to run off his jarred knee. Paul Marshall is the only backline player left on the bench.
Best finds O'Mahony in the lineout. Miracle-workers!

PEN: (Garcia '35) Italy 9-3 Ireland
Penalty conceded at the scrum as Iain Henderson is going to come on for Fitzgerald. O'Mahony will have to drop into the backline. What is going on?
If Ireland can get to the break just 9-3 down they can try and regroup in the dressing room. Gilroy bursts up from his defensive line. O'Mahony the next green shirt to hit the deck as Lo Cocero breaks forward. 38 minutes gone.
O'Driscoll is back on the pitch. It could easily have been 6-6 before he lost the rag and stamped into the ruck. Good work from Best and Ross to hold up an Italian maul and win the scrum put-in.
Healy tries to burst forward and Italy don't release, Jackson will get the penalty kick to end the half.
PEN: (Jackson '40) Italy 9-6 Ireland
Catcalls and whistles from the home support but Jackson nails his kick and the flags go up.
HALF-TIME
Here is the injury count: Earls [dislocated shoulder], Fitzgerald [knee], Marshall [concussion]. O'Mahony is touch and go but made it to the break.
How are we still in touch? If Italy had a touch of composure and more class in the backline they would be miles clear.
SECOND HALF KICK-OFF
Here is that O'Driscoll stamp. What do you make of it?

YouTube credit: RBS6Nations
Pitiful kicking session back and forth – with four terrible Irish efforts – goes against the visitors as Kearney spills over the touchline. Italy get the lineout, win it and go through the phases. Masi and Canale cross-over and get penalised. Saved again.
Orquera chips into the corner, forcing Gilroy to wheel and take the ball back over the tryline. 5m scrum to Italy.
Henderson shuts Parisse down as he tries to go blindside. Desperate defence again. O'Mahony, we remind you, is playing on the wing. Gilroy takes Masi down low and stops another great scoring chance. Italy camped on the line. TMO!
TRY: (Giovanbattista Venditti '48) Italy 14-6 Ireland
The try is awarded as the winger burrows under a mass of bodies.
CON: (Orquera '49) Italy 16-6 Ireland
The outhalf lands a beauty. Ireland claim the restart.
There are enough big-match winners left on the pitch to battle back into this. O'Brien, Kearney and O'Driscoll doing well.
YELLOW CARD: Sergio Parisse is off to the bin for a deliberate trip on a charging Madigan. Jackson will have a penalty attempt. Chink of light?
PEN: (Jackson '52) Italy 16-9 Ireland
Nice connection from Jackson. Favaro then knocks on the scupper another dangerous break. Irish scrum.
PEN: (Jackson '57) Italy 16-12 Ireland
Canale is pinged for some illegality at the breakdown after Furno got caught in possession. Jackson with an important kick. Gets it. Fantastic effort from the young man. Ireland's first score after the 57th minute in the Six Nations this year. Italy refresh their forwards with subs.
Lineout not straight. Italy are trying their best to botch this. Early contact at the scrum gives Ireland a free kick. Heaslip ignites an attack and Madigan gains some yards up the centre. Into the last quarter.
Madigan with a beauty of a scooped, cut-out pass that finds McCarthy out wide and right. Good pressure from the visitors. Gilroy almost gets through then O'Driscoll wriggles closer still…
PEN: (Jackson '63) Italy 16-15 Ireland
Madigan again with a dart full of gusto before O'Mahony batters forward. The Italians give away a penalty for offside. Easy kick so they may take the three points on offer. He gets it from 20 metres out. Momentum switching.
Minor niggle in the middle of all that – what was Healy doing trying to play off the back of the ruck with just one hand on the ball? Could easily have been dislodged from his paw. Lo Cicero is off. Ciao!
Toner is on for McCarthy as Parisse rejoins his 14 teammates. What was I saying about momentum?
Scrumhalf Gori cartwheels head first into the turf as he takes the ball in the air. Crowd baying for a Toner or Gilroy yellow card but Barnes says accident and awards a scrum to Italy. Healy then whistled at contact. He stays on the pitch. Archer, meanwhile, ready to go on for Ross.
Thankfully for Ireland, Garcia's penalty attempt drops short. 13 minutes to go. O'Driscoll knocks on and fumbles over the line but somehow the lineout goes to Ireland. Best wastes it! Italy have the ball. Another penalty on its way to the home side as the Irish collapse a maul.
YELLOW CARD – Ryan goes to the sideline for a late and dangerous tackle. That could be that. Big kick coming up for Orquera. He lands it from 40 yards.
PEN: (Orquera '69) Italy 19-15 Ireland
Ireland will need a try to snatch an unlikely win.
Kilcoyne and Cronin on for the last heave but it is Italy that press. Big scrum coming up in the Irish 22. Cannot concede a penalty. Six minutes to play. Ireland win it but Murray's kick only gets play to the halfway line.
Ireland have not lost to Italy since 1997.
Knock-on in midfield gives Ireland another scrum. Three minutes left. Ireland will need a linebreak to get into the Italian half.
Cronin with a good break after more smart handling and passing from Madigan. Parisse closes down Murray and Jackso sweeps in as makeshift scrumhalf. Ireland on halfway.
YELLOW CARD: For the second time in this Six Nations, Conor Murray walks to the bin.
Paul Marshall, not trusted by Kidney one iota, comes on for his debut as Ryan is not replaced from the sin-bin. Orquera kicks up the line after Madigan was snaffled up by McLean as he tried to play scrumhalf.
Italy win the penalty and the game will be over whether he gets it or not.
Give me strength!
PEN: (Orquera '80) Italy 22-15 Ireland
He slots it over and the celebrations can start in Rome. Congratulations to Ireland but what utter bile. Injuries did not help but Ireland were disjointed throughout and the lineout was a disaster zone.
FULL-TIME
Brian O'Driscoll can surely not leave the international stage after that? It would certainly be a Zidane-moment if that, indeed, is the case.
Declan Kidney, on his contract at least, has upcoming games against the US Eagles and Canada in the summer. Those two sides will be looking forward to wins that may not be called a shock any more.
This is depressing stuff. I hope Wales can cheer me up later. I wonder if there will be 'bitching or moaning' about injuries later.
Here is the current table: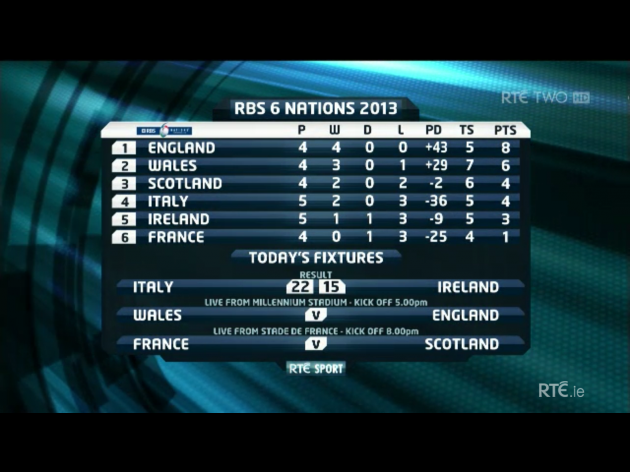 (Credit: RTE)
Ireland will get the wooden spoon if France can beat Scotland by more than 17 points later on.
I'll leave you with this question: On the back of those five games, what Irish players would you pick for the Lions tour?
Contribute to this story: