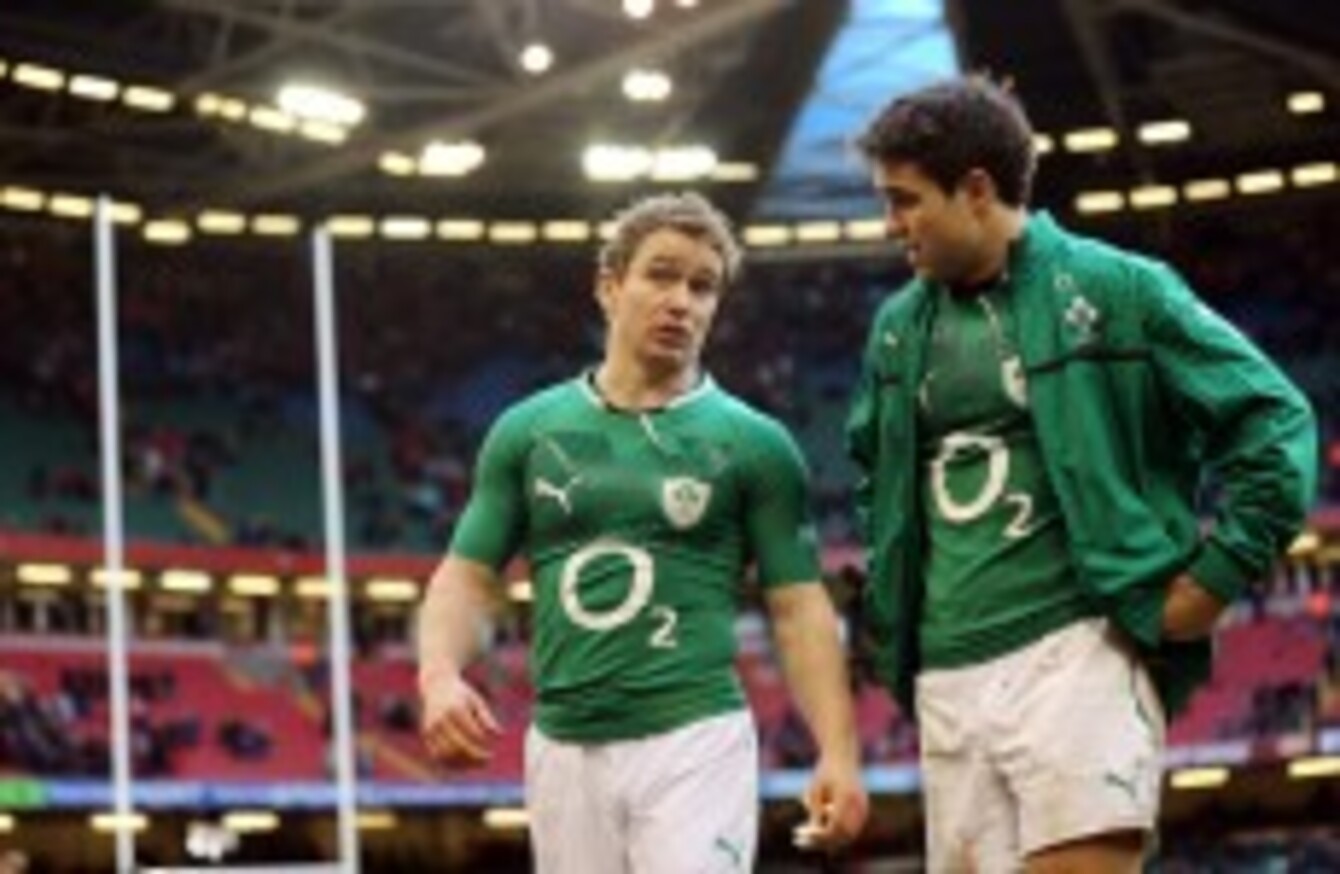 Eoin Reddan and Conor Murray reflect on February's win over Wales.
Image: INPHO/James Crombie
Eoin Reddan and Conor Murray reflect on February's win over Wales.
Image: INPHO/James Crombie
EOIN REDDAN'S LAST act as an Irish player was to wrench his knee on the questionable Lansdowne Road surface and miss out on a hectic finalé against the French.
Seven months on and the scrumhalf finds himself behind Isaac Boss in Leinster's Heineken Cup pecking order. While Reddan was recuperating from a broken leg, Conor Murray, his other rival for the Ireland No.9 jersey, was excelling for the Lions in Australia.
The imminent arrival of Australia and New Zealand to Irish shores means Murray may be held back from Saturday's match with Samoa. Tomorrow, Reddan and his teammates should find out their spots, or not, in the matchday 23. Rugby supporters will discover the team on Thursday but would not be surprised to see the former Wasps scrumhalf in the mix.
Reddan has enjoyed being reunited with Joe Schmidt in Ireland camp and confessed the Kiwi's high-intensity sessions often leave him physically, and mentally, stretched.  He said, "You finish a session feeling like you've done a lot of work, and that includes mentally as well. Joe is very good at teaching people as well as his having high expectations. It is an important skill to be able to get across what you're trying to teach.
"It doesn't guarantee us anything in terms of a result but I think we've put ourselves in a good position to progress. We know what we're up against this week."
Joe Schmidt has a chuckle as Eoin Reddan spins a training ground pass. INPHO/Dan Sheridan
Reddan feels Schmidt, a month into his tenure as Ireland coach, is coping well. He remarked, "While it is important that we're doing well, Joe has always carped on about performance. He'll have things he'll want us to do over the next few weeks; that he'll know we won't get away without doing. We'll be building, regardless of results, to the future. He always has a long-term plan so there will be a massive emphasis on performance and improving. He knows, in the long run, that if we can make those improvements we'll be a tough team to beat."
Reddan is eager to get the point across to the public, via the media, that Samoa will be equally tough to beat. He said, "Samoa are ranked seventh in the world and have had massive victories last year, against Italy, Scotland and Wales.
It's a tough one because, inside the squad, we know what to expect. Outside, most people won't so expectations are going to be high. There's a bit of a gap between what to expect and what's a reality."
Samoa's 26 — 19 win over Wales, last November, must be playing on-loop at Ireland's meeting room this week as Reddan is an expert on the game. He commented, "Samoa scored after 1:58 against Wales last year so there was no doubt about what they had come to do. From the kick-off, they turned the ball over and it was all-out attack for two minutes until they scored in the corner. That's what we'll be up against this week. They are going to come out hard and fast and well have to do the same."
"Samoa is going to shape a lot of what goes on," he added. "This is the biggest game because it's the first one. There's that level of expectation there; within the squad as well. The only difference is, we know we're up against a tougher team than you guys think. That's just the reality we have to deal with."
Like rugby? Follow TheScore.ie's dedicated Twitter account @rugby_ie >