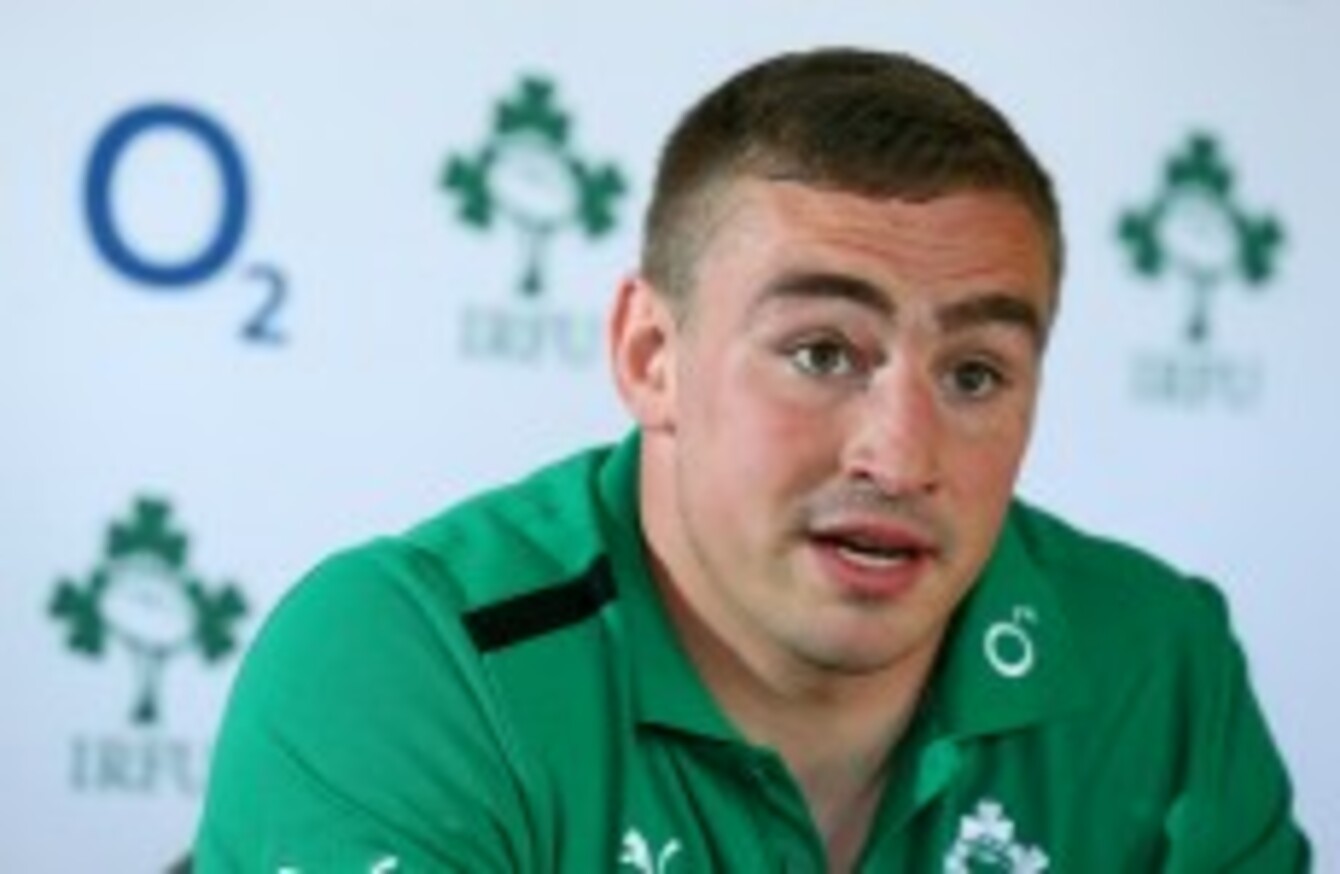 Tommy O'Donnell is in line for his Ireland debut this month.
Image: ©INPHO/James Crombie
Tommy O'Donnell is in line for his Ireland debut this month.
Image: ©INPHO/James Crombie
WHEN THE FINAL whistle blew at Thomond Park, on 8 April 2012, Ulster celebrated on the pitch as the Munster players edged to the sidelines and waited to applaud them off.
Flanker Tommy O'Donnell was one of them. Although, at 24, he was not the youngest of Munster's next generation but he was a player of which much was expected. He was out-scrapped by his opposite number, Chris Henry, and faced into a long summer of work to strengthen his game.
O'Donnell was assisted by Laurie Fisher, who recognised his potential at openside, and by the arrival of new Munster coach Rob Penney, a man that had worked with a young Richie McCaw at Canterbury. 12 months on and O'Donnell was supreme at the breakdown against Harlequins' Chris Robshaw as Munster reached the Heineken Cup semi-final.
Munster's next generation, aided by a Herculean Paul O'Connell and Ronan O'Gara's penalties, proved the province was in good hands. O'Donnell won the team's Player of the Year award and Rob Penney, in an interview with TheScore.ie, declared that the flanker should have been in the British and Irish Lions squad.
O'Donnell said, "I suppose Rob is a small bit biased as he deals with me every day. It's great to have his confidence, though, and he's very much like that as a coach; he just wants you to go out and have a lash. That's what I did this year and he backed me all the way."
"That Ulster game was a major motivator for me before we faced Harlequins," he added. "That stuck in my mind and it was something I didn't want to happen again."
Here to stay
Marcus Horan has followed O'Donnell's progress for the past four seasons, as a teammate, and believes the 25-year-old, who is expected to earn his Ireland debut in June, is very close to the finished article. Horan said:
He had blown hot and cold in the past and I'm sure he'd admit that himself. He was disappointed with his performance against Ulster last season but I've never seen a guy work so hard, after that, as he did. He's had a fantastic season, culminating in the award for Munster, which tells you just how highly he is regarded by his teammates."
Henry, man-of-the-match in that Ulster win over Munster, has been impressed with the evolution of O'Donnell's game. He expects a tough fight, on tour, to get the Irish No. 7 jersey.
The Ulster flanker told TheScore.ie, "I've seen him play for a few years now and always thought he was a terrific player but I think this year would have been his stand-out year. It's great that there is competition there. Back-row in Ireland always has big competition and now Tommy has thrown himself in the mixer too."
Paddy Jackson and Tommy O'Donnell in training with Ireland. (©INPHO/James Crombie)
O'Donnell is pleased that newly-appointed Ireland captain, and provincial colleague, Peter O'Mahony will be on hand to offer on and off-field support. He said, "Peter's got a great track record as a leader with all the underage teams he's played with and he has captained Munster on a few occasions."
With Munster players such as Horan, O'Connell and O'Gara casting their votes for the end of season award, O'Donnell knows it is on his shoulders to carry on the legacy of fierce, passionate rugby.
He said, "I didn't really think about it when I was nominated but I was sitting there at the awards and it all came to me. The lads had voted, and the public as well. When you hear the names that have won it, you know it is so prestigious and it means so much to me."