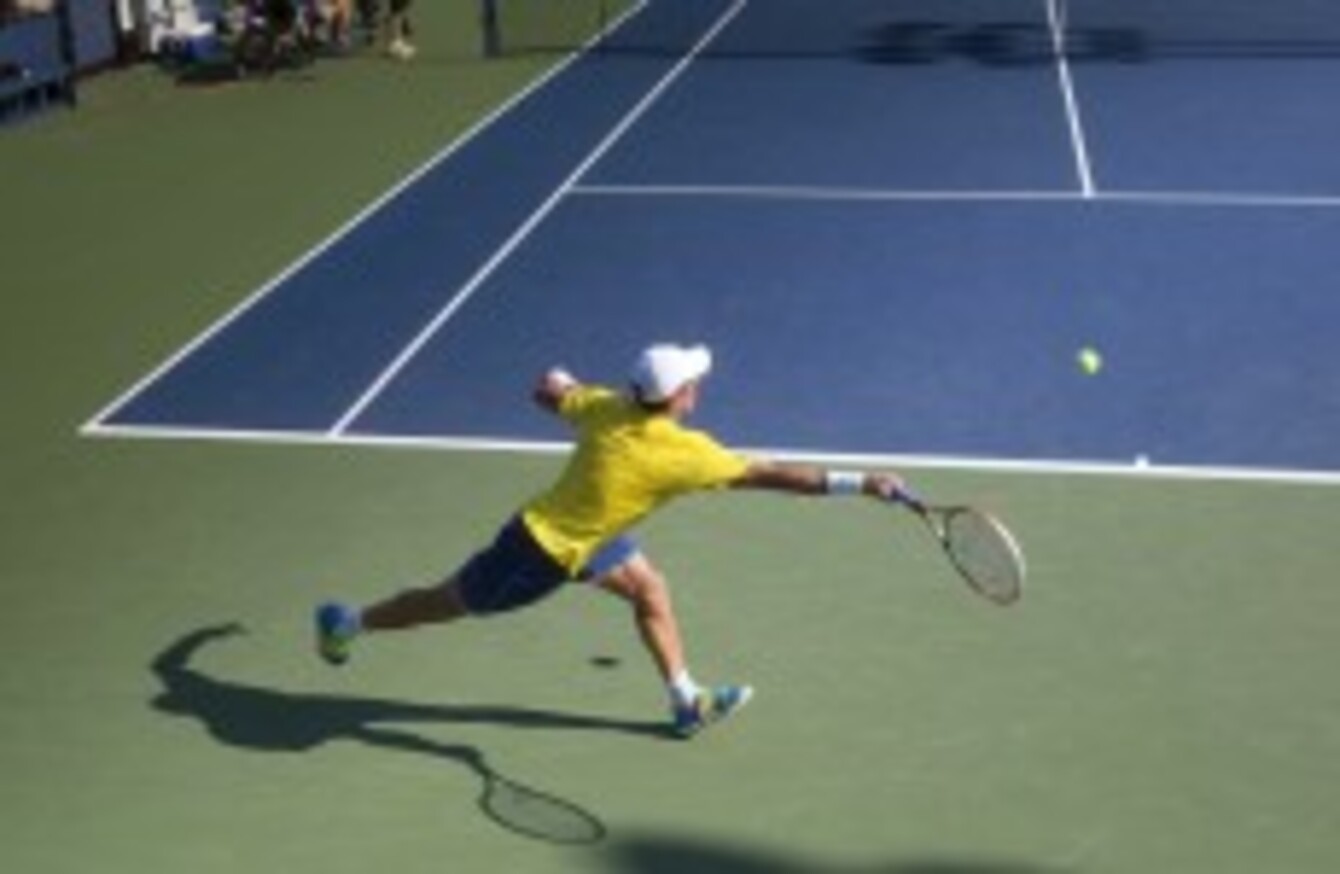 Image: FREY
Image: FREY
PLAYING IN THE main draw of a Grand Slam was a lifelong dream for Ireland's top tennis player James McGee.
But when he served the decisive ace at US Open qualifying last August and fell to his knees, exhausted and elated, it wasn't the end of the journey. It only whet his appetite for more.
The 27-year-old Dubliner will do it all again next week in Melbourne when he lines up with 127 others vying for the final 16 spots at the Australian Open, which begins on 19 January.
Twelve months ago he fell at the first qualifying hurdle, losing in straight sets against Jimmy Wang of Taiwan. There was little to choose between them — Wang took a first-set tie-breaker before winning the second 7-5 — and after the disappointment lifted, McGee was able to look at the result in a different light.
"I knew that even though I'd played quite well in qualifying, I lost to a guy who was on fire," he told TheScore.ie from Noumea where he was fine-tuning this week ahead of his return to Australia.
This time, the prospects look very different. McGee has been proactive in shining light on the harsh financial realities of life on the ATP Challenger and Future tours where prize money is a fraction of the pots offered at the main events but the costs rack up all the same.
His major breakthrough at the US Open, where he qualifier for the first round proper before losing to Aleksandr Nedovyesov, was worth $36,000 — around a quarter of his career earnings in six seasons as a pro. Just as importantly, it put him back in the headlines, a valuable place for an athlete courting renewed commitment from sponsors and other benefactors.
It is their continued support, McGee says, which has led to the most important change in recent months. He can now travel to tournaments with a coach on regular basis, a luxury he could rarely afford in the past.
Long-time friend Nick Cavaday is working with him and together, they have drawn up a plan that will help McGee rise from 228th in the world and see him become a regular feature in Grand Slam main draws.
"I actually felt like I struggled a little bit physically in the US Open, especially in the first round," McGee explains.
I qualified in and I had a couple of days to recover but I remember in the first round, my legs felt quite heavy, so I made sure in the off-season to spend a lot of time working on my endurance, strength endurance and speed endurance.
"There was a physical side to my game that I've worked on and that I'll continue to work on this year that I believe will make a huge difference in making that ranking jump.
"What ties into the physical side is the mental toughness, mental endurance and concentration, and we sort of feel that in doing that work it kills two birds with one stone. Those two areas are massive for any athlete: to be able to play for so long and not lose your concentration."
He adds: "We've been working a lot on my mentality and playing with more aggression, playing a more offensive style. I'm quite a physical player already, I do a pretty good job scrapping balls back.
We're just trying to play a bit more efficient type of tennis that's not as draining energy-wise being out there for three hours. We're working on winning matches more efficiently.
Might that efficiency have been the difference against Wang last year, or after taking the first set against Nedovyesov in Flushing Meadows before losing in four? Time will tell.
One thing is for sure: McGee is in a much better place now than when he travelled down to Australia 12 months ago. Although it was a dream come true to be there, he admits that it was challenging and often lonely to be in the midst of a Grand Slam event by himself.
He might yet be joined by Louk Sorensen who made history at the 2010 Australian Open when he recorded Ireland's first Grand Slam win in the open era but was dealt a setback last week when he was forced to retire from a tournament in Happy Valley.
"Going into this year, one thing that helps is knowing the environment, being familiar with the conditions, being familiar with the facility, the court speed, the balls," McGee explains.
It's actually a tournament that I really like. I would have loved to have gone deeper last year. I think that if I keep focusing on the right things I can have a really good Australian Open.
"Obviously I'm planning on qualifying in and hopefully this time I can win a couple of rounds instead of losing in the first round like I did in the US Open.
"I'm really, really excited now. I can't wait."