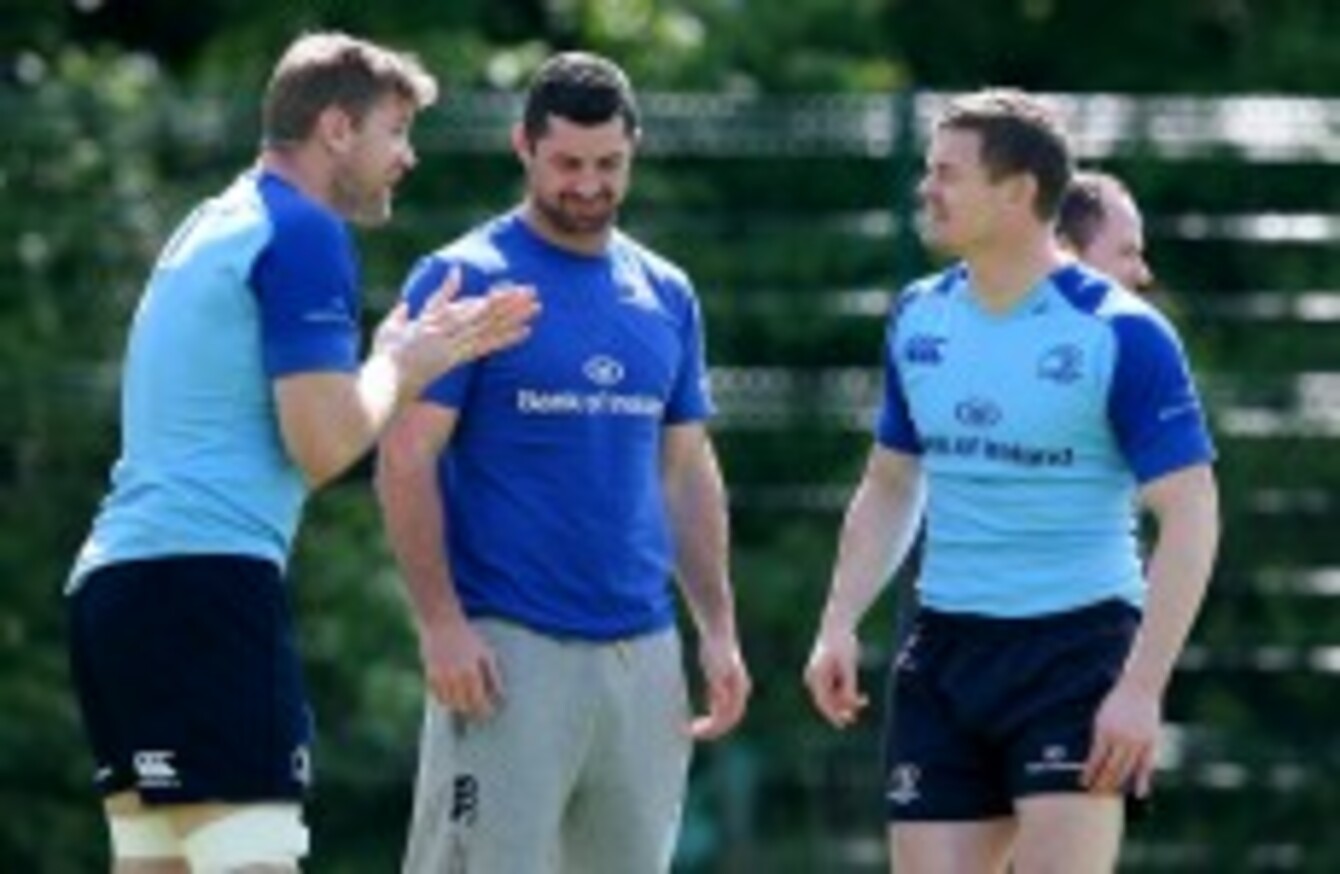 Heaslip [left] shares a joke with Rob Kearney and Brian O'Driscoll.
Image: Dan Sheridan/INPHO
Heaslip [left] shares a joke with Rob Kearney and Brian O'Driscoll.
Image: Dan Sheridan/INPHO
"THERE'S ALWAYS A bit more niggle in some lads."
Jamie Heaslip has lived this kind of week several times before and takes comfort in the fact that his teammates' moods are familiar this time around. As Leinster prepare to face Glasgow in the Pro12 final at the RDS on Saturday evening, the No. 8 is pleased with the heat on the training pitch, both literally and metaphorically.
"Everyone wants to be playing in a final, or a knock-out game, the big games. So there's always that little more niggle during the week. There's certainly been that this week and I think it's good ahead of the atmosphere that we're going to get at the weekend."
A typically relaxed Heaslip glances out the window of Leinster HQ in UCD to where a Range Rover is parked opportunistically by the curb, joking that CEO Mick Dawson might boost the province's finances by clamping the players' cars.
Judged on the surface, the 30-year-old is never fazed by the big occasions, and Heaslip simply points to the relief of having a final at the end of "an 11-month season," of which he has had "a couple back-to-back over the last couple of years."
To be playing a final in the RDS after that whole year of effort is a great opportunity for myself, and those lads who are playing for Leinster for the last time. This is the last time some of these guys are playing with each other; there'll be a couple of those moments.
"I'm not too sure how many players we've used this year, but you're representing all the development and academy players as well. You go out for families, friends, the different supporters who come here regularly. It's pretty special really."
Is the entire season a failure if Leinster lose against Glasgow? Not in Heaslip's eyes. While the former Newbridge College student explains the idea in loose terms, he places great stead in processes, rather than simply focusing on results.
"I have a bit of a holistic view on everything. We'll get what we deserve, I think, in terms of on the day. In my head, it's all about what you do every day and the outcome you deserve if you put the work in.
Saturday is going to be the outcome of a whole year, it's not just this week. It's about what we did in pre-season, it's about what we did on the terrible, cold, wet days in winter or yesterday in training. If we come together and play to our standard, we'll get the outcome that we deserve."
Heaslip is excited by the prospect of another home final at the RDS, a stadium he prefers to the Aviva at times, because of the "more tribal" aspect of playing for one's home province.
He will enjoy the unique experience of running out "beside that mad terrace where all the hardcore Leinster fans are near the changing room," but recognises that Glasgow won't be fazed by being away from home.
"When it comes to the job on Saturday, we go through our routines, go through the processes and we'll hopefully get that outcome."