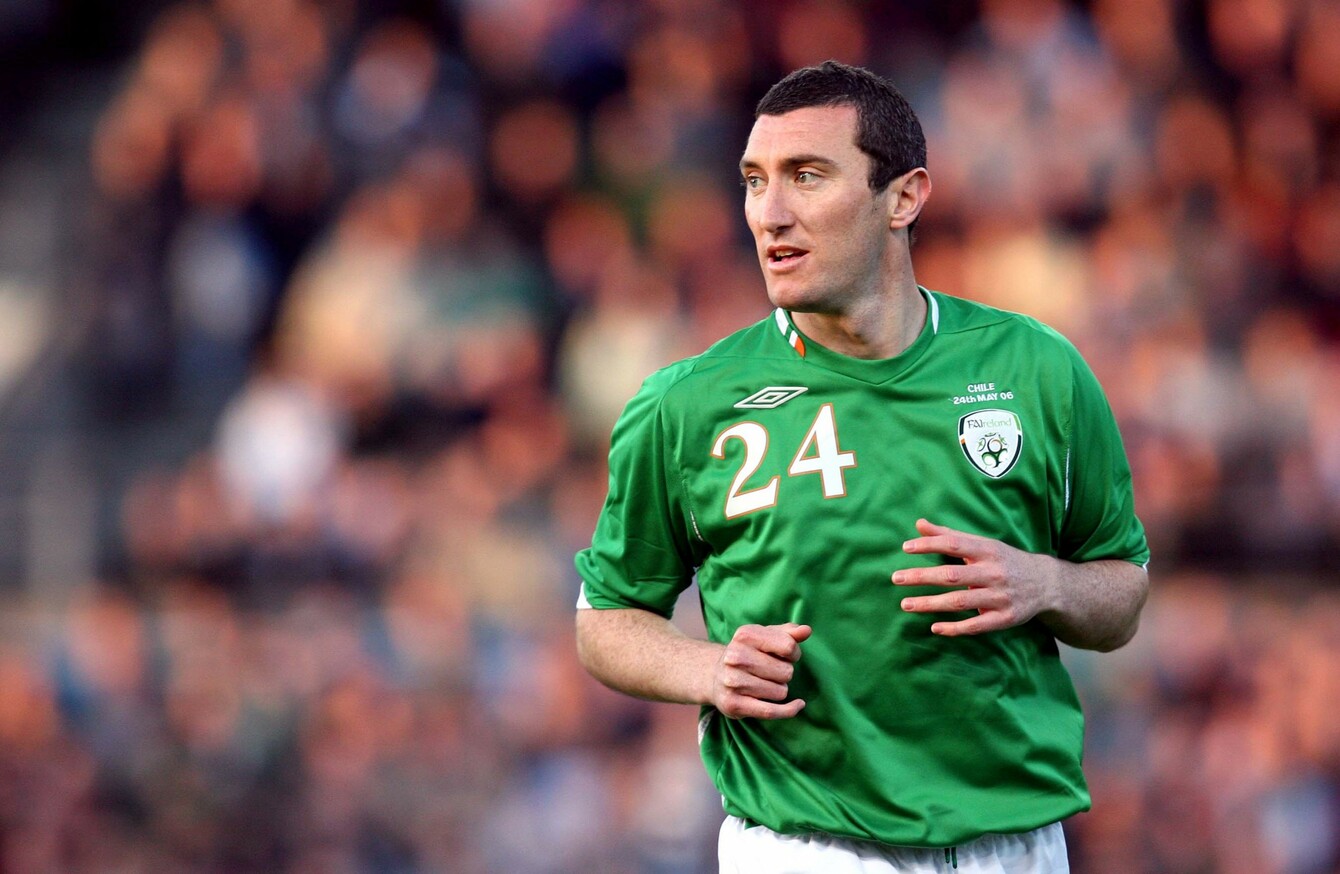 Byrne has scored 221 League of Ireland goals in addition to winning two Ireland caps.
Byrne has scored 221 League of Ireland goals in addition to winning two Ireland caps.
FOOTBALL, IT IS often justifiably said, is a cruel game.
One of the main reasons for this claim is that at some point in their careers, every player will experience rejection.
Even Francesco Totti, who enjoyed a glittering career at Roma and bowed out a hero at 40, spoke poignantly in his recent retirement speech about the void that inevitably comes when the fans finally stop cheering.
"It's really over now," the World Cup winner said. "I'm taking off that jersey for the final time. I'll fold it away, even though I'm not ready to say 'enough' and perhaps I never will be. Forgive me for not giving interviews and clarifying my thoughts, but it's not easy to turn out the light.
"I'm afraid.
It's not the same fear you feel when you're standing in front of the goal, about to take a penalty. This time, I can't see what the future looks like through the holes of the net.
"Allow me to be afraid."
Similarly, Wayne Rooney, who was better at football than pretty much anyone he encountered while growing up and went on to enjoy a glorious career, winning pretty much everything possible at club level, is suddenly being told he is over the hill and deemed surplus to requirements at Manchester United.
And while every footballer is eventually told he is not good enough anymore, some receive this advice unfairly as youngsters. Many players, when they hear these words, tend to agree and fade into obscurity. It takes a truly special individual, however, to ignore the naysayers and defy the doubters during this precarious phase.
Irish players such as Roy Keane and Wes Hoolahan were written off as 'too small' in their younger days. Real Madrid's three-time Champions League winner Gareth Bale saw life with Tottenham get off to a rocky start – two years, three managers and 25 Premier League games into his Spurs career, he finally won a match, and was at one stage heavily linked with loan moves to Birmingham and Nottingham Forest, before ultimately turning into a superstar at White Hart Lane.
Irish footballer Jason Byrne may never have reached the levels of the aforementioned players, but one characteristic he has in common with them is a perpetual burning desire to prove people wrong.
At 39, he is one year younger than Totti, and while he may not be as talented as the Italian icon, he is treasured by many League of Ireland aficionados in the same way the ex-Italy international is in Rome.
And while Byrne may have never won a World Cup, for a player who was seen as not particularly special as a youngster and often overlooked in favour of others, he has gone on to have a fantastic career in the game.
The Dubliner has earned five League of Ireland titles and two FAI Cups among other accolades. He was the PFAI Players' Player of the Year in 2003 and 2004. And he claimed the League of Ireland Premier Division top scorer award four years on the trot between 2003 and 2006.
The cousin of Ireland's all-time record goalscorer Robbie Keane, he still hopes to make history himself by becoming the most prolific player ever in the League of Ireland. After 19 seasons in domestic football, he is currently second on 221 goals — 14 off Brendan Bradley's record.
I would have been retired five years ago only for the record," he

recently said

. "It's within touching distance and I suppose it's my heart ruling my head."
Yet whether or not Byrne succeeds in achieving this feat, he will undoubtedly retire as a League of Ireland legend either way.
And like most footballers who go on to stardom, he was a product of humble beginnings and big dreams.
My dad introduced me to football, banging the ball against the sheds," he tells The42. "I think I was about four or five at the time.
"A lot of my first memories of taking a liking to football were when he had me smacking a ball against that."
A street footballer growing up in Tallaght, Byrne savoured the endless evenings spent playing football into the night.
"There was no one there to tell you what to do. You'd just try things for hours and hours," he recalls.
There was no one calling you in and giving you coaching points and stuff like that. You'd just do everything. You bang a ball against the ball and it'll come straight back to you — that's the best training you can get.
"You don't see many kids nowadays shouting and roaring on the streets. I suppose you see them on the grass with the goals now, but street football you don't see."
Remarkably, an even better player than Byrne would become was involved in these games too. A cocky, energetic and incredibly skillful young lad who was three years his junior. It was, of course, Keane.
"It was me, him, his brother and my brother. About 10 or 15 of us used to have games on the streets. Then I remember every Sunday afternoon, we used to play against a different road round the corner.
There were no referees and a few fights, but we all shook hands afterwards — they're great memories.
"We loved the game, and his brother and my brother weren't bad either. We went different paths and had more hunger I suppose. We all have a path in life and that's the path we took."
After a youth career spent with Crumlin United and St Colmcille's, Byrne was eventually signed up by Bray Wanderers, who were managed by Pat Devlin at the time — an individual who would prove to be a hugely significant influence on the player's career.
It was Sunday morning when we played down in Walkinstown Park," he recalls. "Pat Devlin loves telling the story. As a kid you want to go out and enjoy yourself. I think I was about 17 or 18. The lads had been out the night before.
"We were winning 3 or 4-0 at half-time and I was after scoring a hat-trick, but Devo sent Martin Nugent out that morning, who was the scout for him.
So he rings (Martin) at half-time and says 'how's the match going?' He said 'they're winning 3 or 4-0'. Pat said 'how's (Byrne) doing?' Mark says 'he's not doing great'. Devo says 'has he scored?' And Mark says, 'yeah, he's got a hat-trick'. So Devo says 'great, sign him up then'.
"Obviously, I was approached in the next few weeks and signed for Bray in the summer of '98.
When I signed for them, it felt like me hitting the jackpot, or playing for a Premier League team. And that's the way I treated it, I didn't disrespect it. When I went there I gave it my all.
"That move was massive for me. Coming from junior football up to League of Ireland."
Byrne took little time to make a mark at his new club, breaking into the first XI almost instantaneously and winning the League of Ireland Premier Division Player of the Month for September.
Just two months later, however, his dream start came shuddering to a halt. In a game up in Sligo, Byrne broke his ankle and was faced with a considerable period on the sidelines.
It's always important to surround yourself with good people that will put you through stuff like that. I was with my family and the wife. We didn't have kids at the time. Without that I wouldn't have got through it.
"(The injury) made a man of me. I suppose I realised that football is not all plain sailing. You celebrate the ups. And it's how you deal with the downs — they make you a stronger and better player for it."
He bounced back, though, as he has made a habit of doing during a distinguished career, returning just in time for the club's FAI Cup final with Finn Harps. He missed the first match, a 0-0 draw, and was fit enough to come off the bench in the second game, which ended in a 2-2 stalemate.
Finally, for the third match and second replay between the sides, he was fit enough to start, proceeding to score a match-winning brace to hand Bray Wanderers the club's second FAI Cup triumph in their history.
In hindsight, I probably shouldn't have played, but I did," he says. "Through the week, I had all these strappings round my ankle.
"The rest is history. I scored two goals and we won 2-1. So it was a rollercoaster part of my career to say the least."
Source: retroloi/YouTube
After five years with Bray and 49 goals in 128 appearances, Byrne was ready to move to the next level.
In January 2003, the talented young striker joined Shelbourne, the best side in the country at the time, for a reported fee of €75,000. At this point, Byrne had come a long way from the days when he had been routinely rejected as a youngster.
Growing up as a footballer, I was left aside so to speak when I did play for Crumlin. I knew I was a good player but the manager didn't believe me. He had his own favourites and stuff like that.
"It's disappointing as a kid when you see that 90% of the team are going away on trials and you're just left aside like a nobody. When I came on, I scored a couple of goals but I think that did stand to me. The hunger never left me. It could have easily gone the other way and I could have fallen out of love with the game, but I didn't because I always knew this is what I wanted to do when I was growing up as a kid.
When I signed from junior football into Bray, I knew then that I had the ability to become a good player. Bray brought me on and then that led to the move to Shels.
"Even the fee (which Shels paid), that would have put other players off, but I didn't let it affect me. That was between the clubs, it was none of my business. I knew I was a good player, I could score goals. I went to full-time football — that brought me on even more.
It was stepping stones on the ladder — you go from the highest level in junior football to Bray to Shels — you go full-time and begin to win the leagues. You go on to the bigger picture then with Champions League games and stuff like that.
"So it was all progression then and it fell into place nicely for myself."
It was at Tolka Park where Byrne would go on to play the best football of his career.
I enjoyed my time there the most. The full-time (football) was new to me and I knew back then that I didn't like working — I didn't like the thought of a nine-to-five job.
"(Playing football for a living) was something I always wanted to do. I loved training and I still do. Don't get me wrong, I hate the running. But as opposed to anything else, I love training.
I enjoy football all the time. You don't enjoy it when you're injured. But that probably was when I played my best football (at Shels) when I was young and skinny and could move around. They were good times."
Byrne enjoyed a hugely successful stint at Shels, winning league titles in 2003, 2004 and 2006, while scoring 83 goals in 122 appearances.
The team were led by inspirational skipper Owen Heary, now their manager. The former full-back recently told The42 of how as captain, he had the responsibility of controlling the dressing room.
"We'd have games where we were getting beaten at half-time and all of a sudden, there'd be a row. Matches in training could be the same. If there are certain things to be sorted out, the players can do it ourselves, shake hands and get on with it. You just make sure that every player is at it and no one is stepping out of line."
Byrne agrees that the dressing room atmosphere was a crucial part of that Shels side's success.
I know we had the best team but best teams don't always win the league. You can have a broken dressing room and not play for the manager or not play for each other. You need a good dressing room to succeed. Once you have that in place, you can do anything you want.
"Obviously the coach and players are important, but if you don't have players pulling in the right direction, you won't do much."
In addition to the title successes, that Shelbourne team enjoyed some memorable European nights.
The 2004-05 Champions League season, in particular, springs to mind. They advanced as far as the third qualifying round, overcoming Iceland's KR and Hajduk Split of Croatia along the way.
The Irish side then came up against formidable opposition in the form of a Deportivo team who had reached the Champions League semi-finals the previous season, only losing 1-0 to Jose Mourinho's Porto on aggregate.
Yet despite the clear difference in quality, Shels managed to do themselves proud, drawing the first game at Lansdowne Road 0-0 before a 3-0 loss in the second leg, which was a harsh reflection on how the tie had panned out.
It was my first time in the Champions League and Pat (Fenlon) gave us these videos to watch. I remember thinking: 'What's going on here?' He really wanted to give it a go.
"As a kid, I was knocked and I was knocked and yet here I am playing on the biggest stage of football — the Champions League — looking around me.
It was my just rewards for sticking at it and still believing in myself. (The occasion) will stick with me for the rest of my life."
He continues: "We had a great squad back in the Shels days. I think we were out nearly every week together even though there was a competitiveness in training — we used to kick absolute lumps out of each other. There'd be fights after training.
But we had that great bond. We were out every week. The team bonding between us was unreal. We believed in it. Obviously when you go out on a pitch in front of 40,000 people, you start getting butterflies and what not, but leading up to it we were all calm, because we were having a good campaign.
"There were a couple of nerves but on the night, we gave a good account of ourselves, especially at Lansdowne Road."
Source: retroloi/YouTube
Alongside Byrne, one truly special talent graced that team — future Ireland and Norwich star Wes Hoolahan.
"I try to explain to the young lads now or the young lads at UCD. You would make these runs for certain midfielders and they would only play the ball as you were there already.
You'd be only making a run and you'd look up and the ball would be at your feet. (Wes would) always have that instinct – he'd know where you want the ball. As opposed to finding yourself offside because the ball hasn't come quick enough (from other players). He was just three steps ahead. He had that ability. I used to always love playing with him because he would always find my runs – him and Joey N'Do. You could see the footballing brains that they had were miles beyond anyone else.
"They were behind half the goals I scored for Shels because I made those runs and the ball would be there at my feet and I just had to finish it, which came naturally to me. I enjoyed playing with Wes and it was great to see where he came from and how well he's doing today, because he deserves it."
Yet for all Hoolahan's talents, it was Byrne who would be capped at international level first, over four years before the technically gifted attacking midfielder's senior Ireland debut.
The moment in question, however, was decidedly anti-climactic. Brian Kerr brought Byrne on for the final few seconds of a 0-0 bore-draw in a friendly with Poland, and he didn't even get a touch of the ball.
The player's second and final cap came two years later amid a 1-0 defeat to Chile. This time, Byrne got more minutes on the pitch, with Steve Staunton by now in charge of the national side.
And while both these experiences were less-than-spectacular occasions, Byrne remains rightly proud of being one of the few League of Ireland stars to be selected to represent the country in recent years.
The first one was disappointing. After going all the way out to Bydgoszcz, it was a nothing game, I could have gotten a little bit longer now, but that's behind me now.
"I was happy to be there and part of the squad, but I didn't get a long run out.
But the second cap, we went away to Portugal for a week, training with the calibre of players that we were training with — the tempo of the training and the camaraderie. To top it off playing half an hour and getting to play with Robbie up front as well.
"The memories from that I'll cherish for the rest of my life. People are thinking 'League of Ireland, he won't have a chance to put on a green jersey,' but I was lucky enough to do that twice."
Yet while Byrne was making waves for Ireland, around the same time, his club were on the brink of disaster.
In the 2006 League of Ireland season, the financial bubble burst at Shels and the club were thrown into turmoil. The players weren't paid their wages for 12 weeks. The team's stars got together to discuss the catastrophic position they had been put in through no fault of their own. At the meeting, it was decided that they would persevere and give their all for the club, despite not being paid. Incredibly given the circumstances, they went on to win the league that season.
It was disappointing. Poor (former Shels CEO) Ollie Byrne, god rest his soul, he was trying to run the club on his own. Obviously, it's not possible to do. He did a good job to be fair to him, brought a lot of success. It was disappointing the way it went, we never lost faith in the team.
"When things were down and we didn't get paid for months, we still went out and won the league. The atmosphere in the dressing room was still good. We played for each other as opposed to the club.
I think everybody was paid up whatever they were owed (in the end). But obviously, things had to change and we all moved in different directions then."
It was around this time that Byrne became the subject of interest from abroad, with Shels desperate to offset their losses at the time after tax irregularities meant they were relegated to the First Division.
The Swedish champions Djurgårdens IF put in a €400,000 bid for Shels' star man, which would have been a record-breaking deal for a League of Ireland player at the time. But this offer was rejected, reportedly because a stipulation in the player's contract meant that former club Bray would receive 50% of the fee.
Eventually, a £75,000 offer from Championship side Cardiff was accepted, and Byrne was off to Britain in January 2007.
The Irish star's start in Wales could not have gone much better. After being introduced as a 62nd-minute substitute, he scored on his debut against Wolves.
Yet this moment was to prove a false dawn. Byrne would make just nine more appearances for Cardiff and never scored again in the Championship.
Injury problems, homesickness and the subsequent arrivals of big-name strikers in the form of Robbie Fowler and Jimmy Floyd Hasselbaink all contributed to a difficult spell.
The most disappointing thing for me was not moving my family over," he says. "I just had a young kid and we'd moved house as well. The baby was six months old at the time. So I said 'just stay put,' because we'd just moved in.
"So that's probably the biggest regret — going to Cardiff and not bringing them over with me. But obviously, you take advantage of that as well."
He adds: "It started off great and you think then 'this is easy, I've made it'. But I got a couple of niggling injuries and then one was my hamstring. I suppose that kind of ruined my Cardiff career, even though I had a good go and was top goalscorer for the reserves. It was disappointing the way things turned out, but that's football — there are the ups and downs."
A year after joining Cardiff, he was back in Dublin with Bohemians, linking up again with Pat Fenlon, who had managed the star at Shelbourne previously.
It was far from plain sailing from there, however, as Byrne struggled to get in the starting XI at Dalymount Park initially, with players such as Glen Crowe and Neale Fenn ahead of him in the pecking order.
The mentality when I came back was 'this is going to be easy again,' because I was on fire when I left with Shels. But it wasn't that easy. I don't think it was until the last quarter of that season that I found my feet again and got myself fit. I know pre-season I had my injury and it wasn't until the last third that I started scoring six or seven goals.
"We won by a large number of points and I was happy at the end of the season for myself."
The move would ultimately be regarded as unequivocal success, as Byrne won two league titles and an FAI Cup while at Bohs, in addition to scoring 41 goals in 93 appearances in his first of two spells at the club between 2008 and 2010.
Since then, his powers have inevitably waned, though he still managed to remain relatively prolific, edging closer to that all-time goalscoring record amid further spells at Dundalk, Bray, Bohs (again), UCD and now Cabinteely.
When I started off, the talk was that nobody will ever get near (the record). I'll keep on trying to get it, they'll probably have to wheel me out the next few weeks.
"I'm disappointed because I'm out injured at the moment. Maybe I've been doing too much training. If I get myself fit, I can get myself a couple of games and get my sharpness back, I'll try to push for it.
I had a groin strain the last few weeks. I missed last week's game and the game against UCD (on Thursday), but I still try to be positive around the dressing room with a group of young lads. It's great to see Marty (Kieran Waters) doing so well.
"Young Joe (Doyle) got a great goal last week. He's been a bit down playing on the wing and stuff like that, but he's got to still believe in himself that he's a good player and the goals will come.
I felt like that when I played in Europe with Shels. I was used as a right winger and I was used at centre forward for the league games. But you just have to take it on the chin, not worry about it. Once you get the result, that's the main thing, and everything else falls into place.
"I don't want to get too down about myself, because I am a positive person and I want to bring that into the dressing room."
In addition to playing, Byrne intends to complete his Uefa A coaching licence in the near future, while he has also been working nine-to-five for the past 18 months in "the first steady job I've had now in about 20 years".
Moreover, for the young strikers aspiring to experience the kind of success in front of goal that he has enjoyed for two decades and counting, Byrne has two simple pieces of advice.
I know I always say to young lads and we joke about it, but the goals don't move. No matter where you are on the pitch, always have that instinct. You always know where the goals are, because you see, so you have to have an extra look, but you should know where that goal is because it doesn't move no matter where you are.
"Be aware of where the goals are and once it comes to you, it's instinctive, because you don't have to look, you'll know in your head where it is because it doesn't move.
And never give up hope. Always believe in your own ability because that's what I did. I was knocked and knocked years ago but I didn't let it affect me. Don't fall out of love with the game because someone else doesn't think you're a good player. Always believe you're a good player and you'll get to where you want to be in life."
The42 is on Instagram! Tap the button below on your phone to follow us!