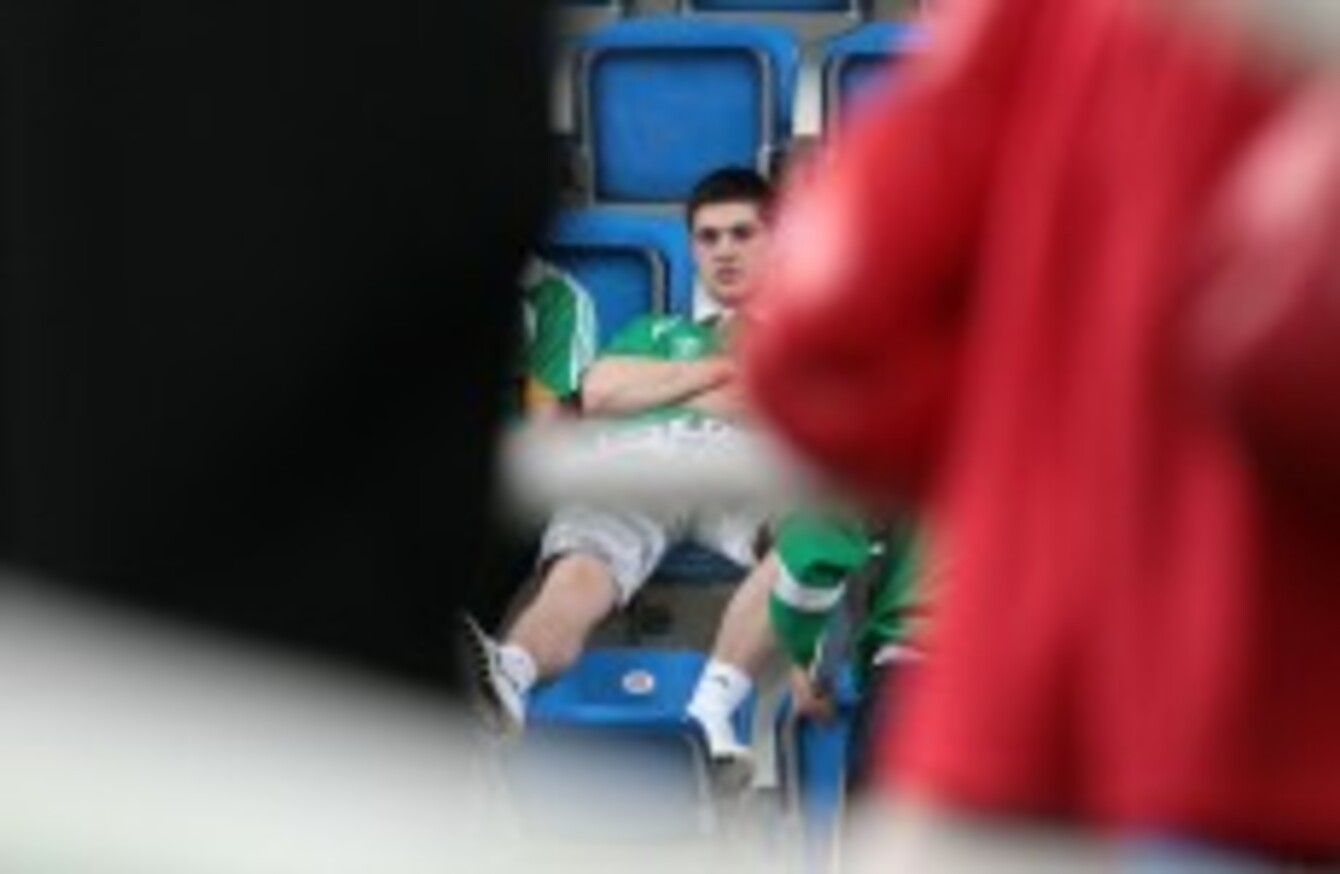 Ward watches Paddy Barnes in action yesterday in Trabzon.
Image: INPHO/Cathal Noonan
Ward watches Paddy Barnes in action yesterday in Trabzon.
Image: INPHO/Cathal Noonan
OLYMPICS GOLD MEDALLIST Michael Carruth insists Joe Ward must remain in the amateur ranks, despite his controversial defeat this week.
The European light-heavyweight champion lost to hometown favourite Bahran Muzaffer on Monday, meaning he will sit out this summer's Olympics games in London.
Carruth — who took gold in Barcelona 20 years ago – says that Ward can still shine at two Games, as he won't reach his full potential for another eight years.
"I honestly believe that," Carruth told TheScore today, "and remember as Joe is still growing he may well end up as a heavyweight and that is the champagne division, if he wins heavyweight gold, and I believe he can then the world is at his feet.
"Look the lad is only 18  years of age, he is in the infancy of his career and if he takes a bit of time out gets over his disappointment I think that is what he will do. I appreciate he is probably sick to the pit of his stomach right now but he will get over that I can guarantee you he will from personal experience.
"In the 1987 European championships in Turin I was absolutely hi-jacked against a Russian called Nazarov, and I mean hi-jacked. It was my first defeat at that level and it was extremely hard to take, but I set myself  the goal of boxing him again and beating him, which I actually never got the chance to do as he never  won the Russian title again.
"But I got over it and five years later I had an Olympic gold medal hanging round my neck, and I am convinced Joe can do the same."
And though there has already been talk this week of the Moate man going pro, Carruth says  it is more difficult for the professional ranks to entice the top amateurs.
"Joe Ward for instance is being well looked after financially by the IABA and the Sports Council or whoever he has no monetary need to turn pro, and the same is true of a lot of our high performance boxers," he said earlier.
"Joe may be a big teenager, a huge teenager even but he still not fully developed physically, when he reaches that stage there is not a boxer around will live with him. Let's be straight about it the only way he was going to get beaten is if he was robbed and unfortunately it seems that is what happened."