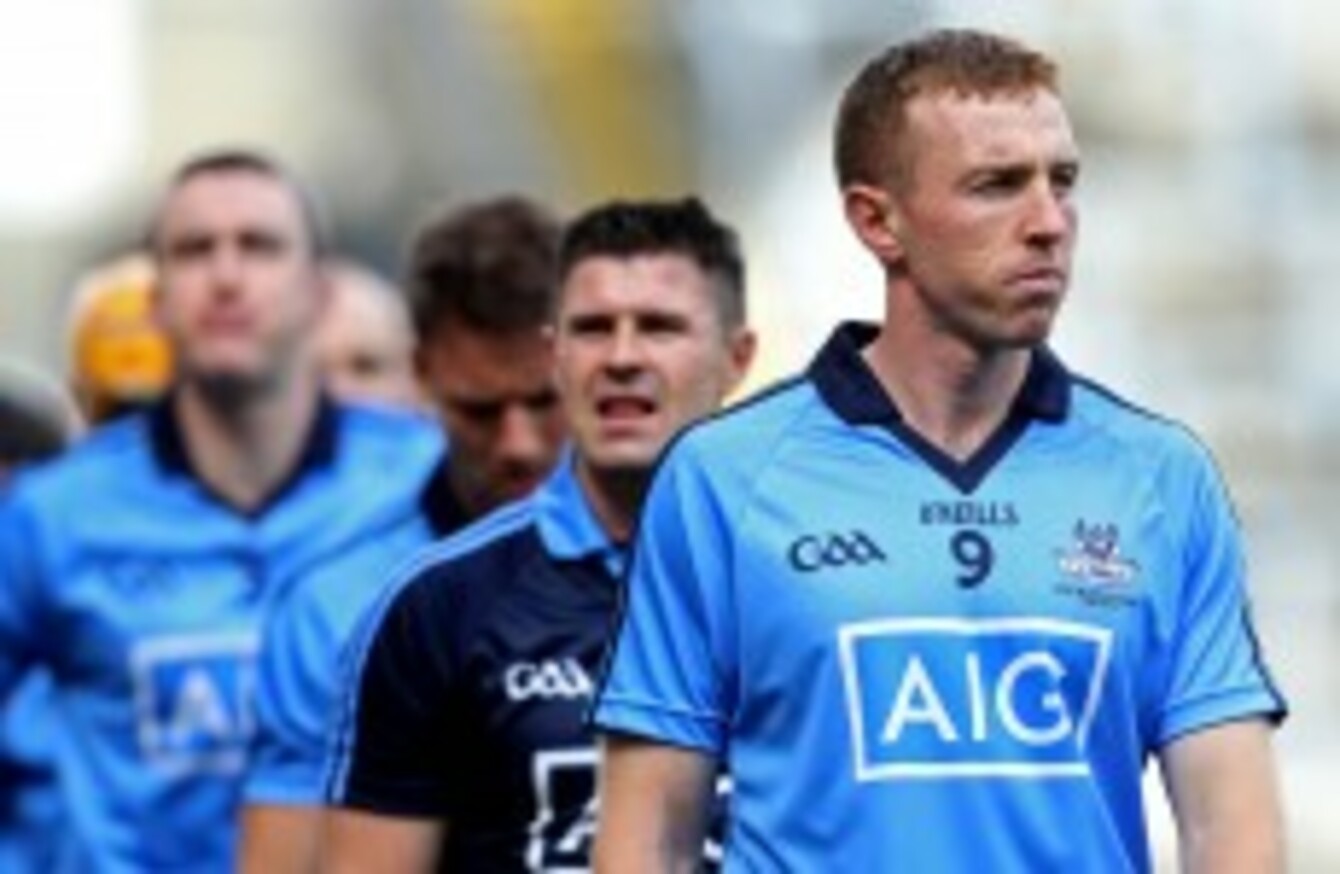 McCaffrey leads his side out at Croke Park last weekend.
Image: Ryan Byrne/INPHO
McCaffrey leads his side out at Croke Park last weekend.
Image: Ryan Byrne/INPHO
IN THE AFTERMATH of Dublin's collapse against Kilkenny to relinquish their Leinster crown, captain Johnny McCaffrey is keen to move swiftly on from the disappointment.
The midfielder says there will be no wallowing in self-pity as he admitted that Kilkenny were fully deserving winners in Croke Park. Dublin will now immediately move on to focus on a quarter-final tie in three weeks' time.
"We have to," said McCaffrey post-match. "It's a new championship now, it's all about the All-Ireland and we're fully focused on getting ready for an All-Ireland quarter-final."
The Dubs' mindset must be positive in building towards that do-or-die encounter, but a review of what went wrong last weekend will naturally be part of the process. McCaffrey pointed to misfortune and a lack of cohesion adding up to a defeat by double scores.
"Even there in the first half, a couple of balls went in and the little breaks seemed to always fall to a Kilkenny lad.
"I know they probably had an extra man there as well but on other days, the breaks would go the other way and you'd be clear through for a goal or whatever. We never seemed to click as a unit and that's really hard to put our finger on why."
Looking at the more positive elements of the Dublin performance, the 26-year-old highlighted two strong individual showings, as well as an ability to create openings after the break.
"Colm Cronin played very well for us in his first Leinster final at senior, he just really wanted to go at it. Alan [Nolan] was brilliant in goal and our backs in general I thought were very good, they had a lot of pressure put on them.
Even the fact that we did create a couple of goal chances in the second half, they didn't go in but they didn't seem to have too many down the far end. When you're going into the game, you want to make sure Kilkenny don't score a goal and if you do that you have a good chance. Unfortunately they put over 24 points."
While the defeat at Croke Park was comprehensive, McCaffrey claims that he would have no fear of going up against Kilkenny again later in the All-Ireland.
"That's the annoying thing really. On other days you'd say Kilkenny were miles ahead of us. Right, they were good but I don't think we did ourselves justice in any way at all.
"That's the annoying thing really. It's a big day, you want to make sure you're performing to your ability and then if they do the same and they win, fair enough, but when you don't it's quite hard."
McCaffrey disagrees with suggestions that Kilkenny are the standard bearers this season, arguing that Dublin's lack of performance put Brian Cody's side in a more positive light. In fact, McCaffrey believes the championship is "wide open."
I don't think anyone is heading the pack at the moment. Anyone who's left in it will feel they have a great chance. Clare and Wexford, Tipp getting through the qualifiers, and Waterford even, you never know what can happen there.
"I don't think anyone's really that far ahead of the pack. If you are going to win an All-Ireland or do well, you probably are going to have to beat Kilkenny along the way so hopefully we'll get another crack at it."