Liveblog
Here's how the sides are named to start:
Kerry
1. Brian Kelly (Killarney Legion)
2. Shane Enright (Tarbert)
3. Mark Griffin (St Michaels-Foilmore)
4. Killian Young (Renard)
5. Peter Crowley (Laune Rangers)
6. Tadhg Morley (Templenoe)
7. Paul Murphy (Rathmore)
8. David Moran (Kerins O'Rahillys)
9. Anthony Maher (Duagh)
10. Michael Geaney (Dingle)
11. Johnny Buckley (Dr Crokes – captain)
12. Stephen O'Brien (Kenmare Shamrocks)
13. Paul Geaney (Dingle)
14. Kieran Donaghy (Austin Stacks)
15. James O'Donoghue (Killarney Legion)
Mayo
1. David Clarke (Ballina Stephenites)
2. Brendan Harrison (Aghamore)
3. Donal Vaughan (Ballinrobe)
4. Keith Higgins (Ballyhaunis)
5. Lee Keegan (Westport)
6. Chris Barrett (Belmullet)
7. Colm Boyle (Davitts)
8. Seamus O'Shea (Breaffy)
9. Tom Parsons (Charlestown)
10. Kevin McLoughlin (Knockmore)
11. Aidan O'Shea (Breaffy)
12. Diarmuid O'Connor (Ballintubber)
13. Jason Doherty (Burrishoole)
14. Cillian O'Connor (Ballintubber, captain)
15. Andy Moran (Ballaghaderreen)
Some pre-match reading for you ahead of the game:
Both teams line out as selected.
Donal Vaughan is picking up Kieran Donaghy as expected, while Chris Barrett is marking James O'Donoghue.
Aidan O'Shea has actually moved onto Donaghy.
Flag
GOAL! Andy Moran hits an early goal for Mayo!
Kerry 0-0 Mayo 1-1
5 mins – 33-year-old Andy Moran scores his eighth ever championship goal after a long delivery in by Diarmuid O'Connor. Jason Doherty adds a point. What a start by Mayo.
Lee Keegan has started the game at centre-forward with Aidan O'Shea at full-back. A very bold move by Stephen Rochford.
Kerry 0-1 Mayo 1-1
9 mins – Paul Geaney is fouled by Keith Higgins and he converts the free to get Kerry off the mark.
Kerry 0-2 Mayo 1-1
11 mins – David Clarke gives away possession and Murphy wins the free which O'Donoghue converts.
Kerry 0-2 Mayo 1-2
12 mins – Mayo tear through the heart of the Kerry defence and Andy Moran splits the posts.
Flag
GOAL! Stephen O'Brien hits the net for Kerry!
Kerry 1-3 Mayo 1-2
13 mins – Kieran Donaghy is winning plenty of ball out in front of O'Shea and he slips in O'Brien for that goal. A very neat finish by the wing-forward too. Killian Young swings over a point to send Kerry into the lead for the first time.
Kerry 1-4 Mayo 1-2
17 mins – Peter Crowley picks out O'Donoghue with a wonderful pass and the Killarney Legion man nails the point. Kerry have settled well into this game now.
Kerry 1-4 Mayo 1-3
18 mins – Moran adds another point after excellent play by Kevin McLoughlin who spuin away from three defenders to feed his team-mate.
Flag
GOAL! Colm Boyle bags Mayo's second goal!
Kerry 1-4 Mayo 2-4
20 mins – And just like that Mayo are three points in front. Cillian O'Connor kicks a good score off his left after a burst forward from Jason Doherty.
Kerry have introduced Jack Savage for Michael Geaney.
Kerry 1-5 Mayo 2-5
22 mins – Andy Moran misses a golden goal opportunity after being played in by Cillian O'Connor. His shot is deflected over the bar. At the far end Geaney swings over a free from a tricky angle.
Some match-ups: Paul Murphy is tracking Lee Keegan and Donal Vaughan is marking Johnny Buckley.
Aidan O'Shea wins a high ball over Donaghy and the Mayo crowd showed their apprecation there. Meanwhile Paul Murphy is yellow carded for fouling Lee Keegan off the ball.
Kerry 1-7 Mayo 2-5
28 mins – Kieran Donaghy sends over a good score. Then Vaughan fouls O'Donoghue and Geaney converts the free.
Kerry 1-8 Mayo 2-5
31 mins – Mayo give away another soft free and Geaney does the business. Kevin McLoughlin and Jack Savage are both booked – McLoughlin for a foul on O'Brien and Savage for pushing Diarmuid O'Connor after the free was awarded.
We'll have four minutes of added time.
It's been 15 minutes since Mayo's last score.
Kerry 1-8 Mayo 2-5 – HT
This game is finely poised at half-time.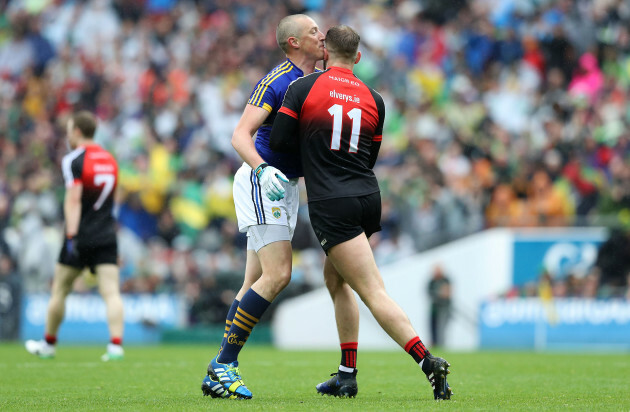 Source: Ryan Byrne/INPHO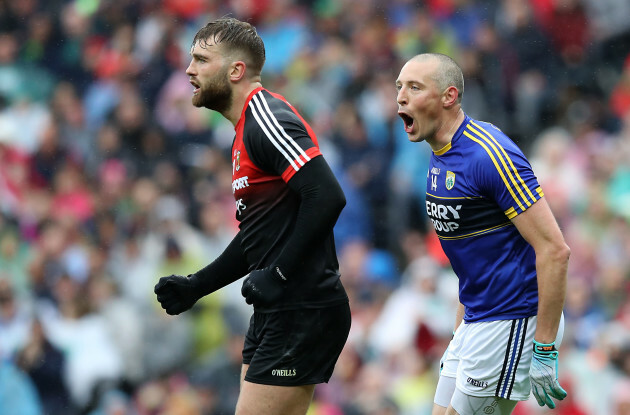 Source: Ryan Byrne/INPHO
Jonathan Lyne has been introduced for Mark Griffin and Jack Barry is in for Anthony Maher at half-time.
Kerry 1-9 Mayo 2-5
36 mins – Donaghy feeds Geaney for his fifth score. Donaghy is winning loads of ball out in front of O'Shea, who has returned to full-back despite lining out at midfield for the throw-in.
Kerry 1-9 Mayo 2-6
38 mins – O'Connor launches a long free into the area and Andy Moran brings his tally to 1-4. He's been outstanding today.
Kerry 1-9 Mayo 2-7
40 mins – Donal Vaughan hares forward and splits the posts.
Kerry 1-9 Mayo 2-8
41 mins – Aidan O'Shea makes a great block on Shane Enright and Mayo counter at pace. Cillian O'Connor stretches their lead to two.
Kerry 1-9 Mayo 2-9
42 mins – Tom Parsons races forward and handpasses over the bar. Paddy Durcan has come in for Colm Boyle.
Flag
GOAL! Johnny Buckley bags Kerry's second goal.
Kerry 2-10 Mayo 2-9
45 mins – Geaney adds a point moments later and Kerry move into the lead all of a sudden.
Kerry 2-10 Mayo 2-10
46 mins – Keegan is taken down by Stephen O'Brien and Cillian O'Connor nails the free. We're level once again.
Kerry 2-10 Mayo 2-10
49 mins – Enright denied Andy Moran another goal chance with a timely intervention after a long delivery inside. O'Connor's 45 drops into the hands of David Moran in front of the Kerry goal.
Kerry 2-11 Mayo 2-10
52 mins – Donaghy comes deep and finds Crowley with a stunning pass. O'Donoghue's free sails between the posts.
SAVE! David Clarke makes a fine stop after Jack Barry broke through on goal. Big opportunity for Kerry there.
James O'Donoghue's free trails off wide. Darran O'Sullivan has come in for Buckley.
Kerry 2-11 Mayo 2-11
54 mins – Andy Moran brings his tally to 1-5 after getting on the end of an excellent delivery from Doherty.
Kerry 2-12 Mayo 2-11
56 mins – O'Donoghue gives a pass to Geaney who scores to edge the Kingdom back in front.
Kerry 2-12 Mayo 2-12
57 mins – Moran's quick hands slip in Parsons for his second score.
David Moran is booked for a high challenge on Aidan O'Shea.
Stephen Coen replaces Seamus O'Shea. Might we see Aidan O'Shea push out to midfield after that move?
Kerry 2-12 Mayo 2-13
60 mins – O'Connor shows great leadership by skinning Killian Young and stroking over the bar. Barry John Keane has come in for James O'Donoghue.
Kerry 2-13 Mayo 2-13
62 mins – Keane has an immediate impact after being introduced and brings Kerry back on level terms.
Chris Barrett hits a wide after a patient Mayo move. He had Lee Keegan outside him but opted to shoot himself. Mayo could well rue that miss. Meanwhile Vaughan and O'Sullivan are booked for tangling off the ball.
David Drake replaces Diarmuid O'Connor on the Mayo side.
Kerry 2-14 Mayo 2-13
69 mins – Geaney finds Murphy in a pocket of space and the latter makes no mistake from close range. Kerry lead by one as we head into stoppage time.
Paddy Durcan hits a wide for Mayo. We'll have five minutes of stoppage time.
Bryan Sheehan has come in for Donaghy.
Kerry 2-14 Mayo 2-14
74 mins – Donal Vaughan slips Paddy Durcan who kicks a huge score for Mayo.
Flag
Kerry 2-14 Mayo 2-14 – FT
We'll do it all again next Saturday.
Contribute to this story: