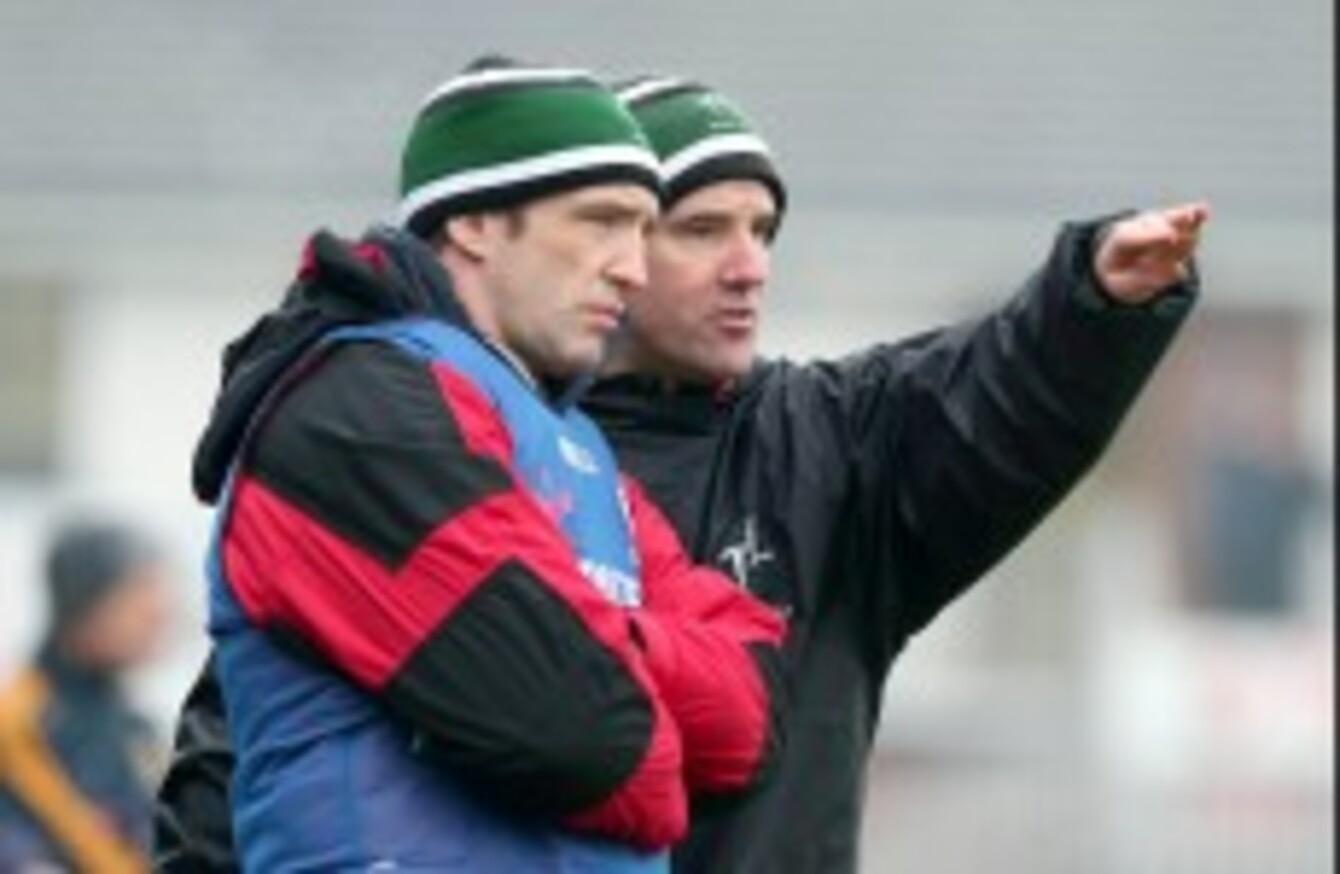 Kildare manager Kieran McGeeney with selector Jason Ryan.
Image: INPHO/Dan Sheridan
Kildare manager Kieran McGeeney with selector Jason Ryan.
Image: INPHO/Dan Sheridan
ON A BITTERLY cold afternoon last Sunday in Newbridge, Kildare summoned a revival to warm their supporters hearts.
Suffering defeat against Wexford would not have been fatal as they had already booked their berth in the O'Byrne Cup semi-finals.
And admittedly the context of this pre-season encounter had to be factored in.
But it could hardly be constituted a positive development for Kildare to cough up a six-point advantage and fall one behind when Shane Roche crashed the ball to the net in injury-time for Wexford.
Yet despite the chill in their bones after a tough slog in January, Kieran McGeeney's side displayed impressive composure to fashion a 1-13 to 1-11 victory.
John Doyle demonstrated his drive for glory still exists in scrapping on the ground to ferry the ball to James Eaton who floated in a cross from the wing to the lurking Morgan O'Flaherty. The Carbury forward eschewed the option of fisting over a levelling point and instead drilled his shot to the net.
With that Kildare's unblemished start to the season was preserved and McGeeney was pleased.
"We shouldn't have had to win like that but it's a good sign that we can. To have the courage to go for the goal was a positive thing."
The pre-season provincial fare hardly ranks high on their priorities yet it is useful to get into a winning rhythm ahead of a significant year for the county.
This is the sixth season that Kildare have been under McGeeney's stewardship and before they attempt to land an elusive Leinster title, they finally get to experience life at the top level of the league.
Kildare's success in the Division 2 decider last April against Tyrone means they will jostle with the elite this spring. It will be a good gauge of where they stand with McGeeney describing the league 'as the best of the last 20 years'.
Recent records stack up in favour of that argument. The last five All-Ireland champions (Donegal, Dublin, Cork, Kerry and Tyrone) are all involved. Mayo (2012) and Down (2010) have both recently contested All-Ireland finals.
Kildare have been quarter-finalists for the last five years but while they have been the victims of bad judgements by match officials, 2010 is still the only year that they have reached the last four.
Now they will be fronting up early in the season against teams who have more recent success to shout about. And only Down (against Mayo) exited the 2012 championship in a shattering manner comparable to the hiding Kildare suffered against Cork.
That's not a bad thing for Kildare though. Exposing their players to a higher level of football from the outset of the year should help them.
That is particularly relevant with their attack. It's been clear in recent years that Johnny Doyle, who lead the line well and showed all his usual class last Sunday, needs help.
Tomás O'Connor and Alan Smith have become useful figures. But it's notable that McGeeney has given game time to U21′s Cathal McNally, Paddy Brophy and James Eaton during the O'Byrne Cup. McNally has bedded in particularly well and weighed in with a brace of points in each of their three games to date.
Daniel Flynn, the midfield talisman on the St Mary's (Edenderry) side that won the Hogan Cup last April, is another highly-rated prospect.
Kildare's Morgan O'Flaherty scores the winning goal in last Sunday's game against Wexford. Pic: INPHO/Dan Sheridan.
Last Sunday offered other pointers to the shape that McGeeney may put on the team this year. It was noticeable that Kildare sought to clog their defence with bodies when Wexford had possession as if the memories were still fresh of waves of Cork attacks crashing down their defensive barriers last August.
Also Mikey Conway has been relocated to the half-back line recently and Gary White shifted to midfield.
On the sideline the theme of an overhaul has been maintained. Former county defender Damien Hendy is now a selector yet the eye-catching acquisition is Jason Ryan.
The former Wexford manager was up against old comrades on Sunday and his popularity with Slaneysiders was reflected in the warm reunions he enjoyed with Wexford players, backroom officials and local media.
"Sure Jason's excellent, but Jason's reputation proceeds him," outlined McGeeney. "He's very meticulous, he's very enthusiastic in what he does. Himself and Damien are meshing well together. I've been very pleased with both of them."
So far, so good then. Kildare's O'Byrne Cup semi-final meeting with Offaly next Sunday is a precursor to their championship clash in June, a game that could lead to a potential semi-final collision with Dublin if Kildare triumph.
Before that there is the league to focus on. And in a hyper-competitive division, their true hopes for 2013 could be revealed.