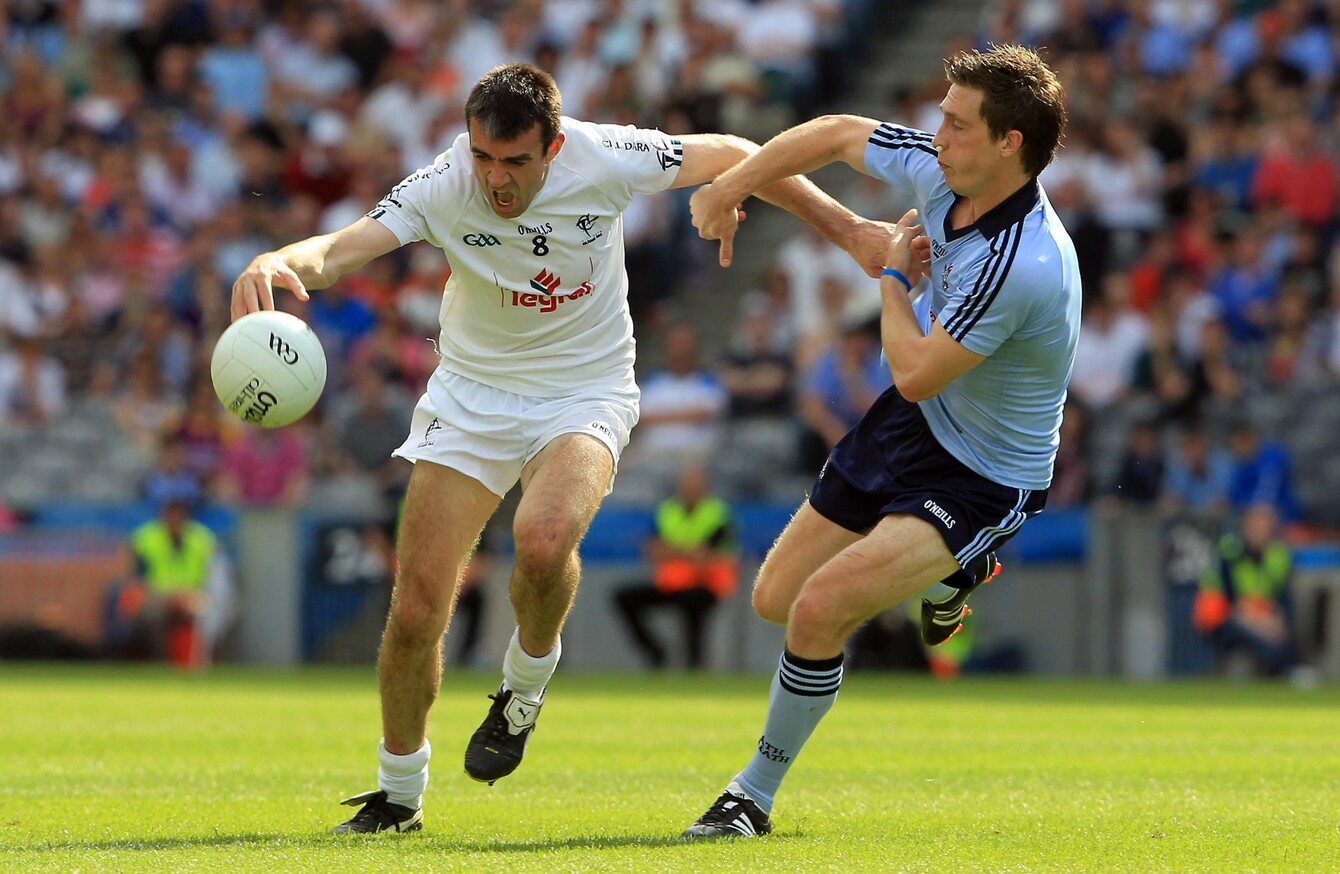 Kildare's Johnny Doyle and Dublin's Kevin Nolan in action in 2011.
Image: Donall Farmer/INPHO
Kildare's Johnny Doyle and Dublin's Kevin Nolan in action in 2011.
Image: Donall Farmer/INPHO
IN THE RIGHT place at the right time.
That's how it fell for me in 2000. My first season with the Kildare senior squad and I ended up as free-taker on a side that beat Dublin in the replay of a Leinster final.
I was a bit of a late developer in Gaelic football. Never played minor for Kildare, played two matches for the county at U21 level. It was an unusual rise to play senior for Kildare but I got in for the 2000 Leinster championship.
Niall Buckley was gone to the United States at the time, Padraig Graven was kicking frees with his left and then it fell to me, the young lad to kick them with the right. Micko used to come up to me before matches and said, 'Will you have a go at them today?'
It was his typical low-key way. Looking back I didn't find the thought of kicking frees and playing Dublin in a Leinster final a big ordeal. Maybe that's the brashness of youth and maybe being a bit naive helped me.
We'd beaten Louth, then Offaly after a replay and the Leinster final was my first big game in Croke Park. Looking at it now, I'm not sure how I wasn't nervous but I didn't think too much about it. I certainly didn't have any sleepless nights before it.
Two years previously I'd been cheering on this Kildare team from the stands. 1998 was such a huge time for the county and my Dad was so into it, that we followed them every step of the way. Next thing I was sitting inside in a dressing-room with lads like Martin Lynch and Willie McCreery. I've no problem admitting I was in awe of them.
But Ken Doyle was my cousin and a club-mate in Allenwood. I'd been in school with Dermot Earley. Knowing the two of them helped me settle into the Kildare dressing-room preparing to face Dublin. I felt I'd an in with the team through those two lads.
That 2000 replay was a strange game. We were desperate in the first half, Micko read us the riot act at the half-time. We came out with the attitude that we weren't going to let Dublin rise up again. It was a dream start to the second half. Dermot got an early goal, then Brian Murphy and Davy Byrne challenged for the ball, it was flicked across to Tadhg Fennin and he put it in the back of the net. Two early goals and we never looked back. I'd a Leinster senior medal by the end of the day. Fairytale stuff.
Of course, winning against Dublin meant more. My first real memory of seeing Dublin was back in 1989, going into a league match in Newbridge. They were different times, we'd stand on the old grass banks behind the goals in St Conleth's Park.
The place was packed. I remember not being able to get over the amount of Dubs there and they'd big characters in their forward line that stood out like Joe McNally and Ciaran Duff. That was the start of it. I caught the bug of the Dublin-Kildare rivalry.
The league final in '91 took it to another level. Micko had arrived and in typical Micko fashion, the team he took over received a turbo boost. Kildare ended up in a league final. They were beaten by a couple of points, I remember Vinny Murphy scoring a great goal for Dublin when he lobbed the goalkeeper from 25 yards.
But despite the defeat, for a young lad it felt that Kildare were now part of the big time. Facing Dublin in a final had that effect. They mightn't have won the All-Ireland since 1983 but it was still the Dubs. Growing up you didn't get to see many games on TV, so the Dublin-Kerry rivalry was more prominent. I was used to seeing Dublin on TV and now got to go to matches to see the atmosphere they brought.
It was a brilliant time for Kildare football. I was immersed in it. They got to two Leinster finals in a row in '92 and '93, but just couldn't get over Dublin on either occasion. They'd some fantastic players at that time. Dessie Farrell was just coming on the scene and making his name. I used to watch the forwards more closely. Vinny (Murphy), Mick Galvin, Niall Guiden and Charlie (Redmond), they all stood out.
Kildare weren't successful but I felt they were making strides. Dublin had become a bit of a bogey team but then in 2000, the monkey was off the back with the win in that Leinster final.
Did I think that it was going to continue like that? Naturally part of me did. But sport doesn't follow the script you want and when I'd retired in 2014, I still only had that one Leinster medal from the 2000 win over Dublin.
There was still a couple of great final battles with them afterwards. In 2002, Micko's last campaign with us, I was marking Barry Cahill that day. We'd a good ding-dong battle, we've talked a good bit about it since. Alan Brogan was starting that day, it was his first season I think, and Dublin got over the line by two points.
We were a bit unlucky but it was a great occasion. I remember reading at the time that it was the biggest crowd at a sporting event to date in the world that year. The World Cup final between Germany and Brazil had been on a few weeks before. Kildare were at the peak of their powers then and Dublin were on the up. When they collided, it was fantastic.
The latter years were against Dublin were different. A lot of regrets caused by the 2009 final and the 2011 semi-final. Lost by three points against 14 men in 2009. Lost by a point in 2011 after a late free, that having talked to Bernard Brogan since, he's not even sure why it was awarded. But Dublin just had that bit of extra firepower those years and we couldn't get over the line. Seeing all the great work Kieran McGeeney did, I'd have loved for us to have crossed the line in Leinster when he was in charge.
After 2012 our team started to break up and we lost different players. You take experience out of teams and it doesn't always work out that young players can step up straight away. The other thing about games like 2013 and 2015, is that if you're not quite right, Dublin are the one team in the country capable of creating a huge gap on the scoreboard.
I'm not sure if it's all a psychological issue but there's definitely something about playing Dublin in Croke Park. I was on Kildare teams where we talked before games about not letting that get into our heads. I think there's definitely been instances over the last few years where different counties are going into matches against Dublin with a defeatist attitude. You have to believe in your own gameplan. That's what I'd hope for from Kildare today.
Coming out of Tullamore after the semi-final win over Meath, I sensed the optimism had gone into overdrive. People were looking at Kerry winning the league final, seeing Carlow doing okay against them in Portlaoise and starting to wonder if Dublin were in a bit of decline. I thought it was all rubbish and seeing their class against Westmeath brought everyone back down to earth with a bang.
Dublin are an absolutely brilliant team. Kildare have a bit going for them though. I see players like Kevin Feely, Paddy Brophy and Daniel Flynn all back in the county and getting towards their best. There's a lot of guys in that team hungry for success. They've showed some steel this year in climbing out of Division 2 and even after losing to Galway, they delivered good back to back wins against Laois and Kildare.
Of course it's a tall order. But I'd hope this team will have a right good go at Dublin and I don't think they'll step back from them.
It's been eight years since Kildare reached a Leinster final. It feels good to see Kildare back and playing Dublin makes it all the better.
The42 is on Instagram! Tap the button below on your phone to follow us!