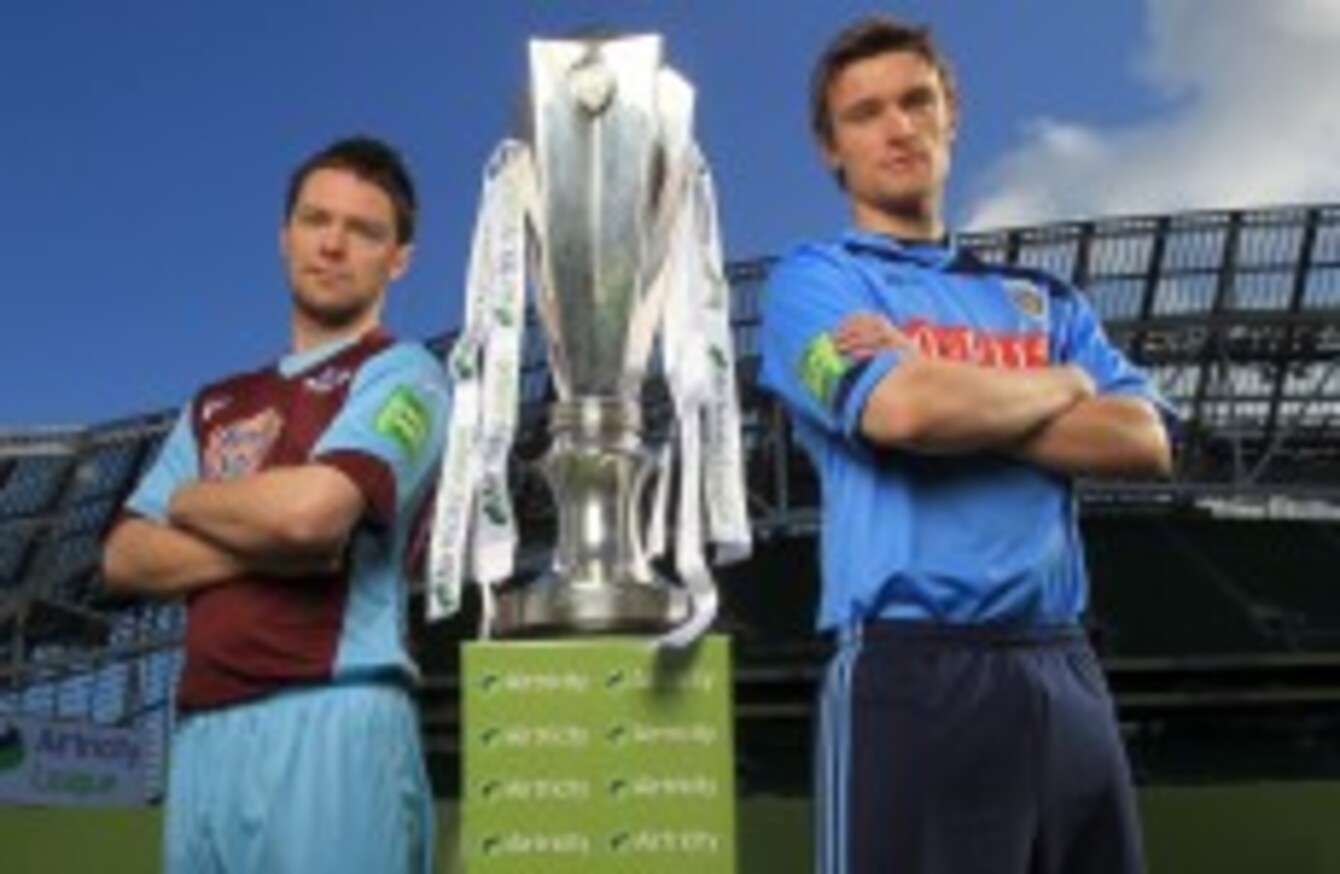 rian Gannon of Drogheda United and Michael Leahy of UCD at the Aviva Stadium.
Image: INPHO/Donall Farmer
rian Gannon of Drogheda United and Michael Leahy of UCD at the Aviva Stadium.
Image: INPHO/Donall Farmer
Club name: UCD
Stadium: UCD Bowl
Manager: Martin Russell
Founded: 1895
Finished last season: seventh
Players in: Darren Meenan (Drogheda United), Yael Haro (Drogheda United), Dean Marshall (Athlone Town)
Players out: Evan McMillan (St Patrick's Athletic),  David McMillan (St Patrick's Athletic), Andy Boyle (Shelbourne),  Chris Mulhall (Shelbourne), Keith Ward (Dundalk),  Brian Shortall (St Patrick's Athletic), Ciaran Kilduff (Shamrock Rovers), Greg Bolger (Sporting Fingal), Dwayne Wilson (Waterford United), Billy Brennan (Lisburn Distillery),  Karl Moore (Galway United)
One of the league's more unfashionable sides – though not many of our clubs are particularly glamorous – UCD are set for a season without a galaxy of last season's brightest stars.
If Martin Russell plans to improve on last term's seventh place he will have to do so without the likes of star striker Ciaran Kilduff and former skipper Evan Mcmillan.
But as is always, admirably, the case with the Students, hope springs from their blossoming youth ranks. They have yet another batch of bright, young things to fortify their ranks and will no doubt, once again, survive relatively comfortably.
If they were a TD, they'd be? Willie O'Dea. Small, sometimes-irritating to the bigger boys but an ever-present.
The Score's verdict: seventh.
View from the terraces
Emmet Ryan, UCD supporter
Where will you finish this season? If the teams that all start all finish, which is far from a given, seventh, Drogheda, Galway and Bray should be behind UCD.
How will you do on opening weekend? Tough call. It's an away day but against a team which wasn't expecting to play at this level in 2011. Playing competitively in the Setanta Cup beforehand should help so I'll say a win.
Key man? Paul Corry, he's probably the most talented player on the team and will have a lot more responsibility given the players we lost in the off-season.
Weak link? Up-front for sure. Graham Rusk, who has enjoyed a great pre-season, really is the only option up there and he has big shoes to fill.
New signing you're most looking forward to seeing? Yael Haro because he's shown some talent at this level and is more established than the other new names.
League's best player (outside your club)? Without question, Ciaran Kilduff. Yes he's an ex-UCD man but if you think Shamrock Rovers were good last year, believe me they just got a whole lot better. Kilduff's ability to both create opportunities from scratch is a huge asset for a striker but his positioning is also top-drawer and if he gets a good supply he will feast on opposing defenses in 2011.
League's best gaffer (outside your club)? Paul Cook of Sligo Rovers. He gets his team to play an attractive brand of football, which is difficult in this league, and is also a laugh to hear when he's interviewed due to his permanently hoarse voice.
Easiest fixture? Well conventional wisdom says this dooms us but based on last season I'd say Drogheda at home.
Toughest fixture? Shamrock Rovers away. At home we hold our own but Tallaght's a tough place to play.
Best away atmosphere? Well if they were still in the Premier I'd say Longford but given it's this season I'll go for Sligo Rovers. Good craic in the ground during the game and a great away trip too.
Worst away atmosphere? Bray Wanderers. The Carlisle Grounds are always freezing and it's so open there's little warmth from the crowd noise.
Favourite terrace chant? I was going to go with the old UCD chant of "Thank you very much for paying your taxes" to the tune of the old Cadbury's Roses ad but clearly that song is no longer factually accurate for many clubs so instead I'll go with the other UCD ditty of "Did you get your Junior Cert?"