Liveblog
The simmering rivalry between two sides boiled over a fortnight ago when Connacht announced Mike McCarthy would be signing with Leinster next summer.
As always, we'd love to hear your thoughts on the game. E-mail patrick@thescore.ie, tweet @thescore_ie, post a message to our Facebook wall, or leave a comment below.
You may need to refresh the page for YouTube videos and other elements to display correctly.
Leinster 17-0 Connacht
Welcome along to the RDS and I am delighted with the fingerloss gloves that I got for Christmas. Now only 20% of my hands are numb.
Late change in the Leinster line-up as Shane Jennings, the captain, pulls out. He is replaced at 7 by Dominic Ryan, while Leo Avua'a comes onto the replacements bench.
This just in: Connacht have parked the bus at the RDS!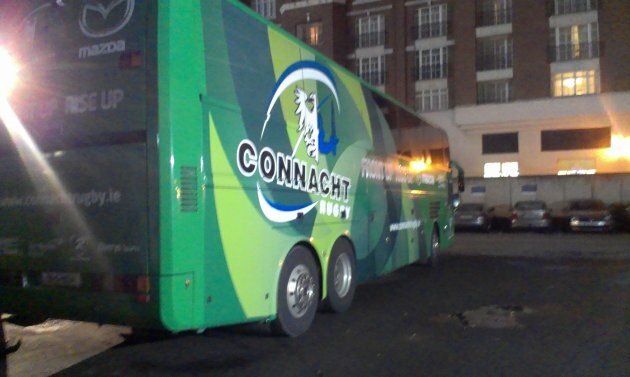 Here are your revised line-ups:
Leinster: A Conway; F McFadden, B Macken, A Goodman, F Carr; I Madigan, I Boss (c); H van der Merwe, A Dundon, M Bent, B Marshall, D Toner, R Ruddock, D Ryan, J Murphy.

Replacements: S Cronin, J McGrath, M Ross, L Cullen, L Avua'a, J Cooney, N Reid, A Byrne.
Connacht: R Henshaw; D Poolman, E Griffin, D McSharry, M Healy; D Parks, K Marmion; D Buckley, J Harris-Wright, N White; M Swift, G Naoupu; A Browne, J O'Connor, E McKeon.
Replacements: E Reynecke, B Wilkinson, R Loughney, M Kearney, E Grace, P O'Donohoe, M Jarvis, T O'Halloran.
Kick-off! Some toing and froing in the opening stages with McFadden sloppy under the high ball and Carr solid. Connacht take a sharp, short lineout and Poolman charges up to the Leinster 22 before getting hauled down. The home side win the first meaningful breakdown and Madigan clears up to the halfway line.
Connacht having the better of the early exchanges and Poolman was denied a certain tey but for the bounce of a ball. They win a penalty after a good scrum but Parks hits it left and wide. 14 minutes gone.
The pressure is all coming from the men in green and it takes some scrambling at the breakdown to steal ball back for Isaac Boss to skew out for a Connacht throw. 20 minutes gone and all square.
The home crowd getting restless as Connacht win another penalty and Parks kicks them up near the Leinster 22. Lineout claimed but Leinster steal at the breakdown again. At least something blue is working tonight, apart from my numb fingers.
Eoin Griffin is the next to break the blue line. Play eventually comes to Henshaw but he is gobbled up. Macken responds for Leinster and McFadden breaks through the centre – the crowd are on their feet but Toner, in support, fumbles forward.
Joe Schmidt does not exactly have a lot of experience or gamebreakers on his bench, although young Byrne is a decent prospect. Mike Ross and sean Cronin will be called upon after 50 if this game remains tight.
Dominic Ryan surges from 10 metres out but he is hauled down just short. Connacht are slow to release him and a penalty is conceded. Quick tap and we have a TMO
TRY! It has been given. Ian Madigan benefited from some quick thinking when the penalty was given and he touched down amid a flurry of diving Connacht bodies.
Madigan with the extras to make it Leinster 7-0 Connacht
Leinster pressing for another score before the break and they have good field position while Connacht scrummage in their 22. Play is spread to the right and Poolman's slip stops all plans of a counter-attack. Another scrum but Boss to put in.
Leinster on the attack as the half winds down but Goodman knocks on and that is that. Connacht had the better of the opening half hour but, once again, the cutting edge was lacking.
Half-time: Leinster 7-0 Connacht
Cagey stuff at the RDS but Eric Elwood will be hoping his team can repeat their opening first-half salvo and get some points on the board this time.
Kick-off! Madigan gets us underway and Leinster on the attack after claiming the restart – McFadden with the take. Good counter-rucking from Connacht earns them the penalty though. Noel Reid is on for the limping Conway at fullback.
Super attack from Connacht sees Griffin and Parks combine to send McSharry scampering up the right wing. He finds Henshaw but Connacht run out of breathing room and the attack is stifled. Leinster earn a penalty on the far side of the pitch and Madigan clears.
Parks tries a patented cut-out, long pass to Henshaw but Macken snatches at it. It would have been a breakaway try but the centre knocked it on in his eagerness. Connacht scrum.
Marshall claims Leinster lineout ball on the Connacht 22 and Macken is first to knock at the door before he is wrestled to the ground. The ball is spilled in the next phase but the ref says it went backwards so Leinster press on. McFadden takes the ball on off the back of a ruck but comes up short. Goodman looks a hard man to drag down. Try chance but an attacking scrum is called instead. Vital phase of play coming up.
Connacht win the initial shunt and the scrum turns gradually before the ref gives a penalty to the visitors. Joe Schmidt has seen enough – here comes Ross.
Connacht pinged for overzealousness at the breakdown as Leinster press. Madigan has a simple task from 25 metres out, straight in front of the posts, and he makes it Leinster 10-0 Connacht with a penalty
Connacht thunder up the right again and Griffin is at the heart of it. Leinster scramble the ball back and hoof clear.
Marmion takes matters into his own hands as he snipes off the back of a Connacht ruck and darts up the left wing. He chips over the covering Reid but the ball trundles out of play near the tryline. Leinster win the lineout and maul up to their 22 before Boss box-kicks clear.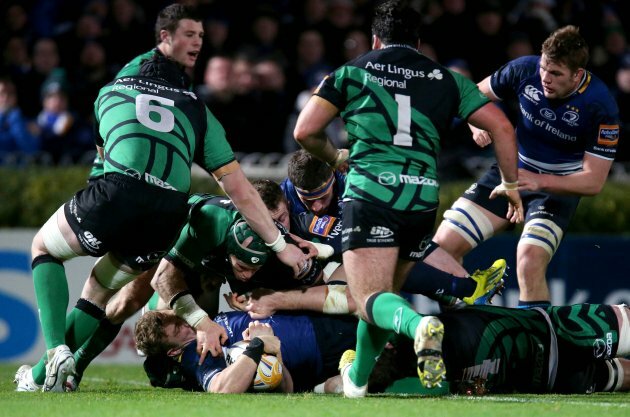 That'll do it: Madigan scores in the 33rd minute. (©INPHO/Ryan Byrne)
Ben Marshall can't claim a lineout inside the Connacht 22 and the visitors compound matters by winning another scrum. Parks clears the Connacht lines before a smart kick behind Leinster lines gives Connacht some promising field position deep in the Leinster half.
65 minutes gone and Parks spurns a penalty kick to give Connacht a 5m lineout. Naoupu claims it and the hooker Wilkinson, on the run, fumbles it forward with the tryline a metre away. A super chance is lost.
Parks, far from perfect again, has a chip blocked down and Leinster pile forward. They claim an attacking lineout and lay siege to the Connacht tryline. Murphy is held up but the attacking scrum is Leinster's. Just over 10 minutes to go.
TRY! The pressure and phases pay off for Leinster as Jack McGrath bullies his way over the line. It is close to the posts so Madigan has a simple conversion, which he lands. It is Leinster 17-0 Connacht after 73 minutes.
Shame for Connacht as they are getting nudged back in the final minutes. They would not deserve a hefty beating another Leinster try, or two, would bring.
Carr initiates a sweeping Leinster, left to right move, but McFadden has to cut inside on the touchline. Bodies committed to the cause on both sides but try three is not forthcoming… yet. Two minutes to go.
A couple of Leinster scrums eventually find their way to McFadden but the ball is knocked on and the game is over. Isaac Boss gets the final cheer of the game as he is named man of the match. FULL-TIME
Cheers for keeping me company at the chilly RDS. We will be talking to both coaches and a smattering of players so stay with us tonight and tomorrow for all the post-game reactions and comments. We might even get an injury update on Luke Fitzgerald and Brian O'Driscoll if Joe Schmidt is in show-and-tell mood.
Contribute to this story: