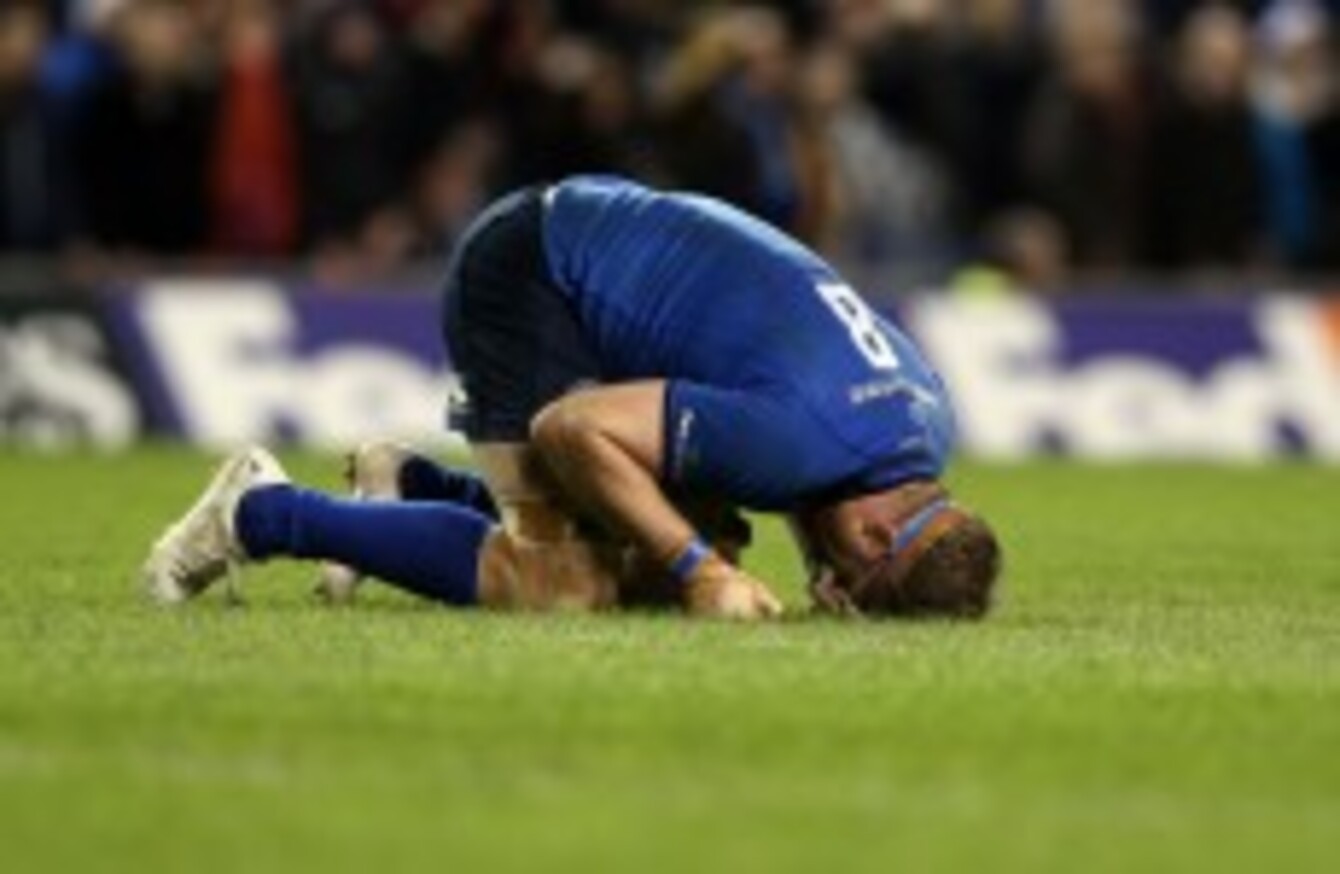 Image: ©INPHO/Donall Farmer
Image: ©INPHO/Donall Farmer
SATURDAY'S HEINEKEN CUP clash between Leinster and Northampton Saints was a strange one, particularly on second viewing. The Premiership side greatly raised their physicality levels, as expected, but Leinster still had more than enough possession to win the game.
Matt O'Connor's men were a poor shadow of the side that had dismantled the Saints at Franklin's Gardens, even allowing for the visitors' improvements. A week ago we lauded Leinster's phenomenal accuracy in their attacking play but, oddly, we will be doing exactly the opposite here.
The eastern province had 57% of both possession and territory in this game, whereas the week before they had 45% and 47% of those stats respectively. It's not a huge difference, but the key point is that Leinster saw enough of the ball to score tries.
We've taken a look at some of the areas that let Leinster down.
Decoy running gets lax
One of the impressive aspects of Leinster's display in the first leg of this double-header was the sheer precision and threat offered by their decoy runners. Time and again, Saints' defenders were taken out of the game by intelligent, selfless running off the ball by Leinster.
That was strangely absent on Saturday, with the example below serving as a case in point. Too often, Leinster's attacking play was predictable and lateral, failing to force Northampton defenders into making difficult decisions.
We must, of course, credit the Saints' defence in this instance and elsewhere throughout the game. Jim Mallinder's men were powerful in the tackle and a lot hungrier for contact than the previous week.
Still, Leinster made the visiting team's job far easier by relaxing on their decoy running. In this example, the four men outside Madigan are all very flat, and all running very similar lines, crabbing towards touch. A counter-balance of a direct line back towards where the ball is coming from would have been useful.
If Jennings had taken it upon himself to run that line, forcing George North [an inexperienced defender in the 13 channel] to make a decision, then Leinster may well have been able to play out the back to D'Arcy, as they did so effectively in Franklin's Gardens. It's also worth noting the slight hesitation in Eoin Reddan's pass, again an inaccuracy and one that allows the Saints to press up quicker in defence.
Supporting play loses touch
Despite the Saints' vast improvement in defence, Leinster did still manage to create line-breaks on Saturday. Mallinder's side made 111 tackles, but still missed 18 and allowed five clean busts of their defensive line.
Unfortunately for Leinster, their support play [again a feature we highlighted a week ago] wasn't sharp enough and chances to score tries were missed. Again, showing a couple of examples serves best to illustrate the point.

A wonderful offload by Jack McGrath allows Brian O'Driscoll to scythe through the Saints' defence in the clip above, but you can then see the centre searching for a teammate to pass to. There's simply no one there for him though, a stark contrast to what was on offer in England the week before.
Leinster just weren't alert enough, there was no one expecting the line-break, no one desperate for another touch of the play. It was actually Jamie Heaslip – who had been part of the previous ruck as circled below – who was first on the scene after O'Driscoll's break.
Another fine example of Leinster's failure to get to offer support following positive attacking play was the searing break Luke Fitzgerald made in the second half. A gorgeous pass from Gordon D'Arcy allowed the left wing to dance inside North and burst upfield.
O'Driscoll offered up a passing option inside, but when Fitzgerald saw that wasn't really on he stepped back off his right foot and briefly, but decisively, found himself isolated. North did very well to get back and win the turnover penalty, but again O'Connor will have been angry that the support was a split second too late arriving.

Saints get on top at breakdown
Leinster's brilliance in Franklin's Gardens was built on their sheer precision and aggression both in carrying the ball and hitting rucks. The latter component was sorely missing on Saturday though. Again, kudos go to Northampton, who massively upped their game at the breakdown, but Leinster must look at themselves in this regard.
Too often, there was that lack of an initial burst to get in behind the ball carrier, as highlighted in both examples above. There was a slight hesitancy in Leinster's rucking, with man players being indecisive in either slamming defenders off the ruck or slotting into the attacking line.
It's a sign of a lack of focus, something that did appear to affect Leinster. The video below shows such a moment from D'Arcy, whose excellent rucking we highlighted last week.

In the video, just keep an eye on D'Arcy as Rob Kearney rushes past him to be tackled. The inside centre initially looks like he's going to hit the ruck, but then he steps backwards and away from the contact area.
Realising in a split second that he will need to clear Alex Waller off the ball, D'Arcy goes back towards the ruck but by then it's too late. This all happens in less than a second, but it's that hesitancy which allows Northampton to turn possession over. From a Leinster point of view, this happened too often and allowed the Saints to win the breakdown battle.
Inaccurate back play
The sloppiness of Leinster's rucking and support play extended into much of their passing and starter moves too. Twice off attacking scrums –  usually a platform from which they thrive – Leinster were guilty of inaccuracy.
In the first example below, it's a poor pass from Ian Madigan that causes the breakdown in play. Passing is probably the strongest aspect of the out-half's game, so to see him failing in that area was jarring.
Fitzgerald could possibly have stretched for the pass, but he appeared not to be quite expecting it and it ends up with Kearney having to hack the ball away under pressure. This brief passage was emblematic of much of Leinster's play; inaccurate and indecisive.
In the second half, we had another example of Leinster's lack of incision with their starter plays. The move below is designed to free Zane Kirchner down the right wing, but the South African ends up getting tackled into touch.
Leinster do reasonably well with their loop play in midfield, but from there everything is far too lateral. Neither of the Leinster centres were able to get any sort of block in on their opposite numbers, so that means Northampton are able to drift across the field with a 'wedge'-style defence.
As signified in the screen grab below, Fitzgerlad, Kearney and Kirchner are all running laterally, towards the sideline. That makes it far easier for the Saints to defend, as they don't have to worry about anyone straightening the line or coming back 'against the grain.'
If Kearney had offered a switch play for Fitzgerald, changing his line to cut inside the wing, it would have forced North into making a decision in defence. That didn't happen and Northampton could simply cover across the pitch and shove Kirchner into touch.
Where were the ball carriers?
Obviously, Sean O'Brien withdrawing through injury was a big blow for Leinster. Having the powerful back row on the pitch would have possibly made a match-winning difference, but Leinster cannot afford to be so reliant on the Tullow Tank.
Heaslip did a decent job of filling in for Leinster's prime attacking boulder, carrying the ball 12 times. However, the No. 8 aside there was a lack of explosive forward runners on display, such a contrast to Franklin's Gardens, where the entire Leinster pack got involved in attack.
There was just a lack of the same hunger to get on the ball for Leinster in general. The shot below is taken in phase play, and highlights part of the problem. As Madigan gets ready to accept a pass from Reddan, there is one man outside him. Inside the circle are no less than seven Leinster players.
Even though it's a still, you can clearly see above that several of those players are walking. The hunger to get around the corner and offer themselves to carry the ball again just isn't present. This was not a feature of the entire game, but these little moments can make a huge difference.
The final play
Despite it all, Leinster came very, very close to winning this game, which is what made it such a strange encounter. Following the 40-7 demolition job in Franklin's Gardens, O'Connor spoke about the "small margins" having all gone Leinster's way.
Those same fine differences largely went the way of Northampton in Dublin, but the final passage of the game offered Leinster a chance to secure victory. Following Heaslip's excellent line-break from his own quick-tapped penalty, Leinster burst forward and it appeared that they were going to score.
However, it was a final, symbolic moment of Leinster inaccuracy that decided the game, with Heaslip dropping the ball, allowing Jamie Elliot to race away and score.

It was a horrible moment for the No. 8 and one that is very explainable. Heaslip knew Leinster were 'numbers up' outside him; he knew that if he got his pass away a try was extremely likely. Anyone who has played rugby, or many other sports, can empathise with the situation.
So focused on getting his pass away was Heaslip, that he forgot all about catching the ball cleanly first. Regardless of our sympathy for the No. 8, it's a missed chance. In the shot below you can see that Heaslip has Kirchner, Madigan and Jimmy Gopperth outside him.
What isn't shown is the fact that Luke Fitzgerald is also waiting wide on the left. Northampton have just two defenders who can realistically stop the Leinster attack and a try would almost certainly have been scored if Heaslip can make his pass.
It would have been a steal of a victory, but it shows just how close Leinster came to winning this Pool 1 encounter. They remain top of the group, and still have an excellent chance of securing an all-important home quarter-final.
However, the inaccuracy demonstrated on Saturday cannot be repeated if Leinster are to win in Castres in January. Also, the worrying nature in which his side's attitude changed so much in a brief week will need to be addressed by Matt O'Connor.
A full repeat of the Franklin's Gardens display was never a realistic possibility, and Leinster are still well in control of their European destiny. Their frustrating lack of accuracy on Saturday means there is much work to be done.
Like rugby? Follow TheScore.ie's dedicated Twitter account @rugby_ie >