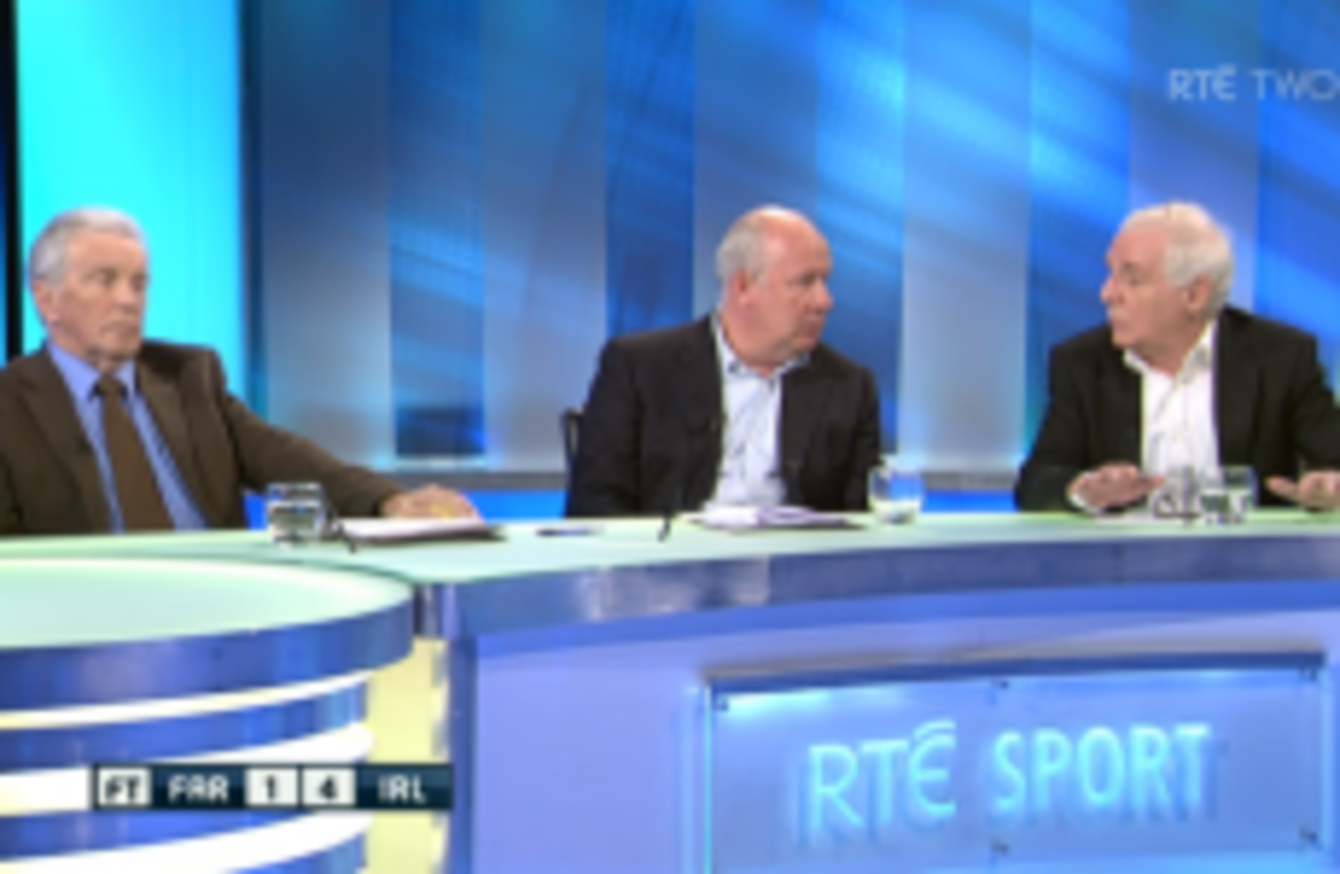 The RTÉ panel debate Trapattoni's future.
Image: RTÉ
The RTÉ panel debate Trapattoni's future.
Image: RTÉ
THE SUCCESSFUL NEGOTIATION of the Faroe Islands-sized road block was never going to be enough to simmer the seething cauldron of speculation regarding Giovanni Trapattoni's future as Ireland manager.
So it proved in Montrose as RTÉ's pundits tore into each other in a debate of the Italian's job prospects.
Eamon Dunphy kicked off the discussion, after Ireland won 4-1, by declaring, "Tonight was as much an indictment of him as a failure as Germany (Ireland lost 6-1) was."
Dunphy highlighted the fact that 'left out or blocked' players such as James McCarthy, Seamus Coleman and Marc Wilson had starred in the away win.
Liam Brady, who was an assistant coach under Trapattoni in the 2010 World Cup qualifiers, countered that Ireland were in the wilderness for 10 years before they made it, with the Italian, to Euro 2012.
Dunphy declared, "You don't pick fights in public with players."
He then listed the names of Darron Gibson, Steven Reid and Shane Long as players that have fallen foul of Trapattoni in recent years.
"He has contributed massively to a loss of credibility in himself," Dunphy added.
Looking ridiculous
Brady believes that the current debate over Trapattoni's position is similar to 2002 when Mick McCarthy 'was hounded out of a job' with Ireland.
The former Ireland and Arsenal midfielder also expressed his disgust at an Irish Independent headline and article that labelled Trapattoni 'shameless'. He proclaimed:
This guy knows what he is doing. We're on track to qualify (for the World Cup). We'll look ridiculous to the rest of the football world if we sack this man."
Former Ireland captain and manager John Giles entered the discussion by remarking, "I wouldn't care about the rest of the football world."

Giles said Trapattoni has 'an obligation to do the best job possible' and Ireland were "abysmal" at Euro 2012.

"I think it is time for him to go, regardless of the results."

You can see some of the post-match RTÉ debate here [H/T balls.ie]:



YouTube credit: RDinHD