Liveblog
As always, we'd love to hear your thoughts on the game. E-mail paul@thescore.ie, tweet @thescore_ie, post a message to our Facebook wall, or leave a comment below. You may need to refresh the page for YouTube videos and other elements to display correctly.
Hungary 0-0 Ireland (FT)
Hello, and welcome to our liveblog of Ireland's final pre-Euros game.
A number of questions will be answered tonight, many of which have been asked here.
Here is the hosts' team for this evening:
Hungary: 1 Bogdan; 2 Varga, 4 Meszaros, 5 Korcsmar, 3Gyurcso; 7 Dzsudzsak, 6 Halmosi, 8 Pinter, 11 Koman; 9 Szalai, 10 Szakaly.

Subs: 12 Kiraly, 13 Kadar, 14 Nemeth, 15 Debreceni, 16 Navczak, 17 Koltai, 18 Szabics.
And here is the side Trap's named:
Ireland: Given, O'Shea, Dunne, St Ledger, Ward, Duff, Andrews, Whelan, McGeady, Keane, Doyle.

Subs: 16 Westwood, 12 Kelly, 14 Walters, 15 Gibson, 17 Hunt, 18 O'Dea, 19 Long.
In contrast to the lovely Dublin weather, it is absolutely lashing rain in Budapest.
As you know, Trap has revealed that the team playing tonight will be identical to the side starting against Croatia next weekend, barring injuries.
Do you think it's wise of Trap to announce his starting line-up for the Euros so early?

Poll Results:
There seems to be a bit of confusion, as Hungary came out into the tunnel, only to promptly return to their dressing room. Perhaps they don't fancy playing in the lashing rain.
The Ireland players, on the other hand, are waiting around in the tunnel, looking somewhat perplexed as they do so.
It's now been confirmed that there'll be a ten-minute delay to the game, owing to concerns over the weather.
Just to clarify, it is due to concerns over thunder and lightning that the game's been delayed.
As Paul Dempsey of Setanta rightly points out, it seems strange that the players' welfare seems very much prioritised ahead the supporters', given that there's very little cover from the possibility of thunder and lightning in the stadium.
The referee is going to make a decision on whether the game goes ahead or not in three minutes, according to Setanta.

With the teams preparing to go out, it looks like this game is set to go ahead.
With the national anthems currently being played, it seems fair to suggest that this game is now DEFINITELY going ahead.
The effect of the rain on the playing surface is clearly noticeable, with the ball travelling slower than it should.
Ward finds himself unusually far forward down the left wing, but his hanging cross is easily collected by the Hungarian goalkeeper.
The Wolves defender will need to produce better deliveries than that if Ireland are to have any hope of threatening from the left flank.
Kevin Doyle does well to hold up the ball. He is subsequently impeded by the defender, and Ireland win a free-kick 40 yards from the goal.
It's played short for Duff, who finds O'Shea with a decent ball in, and the Sunderland man's header goes marginally over the bar.
Dunne only half clears the ball with a header, and Szakaly hits it dangerously across the face of goal.
Szalai attempts to get on the end of it, but he's subtly prevented from connecting with the ball by Glenn Whelan, who blocks him off.
Like the Trap regime in general, Ireland have been solid if unspectacular so far.
They've threatened to carve out chances on a few occasions, but a lack of communication by the attacking players has let the side down somewhat.
Robbie Keane has just latched on to a Kevin Doyle header, and his powerful shot is parried away by the goalkeeper. Better from Ireland.
Great work from Damien Duff to escape his marker down the right wing, but as he looks to cross he's short of options, and Hungary clear his ball in comfortably.
Meanwhile, down the other end, Hungary threaten, as Dzsudzsak's shot is deflected off St Leger, forcing Given to palm the ball away to safety. The hosts look very dangerous on the counter-attack.
Szakaly curling cross narrowly misses the onrushing Szalai, who collides with Dunne innocuously, and appeals unreasonably for a penalty.
Glenn Whelan makes a  strong, ambitious forward run, and is halted only by a last-ditch tackle from the Hungarian defender. *rubs eyes*
Meanwhile, Dzsudzsak produces a powerful shot from just outside the box, which Given parries away, as the home side continue to threaten.
Another hanging cross, this time from Robbie Keane in the direction of Kevin Doyle, but again Bogdan catches it with relative ease.
Ireland have been unconvincing – particularly in the final third – so far.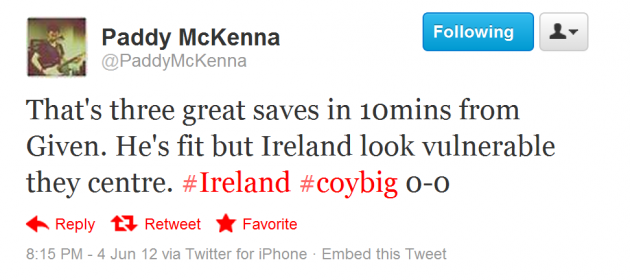 Whelan ambitiously attempts to test the goalkeeper with a free-kick on the right, when a cross may have been the better option. His effort sails a few yards over.
Meanwhile, Szalai is through on goal from a cross after St Ledger's slip, but he woefully scuffs his shot from close range, in what is his side's best chance of the game so far.
So far Hungary don't look a side who are 17 places below Ireland in the FIFA rankings.
They've undoubtedly been the better team, controlling the tempo of the game and creating the better chances.
Strange decision by the Danish referee. Doyle has a chance to break away down the left wing, but he calls play back and books the Hungarian defender for a tug on the Irish striker's shirt, failing to play advantage in the process.
Shortly thereafter, the ball is played through to Szalai, who evades the challenge of Dunne, but he's prevented from scoring owing to a last-ditch tackle from Ward.
The big striker has caused Ireland numerous problems already.
HALF-TIME: HUNGARY 0-0 IRELAND
So it's half-time, and it'll be difficult for Trapattoni to take many positives from that first half, aside from the fact that there's been no injuries so far.
The word 'pedestrian' springs to mind when assessing Ireland's performance. They've offered very little in attack, and had a few let offs down the other end as well.
And perhaps most worryingly of all, Hungary have virtually nothing to play for, while Ireland are preparing for their first European Championships in 24 years.
As an aside, there is a Pinter in the Hungarian line-up. I wonder if he's any relation to this man:

YouTube credit:
sambar0986
Brian Kerr is expressing concerns about Stephen Ward. Do you share them?

Poll Results:
IRELAND SUBSTITUTIONS: Westwood has replaced Given and Walters is on for Doyle.
Keane has just played through Walters on goal, and he is wrongly adjudged to be offside as the replays prove. Poor officiating.
Hopefully Ireland are getting all the dodgy decisions out of the way tonight.
Even a set piece – so often Ireland's strong point – is cleared away without undue pressure being put on the Hungarians.
Hungary immediately go down the other end, and Szalai's shot from close range is blocked brilliantly by St Ledger. A minute later, Dzsudzsak's attempt from the edge of the box deflects off the omnipresent Szalai, and Westwood is forced to get down well to his left.
This match is beginning to resemble the Russia qualifier in Moscow, as Hungary's dominance grows.
Poor from Stephen Ward, who lets Gyurcso sprint past him all too easily, before pulling down his opponent on the edge of the box.
The Wolves man has looked  shaky at times tonight.
IRELAND SUBSTITUTION: Simon Cox comes on for Robbie Keane.
If you're just joining us, these two tweets will give you an idea of how the game has gone so far: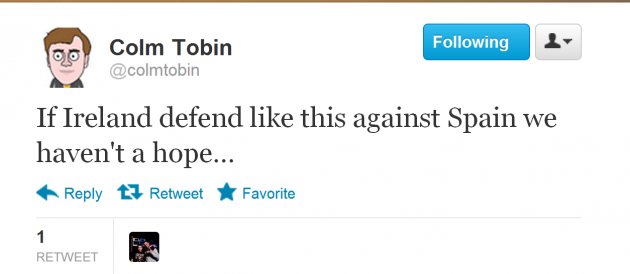 A rare attack from Ireland, as a terrific John O'Shea through ball finds Walters just inside the area, and his shot from a difficult angle is palmed away by the goalkeeper's fingertips.
Walters has made an obvious impact since his introduction.
Meanwhile, Hunt has replaced Duff, and Gibson is now coming on for Andrews.
Ireland have steadied the ship slightly in the past ten minutes. Perhaps the Hungarians are beginning to think about their impending holidays.
Ward controls Hunt's corner well, and lays it off to Gibson, but the Everton man's shot flies well over the bar.
For a supposed shooting specialist, that was a very disappointing attempt.
McGeady sprints away on the break for Ireland and plays through Cox, but his finish is hammered straight at the goalkeeper.
Soon afterwards, a cross finds Walters, whose free header goes just wide.
Two gilt-edged opportunities missed, as Ireland start to gain the upper hand in this encounter.
The way Ireland have grown into this game in the second half makes you wonder if Trapattoni was a tad premature in naming his starting line-up for Croatia, particularly when you consider that the likes of Walters and Gibson have made a difference.
However, as I type, Szabics' shot from a half cleared corner from the edge of the box is stopped on the line by Hunt.
IRELAND SUBSTITUTION: Paul Green has taken the place of Glenn Whelan.
Dangerous curling free-kick in from Stephen Hunt, and Hungary clear unconvincingly.
There'll be three minutes of added time.
FULL TIME: HUNGARY 0-0 IRELAND
So a poor performance from Ireland, but on the plus side, Trap's men have now gone 14 games unbeaten.
On a more pessimistic note, Ireland are unlikely to get away with such a sloppy performances at the Euros.
Though the second-half performance was slightly improved, with substitutes such as Stephen Hunt and Jon Walters having a positive influence, Hungary still had the better chances.
Must do better.
Richard Dunne tells Setanta that Ireland have "done what they usually do" (play poorly?).
He says the players didn't "intentionally hold anything back" and confirms Shay Given's withdrawal at half-time was planned.
He adds that they're "quite happy" with their 14-match unbeaten run.
Brian Kerr says it's "very hard to get away with 4-4-2 in international football," and suggests our midfielders are not "mobile enough" to play such a system.
As hard as it may be to play, I can't see Trap changing the formation anytime soon.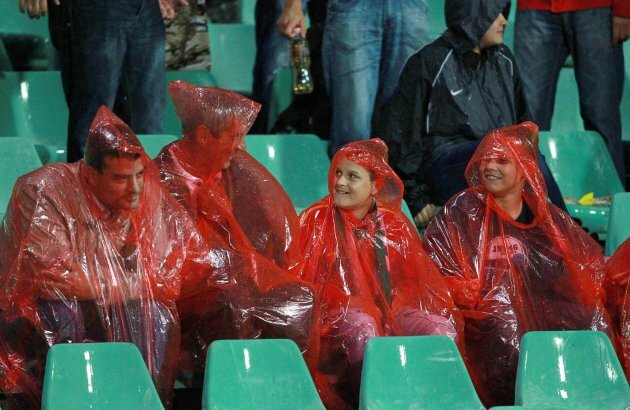 (Fans endure the miserable weather in Budapest – INPHO/Donall Farmer)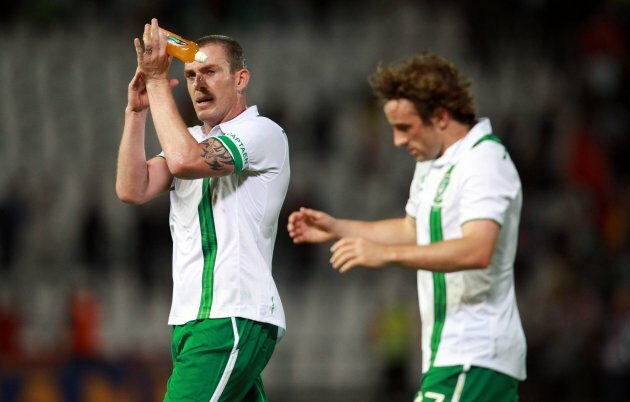 (Richard Dunne and Stephen Hunt applaud the Irish supporters – INPHO/Donall Farmer)
Trapattoni tells Setanta he is happy Ireland didn't lose or suffer an injury.
He admits Hungary "dominated us in the first half" but suggests "the fresh energy" helped Ireland improve in the second half.
He indicates Ireland may have to play one up front, given that they were overrun in midfield for large parts of that game.
Surely he can't be considering changing the system at this stage.
Right that's it from me for the moment. Thanks for reading and commenting.
Stay tuned though, as we'll be bringing you player ratings, a match report and more shortly.