Liveblog
As always, we'd love you to get in contact. Send us your thoughts by emailing adrian@thescore.ie, via Twitter @thescore_ie, find us on Facebook, or leave a comment below.
You may need to refresh to see videos and images.
Full-time: Ireland 0 Greece 1
I'm not saying the Aviva Stadium is empty right now, but one of the Greek fans might have to pick up the Euro 2012 fans' award Michel Platini is here to give the Irish supporters. Maybe they're outside having a hot dog – we're still 25 minutes or so from kick-off here in D4.
But how are we feeling about the game out there in computerland?
Get in contact in the usual ways because I'm getting very lonely here. Pre-match preparations are well underway in the press area however. As Roy Keane said, fail to prepare…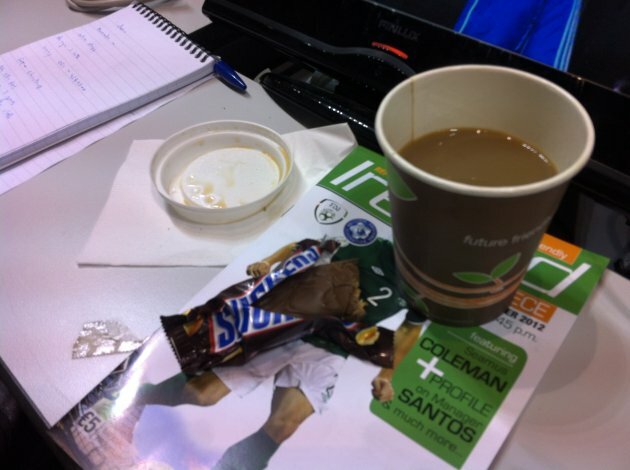 Let's have those team sheets than shall we? We're gonna have some craic typing out these names for the night: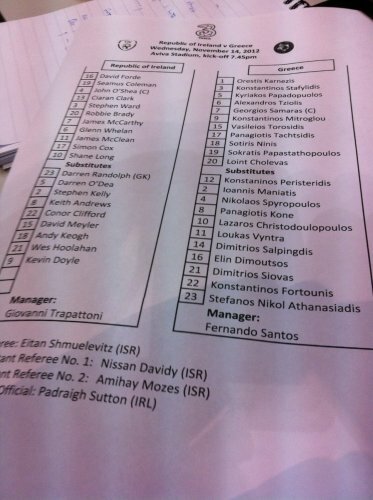 David Forde has been handed a fourth senior cap tonight after Keiren Westwood was forced to withdraw through injury earlier today.
The 33-year-old Millwall keeper joins a line-up also including the likes of youngsters Ciaran Clark, James McCarthy, James McClean and Robbie Brady. I'm quite looking forward to seeing a lot of that lot
Celtic striker Georgios Samaras, one of the heroes of the Champions League victory over Barcelona of course, captains the visitors. The Greeks are currently joint top of their World Cup qualification group and are 12th in the world would you believe.
Some thoughts from FAI chief executive John Delaney in tonight's match programme:
"Last month was a testing one for the Republic of Ireland team. The defeat by Germany was disappointing from a performance and result perspective, but thankfully we are back on course and will head into our 2013 fixtures knowing exactly what is required to stay in contention to qualify for Brazil 2014."
The teams are about to trot out for the anthems and then some football. The FAI are still pretty confident they'll hit the 20,000 spectators mark but it looks shy of that at the moment. The Sky commentator down in front of me just made his first on-air remarks — and for those of you not watching, he's already made reference to the Deficit Derby. Give me strength.
Meanwhile, reader Jason writes:
"Why isn't Hoolohan starting – at 30 with years of league football experience does he really only need a run out? Have any attempts been made to get Kevin Nolan and Mark Noble on board? What about Stephen Ireland – alright he made a lot of mistakes but he is 26 now, seems to have settled at Villa and has said he wants to come back and to be honest after the Euros and the last few games I would gladly take him back into the fold in the qualifying stages and give him a chance to prove himself. Trap still isn't doing what he should be – and what the hell was he on about at that press conference?"
There's a lot in that. What do you think?
President Michael D Higgins has just met the teams and we're about to have the anthems.
UEFA president Michel Platini is on the pitch at the moment presenting the family of Irish supporter James Nolan — who tragically drowned in Poland last summer — with the Irish supporters' Euro 2012 fans' award. Proper order.
The crowd, players and officials show their appreciation with sustained applause and a standing ovation. And then kick-off.
Less than a minute in and a talking point. The Irish supporters demanded an early penalty when Stephen Ward's from the left wing cross bounced into the hand of Panagiotis Tachtsidis — who we'll refer to as No 17 from here on out. It looked a stonewall spotter to me and every other Irishman here I'm sure.
4 mins. This referee is giving us nothing easy anyway. Shane Long picked himself up from the cut-up Lansdowne Rd turf appealing for a penalty after he was bundled off the ball — or fell — as he stormed into the box. No go again however.
That's a chance, Ger. Simon Cox should have put Ireland one-up there. Seamus Coleman got to the byline thanks to a one-two with Brady. The Everton man then laid a cross up the Cox but he seemed to close his eyes and get under the ball, ultimately nodding it behind. He's looked lively otherwise though.
The pitch is in poor, poor nick. Looking across the surface there's little squares visible throughout the turf which look like panels of grass that have been patched on. And as well as that it's just cutting up everywhere. They play rugby here too right?
20 minutes This has been a very decent start from the home side despite the pitch. The likes of Robbie Brady, Coleman, McClean and McCarthy can all play ball and they've been hanging onto it for sustained periods, with some nice little patterns and touches. In the last few moments a deflected James McClean cross almost caught Greek keeper, Orestis Karnezis, cold but he ultimately kept it out.
Elsewhere? Well, Azerbaijan are a goal up in Belfast in their World Cup qualifier against the North and our group rivals Sweden are a goal up against England thanks to a Zlatan strike.
England have actually equalised thanks to Welbeck. Samaras is on the sideline in front of us for the past few moments getting attention to a cut above his eye, courtesy of one Mr J O'Shea.
David Forde makes his first real save of the evening when Ninis – which sounds like a word for women's underwear, if you ask me – unleashes a tester at the Millwall shot-stopper. England are now 2-1 win up to Spurs defender Steven Caulker by the way.
GOAL! Ireland 0 Greece 1, Holebas 28′ The Greeks break the deadlock then. A long period of possession ultimately sees Samaras and Holebas combine on the edge of the penalty box and when the 28-year-old engineers a little bit of space in front of the Irish defence, he has time to drill it past David Forde.
Keith Andrews is coming on for his old pal Glenn Whelan. The Stoke man must be injured? He's not long back from a hamstring injury so perhaps he felt something twinge. I would have liked to have seen David Meyler given the hour though.
Michel Platini makes a presentation to the family of James Nolan. INPHO/Lorraine O'Sullivan
Ciaran Clark is the second Irish player to be booked — after Shane Long — for a cruncher of a tackle on the goalscorer Holebas. The Aston Villa centre half was scampering back from the Greek box after an Irish free-kick and he absolutely milled into the Greece forward, kicking off a bit of handbags in the centre of the pitch.
As I type, Robbie Brady stings the hands of Karnezis in the Greek goal with a good shot, which is palmed behind. We're well into added time now.
The half ends with James McClean at the centre of a skirmish in the Greek goalmouth after Robbie Brady whips in a corner ball. Nevertheless, Trap will once again welcome his Irish team into the dressingroom after first period in which they ultimately came off second best. There's been some bright spots — the combination of Coleman and the performance of Clark spring to mind — but the likes of McCarthy and now Andrews need to get a hold of this game in the midfield. What do you think?
Here we go then. And Wes 'Wessi' Hoolahan is introduced for the 45 minutes of action he was promised- to the biggest cheer of the night. The Norwich man is on for Robbie Brady who impressed again while Kevin Doyle is on for Shane Long while McClean has switch wings.
The referee waves waves away another penalty claim. The goalkeeper couldn't hold a well-struck James McCarthy shot and as Doyle tried to get on the end of it he was pulled to the ground by a Greek defender. This is a bright start from the Irish however.
The Irish chance carve out another good chance. Weso and Andrews combine with the latter then threading it through for Cox, who's smothered out of it when it looked like he was in.
That's lovely stuff. Wes Hoolahan is again at the centre of a good move as he links up between Cox and Doyle but the move eventually ends in a corner which is wasted.
For Simon Cox, the game is over. The Nottingham Forest striker hurt himself when hacking a loose ball over the sideline. He immediately dropped to the ground and indicated he was done. Andy Keogh is on the sideline and will be introduced. The Greeks make two changes too with Vyntra and Maniatis trotting on.
Zlatan has scored again against England meanwhile. From Teamtalk: "Striker controls ball on chest before drilling past a despairing Hart. Defence had gone to sleep! Sweden 2 England 2."
Boom! Who says Ibra never scores against English teams? He's only gone and completed his hat-trick with — as is customary with hat-tricks — his third goal of the night. He's gonna tear us apart isn't he?
MEGS! Coleman puts the ball through Stafylidis's legs and bombs on before he's dragged down, earning Ireland a free in a dangerous position. From the set-piece, Hoolahan drags the ball across the face of the penalty area, McClean's attempt is deflected to the back post where Stephen Ward shanks his shot to the back post. Kevin Doyle can't get on the end of it though. As I type, David Meyler comes on for the final 20 minutes in place of James McCarthy.
How many former League of Ireland players are now on the pitch now, I hear you ask? Meyler, Doyle, McClean, Coleman, Forde, Ward and Wes. That's impressive.
Ireland are still well on top here and more than deserve a goal. What do you make of it?
Zlatan has scored his fourth goal of the night; he — and Sweden — now lead England 4-2. It's apparently a completely ridiculous strike, so we'll post that as soon as it surfaces.
Guess who's doing the punditry for Sky here, meanwhile: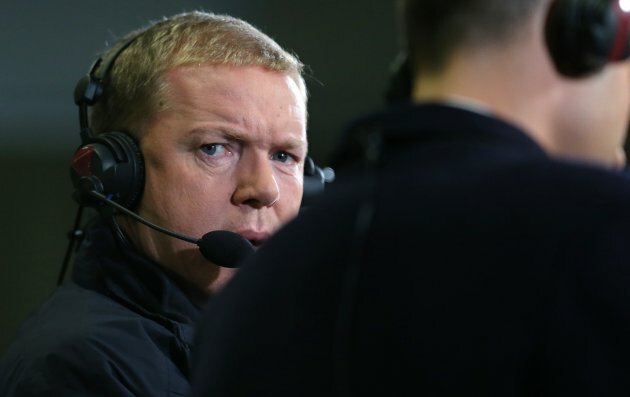 INPHO/James Crombie
80 minutes The Greeks are happy with their one-goal lead and are completely sitting back now. Trap doesn't look like he's about to make a change but the Greeks have sent on two in recent minutes. 10 minutes remaining to get the goal Ireland deserve.
In Belfast, the North are still losing to Azerbaijan 1-0, Scotland have won against Luxembourg while Sweden have now beaten England, 4-2. And check out Zlatan's final goal. Dear me:

In the press box, people seem to be paying more attention to that ridiculous Zlatan bicycle kick, rather than the final minutes on the pitch in front of us, judging by the laughs and guffaws that are rippling through the area. The fourth official has tapped 'four minutes' into his electronic board and we're just entering that period of added time now.
Seamus Coleman — who's been up and down the wing like the Luas Red Line all night — is awarded the man-of-the-match award and you'd hope the Everton defender has now cemented his place in Trap's starting XI.
Full-time: That's all she wrote. It was a promising performance — and a different type of performance — form the Irish. Wes Hoolahan, Seamus and Coleman and even Ciaran Clark showed real promise but it's another 'L' in Trap's Ireland column. What did you make of it? I'm off downstairs to the manager's press conference but keep the comments coming.
Contribute to this story: