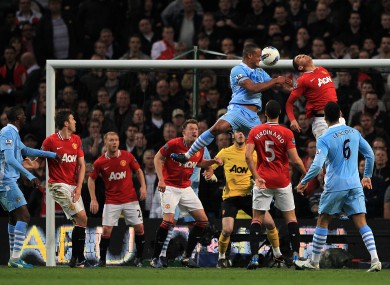 Vincent Kompany rises above it
Image: PA
Send us your thoughts and comments on this tonight's action. Tweet us@thescore_ie, find us on Facebook, or leave a comment below.
Manchester City 1-0 Manchester United
19:39 – 19.39 – For once, the hype is justified. Not only is this arguably the biggest Manchester derby of all time but it could end up being the most consequential English league game since Arsenal travelled to Anfield on 26 May 1989. It really could settle the title. A win for United certainly will as they'll only need a point from their last two games in such a situation. A win for City, however, will put them ahead on goal difference. A draw, meanwhile, might send it to the last day. There's a lot on the line here…
19:46 – 19.46 – The team news is hugely interesting. We're possibly going against the grain here but we think both managers deserve to be praised. Mancini has gone against his usual inclination to include a more defensive player in Nigel De Jong ans has illustrated faith in his team's attacking qualities and his team's recent momentum. United, by contrast, have struggled for balance recently. But it's possible he's found it tonight. While he's retained the possession football of Paul Scholes and Michael Carrick but bolstered them with the industry of Park Ji-Sung. That compensates for the lack of Antiono Valencia's dependability as Ferguson has gone for a little more spark and creativity in Nani. In the face of constant City attacking, United should be well protected while offering a bit of potency in attack. It's perfectly poised.
19:46 – 19.46 – The teams
Man City: Hart, Zabaleta, Lescott, Kompany, Clichy, Barry, Toure Yaya, Silva, Tevez, Nasri, Aguero. Subs: Pantilimon, Richards, Milner, Dzeko, Kolarov, De Jong, Balotelli.
Man Utd: De Gea, Jones, Ferdinand, Smalling, Evra, Nani, Carrick, Scholes, Park, Giggs, Rooney. Subs: Amos, Berbatov, Hernandez, Young, Welbeck, Rafael Da Silva, Valencia.
Referee: Andre Marriner (W Midlands)
19:50 – 19.50 – Of course, there's perhaps a deeper issue here with psychology and momentum. On one level, United will want revenge for the 6-1. On another, City will want to buildup a head of steam in the type of game they've never really been involved in.  By contrast, United have been in such games many times… but, surprisingly, their record isn't as excellent as their experience suggests. In 2010, for example – in a game much earlier in April – they lost 2-1 at home to Chelsea. It mightn't have decided the title but they never recovered momentum. Last year, it was the opposite as they effectively sealed number 19 with a 2-1 victory against the Stamford Bridge team. Will experience or momentum tell tonight?
19:52 – 19.52 – Our prediction: Manchester City 1-1 Manchester United
Ferguson seems to be treating this like an away European game and United are quite adept at such performances – as we've seen repeatedly, for example, against Arsenal. They should do enough to seal a result even if they won't have the full conviction to capture three points. It's also difficult to see this City forward-line not scoring at least once.
20:00 – 20.00 – And it's off…
20:01 – 20.01 – A positive enough start with United who push City in early on with City frantically defending a corner. A lot of uncertainty in the City backline.
20:04 – 20.04 – Park seems to be man-marking Yaya Toure, who has had a lot of joy in recent derbies between the two teams. Ferguson cutting off a supply line.
20:06 – 20.06 – City have settled a little bit and are beginning to get a bit of ball around the United box. Silva forces a corner with a shot that's deflected wide.
20:11 – 20.11 – Nani blazes over as United surge forward. Some nice link-up play, nothing too flash yet.
20:16 – 20.16 – A great break by City with Nasri evading a few challenges on the edge of the boxand playing Tevez through on the outside. There was a real determination and focus to United's defending there, though, as the cross was cleared with extreme prejudice.
20:21 – 20.21 – A pic of Al Wasl manager Diego Maradona in the bench there… the father in law of Sergio Aguero of course.
20:24 – 20.24 – Possession: City 61-39 United
20:24 – 20.24 – Aguero blazes over from a half-chance in the box. Should have finished better after thw ball bounced about the box.
20:30 – 20.30 – United on the edge at the moment as City tip-tap the ball around the box looking for an opening. It is tense right now after a sedate enough opening 20. United have certainly withdrawn.
20:36 – 20.36 – It's got very niggly at the moment with a few sharp tackles going in. City getting a bit closer as Tevez snatches at a chance and then Zabaleta tries to turn in the box but can't get a proper shot off.
20:38 – 20.38 – It's all City at the moment as they flash a lot of balls across the United box. Just can't get anything on them but United have defended solidly enough.
20:41 – 20.41 – A rare chink of light for United as Nani carries the ball high up the pitch and crosses for Rooney. He cuts it back and it lands for Giggs, but United only get a corner… which comes to nothing.
20:46 – 20.46 – GOAL! Manchester City 1-0 Manchester United
You have to say it was coming! Kompany powers a header in from a corner with questions to be asked of the United marking. Just before half-time.
20:48 – 20.48 – Half-time. City are absolutely roared off after a dominant defensive display and a deserved lead. United really have to step it up second half. You can only rely on a cautious game if you actually do your job.
20:55 – 20.55 – This is the thing about defensive football: it's a tactic that can, morally, be defended itself so long as your players actually do their jobs. But, having invited City onto them, United then gifted that goal… even though Kompany did superbly to meet it. United need to up a a gear here or they could well get overrun.
21:03 – 21.03 – And the second half is off…
21:06 – 21.06 – United have picked things up slightly in the first two minutes of the half…
21:07 – 21.07 – Nani drives at goal from out wide and Hart fails to hold it, sending it out for a corner.
21:11 – 21.11 – Park is having an awful game. Ferguson needs to change something.
21:15 – 21.15 – And, duly, Welbeck is coming on… but City almost threaten a second before then as Aguero expertly sidesteps Scholes and initiates another attack. United have definitely stepped up but you still feel City are likelier to score. Park, predictably, is coming off for Welbeck.
21:20 – 21.20 – Everything falling for City at the moment. They simply look the more confident team.
21:21 – 21.21 – United slowly knocking the ball about the moment, gradually making their way up the pitch. Still not much thrust.
21:23 – 21.23 – United trying to force things at the moment. They've come into the game a bit more as City have naturally withdrawn but there's no real cohesion at pace. Nothing really coming off. City may be nervous but they're not truly under threat.
21:26 – 21.26 – De Jong on for Tevez. The pattern of this is easy to predict now as we enter the last quarter of the game: City sitting back, United laying siege. Will we see another late show?
21:33 – 21.33 – City still in control here. They've just been better on all departments: attitude, approach, application.
21:34 – 21.34 – Ferguson and Mancini having a go at each other after De Jong fouls Welbeck. Mancini doing the "mouth" gesture to the Scot.
21:36 – 21.36 – Scholes off for Valencia. Twelve minutes of normal time left. Carrick just cleans out Barry… moments after Ferguson criticised City for doing the exact same type of thng.
21:39 – 21.39 – Toure flashes just wide after a surge forward. Aguero was in much more space. Should have been 2-0 City.
21:40 – 21.40 – Young comes on for Nani.
21:43 – 21.43 – Five minutes of normal time left… United can barely get on the ball, let alone get it where they want it.
21:47 – 21.47 – Brilliant challenge from Jones as Nasri was lining up a shot just yards from goal! Superb tackle. But will that change anything… we're about to enter stoppage time.
21:48 – 21.48 – Five minutes stoppage time.
21:52 – 21.52 – Corner to United… a minute left.
21:53 – 21.53 – Hart fouled by Smalling as United throw it into the box. That's surely it.
21:55 – 21.55 – FULL-TIME: Manchester City 1-0 Manchester United
That's it! City hold United at bay but, in truth, the defending champions didn't really threaten. And that may well mean we have new champions. But there's still amlong way to go.