Liveblog
As always, we'd love to hear your thoughts on this evening's game. E-mail paul@thescore.ie,tweet @thescore_ie, post a message to our Facebook wall, or leave a comment below.
You may need to refresh the page for YouTube videos and other elements to display correctly.
Mayo 0-5 Dublin 0-8 (match abandoned at half time)
Hello, and welcome again to another liveblog. We're just underway here.
Here is the Dublin team:
1. Stephen Cluxton, 2. Darren Daly, 3. Rory O'Carroll, 4. Philly McMahon, 5. James McCarthy, 6. Ger Brennan, 7. Craig Dias, 8. Ross McConnell, 9. Michael Darragh Macauley, 10. Paul Brogan, 11. Kevin McManamon, 12. Bryan Cullen (captain), 13. Diarmuid Connolly,14. Eoghan O'Gara, 15. Tomás Quinn
And here is the Mayo side:
Clark, Keane, Reilly, Higgins, Gardner, Vaughan, Keegan, BMoran, AOShea, McLoughlin, OConnor, Dillon, Mortimer, Freeman, Varley.
Connolly has just responded for Dublin with a swift turn and shot, after Mayo started well, claiming the first two points of the match.
Connolly tries to repeat the trick, but this time, he strikes it wide.
The heavily-involved Connolly brings Dublin level, with another excellent point.
Dublin are beginning to gain a foothold in this match as Tomas Quinn puts them in front for the first time, with a free right in front of the posts.
Tomas Quinn adds a free as Dublin go four points clear. They're really beginning to dominate now.
McManamon gets another point, as Dublin threaten to run riot.
Enda Varley has got Mayo's first point for a while. They really needed that.
RED CARD FOR JAMES MCCARTHY!
That looked extremely harsh. The Mayo player connects with McCarthy's elbow as he's running with it. I'm not convinced that it was intentional.
Meanwhile Conor Mortimer has just hit Mayo's second wide of the game.
This really has been a frenetic opening. I haven't stopped typing since this game began.
Paul Brogan is now filling the hole left by McCarthy, following his departure.
O'Gara hits Dublin's third wide. They're clearly still reeling from that red card decision.
Meanwhile, a Mortimer free brings Mayo to within three points of Dublin.
HALF TIME: DUBLIN 0-8 MAYO 0-5
So, an intriguing first half then. After falling two points behind, Dublin proceeded to completely dominate their opponents, before that McCarthy sending off changed the face of the game entirely.
And interestingly, Dublin have failed to score since McCarthy's exit.
There's very strong fog on the pitch at the moment, meaning half time has been extended by five minutes.
This pic comes courtesy of @MayoGAABlog. Not looking good for the second half, is it?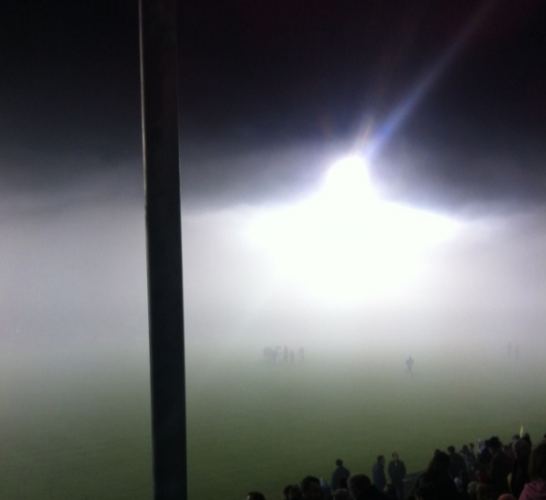 BREAKING: MATCH ABANDONED DUE TO HEAVY FOG.
Despite leading, Dublin might well be the more relieved of the two sides, given that they faced the prospect of playing with fourteen men for an entire half.
Oh well, at least Dublin/Mayo/Irish rugby fans no longer have a dilemma on their hands.
The Secretary of the Connacht Council says they'll discuss rescheduling the game on Monday and adds that the referee "couldn't see three corners of the ground".
Mayo manager James Horan agrees that it was the "correct decision" to call off the game, and praises his side, saying that they gained "momentum" towards the end of the first half.
Okay, that's it from me. Thanks for reading and enjoy the rest of your weekend.
Contribute to this story: