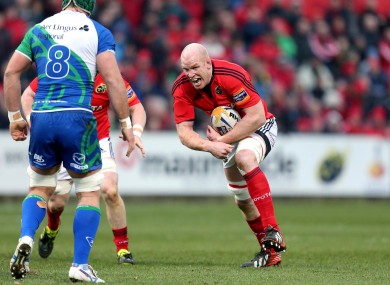 'Did you scare any one?'
As always, we'd love to hear your thoughts on the game. E-mail paul@thescore.ie, tweet @thescore_ie, post a message to our Facebook wall, or leave a comment below.
You may need to refresh the page for YouTube videos and other elements to display correctly.
Munster 22-0 Connacht
17:33 – 17.33 – Hello, and welcome to this evening's liveblog. Here are the teams:
Munster: F Jones; D Howlett, C Laulala, J Downey, D Hurley; R O'Gara, C Sheridan; D Kilcoyne, D Varley, S Archer; Donncha O'Callaghan, P O'Connell; T O'Donnell, S Dougall, J Coughlan.

Replacements: M Sherry, W du Preez, BJ Botha, B Holland, N Ronan, D Williams, I Keatley, I Dineen.

Connacht: R Henshaw, D Poolman, E Griffin, B Murphy, G Duffy (capt.); D Parks, K Marmion: B Wilkinson, J Harris-Wright, N White; M Kearney, G Naoupu; A Browne, W Faloon, J Muldoon.

Replacements: A Flavin, D Buckley, R Loughney, M McCarthy, E McKeon, P O'Donohoe, M Nikora, F Vainikolo
17:39 – 17.39 – So let's have your predictions ahead of this one…

Poll Results:
17:41 – 17.41 –
17:45 – 17.45 – Speaking to TG4, Rob Penney has refused to confirm or deny that Munster are interested in signing Luke Fitzgerald from Leinster.
He does add that there are "a lot of things going on behind the scenes" though.
17:47 – 17.47 – We're underway…
17:52 – 17.52 – Plenty of free-flowing rugby from Munster in the opening stages.
They've dominated possession without finding a break through as of yet.
17:55 – 17.55 – Laulala, in particular, has looked threatening and inventive every time he's got the ball so far.
Meanwhile, we've just seen a clever offload from big Paul O'Connell.
17:56 – 17.56 – TRY FOR MUNSTER!
17:59 – 17.59 – Munster 7-0 Connacht: After intensive Munster pressure, a clever pass from Sheridan finds the returning Paul O'Connell, who barges over the line for Munster's first try of the game (10 mins).
O'Gara makes no mistake with the conversion.
18:01 – 18.01 – TRY FOR MUNSTER!
18:04 – 18.04 – Munster 12-0 Connacht: Paul O'Connell is already having a significant influence on this game. He wins the lineout in the Connacht 22, and Munster extend their advantage from the ensuing drive, with Damien Varley ultimately being the man to touch down amid a host of bodies (14 mins).
O'Gara then narrowly misses the resulting conversion from a difficult angle.
18:08 – 18.08 –
18:10 – 18.10 – Amid the madness of the second try, I didn't get a chance to mention that Mick Kearney was sin-binned for a late tackle on O'Gara.
The incident lead to a Munster penalty and the lineout, from which Varley scored the try.
18:14 – 18.14 – Marmion makes a darting run through the Munster defence, but Felix Jones gets back to tackle him just a few yards from the try line.
It's been a highly entertaining game to watch thus far.
18:21 – 18.21 – Some more patient Munster play, as they exchange a series of passes in the opposition 22, before O'Gara concedes possession as he fails to properly gather a pass.
The visitors can't gain much distance on the clearing kick though, and thus, open themselves up to further pressure
18:23 – 18.23 –
18:26 – 18.26 – Very clever play from O'Gara, as he attempts to switch the focus of the attack with a cross-field kick that's just inches away from finding Tommy O'Donnell.
Great vision from the veteran out-half.
18:29 – 18.29 –
Munster's Paul O'Connell celebrates scoring the opening try with team-mates (INPHO/James Crombie).
18:32 – 18.32 – Munster 15-0 Connacht: O'Gara slots over another penalty with the last kick of the half (40 mins).
The scoreline is no less than the hosts deserve.
18:33 – 18.33 – HALF-TIME: MUNSTER 15-0 CONNACHT
18:44 – 18.44 – So it was a first-half in which Munster looked comfortable for the most part, consistently dominating in the possession and territory stakes.
Paul O'Connell does not appear to be suffering any ill effects from the long-term injury he's only recently returned from.
In fact, O'Connell has given a typically influential display, appearing prominent throughout the first 40 minutes and scoring Munster's first try.
Eric Elwood, meanwhile, will be disappointed with Connacht's performance. They've shown very little attacking threat and seem second best to Munster in almost every department.
18:44 – 18.44 – The second half is underway…
18:46 – 18.46 –
18:48 – 18.48 – Laulala has just delivered an absolute monster hit on Murphy.
Thankfully, the Connacht player appears to be okay, following the knock.
18:54 – 18.54 – Mike McCarthy and Denis Buckley are on for Connacht in place of Wilkinson and Naoupu.
Meanwhile, O'Connell has just gone on one of his archetypal monstrous runs, brushing off two players in the process.
18:54 – 18.54 – TRY FOR MUNSTER!
18:58 – 18.58 – Munster 22-0 Connacht: More good work from O'Connell is capitalised on by Varley, who collects the ball inside the opposition 22 and somehow manages to sneak through a number of Connacht bodies and dive over the line for his second try of the game (49 mins).
O'Gara gets the conversion straight in front of the posts.
19:01 – 19.01 – Loughney is on for White and Adrian Flavin takes the place of the injured Jason Harris-Wright.
At this stage, the best Connacht can hope for is damage limitation.
19:06 – 19.06 – Munster lose a lineout in their 22, but regain possession seconds later, as no one is there in support for the visitors after a Connacht player is tackled.
It's been a limp performance from Eric Elwood's men, and the aforementioned moment epitomises the sense of disarray that has frequently been evident in their game.
19:07 – 19.07 –
19:10 – 19.10 – Connacht have at least shown a bit of spirit in recent minutes.
They're currently camped in the Munster 22.
19:15 – 19.15 – More Connacht substuitions in recent minutes – Paul O'Donohoe replaces Marmion and Fetu'u Vainikolo is on for Danie Poolman
For Munster, Niall Ronan, Mike Sherry, BJ Botha and Billy Holland have replaced Tommy O'Donnell, Sean Dougall, Damien Varley and Stephen Archer.
19:19 – 19.19 – It's threatened to boil over between Paul O'Connell and Mike McCarthy, with two of them of them putting their arms around each others' necks in what is ultimately a minor scuffle.
Ian Keatley has replaced Felix Jones for Munster.
19:20 – 19.20 –
Munster's Tommy O'Donnell tackled by Nathan White and Mick Kearney of Connacht (INPHO/James Crombie).
19:24 – 19.24 – Du Preez replaces Kilcoyne with ten minutes remaining.
It's been a relatively dull second half, with Munster so far ahead that the two sides have little to play for, barring the possibility of a bonus point for the hosts.
19:31 – 19.31 – We're in the dying seconds. Looks like Munster aren't going to get that bonus point.
Still though, a full 80 minutes from an impressive-looking Paul O'Connell has made this victory all the more satisfying.
19:33 – 19.33 – FULL-TIME: MUNSTER 22-0 CONNACHT
19:42 – 19.42 – So a comprehensive, convincing win from Munster in the end, though a somewhat lax end to the second half meant they couldn't quite secure the bonus point.
They came up against an ill-disciplined Connacht side that appeared to be going through the motions at times.
But perhaps the most important aspect of the day was the performance of Paul O'Connell, who gave a typically commanding display despite having only recently returned from injury.
19:43 – 19.43 – Right, that's all from me.
Thanks for reading and commenting, and enjoy your weekends.