Liveblog
IT'S FRIDAY NIGHT and there's another big, big game on in Ravenhill.
Join us for live updates as last year's Heineken Cup finalists both aim to get back to winning ways.
As always, we'd love you to get in contact, so send us your thoughts by emailing Sean@thescore.ie, via Twitter@thescore_ie, find us on Facebook, or leave a comment below.
Ulster 27 – 19 Leinster
It's Christmas time, so that means another round of inter-provincial rugby action.
Kick off at Ravenhill is mere minutes away so I'll cut to the chase with the team news.
Ulster: J Payne; A Trimble, D Cave, L Marshall, C Gilroy; P Jackson, R Pienaar: T Court, R Best, J Afoa, I Henderson, N McComb, R Diack, C Henry (capt), N Williams.Replacements: R Herring, C Black, A Macklin, A O'Connor, R Wilson, P Marshall, P Wallace, A D'Arcy.

Leinster: N Reid; A Conway, B Macken, G D'Arcy, F McFadden; I Madigan, E Reddan: C Healy, S Cronin, M Bent; L Cullen (capt), D Toner; K McLaughlin, S O'Brien, J Heaslip.

Replacements: A Dundon, H van der Merwe, J Hagan, T Denton, R Ruddock, I Boss, A Goodman, A Byrne.
KICK OFF: RTE cut over just in time for the start with the news that George Hamilton has been caught up in protests in Belfast. So, we're left with the BBC commentary.
Paddy Jackson gets us under way and Ulster reclaim the the ball and go on the attack with Luke Marshall spinning the ball wide.
Leinster manage to clear, but back come the hosts…
Referee George Clancy penalises the blues, but from 30 metres on a slight angle, Paddy Jackson's first effort at goal is wide.
Ulster win the ball back in their own territory and carry it back over the half way line; Pienaar kicks for territory and Rory Best incurs a penalty allowing the visitors bring the play back ip towards Ulster's 22.
The line-out functions well and Leinster rumble forward until a Cian Healy off-load lands in the palms of Luke Marshall and he clears past the 10-metre mark.
After Ulster turn the ball over, Trimble spins the ball wide, but drops it short and it bobbles off a knee.
Michael Bent wins a penalty off the reset scrum and Ian Madigan, on a rare night with the kicking tee, nails it from the right side.
PENALTY: Ulster 0 – 3 Leinster (Madigan '12)
Hmm. RTE pressed the fade button on the Beeb's commentary, sounded the trumpets and announced the triumphant arrival of George Hamilton.
He'll talk us through the game now despite having missed the first 10 minutes.
PENALTY: Ulster 0 – 6 Leinster (Madigan '18)
Ian Madigan is really hitting the ball well. As Nick Williams is penalised at the breakdown, the penalty from a more acute angle is swung between the posts.
Ulster pen on halfway and Jackson rams it down the touchline. The crowd starting to have their say and Ulster's line-out is driving for the line.
Leinster halt the drive,, but unfairly, says Clancy. A quick advantage ends with a knock on in front of the posts.
From the left side Jackson's penalty attempt is absolutely horrible. Sounded all wrong on the strike and it cut low and left of the posts.
PENALTY: Ulster 3 – 6 Leinster (Jackson '25)
Ulster and Jackson are off the mark after Cian Healy slips his bind at the scrum. Again, Jackson didn't strike the ball particularly well, but it went over and he'll take heart from that.
Fez is up and about. Happy Christmas, big man.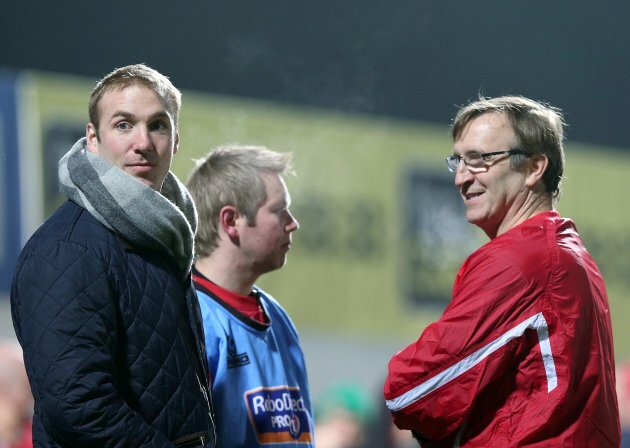 ©INPHO/Dan Sheridan
The blue penalty count keeps on mounting. There'll be a yellow card before long.
This one arrives on the left wing, just inside the Leinster half. It's Ruan Pienaar territory.
PENALTY: Ulster 6 – 6 Leinster (Pienaar '30)
Barely a second of doubt. The ball sails straight, tru adn all the way over the bar. We're all square.
Tony Ward calls it a cheap three points to concede as Robbie Diack handles the ball in a messy ruck just outisde the 22. Meat and drink for Mads.
PENALTY: Ulster 6 – 9 Leinster (Madigan ' 33)
Ulster really turning up the heat after that with Nick Williams barrelling his way up the left before the white shirts spin the ball wide to the right. Jackson elects not to take on his man, instead grubbering past Noel Reid. The young fullback carries over the line. Scrum V.
PENALTY TRY: Ulster 13 – 9 Leinster
Awesome power there from the Ulster eight and John Afoa has Cian Healy in a spin.
HALF TIME: Ulster 13 – 9 Leinster
The atmosphere in Ravers has turned rabid. The crowd are loving Ulster's second quarter showing. Leinster have been in decent form, but getting into serious bother at every ruck as Ulster continue to force penalties and turnovers.
Here comes the second half and Leinster win the ball back off the restart. Rhys Ruddock is the man Joe Schmidt has asked to turn the tide, he replaces Kev McLaughlin.
PENALTY: Ulster 13 – 12 Leinster (Madigan ' 42)
The gap is back to the minimum as the home side go off their feet on the edge of the 22.
Leinster attempt to run the ball out, but Andrew Trimble gets a hand in and intercepts. He's in traffic though and passes inside to Cave.
Leinster scramble well, but they're under the pump here. Pienaar steps and weaves into a gap, pulling defenders one way before big Nick Williams peels off in the other.
It looks like the Kiwi number eight has planted on the line
TMO
TRY: Ulster 20 – 12 Leinster ( Williams '44)
I'm not sure what question Clancy asked, but the TMO took an awful long time to make a straightforward decision.
Madigan misjudges a kick for territory and Leinster are forced back to the 10-metre line. The momentum is only flowing one way at the moment.
Leinster haven't won three H Cups for nothing though, they know exactly how to alter a game. They edge into the Ulster 22 and patiently go through the phases, using low risk carries to get a foothold in this second half.
But Ulster's defence is rock solid these days, and after a penalty advantage lapses, Leisnter concede a penalty which will take them back down to half way.
Tom Denton and Heinke van der Merwe will come in for leo Cullen and Cian Healy. Noel Reid leaves the arena injured with Andrew Goodman coming on to play fullback.
Jamie Hagan and Isaac Boss now on for the visitors too. Schmidt clearly not happy with how this is unfolding.
How often do you see a charge down in rugby at this level? Whatever the stats are the chances of it happening improve massively when Ruan Pienaar is on the field.
The Springbok steams through to get a hand on a Madigan clearance in his 22. It flies out of reach, but Ulster are well placed again and win a scrum on the 22 metre line.
The changes in the scrum haven't changed the state of affairs. Tom Court is still having a beast of a game and he wins a penalty off Hagan.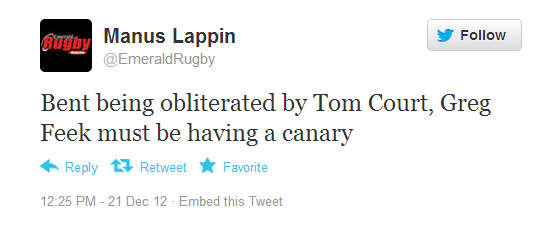 Pienaar with his first miss of the night, narrowly wide of the near left-hand post.
There must be something about Leinster which knocks Jackson off kilter.
That's twice now he has kicked for territory and badly missed, going way out on the full. Ian Madigan, is winning that particular battle. Showing poise behind a beaten pack.
65 minutes. And there is the end of a disappointing night for Jackson. He's young, talented and consistency is just a matter of time.
Paul Marshall is on in his place, so Ruan Pienaar will take the reins and steer Ulster home.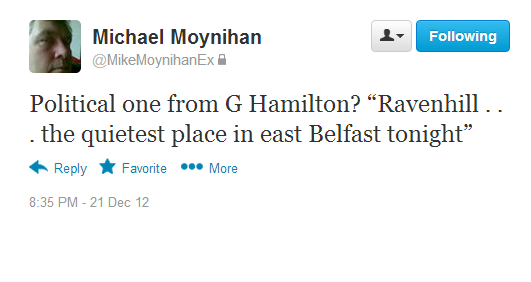 SIN BIN: It's game on suddenly at Ravenhill as Rory Best takes a walk after infringing on his 22. With 69 minutes gone, he might not be back.
Wow, I think I put a commentator's curse on Madigan. He's shanked that penalty attempt that would have put Leinster within a single score.
Rob Herring comes in to the front row at the expense of Diack. As the ball spins out of his first scrum with Boss forcing an error from Marshall Henry forces a penalty out of Hagan at the breakdown.
10 metres inside his own half is just out of Pienaar's range in this weather, he drills it up to the red zone instead.
With an advantage coming Ulster's way, Marshall throws a massive dummy to Pienaar and snipes through a gap. He's caught, but the platform is set…
TRY: Ulster 27 – 12 Leinster (Trimble '75)
We'll bring you footage of this try as soon as we get it, becasue it was a (ahem, Christmas *cough) cracker.
Pienaar lofting a cross-field kick to the Irish winger who stepped in and grounded try number three.
TRY: Ulster 27 – 19 Leinster (McFadden '78)
The eastern province hit back immediately with McFadden picking a route to the left corner. Madigan's kicking has been excellent tonight and he effortlessly hits the extra points.
Leinster have 50 seconds to get a point from this game.
FULL TIME: Ulster 27 – 19 Leinster
It's all over. Leinster lose three in a row and send us to the results history to find out when that happened last.
Ulster provide further proof that they are a serious outfit with their 14th win in 15 this season and their 11th consecutive W in the the Rabo.
And so, Ulster maintain their nine-point lead at the Pro12 summit. They are 16 clear of Leinster who could drop out of the play-off places this weekend if Munster can win inn Galway tomorrow.
We've had a look in the history books and April/May 2010 was the last time Leinster lost three games in a row. None of those were at home, and all three were within 10 days of each other as they travelled to Connacht on a Wednesday, Glasgow on the Friday and Toulouse the following Saturday.
No wonder Mark Anscombe was grinning like a Cheshire cat.
"It was awesome wasn't it" The Kiwi said when asked about Trimble's try when his side were down to 14 men. But he quickly came back down to earth.
"The experience (of the players) comes through and that's very pleasing."
"It's only our 11th game, we still have the other half to go."
That's all from me folks, be sure to join us tomorrow for more inter-pro action as well as live football and all the Christmas cheer you can stomach.
Safe home.
Contribute to this story: