Liveblog
As always, we'd love to hear your thoughts on the game. E-mail paul@thescore.ie, tweet @thescore_ie, post a message to our Facebook wall, or leave a comment below.
You may need to refresh the page for YouTube videos and other elements to display correctly.
Ulster 8-16 Leinster (FT)
Hello, and welcome to this evening's liveblog. Here are your teams:
ULSTER : S Terblanche; A Trimble, D Cave, P Wallace, C Gilroy; P Jackson, R Pienaar; T Court, N Brady, D Fitzpatrick, J Muller (capt), L Stevenson, C Henry, W Faloon, P Wannenburg. Replacements : A Kyricaou, P McAllister, A Macklin, N McComb, R Diack, I Porter, I Humphreys, A D'Arcy.

LEINSTER : R Kearney; D Kearney, B O'Driscoll, F McFadden, L Fitzgerald; J Sexton, E Reddan; C Healy, R Strauss, M Ross, L Cullen (capt), B Thorn, K McLaughlin, D Ryan, S O'Brien. Replacements : S Cronin, H van der Merwe, N White, D Toner, S Jennings, I Boss, I Madigan, F Carr
Want to know more detail about this game, in addition to the other Pro12 fixtures taking place this weekend? You can find it here.
While we're waiting for the game to begin, here's a poll:
Who will win?

Poll Results:
For the benefit of the few people who haven't heard yet, this is Brian McLaughlin's last home game in charge of Ulster.
McFadden, playing at inside centre this evening, threatens to burst through the Ulster defence, but knocks on when tackled, giving Ulster a scrum in their 22.
A terrific Dave Kearney-inspired Leinster counter-attack ends with the ball being passed across to McLaughlin, who crosses over the line unchallenged. Sexton then gets an easy conversion.
Leinster continue where they left off against Edinburgh last week.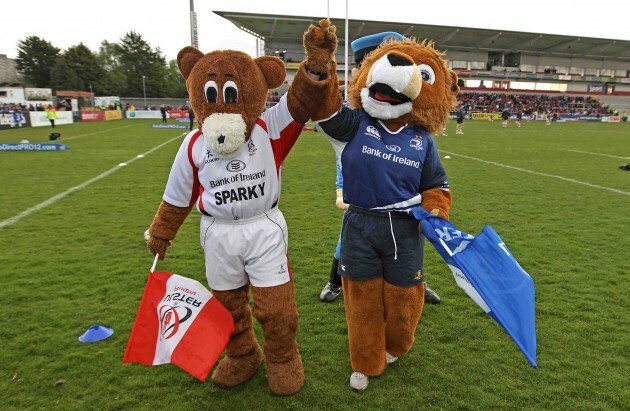 (Ulster mascot Sparky with Leinster's mascot Leo the Lion – INPHO/Morgan Treacy)
Leinster concede a penalty from the scrum. Not a great omen for the rest of this game, as far as Joe Schmidt's side are concerned, though their scrum has been very solid recently.
Gilroy is looking sharp tonight for Ulster – and every time he gets the ball, the crowd's excitement is palpable.
Leinster give away another sloppy penalty, but Pienaar hits the post with a very kickable penalty in front of the posts.
Meanwhile, Henry has gone off injured for Ulster, and is currently sitting on the bench with a bag of ice on his ankle.
It's a very contentious decision, as Muller powers towards the line despite the attentions of two Leinster players, but he appears to lose control of the ball as he attempts to touch the it down. Nonetheless, the referee awards the try after consulting the video official.
Pienaar's subsequent conversion attempt swerves marginally wide.
In stark contrast to his misfiring opposite number, Sexton gets a well-executed penalty from a difficult position near the touchline to give Leinster some breathing space.
In addition to that Henry injury, there's more bad news now for Ulster as Paddy Wallace is forced off and replaced by Adam D'Arcy.
It doesn't look too bad for Wallace though, and seems precautionary more than anything.
Cian Healy is penalised for coming in from the side, conceding a penalty, and Pienaar belatedly finds his kicking boots to bring Ulster to within two points of their opponents.

Sexton continues his 100% kicking record with a straightforward penalty on the brink of half-time.
HALF-TIME: ULSTER 8-13 LEINSTER
So at half-time, Leinster have the lead that their superior posssession and greater attacking threat probably deserves.
For Ulster, meanwhile, their performance so far will be of secondary concern, with both Henry and Wallace having to go off injured. And despite not enjoying as much possession as their opponents, they could easily be leading, had Pienaar been more accurate with his kicks.
The second half is underway…
O'Driscoll uncharacteristically drops the ball and concedes possession all too easily when Leinster are in a promising position, epitomising their less-than-vintage attacking play so far this evening.
Good defence from Leinster after some sustained pressure from Ulster, who are eventually penalised for holding onto the ball too long, conceding a penalty in the process.
Wannenburg limps off and is replaced by McComb. With three injury worries now, this game could ultimately prove very costly for Ulster.
Although, McLaughlin is understandably being ultra cautious in making such decisions, so they may just be precautions in some cases.
Leinster are penalised once again for not binding properly, but Pienaar then misses his third kick (from four attempts so far) from the resulting penalty.
Jackson, however, then kicks consummately into the corner, to put Leinster under further pressure.
Considering that they're the highest try scorers in the competition, Ulster have been surprisingly ineffectual in attack so far, and have rarely looked like crossing over the Leinster line, save for that one dubious try they registered in the first half.
Just under 20 minutes remaining and Ulster are penalised for a forward pass. It's just not their day at the moment.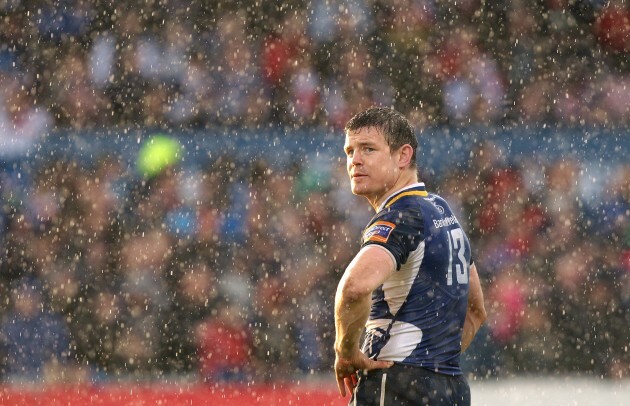 (Brian O'Driscoll and co have had to cope with some less-than-ideal conditions – INPHO/Morgan Treacy)
A Leinster line-out in the Ulster 22 is over-thrown by Sean Cronin, but a subsequent Ulster knock-on gives the visitors a scrum.
It's been an error-strewn game, as that passage of play demonstrates.
Sexton wisely goes for the drop goal in front of the posts and succeeds, after some intensive Leinster pressure in the Ulster 22.
The hosts now need at least two scores to overcome Leinster.
Another frustrating moment for Leinster, as Fitzgerald accelerates towards the Ulster line, passing to Fionn Carr, who's then tackled, before O'Driscoll knocks on while attempting to retrieve the ball.
Yet another knock-on from Leinster in the opposition 22, and Devin Toner is the culprit on this occasion.
This Leinster performance is almost the polar opposite to their sublime showing against Edinburgh last week, albeit it looks like they'll just about grind out the win.
RTÉ's George Hamilton informs me that a win here for Leinster will mean that they'll have done the double over all three of the other Irish provinces this season.
FULL-TIME: ULSTER 8-16 LEINSTER
So that's that then. Leinster continue their impressive winning run, albeit in not the most stylish manner. They probably just about deserved it on the balance of play. They were far more clinical going forward compared with Ulster, who were left to rue a couple of missed kicks from Pienaar. They also defended very well in that second half, despite being under considerable pressure from their opponents at times.
Meanwhile, Brian McLoughlin and his side will also now be sweating on the fitness of Henry, Wallace and Wannenburg, after the trio received injury scares over the course of the game. They will be disappointed that their chances of winning the RaboDirectPRO12 are consequently gone, but can now at least fully concentrate on that vital Heineken Cup game next week.
In case anyone's wondering, tonight's other RaboDirect Pro12 game has ended with the following score: Ospreys 31-12 Newport-Gwent D'gons.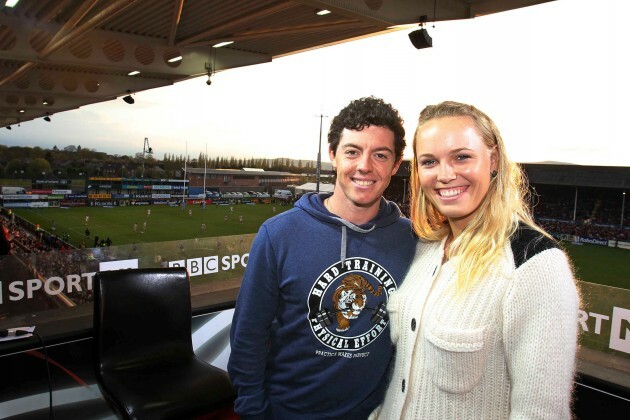 (There were two very special guests in attendance this evening – INPHO/Presseye/Darren Kidd)
Let's see how you fared with your predictions earlier: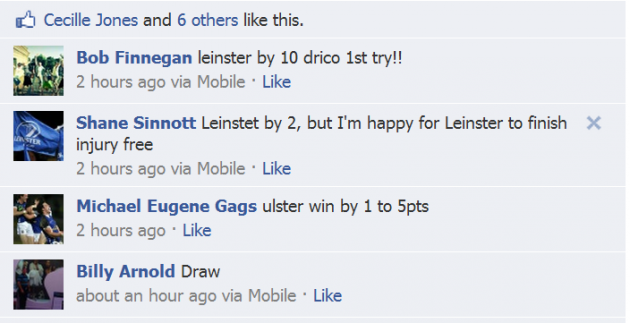 Alright, that's it from me. Thanks, as always, for reading and commenting. Enjoy your weekends.
Contribute to this story: