Jermaine Jones (left) and Germany's Philipp Lahm.
Image: EMPICS Sport
WE'VE ANOTHER ACTION-packed day of World Cup football in store. 
As always, we'd love to hear your thoughts on the game. E-mail ben@thescore.ie, tweet @thescore_ie, post a message to our Facebook wall, or leave a comment below.
You may need to refresh the page for YouTube videos and other elements to display correctly.
US 0-1 Germany
Portugal 2-1 Ghana
Germany and the US qualify for the last 16
16:19 – 16.19 – Welcome along to the 14th day of World Cup 2014. By tonight, we'll know the final four teams who will contest the last 16 along with Brazil, Mexico, the Netherlands, Chile, Colombia, Greece, Costa Rica, Uruguay, France, Switzerland, Argentina and Nigeria.
While Group H comes under inspection at 9pm, the US v Germany and Portugal v Ghana kick off in under 40 minutes.
16:26 – 16.26 – Here's how the group is looking:
Source: Fifa.com
16:32 – 16.32 – As it stands, leaders Germany and the US will both progress with a draw.
Ghana can go through if they overcome Portugal and Germany see off the Americans or if they earn three points and the US defeat Germany by several goals.
If the US lose by a goal and Ghana win by the same margin, Jurgen Klinsmann's side will go through on better head-to-head.
Portugal have to beat Ghana and hope the US win by five goals or more.
Check out these cool permutation graphics: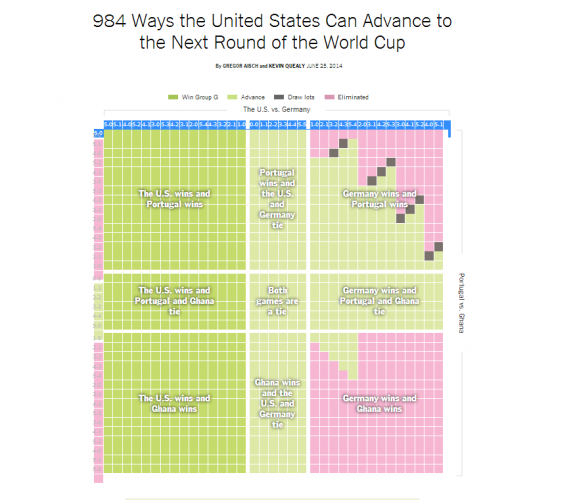 Source: New York Times
Source: Mona/Twitter
16:35 – 16.35 – Jogi Loew was Jurgen Klinsmann's assistant at Germany at the 2006 World Cup but today, two old buddies come face-to-face.
Source: EMPICS Sport
16:40 – 16.40 – There has been torrential rainfall in Recife earlier, which put the game between the US and Germany in doubt.
Source: AP/Press Association Images
However, the pitch has been inspected and it looks to be going ahead.
Source: Petr David Josek
16:46 – 16.46 – The US, who have won the hearts of many fans over the past two weeks, might be underdogs against three-time world champions Germany… but the country, and more specifically Will Ferrell and Hulk Hogan, are getting behind them.
Video (http://www.youtube.com/watch=3z4Hzo9UmrQ&t=)
Source: U.S. Soccer/YouTube
Source: Hulk Hogan/Twitter
16:47 – 16.47 – Here are the teams:
US: Howard, Gonzalez, Bradley, Besler, Beasley, Dempsey, Jones, Davis, Beckerman, Zusi, Johnson.

Germany: Neuer, Howedes, Hummels, Schweinsteiger, Ozil, Podolski, Muller, Lahm, Mertesacker, Kroos, Boateng.
16:50 – 16.50 – And the line-ups for Portugal v Ghana, who are without Sulley Muntari and Kevin Prince Boateng after sending the pair home due to a bust-up:
Portugal: Beto, Bruno Alves, Pepe, Miguel Veloso, William Carvalho, Ronaldo (c), Moutinho, Eder, Nani, Amorim, Pereira.

Ghana: Dauda, Gyan (c), Atsu, Agyemang Badu, A. Ayew, Rabiu, Waris, Mensah, Asamoah, Boye, Afful.
16:56 – 16.56 – Our man in Brazil Mikey Stafford is at the Arena Pernambuco. Here's a taste of the atmosphere:
16:58 – 16.58 – Final predictions? I fancy Germany and the US to go through personally.
17:02 – 17.02 – We've kicked off in both matches and Lukas Podolski has an early chance, which he swipes at with his right foot to send it high and wide.
17:07 – 17.07 – At the Estadio Nacional Mane Garrincha, Cristiano Ronaldo cracks the crossbar with a cross-cum-shot.
17:09 – 17.09 – Podolski puts a good low ball into the box but Tim Howard is there to smother.
17:13 – 17.13 – Germany have dominated during the opening 10 minutes and Boateng's cross is nearly diverted in by Gonzalez.
17:19 – 17.19 – DaMarcus Beasley gets forward from left full-back and cuts inside before scuffing a shot well wide.
17:21 – 17.21 – Ronaldo should really have put Portugal ahead there. He gets a free header six yards out but it's straight at Dauda, who saves before jumping up to celebrate like he has just won the World Cup.
17:22 – 17.22 – After that Ronaldo chance, Ghana go down the other end and Beto makes a great save from Gyan.
17:25 – 17.25 – Check out that save — and the priceless reaction.
Source: Cork Gaines
17:30 – 17.30 – Oof, referee Ravshan Irmatov takes out Jermaine Jones with a clothes. Cue calls on Twitter for a four month ban from FIFA.
17:31 – 17.31 – GOAL! Portugal 1-0 Ghana (John Boye) 
Portugal go ahead and it's a poor goal to concede. A ball comes in from the left and defender John Boye slices into his own net.
17:37 – 17.37 – Terrible defending…
https://vine.co/v/MtQIUL35vH0
17:38 – 17.38 – Portugal may be ahead but they're still going out as it stands. They're 1-0 win would need to be coupled with a 5-0 win for Germany for them to take the second spot.
17:41 – 17.41 – Jermaine Jones gets cleaned out.
https://vine.co/v/MtQIOg5pVHB
17:47 – 17.47 – Half-time:
US 0-0 Germany
Portugal 1-0 Ghana
Source: Themba Hadebe
17:53 – 17.53 – Rihanna has been the breakout football analyst of this tournament. Someone needs to give her a job!
Source: Rihanna/Twitter
18:05 – 18.05 – The second half has started. Loew has taken off Podolski for Miroslav Klose, who can go ahead of Ronaldo as the all-time top goalscorer at the World Cup with one here.
18:10 – 18.10 – Schweinsteiger swings in a cross to the back post but it's just that little bit too high for Klose to make decent contact.
18:13 – 18.13 – GOAL! US 0-1 Germany (Thomas Müller)
And the Germany's go in front. Howard, who has been excellent, saves from Mertesacker and the ball makes it way out to Müller who blasts in from 20 yards.
18:15 – 18.15 – GOAL! Portugal 1-1 Ghana (Asamoah Gyan) 
That's a brilliant cross from Asamoah to tee-up Gyan for the header.They only need one more to qualify.
Source: Infostrada Sports/Twitter
18:23 – 18.23 – Cross of the tournament so far? Quite possibly.
https://vine.co/v/MtQlld2Onex
18:31 – 18.31 – 20 minutes to go. Germany and the US will finished in the top two places if we stay like this but a goal for Ghana would see them leapfrog the Americans into second on goal difference.
18:33 – 18.33 – Jermaine Jones has been in the wars today. After being taken out by the referee in the first half, he collides with team-mate Bedoya and is on the floor with a bloody nose.
18:38 – 18.38 – GOAL! Portugal 2-1 Ghana (Cristiano Ronaldo) 
Good news for the US… and Portugal. Mensah half-clears  a cross by heading it into the air, Dauda flaps at the ball and lets it fall to the feet of Ronaldo, who smashes home.
18:48 – 18.48 – Barac believes that they will win…
Source: Doug Mills/Twitter
18:50 – 18.50 – We're into added time and Ronaldo misses another big opportunity to score.
18:51 – 18.51 – Bedoya is through on goal after a fine US attack but Lahm makes a last-ditch block.
18:54 – 18.54 – Full-time: 
US 0-1 Germany
Portugal 2-1 Ghana
18:56 – 18.56 – So the US lose but head through to the last 16 after Portugal's win over Ghana. Germany will face the runners-up from Group H while Klinsmann's side look set to take on Belgium.
19:01 – 19.01 – Final standings:
Source: Fifa.com