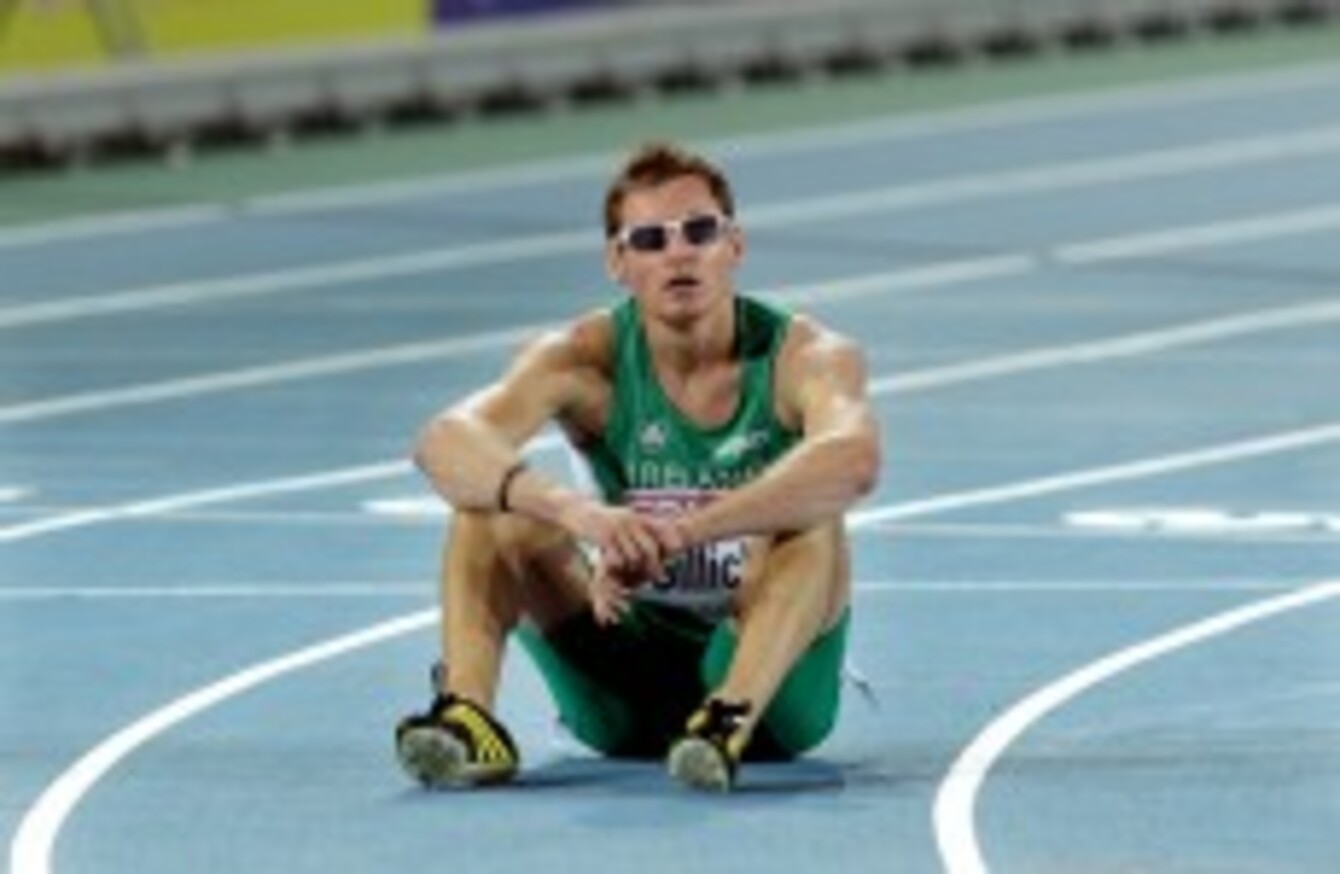 David Gillick sits on the track and contemplates his fifth-place finish at the 2010 European Championships.
Image: ©INPHO/Morgan Treacy
David Gillick sits on the track and contemplates his fifth-place finish at the 2010 European Championships.
Image: ©INPHO/Morgan Treacy
FOR AN ATHLETE who places such a premium on his "process" and routine, David Gillick's Olympic preparations have been anything but straightforward.
Once the European Championships had been put to bed in the summer of 2010, most of his fellow 400m hopefuls began diligently ticking boxes and gradually easing themselves through the Worlds in Daegu and on towards London.
Gillick, who had been tipped to medal in Barcelona but only finished a disappointing fifth, decided to rip it and start again.
And so followed a well-meant but ultimately botched move to train alongside Tyson Gay in Florida; an injury so serious that it zapped months of his plans in an instant; and finally, after facing up to the most severe mental and physical tests of his career, a return to something resembling normality with his old coach and old friends in Loughborough.
If he gets to the start line in London, the two-time European Indoor champion will certainly have done it the hard way.
Looking back, Gillick knows that his decision to leave long-time coach Nick Dakin and decamp to America was the wrong one, borne out of an exaggerated frustration with some minor aspects of his training in the UK and a knee-jerk reaction to the disappointment of Barcelona.
"I don't think it was ever going to work to be honest," he now admits quite frankly.
"Some of the training aspects — which is my bread and butter, what you do on a daily basis — some of the sessions and some of the philosophies were just different and I don't think they really attributed my best interests as an athlete and made me better.
"That's what I wanted to do. That's why I moved to England in the first place, because I wanted to better myself. I wanted to be around athletes that were going to pull me along, and I just didn't find that as much in America."
Comfort zone
Removed from his support network of family and friends, Gillick never settled in Florida. It didn't take him long to realise his mistake and, even before he was flattened by a major tear in his calf muscle last February, he had made the decision to move back to Loughborough, the comfort zone he had been trying to escape from in the first place.
I was pretty down after a shocking run and I was like, 'Shit, Nick, I think I made a mistake. I want to come back.' He just said, 'Look David, just get through the summer and we'll sit down. If it's a case that you want to come back here or you want to look at other options, I can help you do that.'

Luckily, I had a good relationship with Nick. When I left, I left on good terms. He understood what I was trying to do, he respected that. In between then, the year when I was away, we did keep in touch and just had a chat and stuff like that. I think Nick became a friend as well.
"I was producing good results under Nick in Loughborough and coming into an Olympic year, I didn't want to have to take another risk and go somewhere new. I wanted to go back to where I was comfortable and where I knew the lie of the land, and it worked, let's be honest. I got good results and that's what matters."
©INPHO/Morgan Treacy
Support
Then came the injury which initially sidelined Gillick for two months and then had knock-on effects for the rest of season until it forced him out of the World Championships in Daegu. For a runner who swears by rigid training schedules and careful planning, mentally coping with the setback was every bit as tough as the physical rehabilitation.
If he needed any final confirmation that Florida was not the place for him, that was it.
"When I was injured last year, I openly admitted that I suffered from depression. I didn't know what to do with myself because everything is planned: every day, every week, every month is all planned. And then you get injured and everything is just thrown up in the air.
"It's almost like walking into your job one day and being told you're fired or you're made redundant, and then you go home and wake up the following day and think, 'What am I going to do?'"
Athletics is a funny sport because you've to put so much in to get so little out. My season goes from June, July, August to a bit in September but then I'm training from October through to May with no competitions, I'm just pounding the pavement. That's the time when loneliness can creep in.

If things aren't going well or you're not happy, you get a little bit down so it's important to have a close nucleus of people around you, good people that you can have the chats with.
Timing
You don't need a degree in psychology to understand that Gillick is in a better place now than he has been for quite a while. Still, one major obstacle remains: hitting the "A" standard qualification time for the Olympics.
As he outlines his plans for the coming months, starting with a training camp in America next week to "blow off the cobwebs", there's no sense of anxiety. Now that he's back to something approximating normality, he's confident that the performances — and times — will follow.
"People wake up to the Olympics every four years, whereas from an athlete's point of view, we have major championships every single year. It's 400m regardless, you still have to meet qualifying times for every championship so it's no different and that's my view of it.
"Whether it's 2011 or 2013, I have to meet "A" standards and it's no different this year.
Mentally, you think "It's the Olympics, I'll raise my game a bit" but I try to keep things as simple as possible. That's the way I work because that's what keeps me relaxed and I stay in my own routine. Keep your feet on the ground and don't get carried away.