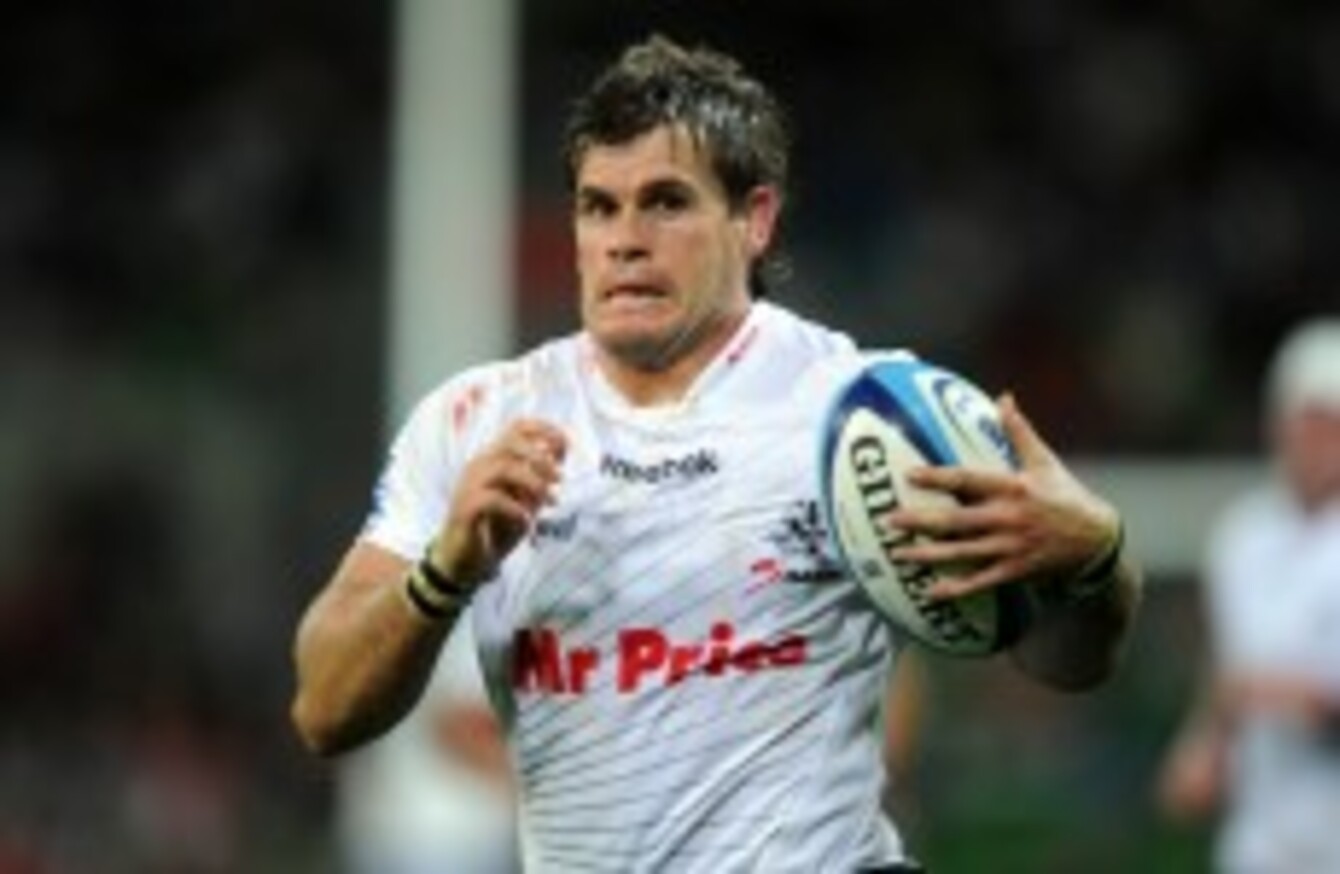 Ludik scored seven Super Rugby tries for the Sharks.
Image: AP/Press Association Images
Ludik scored seven Super Rugby tries for the Sharks.
Image: AP/Press Association Images
ULSTER HAVE A new backline option in Louis Ludik this season, with the 27-year-old having joined on a two-year contract from French club Agen.
The former Lions and Sharks player counts over 70 Super Rugby appearances among his honours, meaning he brings an element of experience to an Ulster back division that features several youngsters.
Ludik first broke into the professional game with the Lions in the 2006 Currie Cup, before graduating into Super Rugby in '07, when he made 12 starts at fullback and on the wing.
That form saw the Kempton Park native earn selection for the Emerging Springboks, whom he helped to 2007 IRB Nations Cup success in Romania. Despite that early promise, Ludik never graduated to become a Springbok, although he did feature in a senior training squad in 2008.
In 2010, John Plumtree swooped to sign Ludik, installing him as his first-choice fullback at the Sharks, also using him on the wing and briefly positioning him at outside centre.
South African sports analyst Gareth Duncan of The Media Crowd has followed Ludik's career closely, and points out that last summer's move to Agen in the Pro D2 came as the player "got to the age where these opportunities won't come much longer."
Having realised that his Springbok dream was going to remain just that, Ludik's arrival at Agen coincided with that of Irish hooker Denis Fogarty, who was quickly impressed with the quality of his new teammate.
"He did really well for us; we were very disappointed to lose him," says former Munster man Fogarty. "He fitted in very quickly and he's a hugely professional guy. He played fullback and 13 for us, and was brilliant in both.
"It didn't bother him where he played. He still took to it easily and did extremely well. We were gutted to lose him."
Eight of Ludik's 14 starts for Agen last season came at outside centre, while his final Currie Cup season with Natal before leaving South Africa saw him feature exclusively in the 13 shirt.
However, Duncan believes "he will play fullback or wing for Ulster," and that is certainly where the large majority of his professional career has been spent.
"He's a utility back, whose preferred position is fullback but he's able to play at wing and outside centre," says Duncan. "He's quick off the mark, has good hands and he is elusive. He tends to break tackles and beat defenders one-on-one.
His attacking abilities and composure under the high ball are his biggest assets."
Duncan doesn't "remember him missing many tackles" during his time with the Lions and Sharks, while Fogarty has a similarly positive report on the South African's defensive work during his single season with Agen.
"He was very, very good in defence," stresses Fogarty. "His talk in defence was always strong. We needed that out in our backline, fellas talking and fellas knowing what they needed to do. Other players grew by playing beside him."
At 6'0″ and 92kg, Ludik is not the largest back in Ulster's squad, but Fogarty explains that the South African's mental strength more than makes up for any lack of bulk.
"He's a clever player," says Fogarty, who is still with Agen. "He's not the biggest, but he runs some great lines in attack. Overall, he's a very intelligent player."
Duncan echoes that sentiment in pointing out that Ludik is "not always a player that stands out, or an eye-catching player, but what he does, he does well. He's a dependable player."
At Agen, Fogarty was encouraged by Ludik's intent to integrate himself into the squad culture as swiftly as possible, even making stand-out efforts with the language. Such an attitude bodes well for the settling-in process at Ulster.
He's a really nice guy, very down to earth. He does his own thing, he's not a funny man or anything. He tried really hard with the French guys and they took to him because he made an effort with the French language."
While the quality within Ulster's backline means Ludik will have to fight hard for a spot in the province's first-choice XV, Fogarty has no doubts as to his former teammate's ability to stand up to the challenges on the biggest stage.
"He knows that Ulster are a massive team and they've got some incredible players all over the park. He knows it's going to be tough to get onto the starting team. But I'd have no worries or issues with him starting a big Heineken Cup game for Ulster."