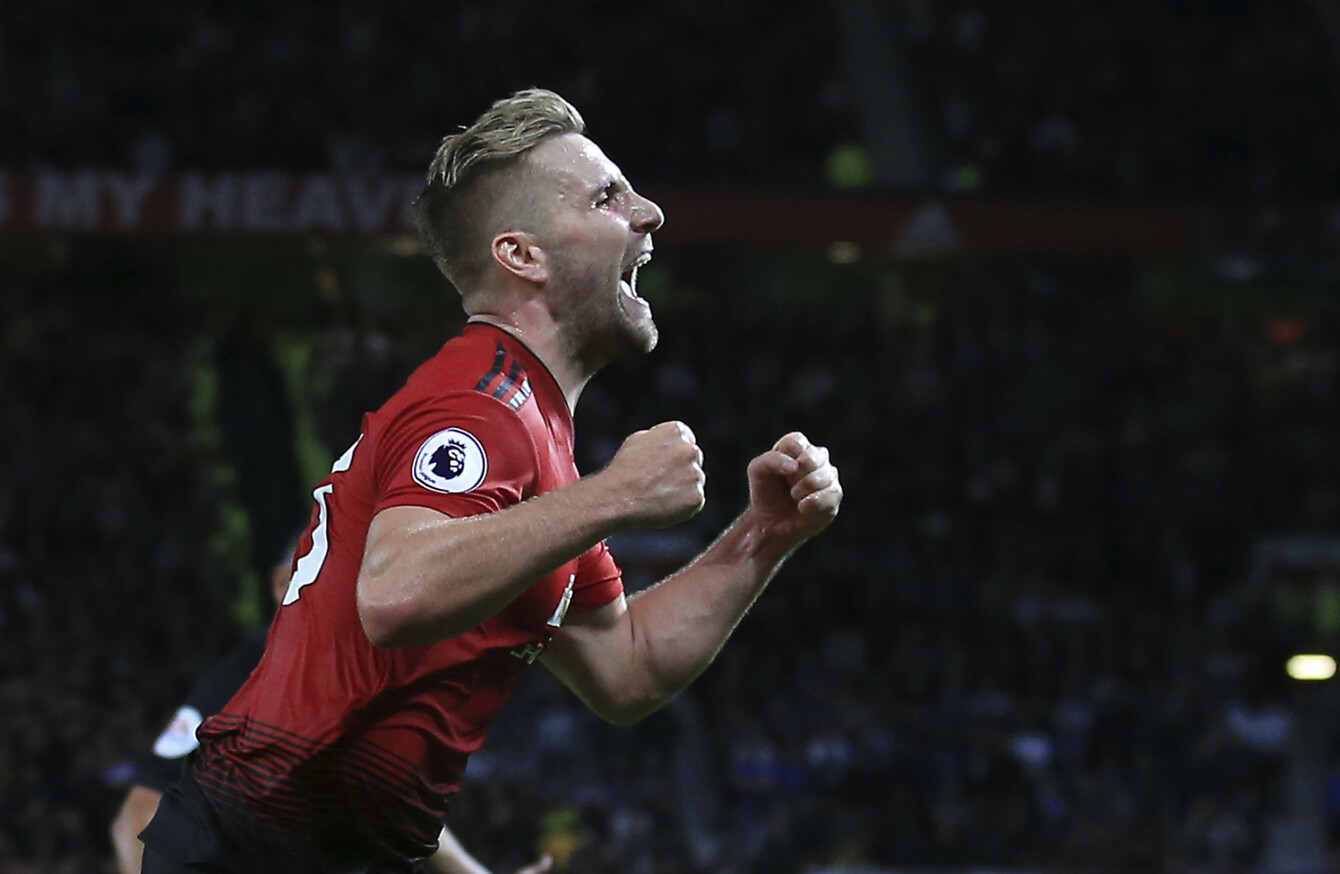 Luke Shaw celebrates scoring.
Image: Jon Super
Luke Shaw celebrates scoring.
Image: Jon Super
IT'S HARD TO believe Luke Shaw is still only 23.
After all, it is just under six years since the Kingston upon Thames-born defender made his debut with Southampton as a hugely promising 17-year-old.
For a while, Shaw's rise was meteoric. With help from a promising young manager at the Saints by the name of Mauricio Pochettino, he excelled, featuring in the PFA Team of the Year during the 2013–14 season.
On 27 June 2014, just before his 19th birthday, the youngster completed a move to Man United for a reported fee of £30 million.
Shaw had all the credentials to become the Premier League's best left-back and looked well on course to doing so that summer.
Yet since then, it is fair to say the player's progress has stalled. His start at United was not particularly assured. Just a month after signing, then-manager Louis van Gaal singled out the player for criticism owing to a perceived lack of fitness.
Injuries and indifferent form saw Shaw play just 17 Premier League matches in his first season at United. However, he gradually appeared to win Van Gaal over with a series of improved displays. The following season, he seemed to have established himself as a first-team regular, before suffering a horrendous leg break in the Red Devils' first Champions League match of the season against PSV.
It was nearly a year before his next competitive start and by then, United were managed by Jose Mourinho.
The Portuguese coach has never really fully warmed to Shaw. In his first season as manager, the England international played just 11 times in the Premier League. And last season, he played the same number of games in the top flight. Rather than selecting Shaw, a boy wonder who has long been tipped for great things, Mourinho has generally preferred Ashley Young — a 33-year-old makeshift full-back that few people would have rated as highly as his rival for a spot in the team.
Shaw has also been publicly criticised by Mourinho on occasion, most notably in 2016 when the manager said: "[Chris] Smalling doesn't feel that he can play 100% with his pain, Luke Shaw told me this morning that he was not in the condition to play, so we had to build a defensive line. There is a difference between the brave, who want to be there at any cost, and the ones for whom a little pain can make a difference."
Yet with Young still recovering from his World Cup excursions and only deemed fit enough for a spot on the bench tonight, Shaw appeared to make the most of his opportunity to start.
The defender made some penetrating forward runs and scored his first goal in senior football, what proved to be a crucial second in United's hard-fought win over an impressive Leicester side who will probably feel they did enough to earn a point.
In stark contrast with four years ago under Van Gaal, the reports coming out of Old Trafford this summer suggested Shaw was topping the pre-season fitness tests at the club.
In his interview with Sky after the game, the man of the match confirmed he had worked hard over the last few months in a bid to improve his first-team chances at the club. Mourinho, he said, loves players with "desire" who give "100%" — and the perception of Shaw in recent years in some quarters has been that for all his talent, his attitude is not what it should be at times.
Shaw made all the right noises this evening, insisting he felt "more confident" since the summer and admitting he had not been at his best previously, explaining how Mourinho felt he was not living up to his tag as a full-back of great attacking prowess.
Both will hope tonight serves as a benchmark for the rest of the season and that Shaw can maintain the consistency which has eluded him thus far in his United career.
But Mourinho, in his own post-match interview with Sky, made a curious comment afterwards. When given the chance by reporter Geoff Shreeves to wax lyrical about Shaw's display, the United boss noted how he made "one mistake" in the game.
This qualified praise is perhaps Mourinho's way of keeping Shaw on his toes and serves as a reminder that he has a long way to go before he can even be sure of his place in his club's starting XI.
The42 is on Instagram! Tap the button below on your phone to follow us!