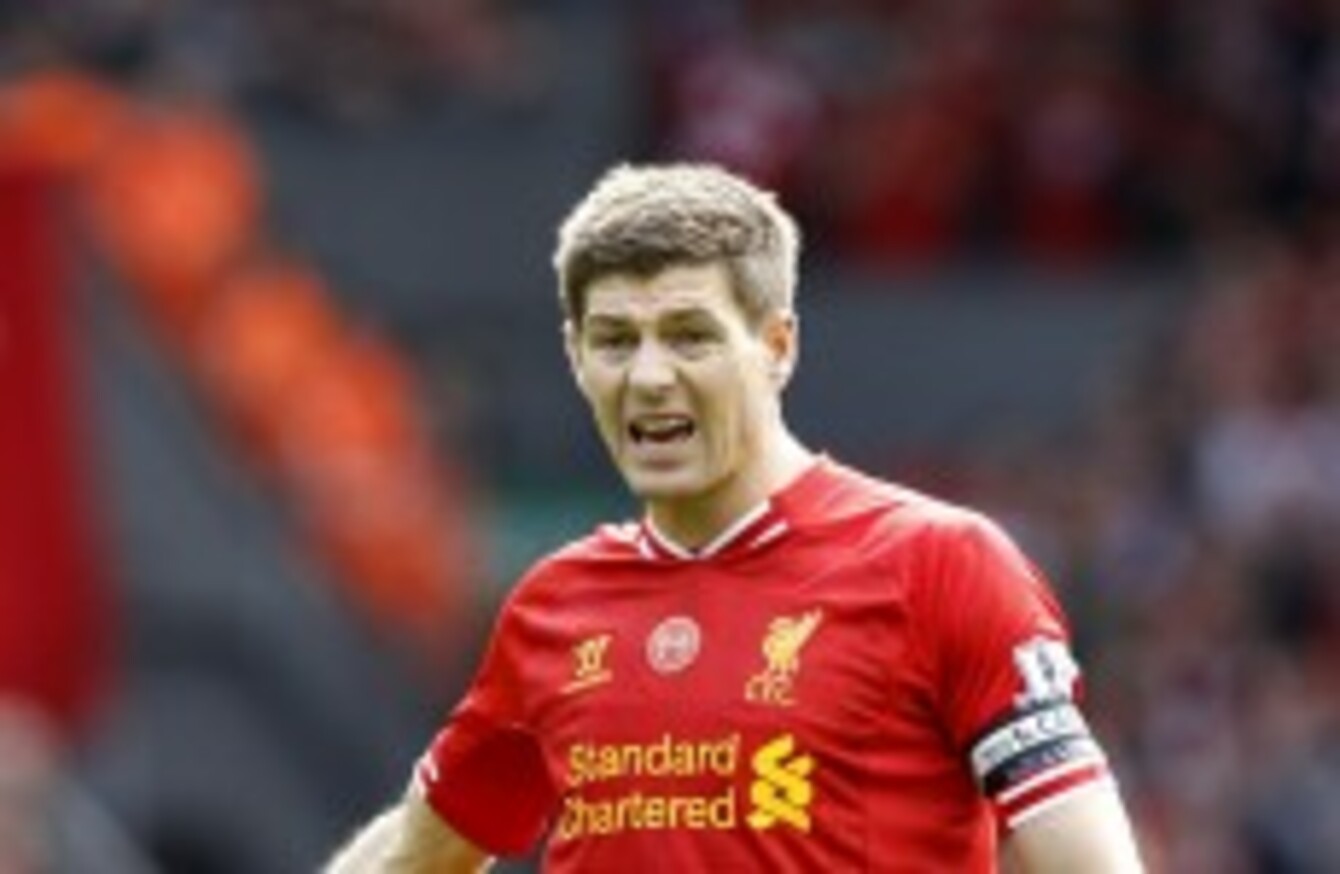 Steven Gerrard, pictured during Liverpool's game with Man City on Sunday.
Image:
PA Wire
/Press Association Images
Steven Gerrard, pictured during Liverpool's game with Man City on Sunday.
Image:
PA Wire
/Press Association Images
STEVEN GERRARD HAS dedicated Liverpool's crucial win against title rivals Manchester City to the victims and families of the Hillsborough disaster.
Gerrard's 10-year-old cousin, Jon-Paul Gilhooley, was the youngest of the 96 Liverpool supporters who died due to crushing on the terraces at the 1989 FA Cup semi-final against Nottingham Forest in Sheffield.
Today is the 25th anniversary of the tragedy and Anfield will host the annual memorial service, which all of Liverpool's squad will attend.
And it was the proximity of that date, plus the significance of the 3-2 victory that left Liverpool close to winning the title for the first time in 24 years, which saw Reds captain Gerrard brought to tears at the final whistle against City on Sunday.
"The reason I was so emotional was because of when this game fell," Gerrard said.
"It wasn't just because it was a big match in our season, it was because this week is always about more than football for everyone associated with Liverpool. It's emotional for so many people.
"I'm speaking on behalf of everyone when I say the win was dedicated to the victims and families of Hillsborough.
"All the squad will be present at the service to pay our respects as we should."
The service on Tuesday will also be attended by Liverpool's directors and other staff as well as a number of former players and managers.
Current Liverpool manager Brendan Rodgers and Everton boss Roberto Martinez will give readings.
The number '96′ will be written on the pitch in large figures made up of scarves donated by fans of all clubs and from various sporting institutions.
It is an emotional time for Liverpool, who sit two points clear of second placed Chelsea and will end their long wait to be champions of England if they win their last four matches, starting at struggling Norwich on Sunday.
The Canaries are in dismal form, but Gerrard has warned his team-mates not to underestimate their opponents at Carrow Road.
As far as Gerrard is concerned, he will approach Norwich in just the same way as he would an encounter with one of the division's heavyweights.
The midfielder also evoked the spirit of Liverpool's astonishing Champions League final comeback against AC Milan in 2005 as a reference point for his team.
"We have to treat Norwich like we treated AC Milan in 2005," he said.
"We have to forget what colour their kit is and the personnel wearing it and treat them as the best players in the world.
"We have to forget where we are and forget what we've done. We have to prepare for Norwich like it's the last game of our careers.
"Every game is going to get bigger and bigger because we are getting close to that last game of the season.
"Of course Man City was always going to be huge at Anfield because they are in the race with us but Norwich now become another Man City for us."