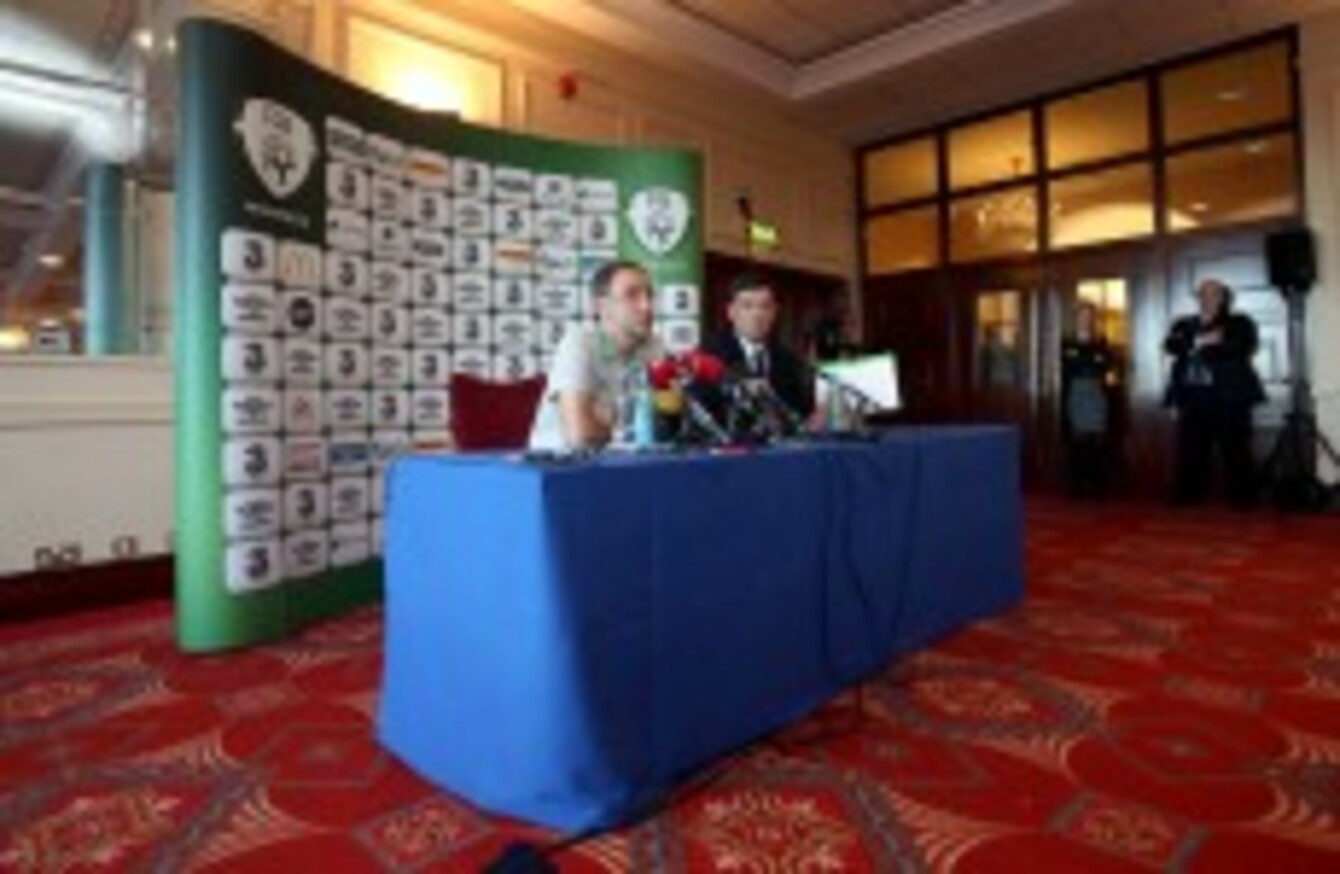 O'Neill at yesterday's media briefing in Malahide.
Image: INPHO/Donall Farmer
O'Neill at yesterday's media briefing in Malahide.
Image: INPHO/Donall Farmer
BY THE TIME Ireland play their first competitive fixture under Martin O'Neill he will have been in the job for 10 months, give or take a week or two.
The new manager has a lot of things on his side at the moment, not least the goodwill of an optimistic public, but the one thing he could do with a little bit less of is time.
Within a couple of minutes of sitting down in the hotseat on Saturday, O'Neill was lamenting the fact that Ireland are stuck with friendlies as their bread and butter until the qualifiers for Euro 2016 begin.
It was a point he made again when he met the media yesterday afternoon.
He'd rather have a competitive fixture much sooner than next autumn but this is the hand he has been dealt and he's determined to make full use of it.
It meant that yesterday's training session, his first with the squad, was quite relaxed. There was a buzz around Malahide as 20 or 30 fans gathered early to catch a glimpse of O'Neill, Roy Keane and the players but on the pitch it was a low-key affair.
"They wanted to let everyone kind of enjoy it and everyone did," Stephen Ward said.
A honeymoon is well and good but Friday night's friendly against Latvia is sneaking up, as is the trip to Poland next Tuesday. O'Neill was quite philosophical about his November reign.
"I think I'll learn more from the trip rather than during it," he suggested. "I will have time at leisure to sit down afterwards and plan for the new year, but after these two games.
"It's remarkable that the next match we have is not until March [against Serbia]."
That attitude carried over into his afternoon briefing where he made it clear that there is no point in rushing into any decisions.
Will Robbie Keane be continuing on as team captain?
"I wouldn't have thought that anything would change at this minute. I don't see any reason to do that. After these two games are over, I will have some time to consider these things but I wouldn't be changing anything immediately."
INPHO/Donall Farmer
How about Stephen Ireland? Will he be recalled?
"I really do have a genuinely open mind. I will get around to watching him play obviously."
"If Roy can come back, surely it's open for anyone," he added, effectively putting the Stoke midfielder on notice.
O'Neill was reluctant even to say whether or not he will draft in squad reinforcements this week. Ciaran Clark and Robbie Brady are both definitely out through injury while it looks less and less likely that Anthony Pilkington, who stayed at Norwich to have a dead leg treated, will play a part in either friendly.
That leaves 24 players available, many of whom, like Ward, are delighted to be involved again having fallen out of favour during the latter days of Trapattoni's tenure.
Not that I want to give out caps like confetti but there is a possibility over the two games to use a number of players just to give them a feel of it again.
"Some people who maybe felt that they were out a little bit in the cold, they will maybe play some part.
"That's my thinking at this point. Please ask me again on Saturday morning and I might change my mind."
The injured Brady and Pilkington both plan to travel over to meet their new international boss this week. Clark, who knows O'Neill from his Aston Villa days, needs no further introduction.
INPHO/Donall Farmer
The remainder met O'Neill for the first time on Monday night over dinner. He has spoken of his own transition to the languid pace of international management but if nothing else, his club experience means that he is tuned into the heavy workload his players are already facing.
"I gave them some time off and to a man they stayed in the hotel. This was at around 7.30, and I told them that curfew was 7.45 and they stayed in the hotel."
This time his audience knew to laugh at the obvious joke.
"No, I gave them the night off and they were there so I joined with them last night.
They were genuinely in really good spirits. I wish good spirits was enough to win you football matches.
Still, even though the long-term decisions are being left for another day, O'Neill has stressed to the players that they are already fighting for their positions. He is determined to get off to a winning start, particularly in front of a home crowd on Friday.
"What we'll try and do is just a little bit of organisation, a little bit of shape in the next two days.
'Things now that are deciding football matches, corner kicks and set-pieces are very important, those are the type of things. There's not much more you can work on given these couple of days."
Latvia might not be the competitive fixture he or his players so desperately crave but they have to start somewhere.