Liveblog
Result: Mayo 4-19 Roscommon 0-9
***********************
Afternoon all and welcome along to Croke Park. Round two between Mayo and Roscommon in the All-Ireland senior football quarter-final replay after Donie Smith's injury-time point from a free last Sunday rescued a draw for the Rossies.
Throw-in here is 2pm with the winners set to face Kerry on 19 August at the semi-final stage.
Mayo just out on the pitch there, lovely day for football here and good crowd packing into Croke Park.
So that changes the complexion of this game with those changes. Here's the teams that will start.
Mayo
1. David Clarke (Ballina Stephenites)
2. Brendan Harrison (Aghamore)
20. Donal Vaughan (Ballinrobe)
4. Keith Higgins (Ballyhaunis)
5. Colm Boyle (Davitts)
6. Chris Barrett (Belmullet)
7. Paddy Durcan (Castlebar Mitchels)
21. Tom Parsons (Charlestown)
9. Seamus O'Shea (Breaffy)
10. Kevin McLoughlin (Knockmore)
11. Aidan O'Shea (Breaffy)
12. Diarmuid O'Connor (Ballintubber)
13. Jason Doherty (Burrishoole)
14. Cillian O'Connor (Ballintubber – captain)
15. Andy Moran (Ballaghaderreen)
Roscommon
1. Colm Lavin (Éire Óg)
2. Sean McDermott (Western Gaels)
3. Niall McInerney (St. Brigid's)
4. David Murray (Padraig Pearses)
5. John McManus (Roscommon Gaels)
6. Sean Mullooly (Strokestown)
7. Brian Stack (St Brigid's)
8. Tadgh O'Rourke (Tulsk)
9. Enda Smith (Boyle)
18. Caoileann Fitzmaurice (Michael Glaveys)
11. Niall Kilroy (Fuerty)
12. Conor Devaney (Kilbride)
19. Cathal Compton (Strokestown)
14. Diarmuid Murtagh (St. Faithleach's)
15. Cian Connolly (Roscommon Gaels)
The referee today is Wicklow's Anthony Nolan with Down's Ciaran Branagan the standby referee.
So the substitutes for today's games are:
Mayo: Robert Hennelly, Stephen Coen, David Drake, Shane Nally, Ger Cafferkey, Lee Keegan, Conor Loftus, Danny Kirby, Evan Regan, Alan Dillon, Fergal Boland.
Roscommon: James Fetherstone, Brian Murtagh, Fintan Cregg, Ciaráin Murtagh, Colin Compton, Donal Smith, Fergal Lennon, Gary Patterson, Ian Kilbride, Ronan Stack, Shane Killoran.
Mayo 0-1 Roscommon 0-0
First blood to Mayo as Cillian O'Connor knocks over a free after Aidan O'Shea was fouled.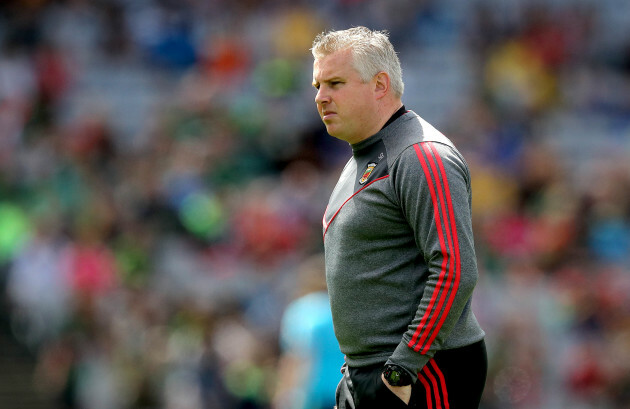 Mayo boss Stephen Rochford.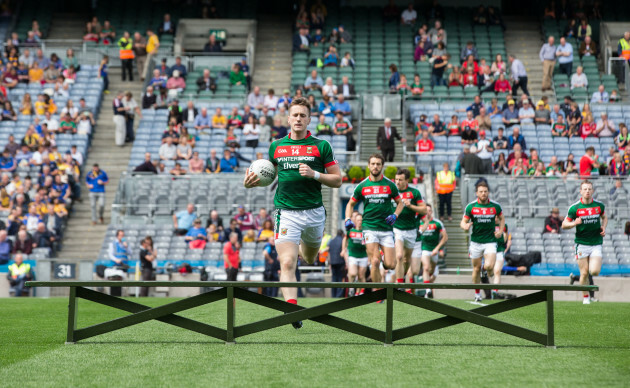 Captain Cillian O'Connor leads out the Mayo team. Source: Oisin Keniry/INPHO
Roscommon strip Aidan O'Shea of possession, counter well and manage to win a '45 after Cathal Compton is fouled. Goalkeeper Colm Lavin comes up to take it.
But Lavin drags his shot across the goal and wide into Hill 16.
Mayo 0-2 Roscommon 0-0
Aidan O'Shea is fouled again, Cillian O'Connor takes the free again and it's the same result. Mayo ahead by two.
Mayo 0-3 Roscommon 0-0
Mayo definitely moving a lot brighter at the moment. They win Roscommon's kickout, rally and the attack culminates in Donal Vaughan popping over a point.
David Drake in as blood sub for Mayo for Chris Barrett.
Well there's no doubt who's started better here. Mayo dictating the terms of this contest and they've just won another free in with Andy Moran fouled.
Mayo 0-4 Roscommon 0-0
Cillian O'Connor seizes the chance to point again. Roscommon in a spot of bother here.
Mayo 0-5 Roscommon 0-0
And there's another point. Diarmuid O'Connor clipping over off his left.
Poor shot by Andy Moran, it's underhit and Lavin gathers in goal before clearing for Roscommon.
Mayo 0-6 Roscommon 0-0
Jason Doherty knocks one over. Roscommon need a score here and fast.
Roscommon make a mess of the kickout and Mayo almost get in for a goal but Roscommon scramble across at the back and Cillian O'Connor is penalised for touching the ball on the ground. At the other end Cian Connolly screws a shot wide for Roscommon. Chris Barrett back on for Mayo as well.
Unlucky from Roscommon as Caoileann Fitzmaurice hits the post with a point attempt.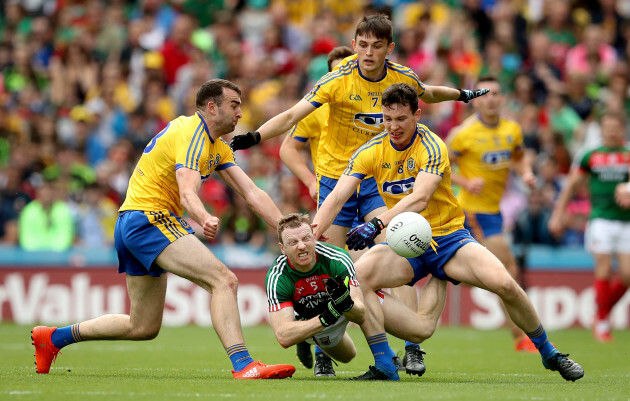 Colm Boyle under pressure from Roscommon players.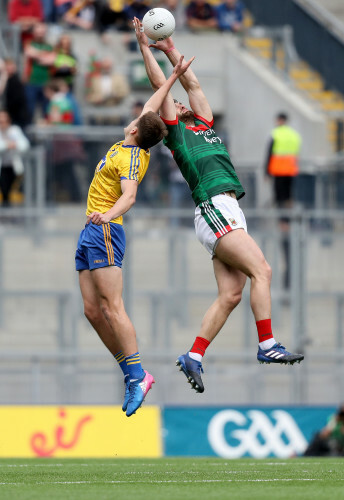 Aidan O'Shea and Enda Smith challenge for the ball. Source: Oisin Keniry/INPHO
Point chances spurned on both sides, Fitzmaurice for Roscommon and McLoughlin for Mayo.
Mayo 0-6 Roscommon 0-1
Finally Roscommon get off the mark. It's a brilliant point as well, supplied by Enda Smith.
Diarmuid O'Connor launches a shot from the left wing but the ball flies wide.
Mayo 2-6 Roscommon 0-2
That could well be that, even at this early stage of the game. Sean Mullooly pointed for Roscommon to steady them but then they leaked two goals in quick succession. The first a composed finish by Kevin McLoughlin after a fine solo run. The second slotted home by Andy Moran after a strong break by Keith Higgins.
Nearly a third goal for Mayo but Lavin does well to block with the aid of his defenders.
What a goal by Keith Higgins for Mayo!
Mayo 3-6 Roscommon 0-2
It's going from bad to worse for Roscommon but Mayo are flying in contrast. Keith Higgins crowns a mazy run as he accelerated through the Roscommon rearguard and kept his head to finish.
Mayo 3-6 Roscommon 0-3
Diarmuid Murtagh bags a point from a free for Roscommon. They need half-time to come quickly.
Mayo 3-7 Roscommon 0-3
They've been a joy to watch in this first-half. Another Mayo point, this time confidently kicked over by Aidan O'Shea.
Superb block by Colm Lavin to deny Brendan Harrison a fourth Mayo goal. Mayo's interplay is so slick in attack, they're pouring through the Roscommon defence.
Mayo work the '45 short before Patrick Durcan bombs a shot high and wide. Three minutes of injury time in store here.
Mayo 3-8 Roscommon 0-4
Jason Doherty lobs over another point for Mayo, Diarmuid Murtagh responds at the other end for Roscommon.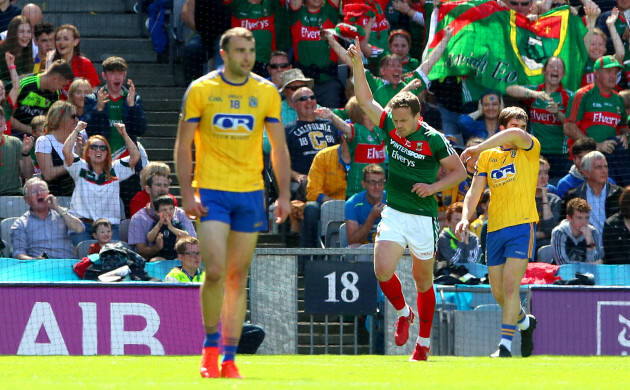 Andy Moran celebrates Mayo's second goal. Source: James Crombie/INPHO
Half-Time: Mayo 3-8 Roscommon 0-4
Some thoughts on that first-half, Mayo look firmly on the road to face Kerry on Sunday week.
Here's the first-half scorers:
Mayo: Kevin McLoughlin, Keith Higgins, Andy Moran 1-0 each, Cillian O'Connor 0-3 (0-3f), Jason Doherty 0-2, Aidan O'Shea, Diarmuid O'Connor, Donal Vaughan 0-1 each.
Roscommon: Diarmuid Murtagh 0-2 (0-1f), Sean Mullooly, Enda Smith 0-1 each.
Subs: Roscommon bring in Gary Patterson, Fintan Cregg and Ciaran Murtagh at half-time for Seanie McDermott, Cian Connolly and Cathal Compton.
Second-half action under way.
Mayo 3-9 Roscommon 0-4
Aidan O'Shea clips over a neat point to open the second-half scoring.
Mayo 3-9 Roscommon 0-5
Diarmuid Murtagh blasts over his third point of the game for Roscommon after Caoileann Fitzmaurice drilled a great pass into his path.
Mayo's Aidan O'Shea with Roscommon's Enda Smith and Brian Stack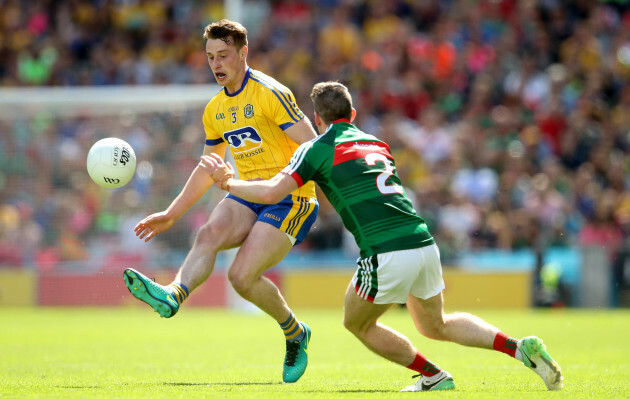 Roscommon's Niall McInerney and Mayo's Brendan Harrison Source: Ryan Byrne/INPHO
Couple of wides from Roscommon from Enda Smith and Brian Stack. They are creating more chances in this half though.
Kevin McLoughlin and Ciaran Murtagh drop point attempts short at either end.
Mayo 3-10 Roscommon 0-5
Cillian O'Connor taps over another free for Mayo.
Mayo 4-10 Roscommon 0-5
Game well and truly over now. Cillian O'Connor bangs the ball to the back of the net after being set up by his brother Diarmuid. Again Mayo disrupted Roscommon's kickout and made them pay.
Subs: Mayo bring in Conor Loftus for Jason Doherty. Roscommon replaces Brian Stack with Donal Smith.
Mayo 4-11 Roscommon 0-6
Damage limitation stuff for Roscommon now. Tom Parsons with another Mayo point. Roscommon do pull one back through Conor Devaney.
The life is going out of this game now given Mayo's superiority. Stark contrast to the thrilling nature of the drawn match.
Mayo 4-12 Roscommon 0-6
First point of the day for Andy Moran to add to his earlier goal.
Lots of happy Mayo fans in Croke Park today.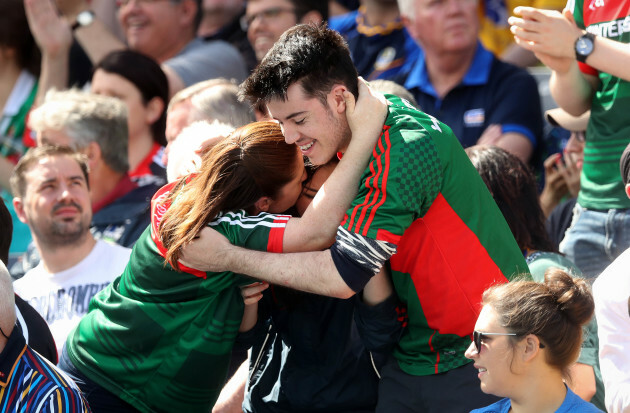 Source: Ryan Byrne/INPHO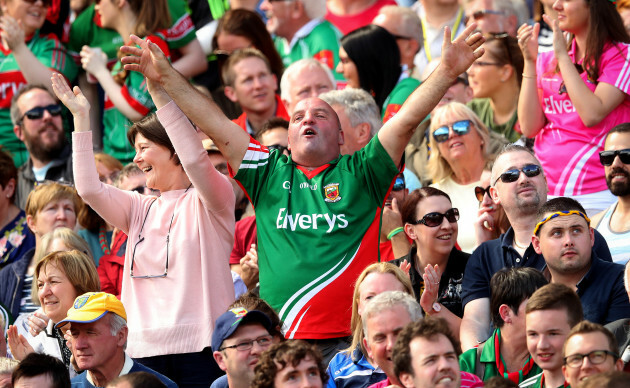 Sent-Off! Roscommon down to 14 men as Fintan Cregg is dismissed.
The final whistle can't come quick enough for Roscommon. Their task just got so much harder as they're reduced to 14 men. Mayo almost get in for a fifth goal as well but Conor Loftus blasts his shot wide from close range.
Sub: David Drake in for Mayo for Kevin McLoughlin.
Mayo 4-13 Roscommon 0-6
Another Cillian O'Connor pointed free after Donal Vaughan is fouled.
Lot of stuff to admire about Mayo after this game. They're firmly back in the mix.
Mayo 4-14 Roscommon 0-6
Cillian O'Connor fires over an excellent point from play.
Subs: Roscommon bring in Ian Kilbride for Conor Devaney. Mayo are about to introduce Stephen Coen and Alan Dillon as well with Donal Vaughan and Andy Moran making way.
Mayo 4-15 Roscommon 0-6
Everyone getting a chance to score now for Mayo, a rare point there for defender Chris Barrett.
Sub: Mayo bring in Danny Kirby for Aidan O'Shea. Roscommon replace Enda Smith with Colin Compton.
Mayo 4-15 Roscommon 0-7
Consolation point for Roscommon from Niall Kilroy.
Mayo 4-16 Roscommon 0-7
David Drake punches over a point for Mayo.
Sub: Cruising to victory, Mayo are giving plenty game time to their subs. Shane Nally in now for Chris Barrett.
Mayo 4-17 Roscommon 0-7
Shane Nally gets in on the scoring act for Mayo.
Mayo 4-17 Roscommon 0-8
Consolation point for Roscommon, Diarmuid Murtagh clipping over a free after Colin Compton was fouled.
Mayo 4-18 Roscommon 0-8
We're nearly done thankfully. Stephen Coen with the latest Mayo point.
Mayo 4-19 Roscommon 0-8
Another point for Mayo sub Shane Nally.
Full-Time: Mayo 4-19 Roscommon 0-9
Late Roscommon point for Donie Smith but no doubt who controlled this game. Mayo march on in style.
So that's a thorougly dominant display by Mayo as they advance to the last four and a meeting with Kerry on Sunday week. 2017 ends on a dispiriting note for the Connacht champions Roscommon. Thanks for joining us this afternoon.
The42 is on Instagram! Tap the button below on your phone to follow us!
Contribute to this story: