Liveblog
Result: Mayo 1-12 Roscommon 2-9
****************************
Afternoon all and welcome along to today's second All-Ireland senior football quarter-final. An all-Connacht affair as provincial champions Roscommon take on Mayo. Throw-in is 4pm.
Here's the teams named to start:
Mayo
1. David Clarke (Ballina Stephenites)
2. Brendan Harrison (Aghamore)
3. Ger Cafferkey (Ballina Stephenites)
4. Keith Higgins (Ballyhaunis)
5. Lee Keegan (Westport)
6. Chris Barrett (Belmulet)
7. Colm Boyle (Davitts)
8. Seamus O'Shea (Breaffy)
9. Tom Parsons (Charlestown)
10. Kevin McLoughlin (Knockmore)
11. Aidan O'Shea (Breaffy)
12. Diarmuid O'Connor (Ballintubber)
13. Conor Loftus (Crossmolina)
14. Cillian O'Connor (Ballintubber – captain)
15. Andy Moran (Ballaghaderreen)
Roscommon
1. Colm Lavin (Eire Og)
2. Sean McDermott (Western Gaels)
3. John McManus (Roscommon Gaels)
4. David Murray (Padraig Pearses)
5. Niall McInerney (St Brigid's)
6. Sean Mullooly (Strokestown)
7. Brian Stack (St Brigid's)
8. Fintan Cregg (Elphin)
9. Enda Smith (Boyle)
10. Tadhg O'Rourke (Tulsk)
11. Cian Connolly (Roscommon Gaels)
12. Conor Devaney (Kilbride)
13. Ciarain Murtagh (St Faithleach's – captain)
14. Diarmuid Murtagh (St Faithleach's)
15. Niall Kilroy (Fuerty)
So we're set for action here as Mayo and the Rossies prepare to do battle.
Cavan's Joe McQuillan is the referee.
Roscommon 0-1 Mayo 0-0
Flying start in the rain as Fintan Cregg points for Roscommon from close range.
Diarmuid O'Connor off target with Mayo's first shot of the day.
Two late Mayo changes to tell you about. Paddy Durcan and Jason Doherty in for Tom Parsons and Conor Loftus.
Good chance for Andy Moran to open Mayo's account but he drags a shot wide.
Roscommon 0-2 Mayo 0-0
Cracking point by Enda Smith, one-two with Diarmuid Murtagh and he boomed it over in style.
Roscommon 0-2 Mayo 0-1
Sublime point by Lee Keegan into Hill 16. Mayo off the mark.
Goal for Roscommon by Fintan Cregg!
Roscommon 1-2 Mayo 0-1
He got the first point of the game and now he's got the first goal of the game. Fintan Cregg makes ground, spins away from a bunch of Mayo players and loops a delightful shot with his right foot over David Clarke. If he meant to go for the goal, that was an audacious and superb finish.
Goal for Roscommon from Ciaran Murtagh!
Goal for Mayo from Lee Keegan!
Roscommon 2-2 Mayo 1-1
What a dramatic start! Roscommon bag their second goal with Ciaran Murtagh cooly finishing after being released by his brother Diarmuid. Then Mayo counter with Keegan surging into space and netting via a deflection.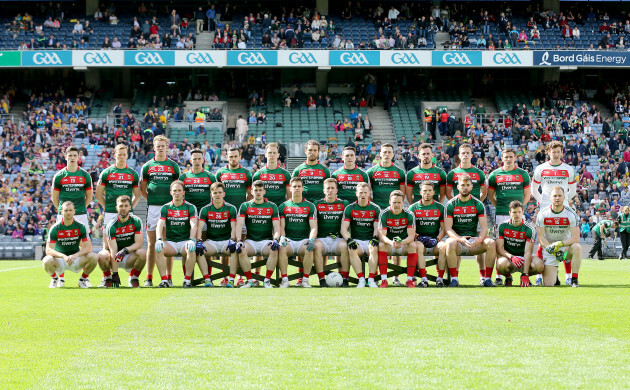 Mayo chasing another All-Ireland semi-final place today. Source: Oisin Keniry/INPHO
Couple of hurried Roscommon shots from Cian Connolly and Diarmuid Murtagh, neither yielding a point.
Roscommon 2-2 May0 1-2
Cillian O'Connor slots over a free after Patrick Durcan was fouled.
Roscommon 2-2 Mayo 1-3
That's 1-2 already today for the 2016 Footballer of the Year Lee Keegan. He's in flying form.
Another bad wide from Roscommon, Diarmuid Murtagh snatching at a shot.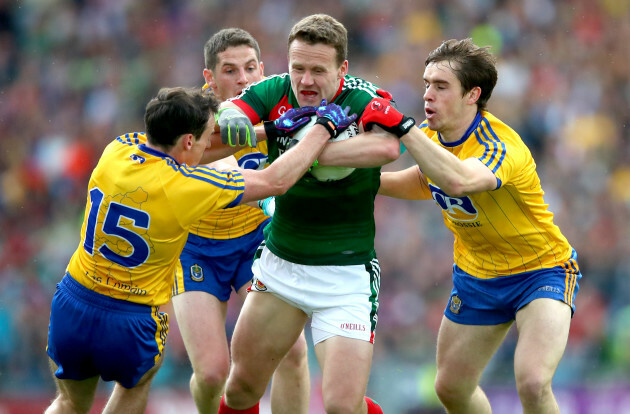 Source: James Crombie/INPHO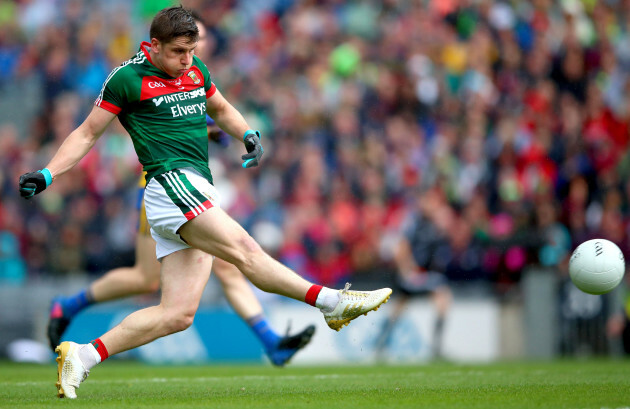 Roscommon 2-2 Mayo 1-4
1-3 without reply now for Mayo, Colm Boyle points on this occasion.
Mayo 1-5 Roscommon 2-2
All square now thanks to Andy Moran and Mayo with plenty momentum.
Goalkeeper Colm Lavin comes upfield and drives a free wide for Roscommon.
Mayo 1-6 Roscommon 2-2
Mayo edge in front with a Cillian O'Connor pointed free after his brother Diarmuid was fouled.
Mayo 1-7 Roscommon 2-2
Class again from Keegan as he splits the posts.
Mayo 1-7 Roscommon 2-3
Badly needed point for Roscommon as Ciaran Murtagh notches a point from a free after Fintan Cregg was fouled.
Mayo 1-8 Roscommon 2-3
Jason Doherty pushes Mayo two clear.
Half-Time: Mayo 1-8 Roscommon 2-3
Massive crowd here today, 65,746.
Second-half action about to get under way here.
Mayo 1-8 Roscommon 2-4
Super point by Conor Devaney after great work by Sean Mullooly who won the throw-in and drove at the Mayo defence.
Mayo 1-8 Roscommon 2-5
Now we're level! Diarmuid Murtagh bangs over a free for Roscommon.
Excellent start to the second half by Roscommon.
Murtagh unlucky with another point effort as David Clarke manages to fist it down and Mayo scramble to cover.
Yellow card for Roscommon's Cian Connolly after he fouls Colm Boyle.
Source: Tommy Grealy/INPHO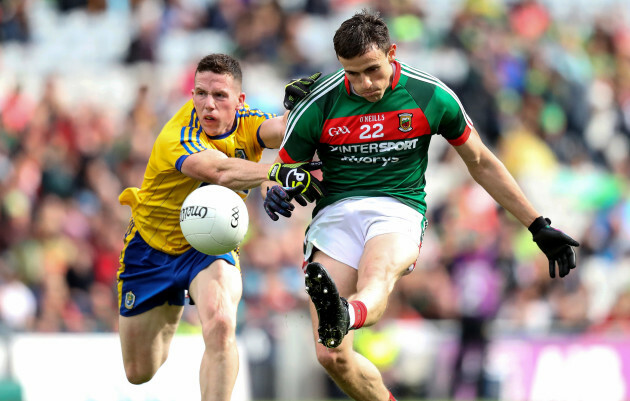 Hold up for treatment for Diarmuid Murtagh after he took a heavy shoulder. The Roscommon forward is back on his feet now though.
Roscommon 2-6 Mayo 1-8
Roscommon hit the front, Diarmuid Murtagh fists over after excellent work from Cian Connolly.
Mayo 1-9 Roscommon 2-6
All square once more thanks to Paddy Durcan for Mayo.
Roscommon 2-7 Mayo 1-9
Roscommon's advantage restored. Ciaran Murtagh slots a free after Enda Smith was fouled.
Yellow card for Mayo's Cillian O'Connor after a challenge on Sean Mullooly.
Sub: Roscommon bring in Donie Smith for Cian Connolly.
Sub: Colm Boyle is withdrawn as Donal Vaughan comes in for Mayo.
Mayo 1-10 Roscommon 2-7
Level again. Good combination play between Andy Moran and Cillian O'Connor culminates in Moran pointing.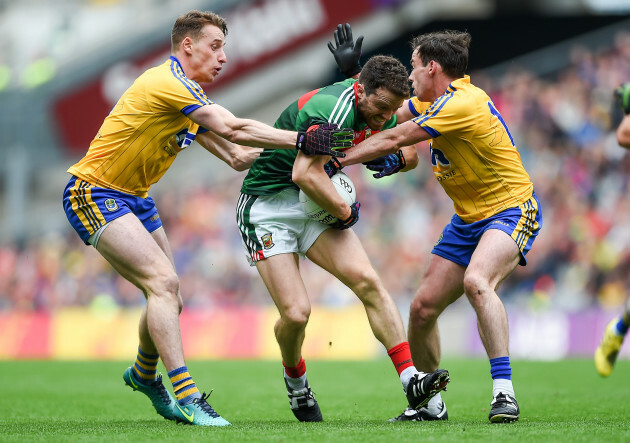 Source: Tommy Grealy/INPHO
Roscommon 2-8 Mayo 1-10
Superb through ball by Enda Smith and his brother Donie seizes the chance to point.
Subs: Mayo replace Andy Moran with Conor Loftus. Plenty boos from the Roscommon fans there. Roscommon bring on Colin Compton for Ciaran Murtagh.
Yellow card for Mayo's Diarmuid O'Connor. Ten minutes left and they trail by one. Not going for them at the moment.
Subs: Roscommon bring in Cathal Compton for Diarmuid Murtagh, Mayo replace Seamus O'Shea with Tom Parsons.
Bad Mayo wide from Tom Parsons.
Sub: Ian Kilbride on for Roscommon for Seanie McDermott. Mayo replace Diarmuid O'Connor with Stephen Coen.
Mayo 1-11 Roscommon 2-8
Level thanks to the left foot of Cillian O'Connor who brings Mayo back into it.
Four minutes left. All up for grabs here. Who's going to advance to face Kerry on 20 August?
Mayo 1-12 Roscommon 2-8
And Mayo hit the front through Paddy Durcan.
Cillian O'Connor misses the chance to put Mayo two clear, shooting wide on the turn.
Colin Compton bangs a shot wide for Roscommon, we're entering injury-time.
Six minutes of injury time will be played.
Subs: More replacements here. Roscommon bring in Ronan Stack for Conor Devaney. Mayo introduce David Drake for Jason Doherty.
Tense finale in store here.
Free in for Roscommon after a Mayo player judged to have touched the ball on the ground. Donie Smith will take it, about 45 yards out.
Roscommon 2-9 Mayo 1-12
Smith nails the free and we're level again!
Cillian O'Connor's point attempt tails wide!
Massive catch from a kickout by Tom Parsons for Mayo, free in over 45 yards out.
Cillian O'Connor with the ball in his hands, he looks like he'll go for it.
O'Connor's kick drops short and then he's wide from play.
Time is up but we're still playing on!
Yellow for Keith Higgins.
Full-Time: Mayo 1-12 Roscommon 2-9
All over and we're heading for a replay.
Manic ending to that game but a draw probably the fair result.
Details of the replay will be confirmed tomorrow.
So Donie Smith was the hero for Roscommon, launching over that late free. Thanks for joining us, we'll be back later with plenty analysis and reaction.
Contribute to this story: