Liveblog
Good afternoon and welcome along to our live coverage of the Connacht senior football championship quarter-final between Mayo and Sligo from MacHale Park in Castlebar.
The 2017 championship summer begins in earnest today as six games up and down the country are down for decision.
We'll have reports from all the grounds, with GAA editor Fintan O'Toole in position in Thurles for the big one of the day as Tipp meet Cork.
Munster SHC: Tipperary v Cork, Semple Stadium, 4pm
Connacht SFC: Mayo v Sligo, Elverys MacHale Park, 2pm
Leinster SFC: Louth v Wicklow, Parnell Park, 3pm
Leinster SFC: Laois v Longford, O'Moore Park, 3pm
Leinster SFC: Carlow v Wexford, Netwatch Cullen Park, 3pm
Ulster SFC: Donegal v Antrim, Ballybofey, 4pm
Throw-in in Castlebar isn't far away now so let's take a check on the teams for this quarter-final tie.
Mayo: David Clarke; Chris Barrett, Ger Cafferkey, Keith Higgins; Colm Boyle, Lee Keegan, Paddy Durcan; Seamus O'Shea, Tom Parsons; Fergal Boland, Diarmuid O'Connor, Conor O'Shea; Kevin McLoughlin, Cillian O'Connor, Andy Moran.
Sligo: Aidan Devaney; Ross Donavan, Charlie Harrison, Eoin McHugh; Keelan Cawley, Brendan Egan, John Kelly; Paddy O'Connor, Adrian McIntyre; Neil Ewing, Mark Breheny, Kyle Cawley; Stephen Coen, Pat Hughes, Adrian Marren.
This is, of course, Sligo's second match of the championship after they safely negotiated the preliminary round hurdle by overcoming New York earlier in the month. The winner of this quarter-final will meet Galway in the Connacht SFC semi-final on 11 June.
The teams are out at MacHale Park. Sligo have won the toss and elect to play with a strong breeze in this first half. We're just about all set.
And we're off! Both teams line out as named.
Mayo 0-0 Sligo 0-1
Perfect start for the visitors as Stephen Coen puts the first point on the board.
Mayo 0-1 Sligo 0-1
But Mayo are almost immediately level as Cillian O'Connor opens his 2017 championship account with a free.
Mayo 0-2 Sligo 0-1
Oh that's superb from Andy Moran. The 33-year-old collects the ball and drives it over the bar from a tight angle with a sweetly-struck effort.
Mayo 0-2 Sligo 0-3
Breathless start to proceedings in Castlebar. Coen notches his second point to draw Sligo level and then Adrian Marren pounces on a loose kick out from David Clarke to hand his side the lead.
Mayo 0-2 Sligo 0-3
Five points in the opening five minutes at MacHale Park.
Mayo 0-3 Sligo 0-3
Kevin McLoughlin makes up for a missed free with his first point of the day shortly after as he turns and slots over a right-footed effort.
Mayo 0-3 Sligo 0-4
Niall Carew's men back into the lead through Mark Breheny. An entertaining contest so far.
Mayo 0-3 Sligo 0-4
Neil Ewing should really extend his side's advantage but pulls his effort slightly and it goes wide before Pat Hughes misses another opportunity. That's now four wides in the opening 14 minutes for Sligo.
Mayo 0-4 Sligo 0-4
The sides are level for a fourth time as Patrick Durcan pops it over from the right after a nicely-worked move from Mayo.
It has been a lively start to the game in Castlebar.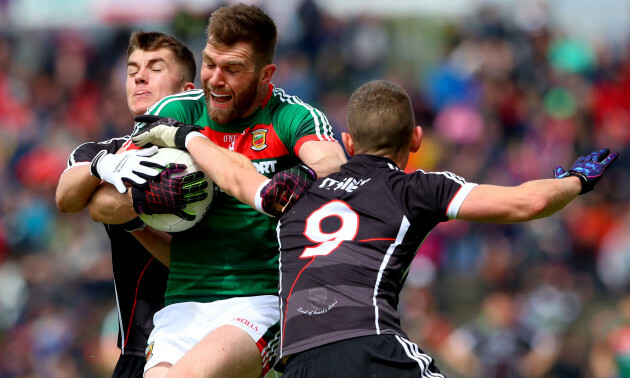 Source: James Crombie/INPHO
Mayo 0-4 Sligo 0-4
That's a poor miss from Fergal Boland, who really should add the point after another good passage of play from Mayo but pushes his effort wide of the upright.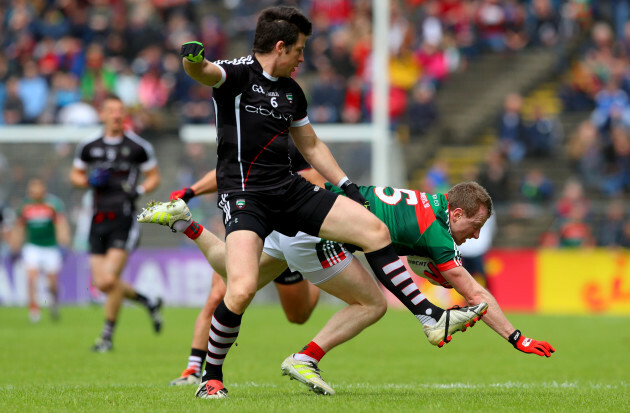 Source: James Crombie/INPHO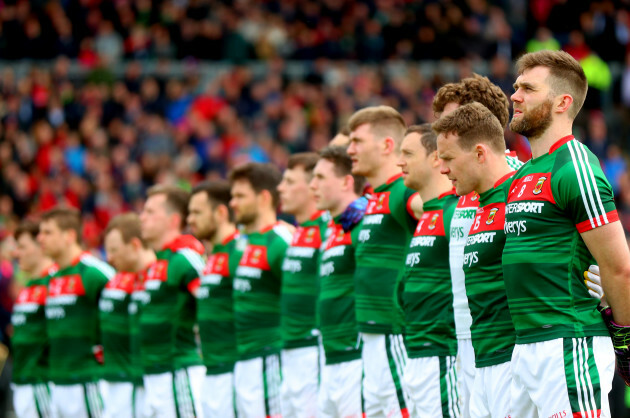 Source: James Crombie/INPHO
Mayo 0-5 Sligo 0-4
Keelan Cawley hauls down Seamus O'Shea as the Mayo forward looks to bear down on goal. The yellow card is brandished but it could have easily been black.
From the free, Cillian O'Connor makes no mistake and Mayo hit the front.
Mayo 0-5 Sligo 0-4
25 minutes gone and Sligo's profligacy is costing them already with the visitors kicking six wides. They haven't scored in 10 minutes either.
Mayo 0-5 Sligo 0-5
But just as we say that, Adrian Marren has the ball in hand and brings Sligo level.
Jason Doherty, meanwhile, is on as he replaces Kevin McLoughlin who was down a few minutes ago receiving treatment. The Knockmore man was on the end of a big hit on the far side a little earlier and has obviously failed to shake that off.
Mayo 0-5 Sligo 0-5
Change for Sligo too with Kyle Cawley making way for David Kelly.
Mayo 0-6 Sligo 0-5
Sligo can ill afford to keep giving these frees away as Mayo captain Cillian O'Connor converts another and his tally for the day goes to three points.
Mayo 0-6 Sligo 0-5
Mayo looking for a penalty there as Tom Parsons found himself in space in behind but just as he was about to pull the trigger, it looked like he was impeded by Adrian McIntyre but the referee isn't interested.
Flag
GOAL! Mayo 1-6 Sligo 0-5
What a finish! Diarmuid O'Connor gathers a ball through from Seamus O'Shea and bounces off two challenges before firing low past Aidan Devaney.
Flag
Half time! Mayo 1-6 Sligo 0-5
O'Connor's goal right on the stroke of half time has given Mayo a significant advantage heading into the break as Sligo rue a series of missed chances. They've lacked the cutting edge up front and after playing with the strong breeze at their back, find themselves four points behind.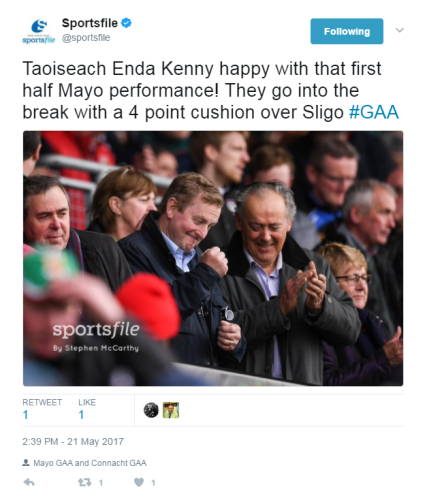 Scorers for Mayo: Diarmuid O'Connor 1-0, Cillian O'Connor 0-3 (3fs), Andy Moran, Kevin McLoughlin, Paddy Durcan 0-1 each.
Scorers for Sligo: Stephen Coen, Adrian Marren (1f) 0-2 each, Mark Breheny (f) 0-1 each.
Teams are back out for the second half. Sligo are four points behind and playing against the breeze in this second half. Is there any way back for them?
Back underway in Castlebar.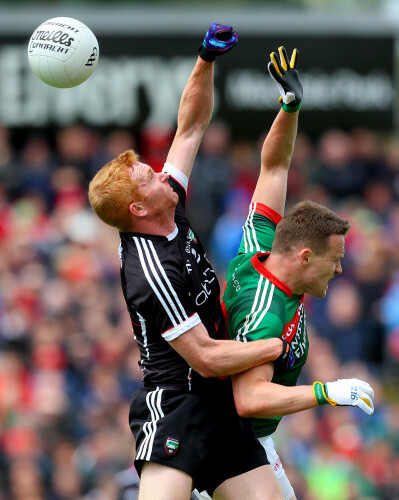 Source: James Crombie/INPHO
Mayo 1-6 Sligo 0-6
And the visitors get the first score of the half as goalkeeper Aidan Devaney strikes a free sweetly and it dissects the posts.
At the other end, the 'keeper is left helpless as he watches the ball trickle wide of his post as Mayo looked for their second goal.
Mayo 1-8 Sligo 0-6
Mayo are pulling clear here as Andy Moran turns and send it between the posts shortly after Fergal Boland had done the same from the far side.
Loud cheer from the stands as Aidan O'Shea enters the fray as a blood substitute for Diarmuid O'Connor.
Mayo 1-8 Sligo 0-7
Sligo continue to plug away and Paddy O'Connor notches his first point of the day to reduce the deficit back to four. Meanwhile, the visitors have made another change with Kevin McDonnell coming on for Stephen Coen.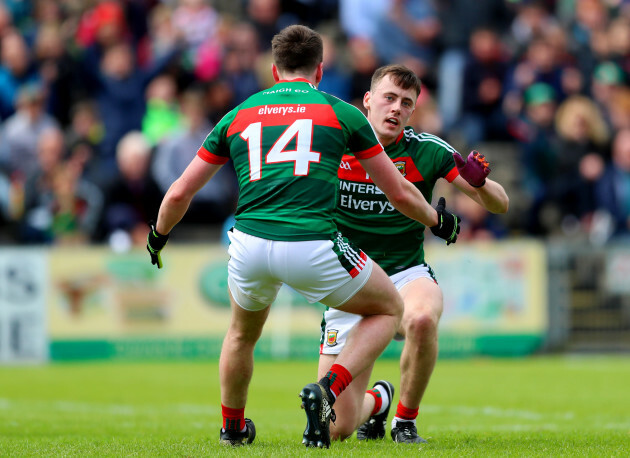 Source: James Crombie/INPHO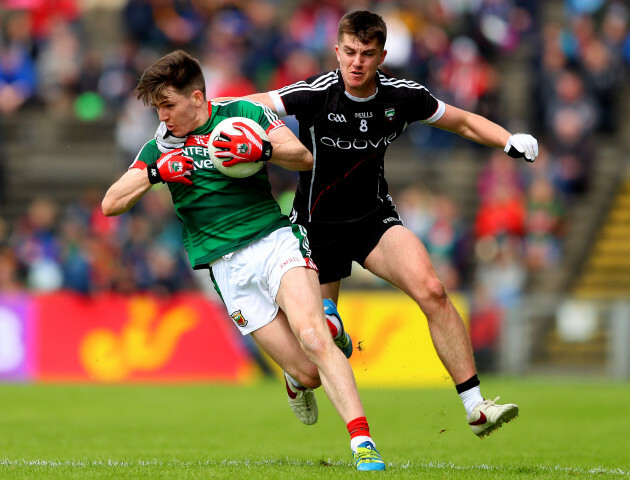 Source: James Crombie/INPHO
Mayo 1-9 Sligo 0-8
Nice move from Mayo as Higgins breaks from deep and Boland has the simple task of fisting it over from close range.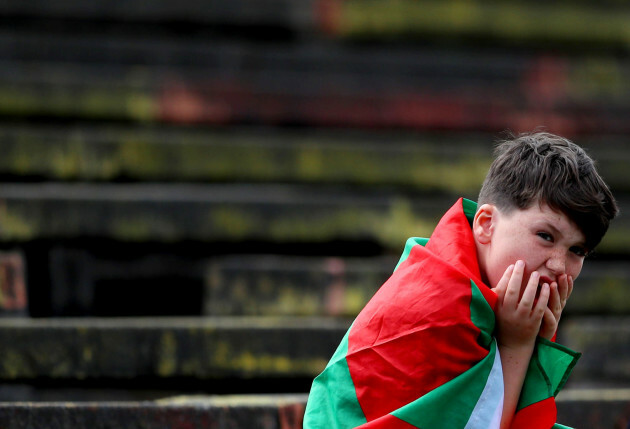 Source: James Crombie/INPHO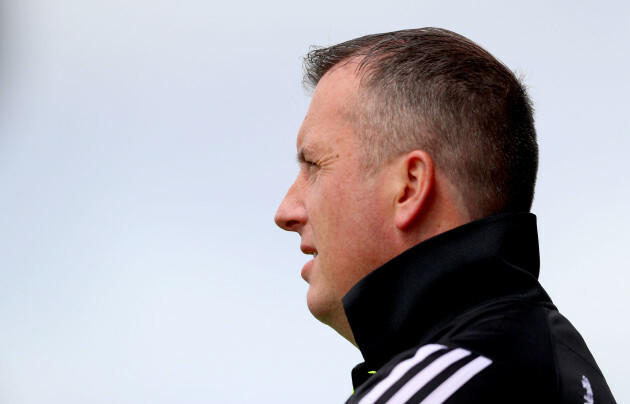 Source: James Crombie/INPHO
Mayo 1-10 Sligo 0-8
Aidan O'Shea is back on for Andy Moran, who receives a big ovation as he makes his way off.
Cillian O'Connor adds another free and Mayo's lead is now five points after 57 minutes.
Mayo 1-10 Sligo 0-9
Sligo are sill in this with 12 minutes to go, as Marren knocks another one over.
Mayo 1-10 Sligo 0-10
Niall Murphy eventually manufactures a yard of space for himself and slots it over to bring Sligo within three points.
Mayo have made another change with Donal Vaughan on for Conor O'Shea.
Five minutes to go in Castlebar.
Mayo 1-11 Sligo 0-10
Cillian O'Connor's personal tally goes to five points as he converts a free from in front of the posts. Four minutes left on the clock.
Conor Loftus is in for Fergal Boland, who enjoyed a fine championship debut.
Mayo 1-12 Sligo 0-10
Seamus O'Shea is hobbling off holding his arm and looks to be in a bit of pain. Danny Kirby is on in his place.
When we restart, O'Connor makes no mistake from another free. Mayo comfortable now.
Flag
GOAL! Mayo 2-12 Sligo 0-10
And that should be that. O'Connor palms in a pass from Conor Loftus. His tally for the day is now 1-6.
Mayo 2-12 Sligo 0-11
The sides exchange points as we enter the fourth minute of added time. All over bar the shouting at MacHale Park now.
Flag
Full time! Mayo 2-14 Sligo 0-11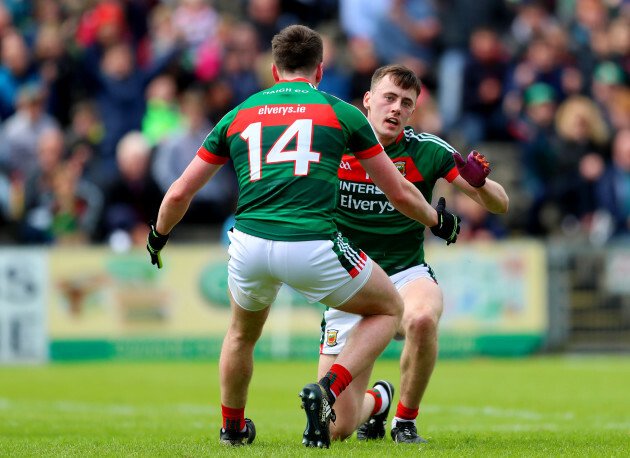 Source: James Crombie/INPHO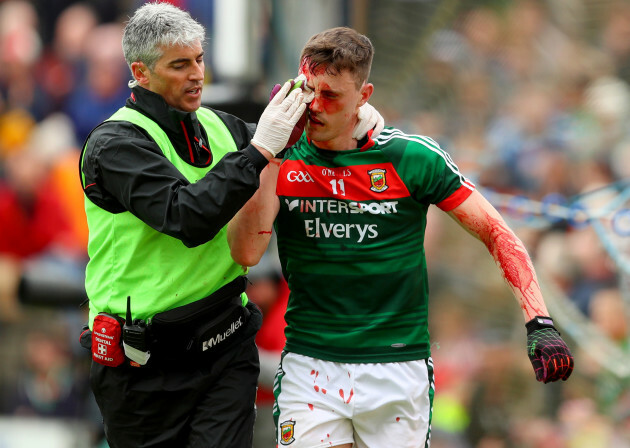 Source: James Crombie/INPHO
All very easy for Mayo in the end as they march on to the Connacht SFC semi-finals and a meeting with Galway on 11 June as Sligo head for the qualifiers.
Thanks for joining us this afternoon and remember we have live coverage of Tipperary's clash with Cork here.
Contribute to this story: