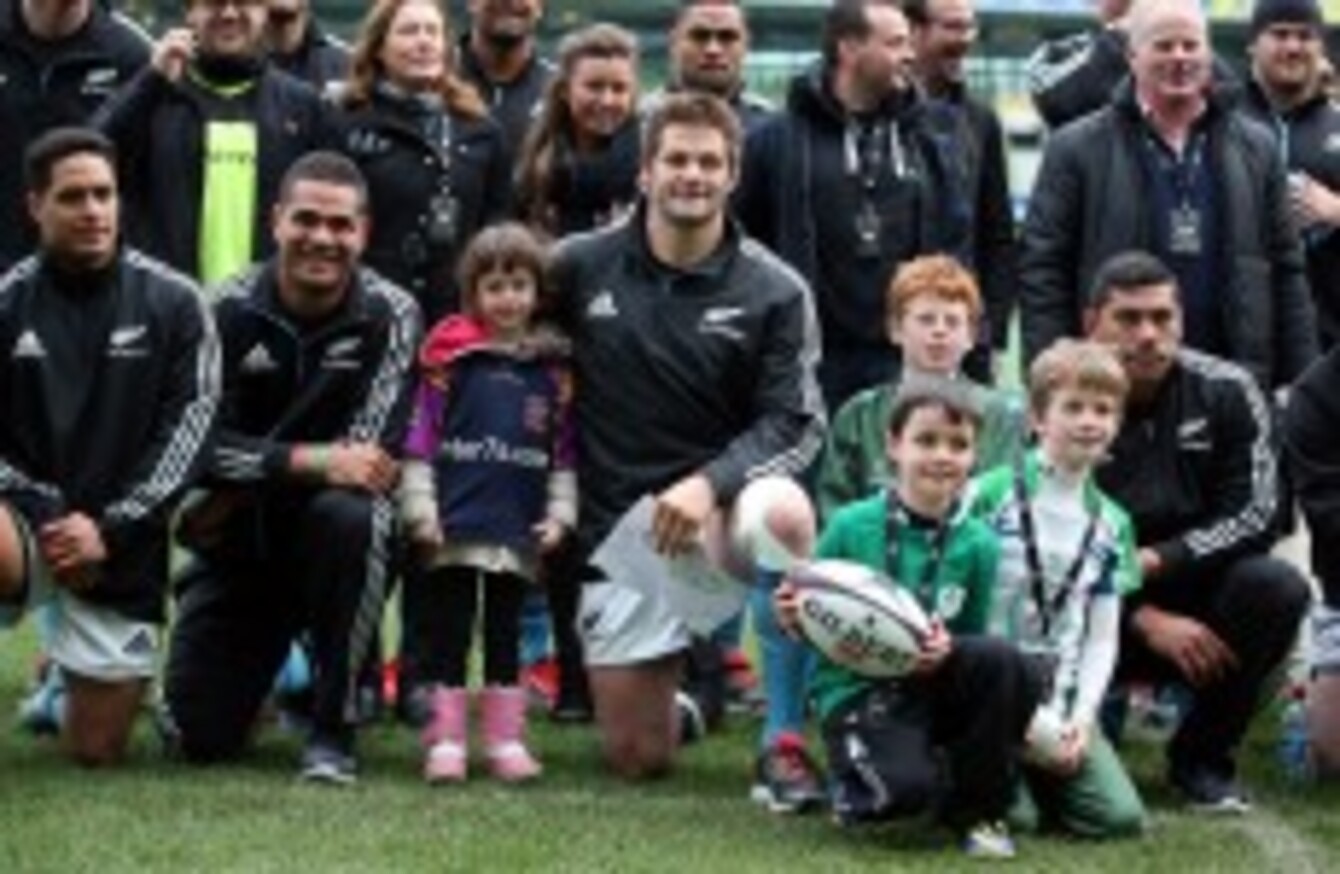 Irish children invade Richie McCaw's personal space.
Image: ©INPHO/Dan Sheridan
Irish children invade Richie McCaw's personal space.
Image: ©INPHO/Dan Sheridan
AS NEW ZEALAND approach a date with the history books tomorrow, they can at least take heart in the fact that at least one squad member will not be feeling the effects of a long hard season.
Captain Richie McCaw claims though, that the priority was not making it 14 consecutive wins  in the 14th Test of the year, but simply a good performance.
No international team in the professional era has enjoyed a perfect calendar year, with the All Blacks side led by Wayne Shelford — that won all seven of their Tests in 1989 — the last major nation to achieve the feat when rugby union was still an amateur sport.
However, New Zealand themselves came close to it again when they won 11 games and drew one under John Hart in 1997.
The 32-year-old flanker, who has a special attachment with Lansdowne Road as he made his debut there in 2001, said the Irish despite not having beaten them before and coming off a disappointing 32-15 humbling by Australia would be fired up and capable of giving them a good tussle.
Ireland prop Cian Healy had done his best already to stir up emotions as he said he refused to call them the All Blacks referring instead to New Zealand and while he had been in awe of the haka growing up he hated fronting up to it as a player.
McCaw, though, laughed those remarks off but said it was an indication of the Irish getting fired up for the game.
"You don't tend to get too carried away with that stuff," he told pitchside reporters.

"Put yourself in their shoes, they will be excited about turning things round from last week and having a good performance.

"All we're expecting is a team to come out with that kind of energy and fire."
Last year, the All Blacks found their summer tinged with the bitter taste of defeat after being turned over at Twickenhan by England in their final game of the year. 2013, McCaw contests, cannot be compared:
"We were probably struggling a bit physically and mentally.
"Whereas this year the excitement levels are there, there's no talk of wanting to get on the plane or anything.
"Everyone's keen to do the job, so from that point of view it's totally different."
After taking most of the Super Rugby season as a rest period, McCaw has since been forced out of several international fixtures with niggling injuries. Playing in his eighth Test of New Zealand's 14 tomorrow, don't be surprised to see him leading from the front even more than usual.
©INPHO/Dan Sheridan
"It feels like I'm just getting started to be fair – I'm just stoked to get a few games in a row, and another chance tomorrow night.
"It's been a positive, to get to the end of this tour, and to feel like you're only just getting going.
"I would have liked to have a few extra games this year, but the way it is is the way it is."
As for that chance at history McCaw, rarely short of a reason to smile, looked forward to what could only be massively satisfying outcome:
"We said at the start of the week there would be a lot of talk about it being the end of the season and all those things that come with it, but we just have to go about our business – now it's just a matter of putting a performance out there.
"It would be pretty nice to be sat there after 80 minutes with a grin on our face."
- Additional reporting by Sean Farrell.