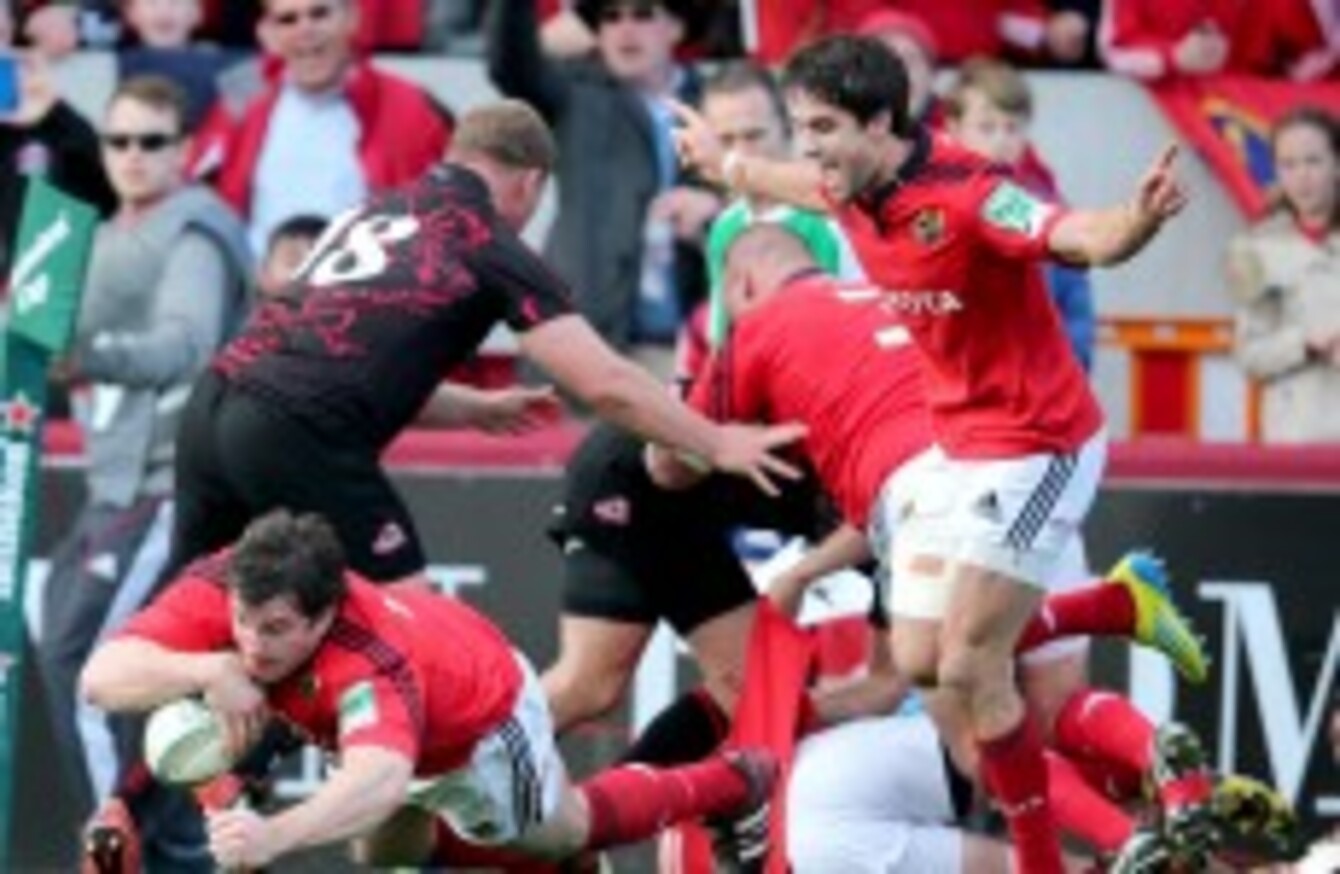 Conor Murray celebrates as Damien Varley dives over for the fourth try.
Image: ©INPHO/Dan Sheridan
Conor Murray celebrates as Damien Varley dives over for the fourth try.
Image: ©INPHO/Dan Sheridan
CONOR MURRAY HAS added a try-scoring touch to his ever-evolving game and dived in for his third of the season in Munster's 33-0 win over Edinburgh at Thomond Park.
There may be some conjecture as to who was the province's best player – Paul O'Connell and Peter O'Mahony were superb again – but Murray got the sponsor's nod.
It proved a welcome boost for a player who, by choosing to run the ball out of defence and giving up a penalty when he was buried by Frenchmen, almost single-handedly cost his team a win against Racing Metro.
Murray told TheScore.ie that he was satisfied by his fine performance but stressed that Munster getting back on the winning track means more to him.
He said, "It was disappointing last week but you don't have time to get down on yourself. You have to, just, get over it."
Murray concedes that it was a 'messy day' against Racing but he was pleased with his first Heineken Cup start alongside Ian Keatley.
"We looked at the tape this week, myself and Ian," said Murray. "We then sat down then and figured out ways to put Edinburgh under pressure and release our pressure. I think it worked well and we mixed it up a bit."
Right up the guts
The Limerick native said the bonus point victory was a 'huge confidence booster' for his side as it keeps them in the hunt for quarter-final qualification.
He insisted that the team, both on and off the field, were confident that they could break Edinburgh if they stuck to their gameplan.
The gameplan noticeably changed in the second-half when the forwards started to hog the ball but the tactic, eventually, paid dividends. It was a matter, said Murray, of mauling more often and going 'right up the guts' of Edinburgh.
"No bonus point was mentioned during the week," said Murray. "Maybe it was in some fellas heads." He added:
We just stuck to our attack plan and when they chances came we took them towards the end. We were the fitter side throughout the game. They were out on their feet an awful lot.
"I remember there were a lot of their fellas down at any break in play."
Full shifts
Murray, 23, finds himself, as a two and a half season veteran, in the strange position of talking up the new guard that coach Rob Penney has introduced. The efforts of the "immense" Sean Dougall, another Munster try scorer, were lauded.
"Sean's work-rate is unbelievable," Murray declared. "He seems to be everywhere. He lasts the 80 minutes as well and doesn't try to mind himself, he throws himself around for the 80."
Murray was pleased that he was on the pitch to finish the bonus point job. (TheScore.ie)
Dougall and Murray both put in a full shift – something Declan Kidney, who names the Ireland squad on Wednesday, will be pleased to see.
Murray said, "It's a bit tiring (after the game) going touchline to touchline but it's good to stay on the pitch near the end. It means you can have a good impact on the whole game as well, which I'm not really used to."
If the scrum-half can deliver more of the Edinburgh and less of the Racing, Munster fans will be happy for the whistle-to-whistle shifts to continue.