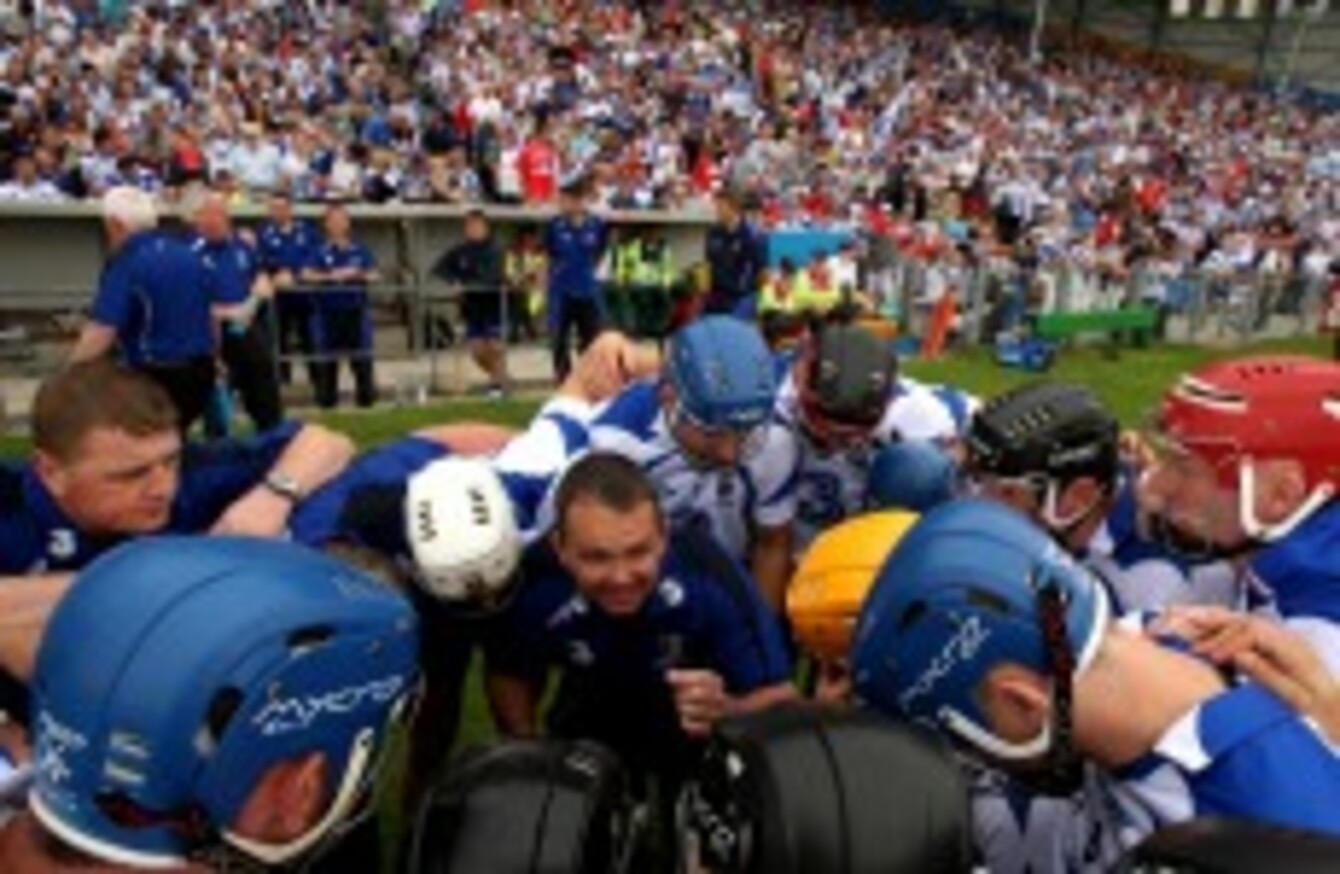 Image: Inpho
Image: Inpho
Clare
Last year: Lost vs. Dublin, All-Ireland Qualifiers second-round
First game: vs. Tipperary/Cork, June 19
What the manager says: "We need games like that (Division Two League final). There was good intensity in it. We need to be playing better teams more often and that is how guys come on. We are licking our wounds again, unfortunately but we will learn from it and we have to bounce back." – Ger O'Loughlin
What's on the dressing room iPod? Little By Little – Oasis
Supporters are most likely to say? "Will you stop banging on about Biddy Early…"
Verdict: Any Clare hurling supporter will tell you that Ger 'Sparrow' O'Loughlin's side is a work in progress but they are a team to be respected nonetheless.
After falling to Waterford at the semi-final stage last year, the Banner were unlucky to lose to Dublin, hurling's new kids on the block, in the qualifiers. Things haven't improved much since then and failure to return to Division One of the league was a blow.
That being said, the county's minors reached the All-Ireland final last year and a year earlier the Clare U-21s collected a much-needed national crown so the future is bright in some respects. Clare managed to score more goals than any other county in the five divisions during the league but a shaky defence conceded 10 goals.
And a leaky defence is not what you need going into a potential Munster semi-final clash with All-Ireland champions Tipperary. Far from it. Clare will probably be content with a good run in the qualifiers but with Darach Honan, John Conlon and Nicky O'Connell amongst their ranks they have the potential to claim a big scalp.
Cork
Last year: Lost vs. Kilkenny, All-Ireland semi-final
First game: vs. Tipperary, May 29
What the manager says: "Well it's Tipp again but the Premier are All-Ireland champions this time so that's an added incentive from our point of view. They'll probably be looking for a small bit of revenge after 2010 but at the same time we're taking on the All-Ireland champions so we're hoping we can improve on last year. We got a good start to the year but we faded after but we'd be hoping this year if we can get off the ground early we can keep it going." – Denis Walsh
What's on the dressing room iPod? Accidents Will Happen – Elvis Costello
Supporters are most likely to say? "We're going for the one in a row!"
Verdict: Legendary wing-back Sean Óg Ó hAilpín does not expect the Cork hurlers to win any silverware in 2011 after admitting that the team is going through a rebuilding phase. The man, who was recently given the Freedom of the City, might very well be right. It wouldn't be the first time.
A mediocre league campaign indicated that the reliance on senior citizens continues down Leeside. With Ó hAilpín refusing to play under Denis Walsh and one of the aforementioned veterans, Ronan Curran, unavailable for the Munster opener through injury it seems somewhat implausible that the Rebels will wipe Tipperary's eye for the second year running.
A lot of responsibility will rest on the shoulders of John Gardiner at the back while up front championship debutant Luke O'Farrell, Paudie O'Sullivan and Patrick Horgan will have to hit the ground running or there could be a massacre on the cards. It's five years since Cork last won a Munster title, and yet another run through the minefield that is the qualifier system beckons.
Limerick
Last year: Lost vs. Offaly, All-Ireland Qualifiers Second Round
First game: vs. Waterford, June 12
What the manager says: "I don't know if it's any preparation because you're coming up against Division One teams for the first time. Going in now against a Division One team in the championship is going to be a huge step up. All we'll do is that we'll train as well as we can, we'll play as well as we can. To get out of Division Two is good but I never mentioned Division One or Division Two or finals since I came in but everyone is aware of the challenges ahead of us. I'm a realist and it's going to be like climbing Mount Everest after practising on Carrantuohill." – Donal O'Grady.
What's on the dressing room iPod? I Can See Clearly Now – Johnny Nash
Supporters are most likely to say? "Noonan for Taoiseach. O'Grady for President!"
Verdict: If Limerick are not on a high going into the Munster championship then something is seriously wrong.
Under Donal O'Grady's tutelage the gloom that existed under the stewardship of another Corkman, Justin McCarthy, has been lifted. Limerick are the only team going into the championship with a notable piece of silverware to their name following their defeat of an up-and-coming Clare side in the Division Two decider in Ennis.
That game, exciting as it was, lacked any real quality and the wily O'Grady is under no illusion as to what is required to be competitive in Munster. O'Grady has also switched the focus to young players since his time in charge, blooding the likes of Kevin Downes and promising schoolboy Declan Hannon.
Having turned the corner after last year's disaster, the Treaty men will go into the clash with Waterford as underdogs. Just the way they like it. Could the first shock of the Munster championship be on the cards? Waterford chief Davy Fitzgerald is "wicked afraid" of Limerick and he's not often afraid.
Tipperary
Last year: Won vs. Kilkenny, All-Ireland final
First game: vs. Cork, 29 May
What the manager says: "The approach this year is we go and we play as well as we can any day we go out and that starts against Cork on May 29. We're not looking any further than that. We realise in Tipp that we have a good bunch of players and if we can get everyone playing to the best of their potential we're going to give a good account of ourselves. We're playing at a better level now, a much higher level, a better level. Players are fitter, their skill levels are much higher and mentally they're much stronger." - Declan Ryan
What's on the dressing room iPod? The Winner Takes It All – ABBA
Supporters are most likely to say: "I'll see you in Liberty Square the Monday after the All-Ireland final!"
Verdict: Sunday's clash between Tipperary and Cork will be the eight meeting in a row in the Munster championship between the two great rivals – the 2000 provincial decider was their previous meeting before 2004 and prior to the turn of the century their last meeting was in 1992.
A lethargic looking Premier outfit were unceremoniously dumped out of Munster this time last year by Denis Walsh's Rebels down by the Lee but Tipperary soon regrouped and under Liam Sheedy's guidance they returned to the summit of the ancient game for the first time in nine years. As expected, Tipperary had a quiet league, finishing fourth in Division One, as they absorbed the All-Ireland success and integrated with a new management team.
The Munster kingpins won three of their seven games in the league – the most noteworthy triumph being the 4-22 to 1-14 drubbing of Galway on the first Sunday in April.
Shane Bourke starred on the day for Declan Ryan's charges – scoring a remarkable 3-4 – and the JK Brackens clubman, along with Killenaule's Pat 'Festy' Kerwick, who treated the drenched Tipperary faithful to a rousing rendition of 'The Galtee Mountain Boy' after the Premier County stalled the 'drive for five' last September, are just two to watch out for during the provincial championship and beyond as Tipperary bid to put back-to-back All-Ireland titles together for the first time since 1964/65.
[embed id="embed_1"]
Waterford
Last year: Lost vs. Tipperary, All-Ireland semi-final
First game: vs. Limerick, June 12
What the manager says: "To tell you the truth my only focus is on Limerick and I'm afraid of my life of that game. I'm just afraid of my life because you will have supporters getting carried away and thinking x, y and z. If you look at Limerick's history with Waterford they can put it up to us anytime they feel like it. I'm wicked afraid of that game and that's being straight up with you." - Davy Fitzgerald
What's on the dressing room iPod? Dreams – Gabrielle
Supporters are most likely to say? "It's a wide open All-Ireland championship… We can go all the way."
Verdict: Waterford have every chance of reaching the Munster decider and defending their Munster crown given the fact they enter the championship at the semi-final stage.
Whether or not they will or not remains to be seen? You could be forgiven for thinking that the Déise's chance of securing the All-Ireland title that has eluded them for so long has passed. Players such as Ken McGrath, Paul Flynn and Dan Shanahan – synonymous with the last decade have decided enough is enough.
However, all is not lost for Waterford as there is a steady stream of talented youngsters laying claim to places on Davy Fitzgerald's starting XV, notably Maurice Shanahan, Richie Foley, Noel Connors and Tomas Ryan.
The loss of Liam Lawlor and Eoin Murphy to injury will be of concern to Fitzgerald as the Deise head into an intriguing clash with Donal O'Grady's reinvigorated Limerick. John Mullane remains the principal scoring threat up front and the De La Salle clubman's scores will be crucial if Waterford make it to the provincial final on July 3. Losing it might not be the worst thing in the world.