Steven Gerrard brought up his ton for Liverpool today.
Image: Steve Drew/Press Association Images
We were told we were guaranteed goals in this game and Newcastle and Liverpool didn't disappoint.
As always, we'd love to hear your thoughts on the game. E-mail steven@thescore.ie, tweet @football_ie, post a message to our Facebook wall, or leave a comment below.
You may need to refresh the page for YouTube videos and other elements to display correctly.
Result: Newcastle 2-2 Liverpool
12:28 – 12.28 – Hello and welcome to our coverage of today's early Premier League clash. With only 15 minutes to kick off, let's jump straight in and see who has made the starting XI for both sides today.
Newcastle: Krul; Debuchy,Yanga-Mbiwa, Williamson, Santon; Cabaye, Tiote (c), Sissoko; Gouffran, Ben Arfa, Remy.
Liverpool: Mignolet, Johnson, Cissokho, Toure, Skrtel, Sakho, Henderson, Gerrard, Moses, Suarez, Sturridge.
12:39 – 12.39 – As always, we'd love to hear your views on the game; before, during or after. Let us know what you think in the comments below.
12:45 – 12.45 – And Liverpool get the game underway.
12:48 – 12.48 – Some interesting stats coming into this game from both teams.
The Magpies' last 12 league goals have been scored by French players with the last non-Frenchman to net a top-flight goal for the club being Papiss Cisse. Sadly for Cisse he hasn't scored in 13 games and has been dropped.
For Liverpool, 10 of their 11 league goals this season have been scored in the first half. Their only second-half strike was in the 3-1 win at Sunderland last month, scored by Luis Suarez.
12:50 – 12.50 – Liverpool with the game's first real chance after four minutes as some great close passing resulted in a chance for Glen Johnson and it looked like he was bundled over but no penalty given.
12:52 – 12.52 – Decent effort from Mathieu Debuchy from distance for Newcastle in reply but Simon Mignolet got down comfortably and made no mistake in the Liverpool goal.
12:55 – 12.55 – Speculative effort from Yohan Cabaye after some decent interplay from a Newcastle side that have settled into this game quite well but his volley is blocked easily.
Ten minutes gone here and, while there have been no clear cut chances, it's a decent game so far.
13:01 – 13.01 – A significant number of Newcastle fans were protesting against owner Mike Ashley's running of the club before the start of the game.

Image: Damian Spellman/PA Wire/Press Association Images
13:04 – 13.04 – Newcastle win the game's first corner after a mistake from Martin Skrtel, however, Cabaye's delivery is poor and it comes to nothing.
30 seconds later, Loic Rémy tried a shot from fully 40 yards that sailed well wide.
13:07 – 13.07 – Suarez has Liverpool's best chance of the game and, while his header looked to be going wide, Santon still felt he needed to head it around the post. However, Liverpool's second corner in quick succession comes to nothing.
13:10 – 13.10 – GOAL – Cabaye, Newcastle, 23 mins
Just as I was about to write that Newcastle were taking ridiculous shots from distance, Yohan Cabaye tries one from 30 yards and beats Mignolet.
As could as he's been all season, you have to put some blame on the Liverpool keeper for that goal.
13:14 – 13.14 – After looking at the replay of that goal, it does look like the Liverpool keeper was undone by an unfortunate bounce but you have to hope your goalkeeper does better when facing a shot from that range.
13:18 – 13.18 – Daniel Sturridge has had to go to the Liverpool dressing room to change his boots. Hopefully he found his shooting ones.
Sorry.
13:21 – 13.21 – Cabaye celebrates scoring Newcastle's opening goal: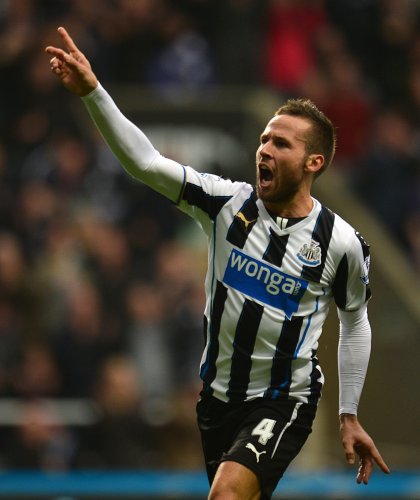 Image: Owen Humphreys/PA Wire/Press Association Images
13:23 – 13.23 – Mignolet makes amends eight minutes before half time with a great save from Sissoko's long-range effort. Newcastle have a game-plan today and it's shoot on sight.
Suarez is limping a bit for Liverpool too so the worries are mounting for Brendan Rodgers today.
13:30 – 13.30 – Penalty – Liverpool
Yanga-Mbiwa is correctly adjudged to have brought down Luis Suarez in the area and the Newcastle defender is given his marching orders as it was a clear goal-scoring opportunity. Steven Gerrard will take it.
13:33 – 13.33 – GOAL – Steven Gerrard (p), 40 mins
Steven Gerrard makes no mistake with the spot kick and brings up his 100th goal for the club.
13:41 – 13.41 – Half-time
Well that was an interesting end to the half. Liverpool had been okay but this was turning into a really tricky fixture for the reds until Mapou Yanga-Mbiwa's moment of madness. It was definitely a straight red and makes Brendan Rodgers half-time team talk that bit easier.
13:49 – 13.49 – The second half has started and it'll be interesting to see what approach Newcastle take with 10 men.
13:53 – 13.53 – Liverpool have started the second half brighter but there have been no clear cut chances so far.
The Newcastle crowd are asking for Steven Gerrard to be sent off for a second yellow card but it would have been the softest of dismissals.
13:56 – 13.56 – Steven Gerrard celebrates his 100th goal for Liverpool:

Image: Steve Drew/Press Association Images
14:01 – 14.01 – GOAL – Dummett, Newcastle, 57 minutes
Paul Dummett, who came on for Sissoko in a tactical change at the end of the first half, took advantage of terrible defending to ghost in and give Newcastle the lead again. Who needs 11 players?
14:04 – 14.04 – Looking back at the goal, there really was some shocking defending from Liverpool there. While Newcastle will obviously be happy to be 2-1 up despite being down to ten men but the Reds only have themselves to blame for both goals.
14:07 – 14.07 – Jordan Henderson, who scored two against Newcastle in this fixture last season, attempts a Newcastle-eque speculative effort but with no joy.
Brendan Rodgers has made his first change too, Luis Alberto coming on for Mamadou Sakho.
14:08 – 14.08 – See Yohan Cabaye's long-range effort that gave Newcastle the lead today:
14:09 – 14.09 – They'll probably score as soon as I type this but it's worth remembering Liverpool have just the one second half goal to their name this year. They've 24 minutes left to change that.
14:14 – 14.14 – Suarez almost levels it up for Liverpool but Tim Krul pulls off a great reflex save and, though he couldn't hold onto the shot, no Liverpool player was following up to take advantage.
14:17 – 14.17 – GOAL – Sturridge, Liverpool, 72 mins
SAS have done it again for Liverpool with Suarez racing down the left before Daniel Sturridge's flying header brings the game level.
Sturridge could have had a second just minutes later but he can't quite get his foot to it.
14:18 – 14.18 – It's all Liverpool the last five minutes as this time Suarez hits the bar with a thunderbolt from 12 yards.
Looking like there's only going to be one winner now.
14:23 – 14.23 – Sturridge has yet another chance for Liverpool but he scuffs his shot wide.
Alan Pardew has rolled the dice for the last time with Cabaye — who isn't happy about it — and Ben Arfa replaced by Vurnon Anita and Sammy Ameobi respectively.
14:27 – 14.27 – Substitution for Liverpool with Raheem Sterling replacing Glen Johnson.
Can either team find a winner here?
14:28 – 14.28 – Yet another chance for Daniel Sturridge and yet again the young Liverpool striker can't find the finish.
Brilliant ball from Gerrard goes to waste.
14:30 – 14.30 – I can't help but feeling the majority of my updates for the last four minutes of this game will revolve around around 'chance for Liverpool'.
They've a corner here but it comes to nothing as Krul punches clear.
Newcastle have a chance on the break but Cissokho got back really well and put in a perfectly timed tackle.
14:34 – 14.34 – I was right, another chance for Liverpool. Great play between Suarez and Sturridge but Krul does well in the Newcastle goal yet again.
The home side have a corner down the other end but they couldn't decide between going for the win and wasting time and it came to nothing.
14:36 – 14.36 – Luis Alberto fires over from the edge of the box and, with a minute of injury time remaining, that could be the last chance of the game.
14:38 – 14.38 – Looks like the referee is playing last goal wins here. We're in the 6th minute of injury time (minimum four went on the board).
14:40 – 14.40 – No, despite a great free-kick from Luis Suarez, he can't find the back of the net and it's finished 2-2.
14:44 – 14.44 – That's one of the stranger games I've seen this season. Newcastle were completely on top for the opening 40 minutes but the sending off and penalty completely swung momentum in Liverpool's favour.
Against all odds, Newcastle re-took the lead early in the second half before Suarez and Sturridge finally started to click and levelled. It looked inevitable that Liverpool would — and should have if Sturridge had taken any one of three/four clear cut chances — then go on to claim all three points.
Credit to the Magpies though, they held on when many would have buckled and a draw is probably a fair result.
14:47 – 14.47 – So that's it from me. Liverpool are back on top of the league but will they regret not taking the three points on offer here in the long run?
Let us know what you think in the comments below or tweet @football_ie.