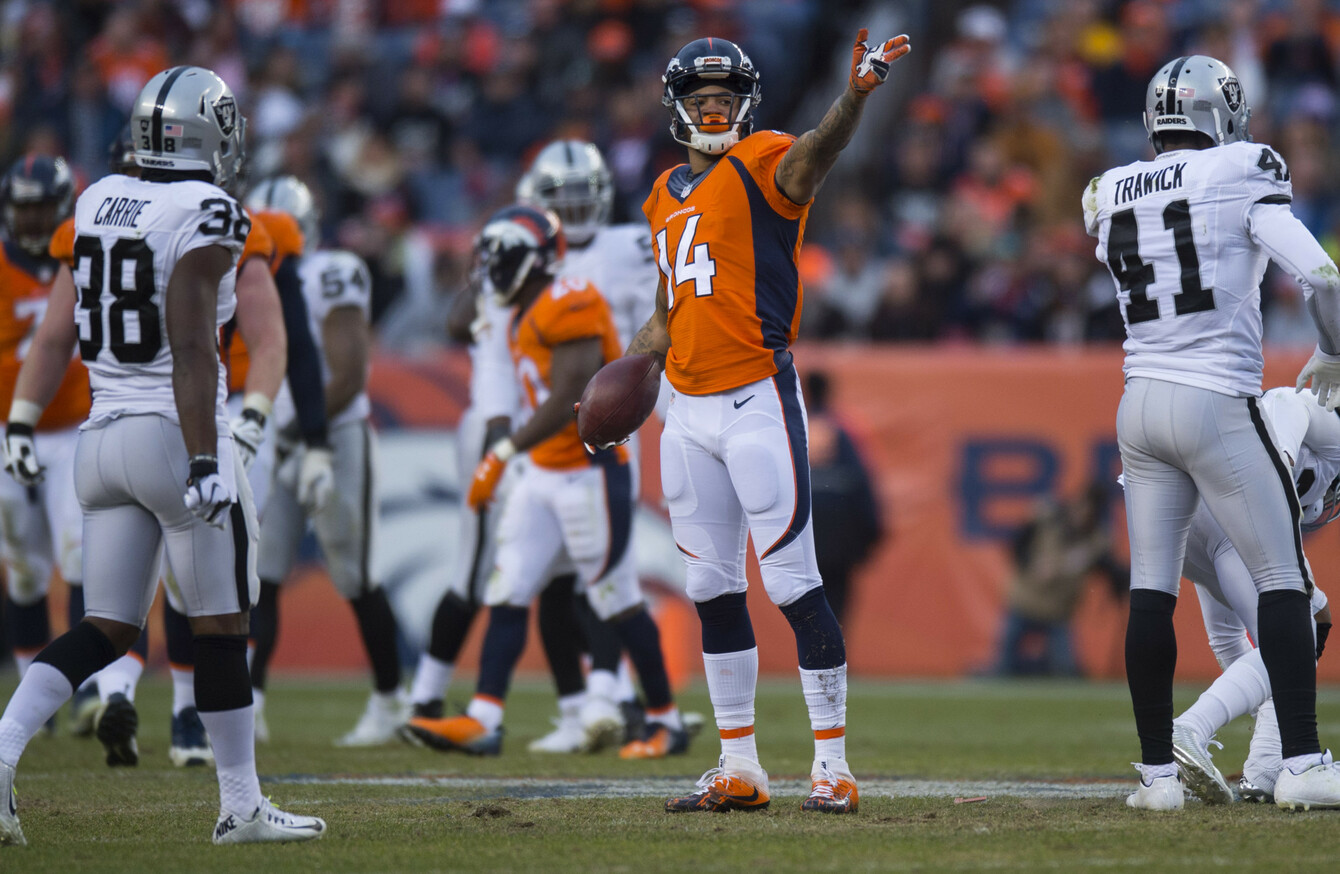 Oakland returns to Denver this week.
Image: TNS/ABACA
Oakland returns to Denver this week.
Image: TNS/ABACA
TIME AND AGAIN on NFL broadcasts, you probably hear the commentators talk about quarterback or passer rating.
It's a statistical calculation that was developed in the 1970s to help rank quarterbacks by something other than just the yards they moved the ball in every game.
On paper it looks quite complicated, but it's actually a relatively simple formula involving completion percentage (A), yards per attempt (B), touchdowns (C) and interceptions (D) — and I say that as somebody who did Pass Maths back in the stone ages.
A = ((100 X completions / attempts) – 30.0) X 0.05
B = ((yards / attempts) – 3.0) X 0.25
C = 20 X touchdowns / attempts
D = 2.375 – (25 X interceptions / attempts)
You then add A, B, C and D together, divide by six and multiply everything by 100.
To achieve a perfect passer rating of 158.3, you need to complete 77.5% of your passes at 12.5 yards per attempt and score a touchdown on 11.9% of your throws while having zero interceptions.
Last week against the Jacksonville Jaguars, Joe Flacco had a passer rating of 12 as he completed eight of 18 passes for no scores and two interceptions.
To put that in context, had he thrown every pass over the sideline and into the crowd, his passer rating would have been 39.58.
And Sky Sports picked the Steelers at Ravens as their 6pm game this week.
Sunday – 2.30pm
New Orleans Saints (-3) @ Miami Dolphins (London)
London gets its second game in as many weeks and, while Jaguars fans will be happy with the events of last Sunday, neutrals will be hoping for a closer affair this weekend. The Dolphins looked terrible against the Jets last week while the Saints are coming off a big divisional win.
Verdict: Saints to cover.
Sunday 6pm
Buffalo Bills @ Atlanta Falcons (-8)
The Bills had a massive win over the Denver Broncos last week but the schedule gods have not been kind as their reward is a trip to Georgia. As the last remaining undefeated team in the NFC, any thoughts of a Falcons Super Bowl hangover have been well dismissed.
Verdict: Falcons to cover.
Pittsburgh Steelers (-3) @ Baltimore Ravens
Flacco was awful last week but Ben Roethlisberger hasn't exactly set the world alight this year with just five touchdowns through three games. Considering the state of the Bengals and Browns, the winner of this game takes a massive step towards the playoffs and it can't help the Ravens that they've had no bye-week post London.
Verdict: Steelers to cover.
Cincinnati Bengals (-3) @ Cleveland Browns
We're not going to waste any time talking about two of the bottom three teams in football are we?
Verdict: Browns against the spread.
LA Rams @ Dallas Cowboys (-6)
One of the more intriguing games of the weekend because, even through three weeks, it's difficult to know where either of these teams stand. The Rams are better than expected while the Cowboys — particularly that much-vaunted offensive line — have played well below-par.
Verdict: Rams against the spread.
Tennessee Titans (-2) @ Houston Texans
Another potential cracker we could be watching instead of the Ravens, the Titans go into this game as favourites despite having a poor record in Houston. JJ Watt has more sacks against Tennessee than any other team but has yet to record a single one this season. Could this be the game to change that?
Verdict: Titans to cover. 
Detroit Lions @ Minnesota Vikings (-1.5)
The Lions were very unlucky not to beat the Falcons last weekend as the NFL's ridiculous rule book came to the fore again. Not having Sam Bradford didn't hurt the Vikings in week three but they will need Case Keenum to put in another career game if they're to succeed again Sunday.
Verdict: Lions against the spread.
Carolina Panthers @ New England Patriots (-9)
The Patriots needed some last-minute Tom Brady heroics to escape with a win against Houston and are on course to have one of the worst defensive seasons in NFL history, sitting dead last in Football Outsiders defensive DVOA. Are we going to see the old Cam Newton in this game? He'll have to appear soon if they're to make the playoffs.
Verdict: Panthers against the spread.
Jacksonville Jaguars (-3) @ New York Jets
The Jags are taking a big risk not opting for a bye after a London game but they probably saw who they were playing and thought it was the next best thing to a week off.
Verdict: Jaguars to cover.
Sunday – 9.05pm
San Francisco 49ers @ Arizona Cardinals (-6.5)
It says a lot about the NFC West that the 49ers have yet to win a game this season and they're still not out of the running. The Cardinals' problems not only revolve around the absence of David Johnson but complete inability to block for Carson Palmer.
Verdict: 49ers against the spread.
Philadelphia Eagles @ LA Chargers (-2)
Speaking of teams without a win, the NFL's smallest ground — the StubHub Center — will once again be full of visiting supporters as the Eagles look to put together back-to-back wins. The Chargers have been completely unable to get out of their own way this season.
Verdict: Eagles against the spread.
New York Giants @ Tampa Bay Buccaneers (-3)
Ben McAdoo is the third favourite — after Chuck Pagano and Marvin Lewis — to be the first NFL head coach sacked this season and, if you've watched five minutes of the Giants, it's easy to see why. The Bucs, who looked so good in week two, will seek home comforts this weekend.
Verdict: Buccaneers to cover.
Sunday – 9.25pm
Oakland Raiders @ Denver Broncos (-3)
Both these teams disappointed last weekend but Oakland's complete lack of offence on Sunday Night Football is a major concern when you consider their defensive woes. Denver were poor in Buffalo but have held Melvin Gordon, Ezekiel Elliott and LeSean McCoy to a combined 83 rushing yards through three weeks.
Verdict: Broncos to cover.
Monday – 1.30am
Indianapolis Colts @ Seattle Seahawks (-13)
When you're playing as poorly as Seattle are right now, getting the chance to iron out the kinks against the Colts is a great opportunity. For Indy, this season is fast turning into one to be forgotten. However, 13 points is a big spread for a team averaging only 14.6 points per game.
Verdict: Colts to cover.
Tuesday – 1.30am
Washington @ Kansas City Chiefs (-7)
There's a chance, admittedly a slim one, the Chiefs go into this game as the last undefeated team in football.  So far they've looked excellent on offence and defence — even without Eric Berry — but Washington showed last week against the Raiders that they shouldn't be taken lightly.
Verdict: Washington against the spread.
Subscribe to The42 podcasts here: