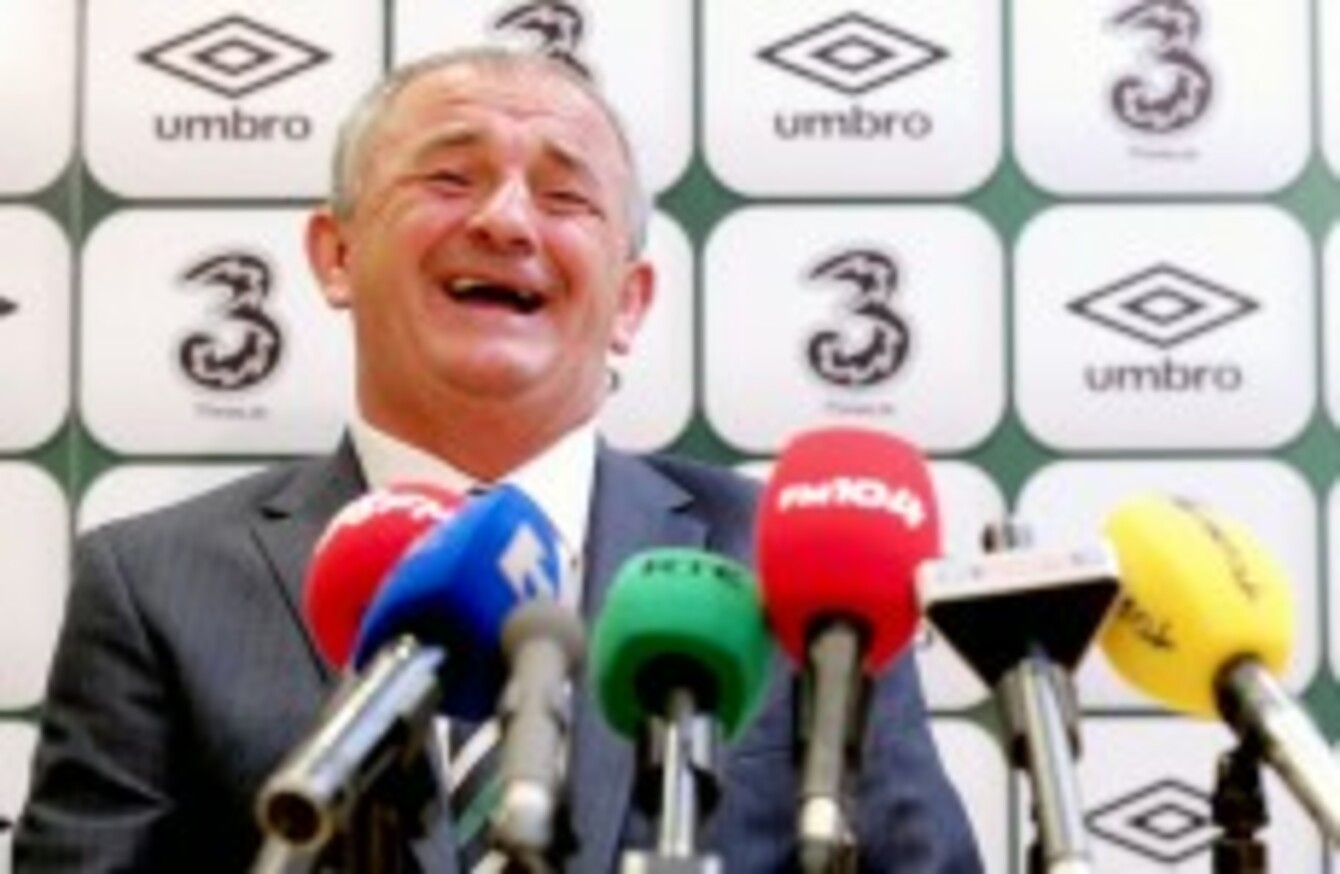 King: tense interview after last night's win.
Image: INPHO/James Crombie
King: tense interview after last night's win.
Image: INPHO/James Crombie
NOEL KING COULD be asked to stay on as Ireland manager for another month but the interim boss says he's still in the dark regarding the FAI's plans.
King stepped in for the final two matches of the World Cup qualifying campaign which ended with last night's win against Kazakhstan.
But the Dubliner could still be in charge next month if Giovanni Trapattoni's successor has not been found before the November international window.
The FAI are in discussions regarding friendlies on 15 and 19 November with Poland and Hungary thought to be the most likely opponents.
INPHO/Cathal Noonan
Captain Robbie Keane promised King the full support of the squad if he is still in charge but said it "wouldn't make sense" to organise the friendlies without Trap's permanent successor in place.
"This was my brief, to do the two games," King said in Abbotstown today.
It's the FAI's choice. I'm here, I'm an FAI employee. I'll do what I'm being asked to do. If I'm asked to do something different, I'll do that as well. It's up to them.
He added: "If there's nobody in, it's a strong possibility I suppose but I don't know.
"That's not for me to say, that's for the FAI. It would be wrong to say yes because you would have egg on your face."
The 3-1 win in the Aviva Stadium was quickly forgotten last night as King became involved in another public war of words on RTÉ, with Eamon Dunphy branding him a 'bully' following his angry response to Tony O'Donoghue's line of questioning.
King and O'Donoghue cleared the air this morning and the manager admitted that he "lost the plot", but he hit out again at poisonous criticism aimed at the national team.
"The FAI is not the enemy. The Irish team is not the enemy. The Irish team does their best on behalf of the country, they really do.
INPHO/James Crombie
"All those little elements, fellas giving up two weeks and not getting a kick of the ball, that's very hard to take for their families, for their careers, for their clubs.
"We need to have respect and balanced argument. Of course we need debate, of course we have different views and you wouldn't have it any other way.
But the FAI and the Irish team is the people's team and we give up our time and the players give up their time for the country. That really should be balanced and should be brought in to the equation.
"I'm not saying treat them namby-pamby or anything like that but it should be in the equation. I think we've lost sight of that.
"I think it would be a far better sport, a far better arena, if the personalised stuff was gone and we talked about the football."