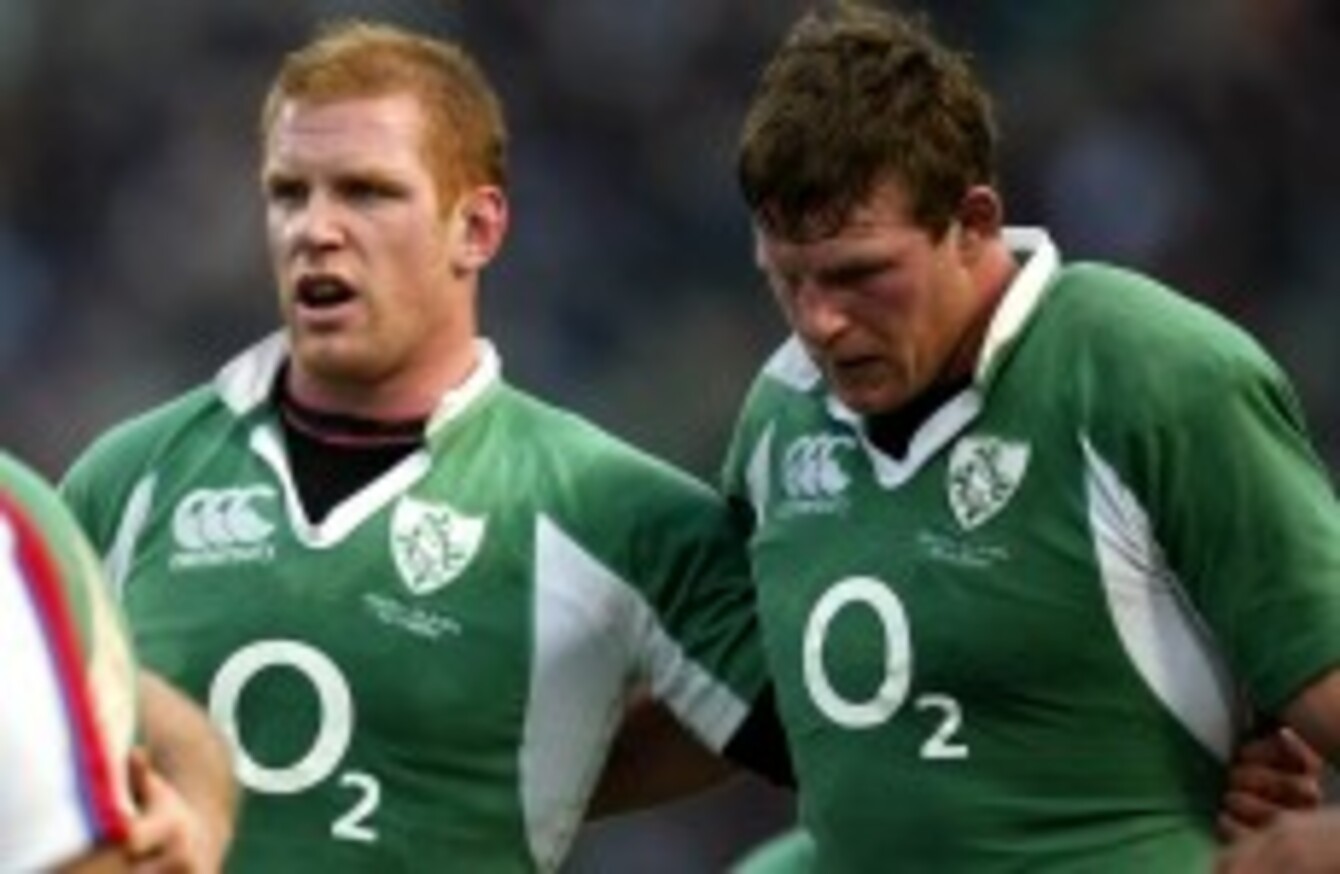 Paul O'Connell and Malcolm O'Kelly during Ireland's game against the Pacific Islands at Lansdowne Road in 2006.
Image: Dan Sheridan/INPHO
Paul O'Connell and Malcolm O'Kelly during Ireland's game against the Pacific Islands at Lansdowne Road in 2006.
Image: Dan Sheridan/INPHO
A NEW SIX Nations campaign begins this weekend, and it may well be the last to feature current Ireland captain Paul O'Connell.
The 35-year-old lock hinted recently that he's considering retiring from the game after this year's World Cup, although Munster and Ireland fans will hope that O'Connell will at least see out the remainder of his current contract, which runs until the summer of 2016.
But Malcolm O'Kelly, a former colleague of O'Connell's in the Ireland second-row, believes the man from Limerick can go on even longer. If he remains available throughout this Six Nations campaign, O'Connell will earn his 100th international cap against Wales in Cardiff on 14 March.
"I think Paul should keep going until he really feels he's done," said O'Kelly, who was speaking at the launch of the Stuart Mangan Memorial Cup game between the Ireland and England Legends.
"He says he's carrying a lot and struggles to train like he used to, but that happens when you're going into the latter stages of your rugby career. You still have a lot to offer on the pitch, you know? You're offering your brain.
"I would have thought he still has plenty to contribute. He just needs to maybe say, okay, well I'm not going to be the best trainer in the world anymore, but I'll look after myself and I'll get plenty more years.
"It's up to whether or not he has the energy in the brain to do it and the mindset to continue. Because he's obviously very professional in what he does and always has to be the best at what he does.
"Maybe if the training is getting the better of him and he can't keep up the training, and can't offer as much or lead like he wants to and doesn't think that's good enough to continue, then I think he'll retire and retire too young and with something left behind."
Former Ireland hooker Shane Byrne played alongside Paul O'Connell when the Munster talisman made his debut in a green jersey in 2002, and he echoed O'Kelly's sentiments that the end of the road for the ex-Lions captain might not be as close as we think.
Byrne said: "He's driven himself so hard and for so long, I can't imagine him just stopping. His own drive is so much that he'll be back.
"I expect him still to be an absolute stalwart for the Six Nations. The World Cup is no doubt, but I'd love to see him keep going. I'd love to see him just see his contract out. There's your deadline. Just go finish the contract out.
"Unless there's something that he knows that we don't know. But if not, you'd hate to see him just [saying] 'I'm just not doing it anymore'. Because I can't imagine that the guy's psyche and the drive that he's had that long would just stop there."
Featuring the likes of Byrne, O'Kelly, Trevor Brennan and Leo Cullen, the Ireland Legends will play their England counterparts for the Stuart Mangan Memorial Cup at Donnybrook Stadium on Saturday, 28 February (7.30pm). Tickets are available from Ticketmaster.ie, and all proceeds will go to the IRFU Charitable Trust and the RFU All Schools Charity.