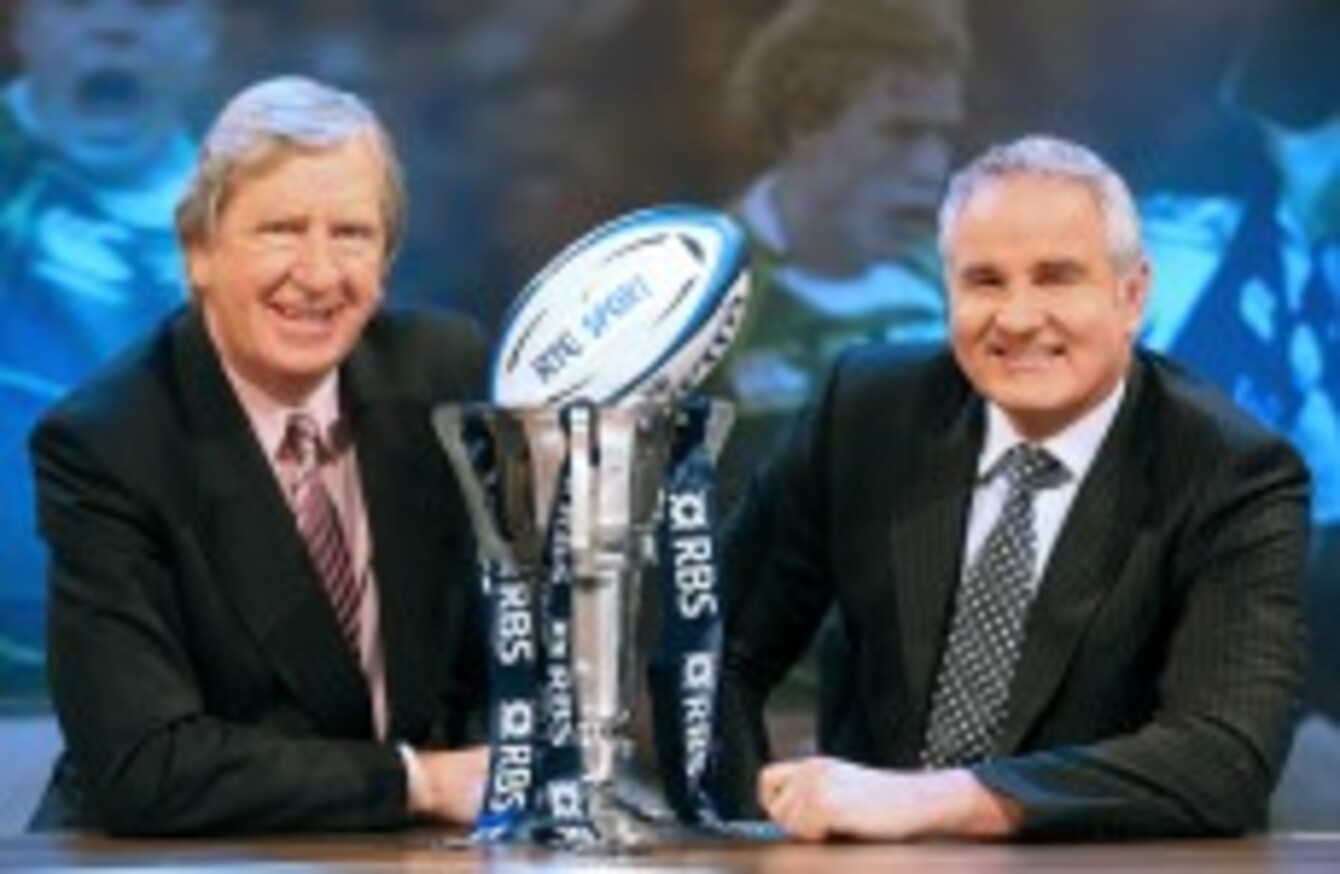 Image: ©INPHO/Lorraine O'Sullivan
Image: ©INPHO/Lorraine O'Sullivan
IT WAS THE fixture that had the Irish public licking their lips all week. The lads in the RTE studio were no different. Would the Irish be resurrected from last week's dire performance against Italy? We would have to wait and see. While the nation was optimistic about a heroic performance from the boys in green, there was an eerie nervousness in the studio.
So what did we have to do to win?
"Kick it to the French carelessly and they will do damage," exclaimed Conor O'Shea. Got it, no careless kicking. What else?
The Hookie monster was concerned about the lineout situation. "Somehow Best has to throw the ball through a forest of hands to find him [Heaslip]," he mused. Ball through forest, check. What else?
"Luke Fitzgerald will have to have a big one," demanded O'Shea. Ok Fitzgerald, get your skates on. But the panel agreed, if we did all that we had a shot.
Poetry in motion
It all depended on which France turned up, the experts agreed. "The team reflect their coach, they can be great like their coach or weak like their coach," said O'Shea. Everyone nodded.
If teams reflect their coaches, then as the camera panned around a calm pre-match Irish dressing room, it left the impression that Declan Kidney loves large earphones and reading about himself in the programme. "Perhaps they're reading poetry" quipped McGurk. Don't think so Tom, somehow.
But it was back to France. Hook swayed in his seat as he declared they're "a terrifying prospect". But Kidney wasn't terrified. "We need to play smart, we need to be ourselves. We just need to back ourselves," he declared and we all thought "yeah, yeah we're not afraid of the big bad French either".
But the panel weren't buying it.
"A repeat performance [as last week versus Italy] and they will absolutely kill us," warned O'Shea. "I think we are going to see a drastically different Irish performance today," said Popey, and we all took his side.
The teams began filing out of the dressing rooms and it was prediction time. "All logic points to a French win" said Hook.
Popey agreed. "All logic points to a French win but I think Ireland are going to win". Go Popey!
Game on
And away we went. Ireland roared into the game and the Aviva roared right back at them.
"Ireland couldn't have wished for a better start" declared Nugent. Try disallowed, ball went forward. Commentator's curse, gee thanks Ryle. Still Lansdowne was shaking, so were France.
But it didn't stop us, not one bit. Two minutes later BANG! Try Ireland, Fergus McFadden squirmed over the line and "it was just what Ireland deserved," exclaimed Nugent. Sexton converted and it was 7-0.
Were we discovering just which France were showing up? Maybe, maybe not. They responded and fast. Minutes later it was 7-3, Morgan Parra with the first of his four first-half penalties.
Ireland were struggling to keep them at bay. Sexton showed Parra "anything you can do I can do better". His kick made it 10-3. But France stayed calm, the good sides always do.
Ireland conceded an "own goal" said Ralph Keys of Parra's second successful kick. 10-6 and the French kept coming at us, wave after wave of pace and power forcing mistake after mistake.
Parra then turned 10-6 into 10-9 into 12-10 and Ireland were behind and our bubble was being deflated. We looked jittery and in need of inspiration.
As the half closed we found it. Ireland managed to camp on the French line and Tomas O'Leary stretched all he could to introduce the ball to the paint of the French line. "You may award the try" said the TV match official and the Aviva erupted again. Everything was rosy in the Irish garden once more.
The less said about Sexton's conversion the better. Ireland pinched a 15-12 lead at the half. "The best half of competitive rugby of the Six Nations so far" declared Ryle and we didn't disagree.
Running scared
Ireland were hanging in there agreed the panel. But as usual Popey had some reassuring words. "If you put the scares up France, you can beat them".
We all cheered and things were good. We put the scares up them all right. They were giving us too much space.
Ireland's lead was cancelled out barely 10 minutes into the second half. Yeah, you guessed it. A Parasite penalty and it was 15-15.
Enter Clerc. Enter Chabal. Enter Yachvili. Exit Parra? The French coach seemed to have lost his mind. And we jumped for joy.
Seconds later as Medard sailed across the line, we sat back down again. And before you could say 'bye bye grand slam' we were 22-15 behind.
"Ireland need to regroup" – you can sing it, Ryle.  The power of the French was showing. "Ominous signs" said O'Shea. "Bring in O'Gara."
Ireland were losing the battle and their discipline. From a tight angle, Yachvili banged Ireland 10 points behind. And just like that it was ROG time.
"Can Ireland find any of the answers to the questions that France have posed," asked Ryle. "Ireland have to get something here."
And we did, having been camped on the French line for what seemed like a life time, Heaslip got across. That TV match official dude was proving quite the popular man. And of course O'Gara put it over, did we have any doubts he would. 25-22.
"We have some 12 minutes left" declared Keys. "It's edge of the seat stuff." Indeed it was, the seats of the nation were tilting forward.
Could the French respond, would the French respond? Were they the real deal? At that point in time, nobody in green cared.
France held on and held on but Ireland earned one last hurrah. It passed them by. Les Blues kicked into touch and the whistle blew.
Disappointment
"A terrific game of rugby, that France won. Ireland just didn't have enough," said Ryle, and that pretty much summed it up. The panel were left in disappointment but isn't that what they were expecting from the start.
"A huge sense of disappointment, but also a sense of pride" sighed McGurk. And the tone was set for the panel to row behind.
"It was the penalties that killed us, you have to say that France were the better side," said O'Shea.
"This was the game that defined their season," said Popey. "They were inches away, desperately unlucky". Oh Popey, you had once filled us with such hope.
Sick as parrots, millimetres away, bounce of the ball, cliché after cliché and nobody was feeling any better.
"We need to take a look at the penalty count and the turnovers," said Kidney in a brutally honest post-match interview. But where were the subs, Declan? Where was the cavalry?
"It's a fair enough criticism but we thought our back line was motoring well. Let's not make excuses, let's work hard. Keep playing smart and we'll get better" he said. And with that, pride was turning to hope for the future.
While the lads agreed it had not quite been the resurrection once hoped for, it had been a start. We'll leave the last word to the man who runs the show. "We're obviously disappointed but we're very proud as well" said McGurk.
Indeed Tom, indeed.