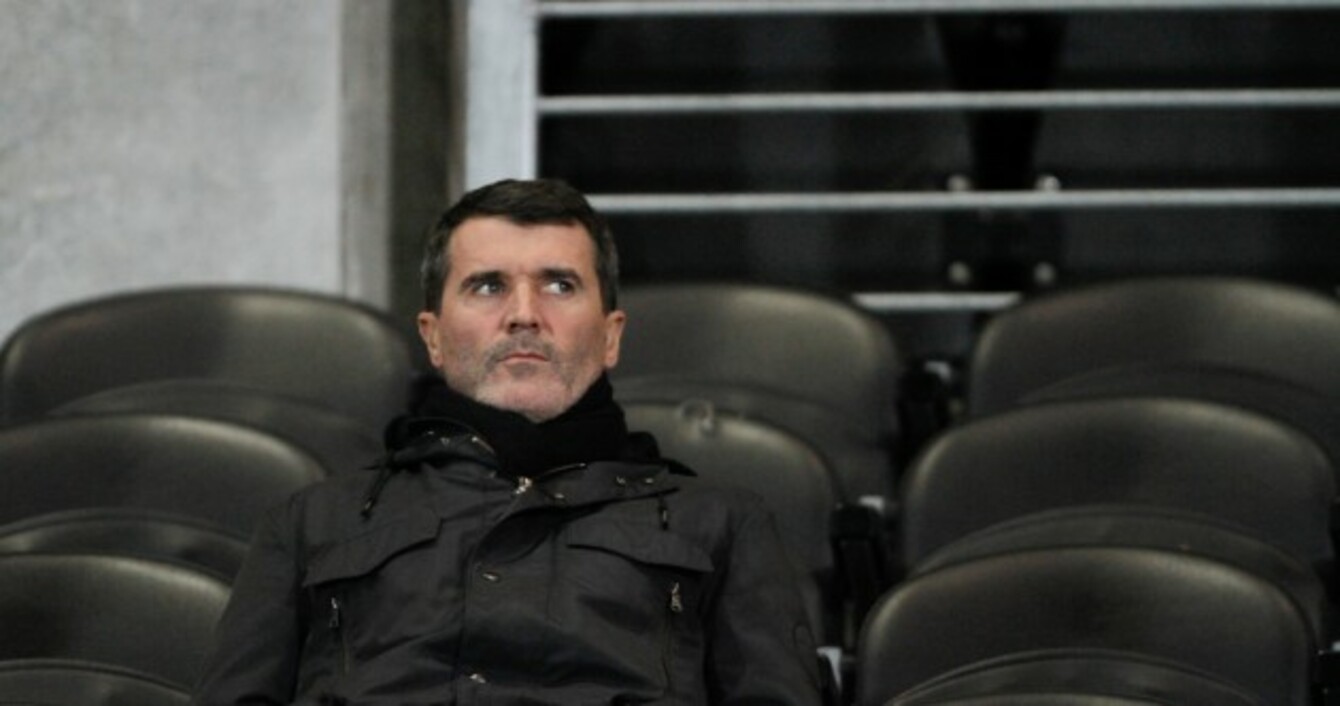 Keane pictured watching yesterday's Premier League game between Hull and Stoke.
Keane pictured watching yesterday's Premier League game between Hull and Stoke.
THERE IS NO doubt about it — Roy Keane is more popular than ever.
Last Tuesday, ITV4 screened a fantastic hour-long documentary focusing on the Irishman's legendary rivalry with former Arsenal midfielder Patrick Vieira.
Keane has had many different personalities — or supposed personalities — over the years. As far as media images go, he has seemingly had more alter egos than Prince, Bob Dylan, Eminem and Madonna put together.
Depending on whom you ask Keane is a monster, a psychopath, a genius, a deadpan comic, a family man, a tortured soul, an enigma, an obsessive perfectionist or all of the above. Like all great characters, he is impossible to pin down, constantly shifting the perception of his personality and making U-turn after astonishing U-turn away from the path of predictability, just when people think they've got Roy figured out.
There is one character he definitely isn't though. And ironically, it's the character that certain sections of the media have been attempting to portray him as for years — the raving lunatic, the unsophisticated near-caveman who loses his head for the most trivial of reasons, a human firework with a specialty for causing collateral damage.
Granted, Keane is certainly no angel. On the pitch, as he's admitted himself, he had a capacity for maliciousness, whereby he "went out to hurt" but not "injure" people. While such an attitude may seem appalling to modern fans of the Premier League, in the early 1990s, it was commonplace. That was the era from which Keane emerged, the era of Vinny Jones and Dennis Wise, where Eric Cantona went so far as to kung-fu kick a supporter and bad tackling was not punished with anywhere near the level of severity with which it is greeted today. Keane needed to be ruthless to survive and to rise to the heights he achieved over the course of his distinguished career. Patrick Vieira, similarly, had the appetite for combat that was imperative to be a top midfielder in the Premier League back then.
Although the impressive athleticism that Keane and Vieira possessed is still a distinguishing feature of top midfielders such as Yaya Toure nowadays, their tendency to intimidate opponents both physically and verbally has been practically outlawed  since the dynamic duo's retirement from the sport. Keane and Vieira, in the documentary, both lamented this absence of nastiness in the modern game. Yet there is a reason players are now "too nice," as Keane puts it. Any alternative is simply not tenable.
Nonetheless, while Keane was prone to losing his cool on occasion, he was for the most part an extremely disciplined, intelligent and cerebral player — think of those long, icy stares in the tunnel just before kick-off. However, a cursory glance at a few YouTube clips may give the opposite impression — namely, that Keane was sent off all the time, and that committing dirty tackles was his sole raison d'être.
Yet the statistics tell a slightly different story. In total, Keane has seven Premier League red cards — that's one less than Richard Dunne, Patrick Vieira and Duncan Ferguson and the same number as Alan Smith and Lee Cattermole, with the latter player surely likely to exceed this tally before long. None of the aforementioned players have ever been described as "monsters," hence Keane's foreboding reputation is surely exaggerated.
Overall, he received 11 red cards over the course of his 326 appearances for Manchester United. While it's by no means an admirable record, it still illustrates that he saw red for a relatively small proportion of the games in which he played. And when you consider that his role was that of a combative tough-tackling midfield enforcer in arguably the most physical league in the world, the frequency with which he got sent off is understandable if not entirely acceptable.
(Roy Keane and Patrick Vieira had an intense rivalry as players — Neal Simpson/EMPICS Sport)
Moreover, rather than the relatively rare occasions when he did lose control and conform to the ranting and raving lunatic stereotype — his infamous confrontation with the referee who had the temerity to award a penalty against United at Old Trafford, his vehement excoriation of Alan Shearer — a more common image, especially in the latter stages of his career, was that of Keane the impeccable disciplinarian.
The United legend's performances were often marked by immense control. For season after season, he would comfortably top the Premier League charts for most successful passes in a campaign. If he truly was the psychotic individual he was often portrayed as being, it's doubtful he would have ever hit such heights. Moreover, to exert the level of control he frequently held on games takes willpower, courage and intelligence. Yet these traits don't fit into the simplistic narrative that has been persistently promoted since Saipan — Keane the monster, the misanthrope incapable of assuaging his all-encompassing inner rage.
His gravest sin was perhaps to fall out with Mick McCarthy — a good man by most accounts who did his best in the given circumstances and who had a much higher tolerance for the FAI's shenanigans than the Corkonian ever did. Yet the true battle in 2002 was between Keane and the FAI — a battle that the latter have now

accepted they were at least partially to blame for

. McCarthy was effectively an innocent bystander amid Keane's determination to no longer ignore the organisation's acceptance of mediocrity. The burning intensity and drive — so often an asset for Ireland and Manchester United's star player — for once proved his undoing. His determination for impeccably high standards invoked animosity in others unused to such a high strung and intense personality. Both Irish football and Keane's image have barely recovered since.
Nevertheless, a recent opinion poll suggested that just over a quarter of Irish fans still hold resentment towards Keane over Saipan — a significant drop, when you consider that at least half the country were said to be against him at the time the controversy broke. And that was before the overwhelmingly positive reaction to this week's documentary.
And what made Keane and Vieira: Best of Enemies such compelling television was not the former's petty, laconic and somewhat wry digs at Alex Ferguson, nor was it his controversial United team selection — ironically the two factors that the majority of the media have obsessed over most since it was broadcast.
What caused it to be so entertaining and illuminating was the honesty that both Keane and Vieira reserved for the show. Despite the programme's occasionally somewhat gimmicky and contrived set-up (the hip-hop music, the best XI boards), Vieira and Keane seemed utterly at ease in each other's presence and the genuine respect they appeared to hold for one another, despite all their intensive battles as players, was ultimately quite touching. In addition, their light verbal jousting and good-humoured debate was complemented by some candid revelations and insights into the game — mostly from Keane.
In a sport in which sincerity is at a premium, where managers and players have perfected the art of saying nothing in interviews and hollow, uninformed and hype-fuelled analysis is all too prevalent, the Keane-Vieira documentary proved to be an immensely refreshing tonic to football's many ills.
But perhaps most importantly, it shattered the overriding myth that Keane is a headbanger or a monster.  He is in fact capable of laughing and joking and crying and exhibiting all of the other emotions that most human beings often tend to express, despite the many propagandistic attempts over the years to convince us otherwise. And it is this crucial point that Tuesday's documentary conveyed more adeptly than anything else.