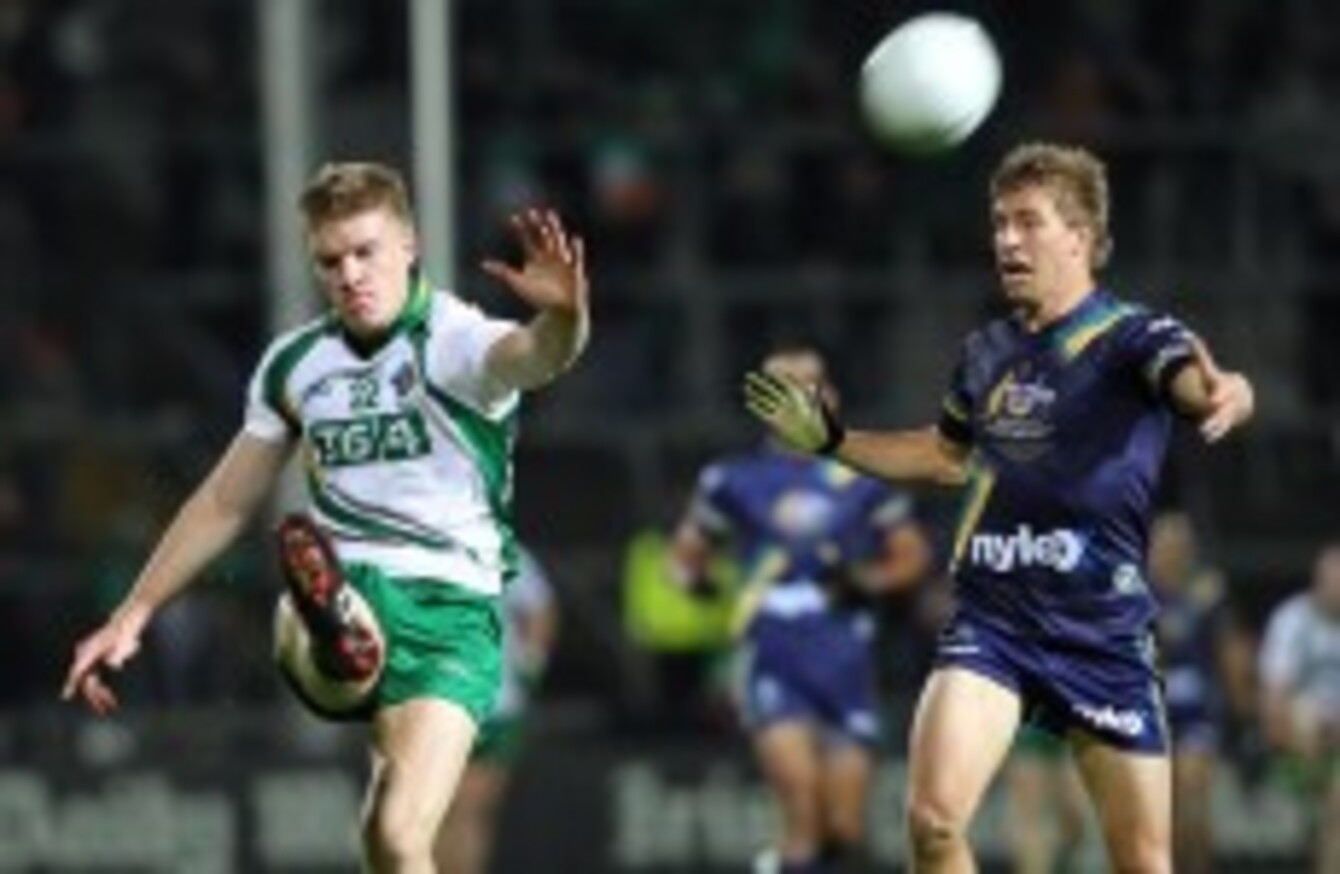 Image: ©INPHO/Lorraine O'Sullivan
Image: ©INPHO/Lorraine O'Sullivan
FORMER KERRY FOOTBALLER Tommy Walsh may be in line for a promotion to the St. Kilda's first team after the Melbourne side suspended four players involved in a pre-season scandal.
Zac Dawson, Rhys Stanley, Jack Steven and Paul Cahill were all suspended for six weeks by the 2010 AFL runners-up and fined the league maximum $5000 after they were found to have misused alcohol and prescription drugs on a pre-season trip to New Zealand.
The Sydney Morning Herald also reports that the quartet have been banned from training with the side for the duration of their suspension, training instead with the club's affiliate in the Victorian Football League, Sandringham.  They will also be expected to undergo counselling.
Walsh must be left wondering what exactly he has gotten himself into. Since joining St. Kilda's in October 2009, the 22-year-old has seen the club garner more headlines for their off-field controversies than for their on-field exploits.
Shortly after Walsh's arrival, new recruit Andrew Lovett was suspended indefinitely and then sacked by the club without ever playing a game after he was charged with rape.
More recently, the Saints' pre-season had already been disrupted  after a 17-year-old woman published nude photos of  Dawson, Nick Dal Santo and club captain Nick Riewoldt on her Facebook page.
The young Kerryman is yet to break in to the St. Kilda's first team, training with Sandringham, who effectively function as a second-team for the Saints. Since moving to Melbourne, Walsh has started to ply his trade as a defender, though he does have ambitions to carry over the attacking prowess which saw him win many fans in the Kingdom.
In an interview with the Irish Echo published last summer, Walsh revealed that he was fully aware of the challenge he would face in breaking into St. Kilda's side, forewarned in advance by fellow AFL convert, Tadhg Kennelly.
At times it's tough because I worked so hard to establish myself on the Kerry team and now I'm back to the start like I was with Kerry at the beginning.

But I knew that was something I was always going to have to deal with and I'm not alone there. There's plenty of guys at the club who have come from other clubs and are trying to gain the respect of players and coaches here so I suppose there's strength in numbers.

It takes time to develop, to get to know the game. I won't be playing until I've done that and I'm ready.
The Saints kick off their new league season on 25 March when they travel to Geelong to take on the Cats.