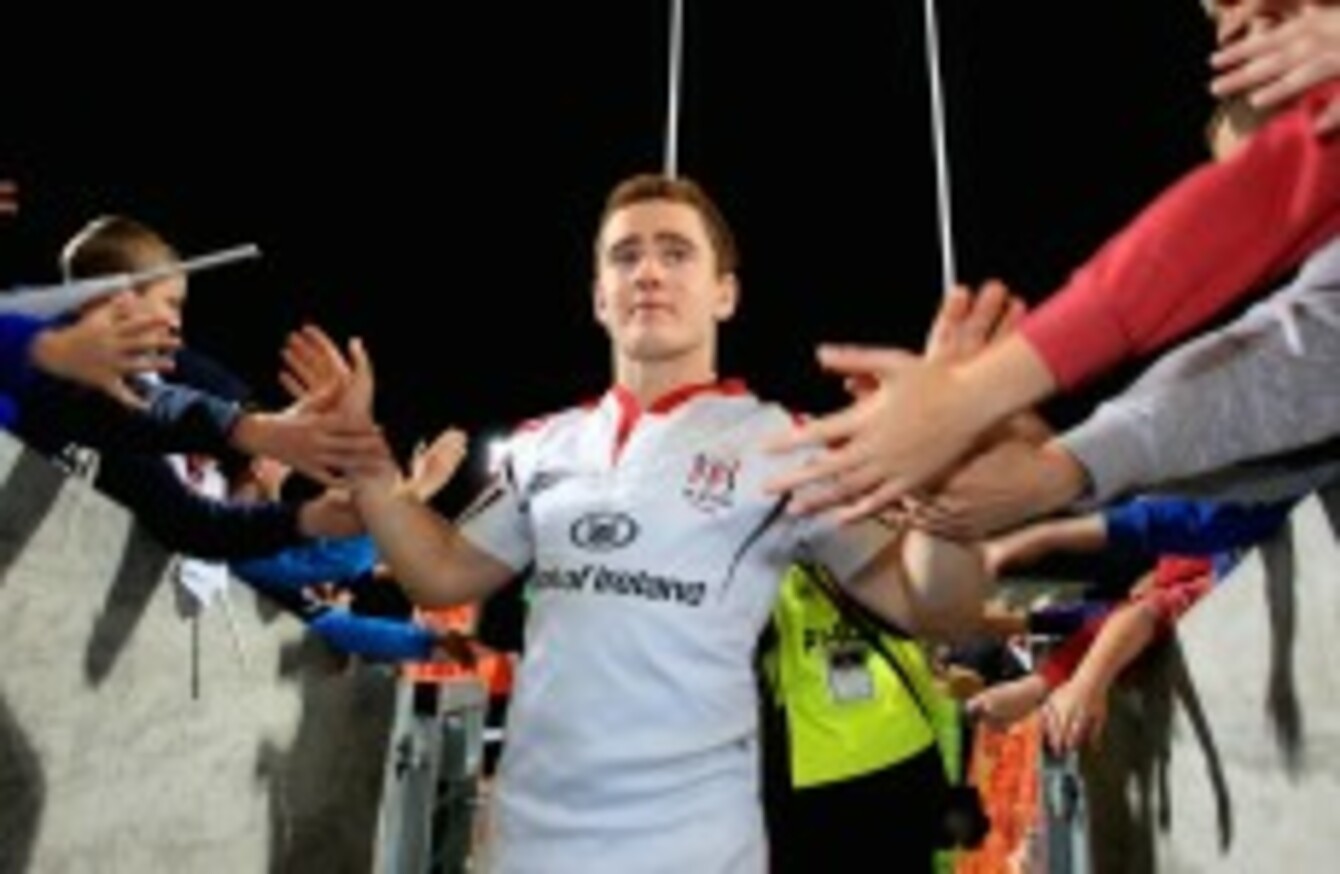 TODAY'S THE DAY.
All of those times you've seen Paddy Jackson singing or lip-syncing has merely been practice for the real thing.
Today, he goes live.
It's the big December 26 family bash at Chez Jackson; when the relatives crowd in, his uncle takes to the piano and, as he has done for 13 years, wee Paddy steals all the plaudits.
"Ah, I dunno. It's just a gift I have… I can't really explain it, you know," he says with a perfect deadpan expression.
"People have been trying to get me to do stuff and I keep explaining: it can't be forced, it's something that just has to come naturally.
"I'm sure there'll be another video out soon. I'm just waiting for the right time – I don't even know when it's going to happen. It's almost like…  it just happens."
The feigned artistic temperament is an easy role for Jackson to step into, but make no mistake, when he goes to work he takes his rugby craft most seriously. You don't get to where Jackson is at the tender age of 21 without a massive amount of hard work to compliment those 'gifts'.
With Jonathan Sexton 'flat' and Ian Madigan out of form and favour, Jackson was Joe Schmidt's first choice out-half for the November win over Samoa. That he was then left out of the subsequent squads to face Australia and New Zealand in favour of Madigan's experience at fullback and centre still sticks slightly in his craw. There's nothing put-on about his serious face now:
"It's a tough position, because the only way I can really show [versatility] is if I'm actually seen playing 12 and 15. So I was just saying I've played there in the past, but if I'm not playing there it's hard call to make.
"If there are injuries or if I happen to be put in there at some stage I can show [what I can do], but it's not really a massive focus for me. I just want to be playing 10."
Such an all-or-nothing deal at international level was perhaps the only strange call made by Schmidt in his opening three fixtures – a decision which seemed to backfire with Sexton's injury on the stroke of half-time against the Wallabies. However, all-or-nothing may just be the way it goes for an international out-half these days.
Jackson knows that from first hand experience. His age and potential were soon forgotten when his missed kicks became the highlight of a limp all-round performance from Ireland on his debut at Murrayfield. The number 10 is the marquee man of any team, never out of the firing line when things go wrong – which is probably why none of Sexton, Madigan, Ronan O'Gara or David Humphreys came anywhere close to international honours so soon after their 21st birthday.
Jackson has wisdom well beyond his years. He knows he cannot change the disappointments of the past, that luckless day in Scotland. Instead, he has been taking on every lesson going to improve his game and the fortunes of the teams acts as playmaker for.
"A lot of people look at what happened, but I was like; I wouldn't change any of it for the amount of experience I've got and the amount of caps I'm on now."

©INPHO/Dan Sheridan
That number is currently at five for Ireland and a whopping 51 for his province.
"I didn't even realise until the day before the [Treviso] game, but I was just flicking through an old programme and I saw that it was coming up to my 50th. It was a bit of a shock to me, something I'm very proud of."
There is one very obvious answer sitting in the Ravenhill director of rugby's office. So, at the risk of feeling incredibly old, TheScore.ie asks Jackson to pick the non-Irish idols he usef as a loose mould for his own game.
'Give us a song'
"I think the best game I've ever seen was that 2003 World Cup final," he says, starting his answer with a surprise. While our green eye watched an intense early morning arm wrestle on the other side of the world, the 11-year-old Jackson was watching a master at work.
"[Jonny] Wilkinson kind of set the bar for all upcoming out-halves. Even now, he's still doing unbelievably.
"Now, you have the Quade Coopers and stuff who just have that bit of magic about them. It's about bringing that control and trying to bring a bit of magic to your game as well - I'd look up to all those different out-halves."
As ever with Jackson, there was is no one neat little box to place him into. He enjoys both ends of the spectrum: a traditional 10, trained to know a good percentage option when he sees it; but lauded for his play-calling from hand, pass selection and with skill to burn.
Before heading down to Dublin to face Leinster, he will have had a Christmas much like any other 21-year-old: briefly forgetting about the pressures of his own learning curve while making up for lost time with his closest friends who travelled to England and the United States to get their own education.
And, yes, being harangued for a song by his nearest and dearest.