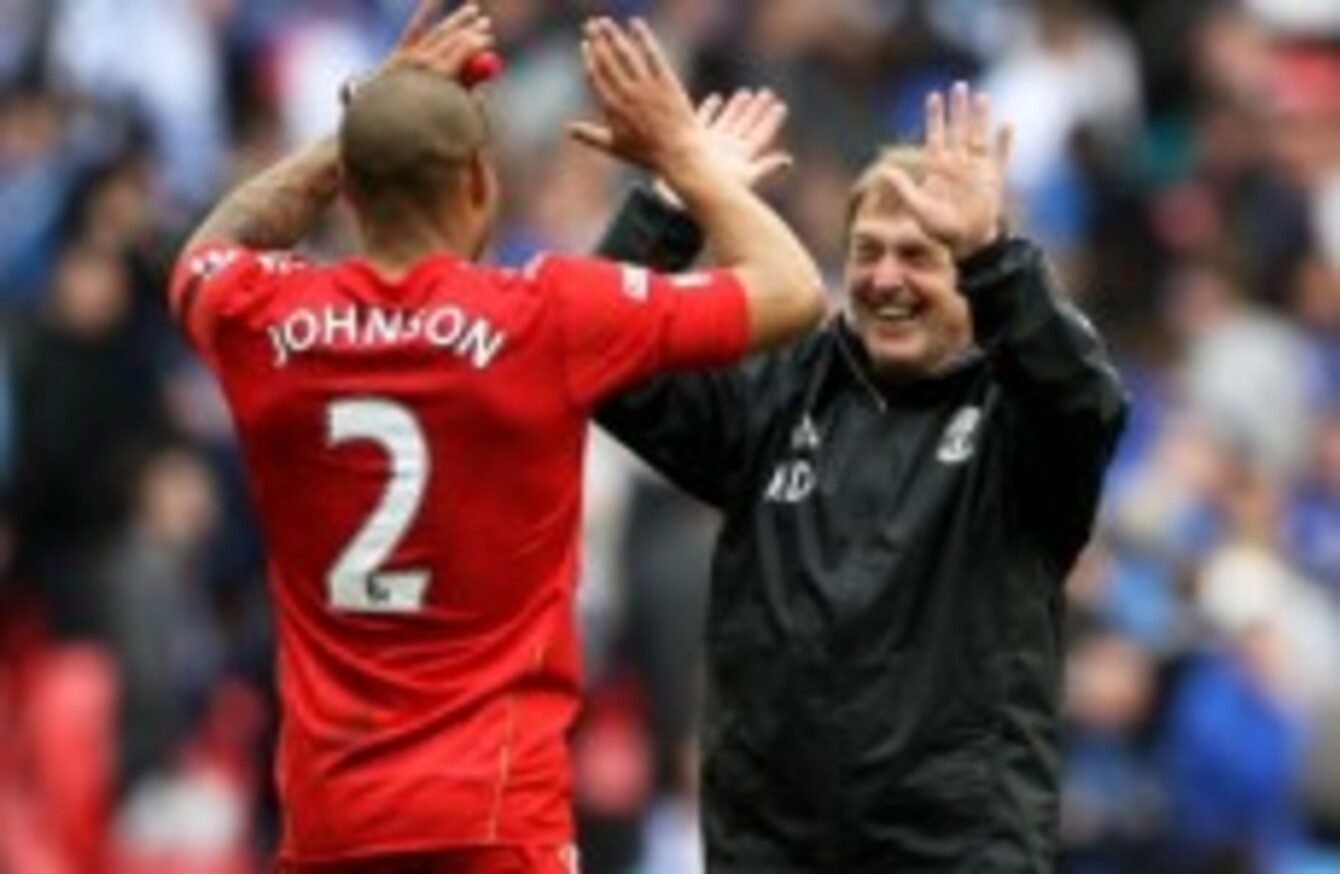 Glen Johnson and Dalglish celebrate victory over Everton.
Image: Getty images
Glen Johnson and Dalglish celebrate victory over Everton.
Image: Getty images
LIVERPOOL MANAGER Kenny Dalglish has urged his team to get 'back down to earth' following their Wembley triumph over arch-rivals Everton.
Andy Carroll's late header secured a 2-1 win over David Moyes' men, and subsequently a place in the FA Cup final against Chelsea on 5 May.
However, Dalglish has reminded his side not to lose focus following the result and says they must now concentrate on their Premier League run-in.
"It's now a case of getting ourselves back down to earth after Wembley," Dalglish said. "We've not got much experience of dealing with big games and the matches that follow it. A few of the lads have been through it, but mainly we are a new team and this is a new test for the majority."
The Liverpool boss also pinpointed the Reds' response following the Carling Cup win in February as a fine example of how they should react.
"We were delighted with the response after winning the Carling Cup," he said.  "The following weekend we went out and produced one of our best performances of the season against Arsenal. With a bit more luck we would have enjoyed a very good win.
"Now we're just off the back of another good result at Wembley, and we want a similar response, albeit with a different result."
Liverpool face West Brom this Sunday, a clash which will see the return of Roy Hodgson to Anfield and Dalglish admitted it would be a tough game.
"It will be good to see Roy Hodgson come back to Anfield," he said. "I'm sure he'll get a good reception. Things didn't go as well as he or the fans would have liked when he was here, but he still deserves a good welcome.
"West Brom have won two of their last three games and are in a decent position (13th in the table.  Whether that makes Sunday easier or harder for us is difficult to say. Teams respond in different ways at this stage of the season.
"We can't let their situation affect us, we have to just concentrate on our own game and producing our best."