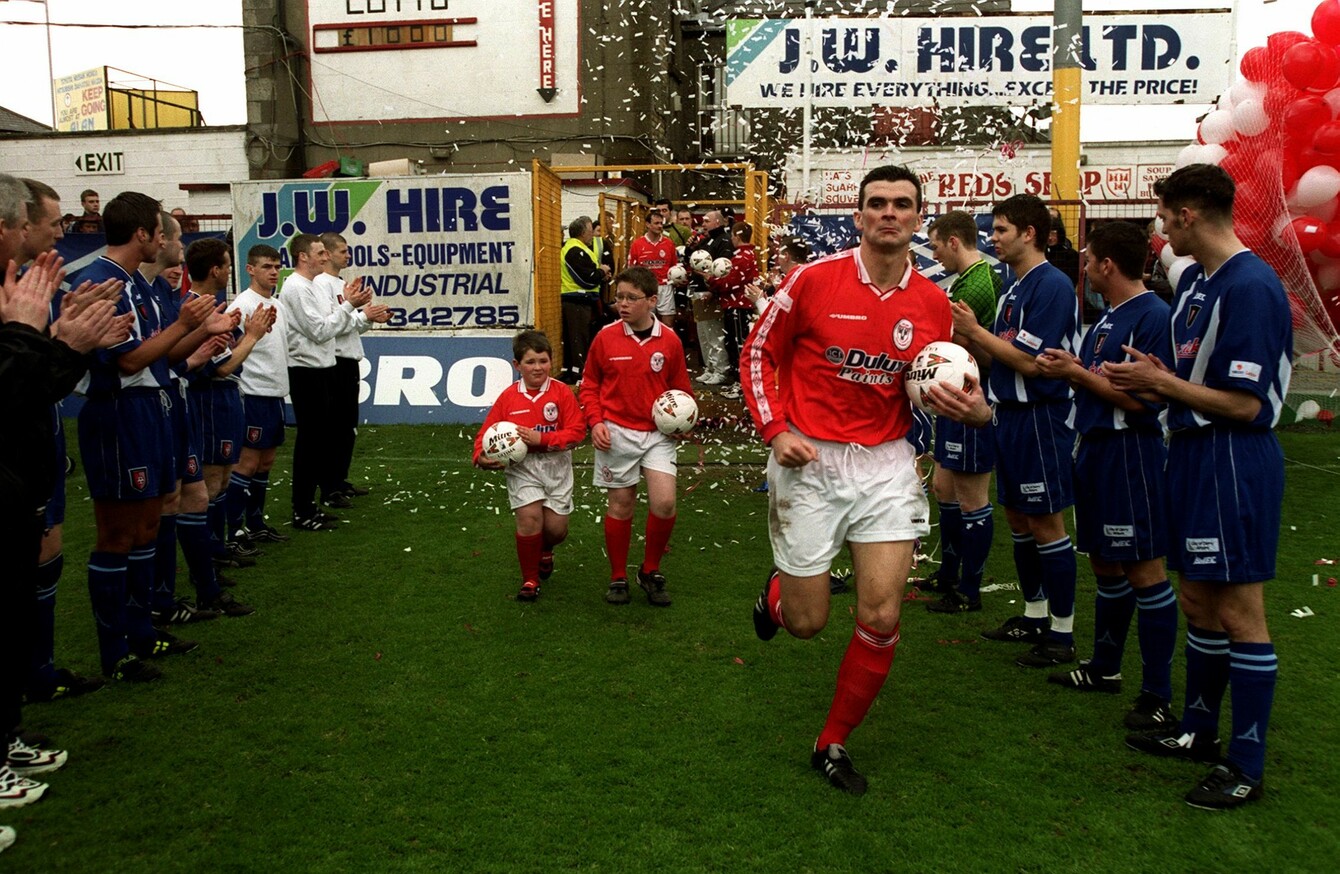 Scully leading league champions Shelbourne out as captain at Tolka Park.
Image: Donna McBride/INPHO
Scully leading league champions Shelbourne out as captain at Tolka Park.
Image: Donna McBride/INPHO
FROM SPEAKING TO Pat Scully for the best part of two hours, it becomes abundantly clear what he holds most dearly in life.
The topic of family — his parents, siblings, wife and children in particular — repeatedly comes up in conversation as the backbone that supported him during a successful football career that spanned over 18 years.
As a young boy growing up in Crumlin, he was taught about the importance of being honest and having a strong work ethic. Those values still play a central role today, and it is largely because of them that Scully has chosen to step away from the sport he loves in recent times.
Born in 1970, Pat was brought along to local club Lourdes Celtic by his mother at the age of seven. However, he had a quiet, unassuming manner and didn't stand out in the team during those first few years.
"I wasn't picked for any of the Dublin selections at 12 or 13 when most of the good players were being called up," Scully recalls.
"They used to put the list of names in the paper on a Tuesday night and I wasn't included. I didn't even make the standby squad. I can remember both my parents sitting me down and having a chat to say 'look, it's what you do now that really counts'."
From that point, a conscious decision was made to go the extra mile in order to improve his game. Tall with a slim build, he began waking up early to go running before school while also putting an emphasis on the physical side of training.
I worked hard and put huge effort into it," he says. "The film 'Rocky' was out around that time and he was drinking raw eggs so I used to do that in the mornings!
"It's like anything in life, if you really put your mind to it and go above and beyond, then hopefully you can get a little bit of luck and push on.
"I was lucky in that Maurice Price was coach of my Lourdes team and the international side too. He was a great coach and was involved in all the schoolboy teams. I was doing work by myself and it would've easily been five to six sessions a week."
By the time he had reached an age to be considered for the Ireland schoolboy sides, Scully had filled out and developed into a solid, no-nonsense defender.
At 15, he was included in an international underage squad to play England at Villa Park. With family living in Birmingham, the teenager had strong support at the game and won man-of-the-match as the Boys in Green earned a 2-1 victory.
"I think it had been 15 or 16 years since any Irish team had won on English soil," he says. "If you were picking a place for my family to go and watch a game, it would be Birmingham because I have hundreds of relatives over there."
Walking out of the stadium and onto the team bus afterwards, Scully was stopped by a man named Terry Murphy who introduced himself as an Arsenal scout — explaining that they would like to offer him the chance to go on trial.
"It was great to win the game but it had never dawned on me that I would be good enough to get an opportunity to go to England," he admits. "Maybe it was because I hadn't been getting picked for representative sides. That was the first time I remember any English club having an interest in me.
"That was a great experience and it was a real high point for me. I still look back on it fondly as I had all my family there."
Arsenal's chief scout visited the Scully household and offered Pat a two-year contract. School and academic studies had never been high on the list of priorities, but his parents suggested remaining in Dublin to have a go at the Leaving Certificate.
They politely turned down the opportunity but the Gunners weren't taking no for an answer and returned to put a four-year deal on the table.
"There was a part of me saying I wanted to do it but I think I was a little bit nervous of leaving my parents, my friends and my home. I ended up signing the contract and I went over that summer."
Starting a new life in an alien country would be daunting for any 15-year-old, but Scully found it especially testing.
"I was homesick for about 11 years!" he says, half-joking. "I wouldn't lie, it was very difficult for me. I'm really close to my family, we get on great together and my mam and dad would have been a huge part of my life. So going over there, I found it very hard.
"As much as I was training at home, there was a step up in the level of the training and the coaching. You could do your press-ups and sit-ups and that but I had never been to a gym in my life before going over.
"I was in a digs with lovely people but I did miss home. My family used to come over a lot but there were times when I would think about going back home for good."
Despite struggling with life outside football, he couldn't have been happier with the club he had chosen.
"Arsenal was great," he adds. "They were very supportive in advising us on how to live your life as a professional footballer. They had a great team at the time. George Graham was the manager and that Arsenal back-four was magnificent. Pat Rice was my coach and he was brilliant. When you go training with players of that quality, you can't help but become a better player.
Although I never broke into the first team, I think it gave me a great standing in my football career in terms how to train, how to look after yourself, what to eat and how you should behave. Those standards were put into me in those four or five years at Arsenal and I kept them right through my career."
On the Gunners boss, he adds: "I used to clean George's boots every morning before training. People have the impression that he was very tough and he was. If you stepped out of line, he would come down very hard and he was very disciplined.
"But he would always have a chat with me in the morning and ask how I was doing. If he came to a game, he would give me little tips or if I scored a goal he would congratulate me. People called him 'the Ayatollah' but I never saw that."
In 1988, Scully won the FA Youth Cup — beating Doncaster Rovers 6-1 in the final over two legs — in a team that also featured striker Kevin Campbell, who would go on to carve out a fine career at Arsenal, Nottingham Forest and Everton.
At international level, the centre-half was progressing through the ranks nicely and, after performing well at an U21 tournament, manager and senior assistant Maurice Setters pulled him aside to have a word. Setters said Jack Charlton was keeping a close eye and added that he could one day be in line for a senior call-up if he continued to work hard.
Although he had that conversation, Scully still could barely get his head around the news when he was included in a squad to play Tunisia in October 1988. "I was in a friend's house and we were sitting upstairs when his landlady came up to say 'I think you've been called up for the Irish team as your name is on the text," he remembers.
"I thought it must have been for the U21s. I had a look and said I better go back home. By the time I got to my digs, the phone hadn't stopped ringing. I was delighted and I couldn't believe I got the call-up."
There was a real buzz around the Ireland set-up on the back of their exploits at Euro '88 — the nation's first appearance at a major tournament — and Scully was warmly welcomed by the team's star players.
"All those lads like John Aldridge and Ronnie Whelan were great and they couldn't have made you feel more at home. It was a wonderful experience.
"The training was great, Jack Charlton was really good and had a chat with me. I think they liked me and saw me as one that could push on."
Scully replaced Chris Morris at half-time in the friendly at Lansdowne Road to partner Mick McCarthy at centre-half as Ireland ran out 4-0 winners. Aldridge had gone 19 matches with scoring an international goal but finally broke that duck on the 20th attempt.
It turned out to be Scully's one and only senior appearance, but he still cherishes the achievement.
"I know it was the only cap I got and everyone would love to go on and get as many as you can but for me it was brilliant to play for my country at every single level.
I'm very proud of it and nobody can take that away from me. I lined out for Ireland at home and in front of my parents, and I know they were very proud of me that night."
Back at Arsenal, he became a regular in the reserves but soon realised that he would have to move elsewhere to get first-team football. After loan spells at Preston North End and Northampton Town, his career was stagnating. Arsenal had a backline of Tony Adams, Steve Bould, Lee Dixon and Nigel Winterburn with Dave O'Leary also at the club and Andy Linighan joining from Norwich City in 1990.
"At 18, that's where I needed to push on a little bit to get to that level and unfortunately it just didn't happen for me," he accepts. "I was a little bit unlucky with the standard of defender ahead of me but at the end of the day I couldn't make that push through and unfortunately I had to leave Arsenal.
"I needed to get out and get moving with my career. I had gone on loan to Southend and I spoken to Liam Brady. He was doing a little bit of agent work after retiring and I knew him from the Irish set-up. He is a gentleman and was always very good to me.
"He didn't look for any money and just gave me really good advice about where I was and how I needed to get out of Arsenal. I didn't break in and that proved that I wasn't good enough but it was still a brilliant learning curve. I don't regret going to Arsenal, but it probably went a little bit stale in the last year-and-a-half.
"I had progressed and I couldn't go any further. I was captain of the youth team and captain of the reserves. My next step was to get into the first team and that just didn't happen. It was very disappointing but I still look back on those years and have no regrets."
Having spent three months on loan at Southend, Scully returned on a permanent deal and relished the chance to get regular game-time under his belt. He had huge respect for manager David Webb, who was in the same mould as Graham, and they won promotion to England's second tier in the first season.
A young striker by the name of Stan Collymore joined from Crystal Palace in November 1992 and scored 18 goals in 33 games for the Shrimpers to help them steer clear of the drop.
"Stan was great, he was mad," says Scully. "Lovely fella but he was neurotic. I got on with him, he stayed in my apartment a few times.
"He was 6′ 2″, great physique, lightning quick with unbelievable skill. We were looking at him going 'how is he at Southend?'. But he would come in every week and there would be something wrong with him that he couldn't play.
"He would walk in and say 'my head is killing me, I can't play'. You'd have to just say 'shut up, Stan. Put your jersey on and go out and play'. But he was fantastic."
Webb left the club and was replaced by Colin Murphy, before the larger-than-life Barry Fry was handed the job in April 1993.
"Barry wasn't brilliant from a tactical point of view but he had a great personality and he really made people smile, enjoy their football and go out and express themselves," Scully says.
"He was completely different to the managers I had been used to. We were fourth from bottom when he took over and the first game we played was against Sunderland, who were going really well.
"Barry came in on the Friday morning and we didn't even see him. He wasn't at training but he got on the bus to introduce himself. Before we had dinner, he said 'what's wrong with you? I've never seen a more miserable shower of fuckers in my life'.
"One of the lads said 'well, we're struggling' and Barry replied 'don't be worrying about that, we'll be fine and the game will look after itself'. He said we could go and have a few drinks in the bar but not to over-do it. "I'm looking at him thinking 'what?!'. That was the first manager to ever say something like that. I didn't go but a few of the lads did have a couple. We won the game 2-1 and ended staying up.
"That was the funny thing about Barry. He would tell you to have a drink but if you didn't play well, he'd say to you 'were you drinking last night?' and your man would say back 'no'. So Barry would reply 'well you should have been, the way you played today!'."
Fry was replaced at the end of 1993 with future England caretaker boss Peter Taylor named as his successor. He and Scully didn't click and, finding himself out of the team, the defender handed in a transfer request.
On the night before the window was closing shut, Scully got a phone call from Huddersfield Town manager Neil Warnock, who expressed an interest in signing him.
"I always liked managers to be honest with me," he states. "I preferred to play for strong personalities, people that would have a go at you because you know exactly where you stood with them.
"I always preferred that type to managers that were maybe a little bit sneaky and sly. Once you're honest with me I wouldn't have a problem. Neil Warnock was definitely that. He was brilliant.
"I spoke to Neil on the phone and he came across really well so I thought 'look, he has had the decency to ring me so I'll drive down'. I rang my parents and a friend of mine, Peter Butler, who I had played with at Southend. He was from Huddersfield and said it was a great football town with real potential and the club could do well.
"Huddersfield was a good club with a wonderful stadium, when I saw it I said 'Jesus, that's fabulous'. They were second from bottom in Division Two and four teams went down. So I would have gone from leaving Southend, who were mid-table in the First Division, to the bottom of the Second Division.
"I was looking at the league table thinking that I would end up in the Third Division if they went down."
In the car journey to Huddersfield, Scully was toying with the idea of dropping down a league and what it could mean for his career.
"I got there at one o'clock and the deadline was five," he tells. "I decided I'd stay where I am and wait until the season ends, so I went back in and Neil was sitting there. It was 4.30pm at this stage and it was one of those that was 50/50 because I really liked the manager, the club and the stadium, but what was holding me back was their league position.
"I thought I'd play it safe because I didn't really want to drop down that much. In the back of my mind, I was thinking that I always wanted to get back into the international team. I was still only 22 or 23 at the time and thought if I could get close to the Premier League I could still do it.
"So I went back in and said to Neil 'I really enjoyed meeting you but the position that you're in at the moment means it's too much of a risk to sign for you'. I told him I'd stay at Southend until the end of the season and if he was still interested I'd be more than happy to come and sign."
The response he got from Warnock was unexpected, to say the least.
He turned around to me and said 'no you fucking aren't!' and I looked at him like 'what?'. He said 'there's no fucking way you're leaving this room until you sign the contract'. I have to say that, as long as I've been in football, it's the best speech any manager has ever given to me.
"He literally said 'you're not leaving this room because you're the key that's going to keep this club up'. 'I guarantee you,' he said 'we will not get relegated'. He made it seem like it was just me and him.
"Neil went on to make a solemn promise that, not only would we keep the club up, but he added that we'd go on to get promoted the following season.
"I had such a good feeling about it that I signed. I've had a few decisions where it was 50/50 and I know I dropped back a league but it was just brilliant."
As it happened, Warnock stayed true to his word and the Terriers avoided relegation and won promotion to Division One the following season. Having lost out to Swansea City in the Autoglass Trophy final despite scoring Huddersfield's only goal in the penalty shootout, Scully's second appearance at Wembley Stadium was a happier affair as they beat Bristol Rovers 2-1 in the play-off final.
"The play-off final was a proper memory," he explains. "The Autoglass Trophy final would have been nice had we not lost on penalties but it wasn't important. Avoiding relegation was the main objective that season.
"Going back to Wembley a year later was great. I was always well-supported and my family were very good to me. They would always come over for those big games.
"To play in that final with 59,000 people there and to win was fantastic. It's true what people say about driving down Wembley Way on the bus with all the supporters down there, the build-up was amazing. The new Wembley now is different but it was a fantastic experience.
"It's great for any player to go into a pressure situation like that where you have to perform and do well. I look back and think the grounding I got at Arsenal always held me in good stead in those situations.
"My family as well that the values and principles that I got as a kid growing up are really important. My father, God rest his soul, was a huge one for never being late. He always felt that if you're late for anything you're disrespectful to the people who are waiting for you and he would have drilled that into me as a kid.
"I do think when you have that kind of character and you come to those situations you've got a better chance of standing up to it than falling away. Luckily enough, when it came to those big occasions I've stood up to it and was successful most of the time.
"To win at Wembley was glorious. We deserved it and played really well on the day. I had a really good game and laid on the first goal so it was a brilliant occasion."
Scully spent two-and-a-half years at Huddersfield but Warnock left in the summer of 1995 after a fall-out with the board and Brian Horton was brought in. Coming to the end of his own contract, he felt it was the right time to leave as he didn't see eye-to-eye with the new manager.
In the meantime, a decision in the European Court of Justice involving Jean-Marc Bosman, the Belgian Football Association and Uefa changed the face of football forever.
Now players could leave a club on a free transfer as soon as their contract expired — whereas before the club had to agree to let him go or demand a fee from the buying club.
"I didn't get on with Brian in any way, shape or form," says Scully. "I was coming to the end of my contract and the Bosman Ruling had come in about six months before my deal was up. So it meant you had the freedom to go to any club.
"A couple of clubs came in for me, Plymouth Argyle, York City and Wycombe Wanderers, but I was 25 at that stage, my first son had been born and my wife was from Ireland.
"There were a couple of bids coming in for around £100k or £120k and he would have been more than happy for me to go but I knew the Bosman was coming in and I decided to wait.
"I don't mean to sound disrespectful but with the type of clubs that were interested in me I could see I was going to be a Second Division player. The financial side of it would have been good but I just felt it was the right time [to return to Ireland].
Brian wouldn't have treated me very fairly and it was lovely to walk into that meeting and say I was going back home. He said they wanted £100k for me but I told him I'd be gone on the Bosman."
The plan was always to go back to Ireland, and, with the birth of his first child, Scully decided to bring his time in English football to an end.
"I was over there for 11-and-a-half years but I always missed home," he says. "I was never going to stay. Away from the football side of it, I never felt 100%. I can say I had great times over there, but they were mostly in football so I was always wanting to come back and be with my family.
"I had my son and we wanted him to be raised in Ireland. My wife went home a few months before me and bought a house in Naas."
After speaking to a number of clubs, he felt Shelbourne was the right one. Under the guidance of owner Ollie Byrne and with Damien Richardson in charge, they were chasing a first league title since 1992.
"I have to say Shelbourne was very good," he says. "Damien had huge experience playing and managing in England. A couple of people I spoke to said the League of Ireland wouldn't be as strong and I came home with the mentality that I wanted to keep my standards, irrespective of whatever else was going on.
"Ollie Byrne would have been very close friends with a lot of people from England and he would have known the standards they set and they would have tried to incorporate many of those into the club.
"I know people would knock him and he was very highly-charged at Shels about what he wanted for the club but he was fantastic at running a football club. The standards that he set were excellent and I never found those standards in the League of Ireland again."
In his first season, Shelbourne finished third behind champions Derry City and Bohemians, but lifted the FAI Cup for the second consecutive year — beating the Candystripes 2-0 in the final.
Shels were the nearly men of 1997/98 — narrowly missing out on the league title on the last day of the season and suffering defeats in the FAI Cup final and League Cup final. However, having now added goals to his game thanks to advice from Rico, Scully was named PFAI Player of the Year.
"Don't get me wrong, it is nice but I've always thought of myself as more of a team person than an individual," he replies, when ask if such awards are important to him. "I was a centre-half so I wasn't really blessed with skill like attacking players who would catch the eye a little more.
"There were values I had from when I was a kid and I remember my father saying to me 'when you're getting paid to do something make sure you do it, in any walk of life'. When I signed any contract as a player or a manager, I'd ask the club what they wanted to achieve.
"I turned down clubs and and good financial deals purely because I didn't think we could achieve what they wanted. That's a big part of it for me, when I have something to go after I'll go after it full steam ahead and give 100% to try get to that goal and drag everyone along with us.
"That agreement is important to me — more so than the financial side of things. It's nice to get picked for Player of the Year and but it's not a memory I would really look back on. It would be more about moments where I felt there were pressure situations and you had to go out and achieve what you wanted to achieve.
"They are the things that are more important than individual awards. They're nice but I wouldn't have gone crazy about them."
As captain, he lifted the club's first-ever league and cup double in 2000. Dermot Keely had come in for the departed Richardson and Scully enjoyed a good relationship with him until an incident involving a team-mate that he describes as "unfortunate".
"It happened a long time ago but someone made a phone call to my house and made a remark to my wife that I took huge offence to," he says.
"I was very unhappy with how it was dealt with. I'm the kind of person that will stand his ground if I think I'm right and I won't back down.
"I felt I was right and it was a disappointing way to leave the club but I still don't regret it. You have to make decisions in life and there will be always be consequences.
"My relationship with Dermot broke down and I haven't spoken to him since. It was a shame to finish in that manner but I'd rather have people be honest and up front with me. I'd like them to tell me the truth no matter how hard or bad it is.
"We saw things completely differently and it got to the stage where I had to leave. There was no way I could have stayed at the football club. It was unfortunate but I had to go."
With his time at Shels ending on a sour note, Scully followed Richardson to Shamrock Rovers and found a club in limbo. After the departure from Milltown in 1987, they would play at numerous venues around the city before eventually moving in to Tallaght Stadium in 2009.
"I went to Rovers and it was slightly difficult because they had no ground," he says. "Damien was there and would have been a big reason why I signed. I had gone from Shelbourne, which was a really good club with a good structure and good training, so it was a bit of drop down.
The training wasn't organised, we had no ground and it was a difficult time for Rovers. They had been homeless for a long time and the team was a bit lazy. We weren't working hard enough, we had some players who weren't pulling their weight and I didn't see where we were going to be successful at that time.
"It took me awhile to get to grips with it but I think Damien did a great job. We finished second that season and qualified for the Uefa Cup, which was brilliant."
Richardson left that April and former Hoops player Liam Buckley took over. Scully says they never connected from the off, and he ended up out of the squad and training separately from the first team.
"He were struggling and he asked for the dressing room's opinion and I gave him mine. He didn't like it so he pushed me to play in the reserves. I've got no problem with that and he was the manager so I understand, but don't open the dressing room up if you don't want to hear what people have to say."
Rovers lost the FAI Cup final to Derry City in 2002/03 and Scully strongly believes that was down to poor preparation.
"In the couple of finals I've been to, we've stayed in a hotel and prepared but we didn't that year. Three of the lads were late and I just think that's wrong. On a day like that to have people walk in a half hour late, no matter what the excuse is… I said it to Liam I don't think that's a way to prepare.
"He'll probably say that I never agreed with anything he said. It was just the relationship we had. Everything he wanted to do, I just didn't see his way of it. From my background, the thinking behind it was you stay in a hotel to make sure you have all the players on camp, eating together and preparing for a huge game.
"I was 32 at the time and we lost that final because we were unprofessional before the game and all season. Liam was a great player and had a lot of European experience. Maybe that was his and the European way of doing things but I still think that you have to prepare properly and make sure you do everything you can do.
"When the game is over and the whistle blows you can't do anything about it then."
In 2003, Scully joined Drogheda United. Harry McCue was managing the Drogs but, when he was sacked, the board asked the experienced defender to look after the team in the short-term until they found a replacement.
It was only 10 days, but that brief spell before Paul Doolin took the job was enough for Scully to decide that he would like to go into management down the line. He and Doolin had got on well as team-mates at Shels, but, now approaching his mid-30s, Scully was struggling with a hip injury meaning he was unable to take part in full training everyday. Doolin questioned that and the pair clashed.
"They asked me to manage the team for 10 days, which was a great highlight for me," he says. "That was my first taste of a little bit of coaching and managing. I put my ideas on the team and the lads responded greatly.
"That gave me the first buzz about thinking of managing and coaching. I knew at the end of the season I had another year left but there was no way Paul was going to keep me there. No chance.
"I remember coming back from holidays and we were due to return the following week. My wife asked me if I was looking forward to going back, and I said 'I won't be going back'. I got a phone call two days later and Paul told me they were going to release me."
As retirement from the game grew closer, he was then offered the chance to join First Division strugglers Kilkenny City on a player/manager basis.
"I went down and had a really good conversation with Jim Rhatigan and he was a really good guy. I was starting out and I asked what he wanted to achieve. He said we'd love to get promoted and I said 'look Jimmy, there's no way you're going to go from the bottom of the league to getting promoted'.
"He said 'do you think you can bring respectability to the club?' He said they were getting hammered and people were saying they weren't a good club. I said I definitely thought we could do that and I really enjoyed it.
"We had no money at all, it was a very small budget and he asked if I could play at the start, which I did. I really enjoyed the player/manager thing. I played for three or four months and we had a really good team with young players.
"Aidan Price was the centre-half, who went on to play for Shamrock Rovers and do really well. Shane Guthrie was the same, he came on loan and was a really good centre-half. So I couldn't get into the team being honest with you!
"We had a great season. We started off really badly and it took us awhile to get going but if you stick to your standards and your beliefs.
"We had the nucleus of a decent team and we were a little bit unlucky but it was a case of people getting used to it and once we clicked we had a really strong side. We trained really hard and they enjoyed the professionalism that we were looking to do.
"Jimmy was very supportive of anything that we wanted to do. We had no money but it was about doing the little things and we had the basics right. For the money we had, the set-up looked fantastic.
Playing-wise, it finished me off nicely. The last game I played was away in Limerick. I really enjoyed playing with the younger boys and helping them out along the way."
After a terrific second half to the season, the new defunct Kilkenny finished just outside the play-off spots.
"We finished fourth and I shook Jim's hand and said 'I told you I'd bring back respectability'. He said 'you did more than that'. They would have loved me to stay but I had no contract."
Under Roddy Collins, Shamrock Rovers had just been relegated from the Premier Division and the club were in dire need of a rebuilding job. Scully returned to his old club and effectively started again from scratch with a young squad.
"That relegation was probably coming for a couple of years the way things were going. I thought Damien did a great job the season he was there and he never got the credit.
"I was under no illusions to what I was walking into. I only had a year's experience as a manager and it was a huge job for me to take on. It was one that, if you fail, you might never come back from it.
"It worked out well because we had a clean canvas and the board were very good towards that. They wanted things done right and to get the Shamrock Rovers name back where people were saying good things about the club.
"When it was offered to me, it was difficult to say no to Shamrock Rovers. It wasn't something that overly worried me and given the right structure I thought we could be successful."
The board gave Scully two years to get them back into the top flight, but he did it in one as the 2006 champions. The following season, Scully boldly stated that the goal was to win the Premier Division and they would go on to finish fifth. However, he left by mutual consent in 2008.
"I felt we did well in the Premier Division," he says. "Shamrock Rovers are a little bit like Man United in that they expect so much, but so did I. When we got promoted, I said straight away that our target was to win the league.
"It's probably the first and the only time that I've actually said something that I really didn't believe we couldn't do. When you looked at how young the team was and the inexperience, that was probably a bit too far for us.
"I felt there was no point hiding and I didn't think it would have been good for the players, we had to sink or swim. We were back in the Premier Division and everyone was delighted, the stadium was on the way so I thought to turn around and say we just wanted to stay up would have been too negative in relation to where we wanted to go.
The expectation with Shamrock Rovers is to win leagues and we did brilliantly. We were very unlucky with Aidan Price breaking his foot. We lost our captain and probably our main player. A couple of other younger lads took a little dip and we fell away a little bit.
"We finished fifth in the first year and just missed out on Europe. Maybe because I pushed the boys so hard for the first six months to get them up there and challenging, it might have hit us towards the end. When you've got younger player, there is only so much the can take.
"They are all around 19-21 and you can't put an old head on young shoulders. You have to learn from experiences. I think for the club it was the right thing to do.
"I don't regret saying that we wanted to win the league because I did want to push the boys and myself to say 'look, this is where I want to be'. That was the mentality."
After leaving the Hoops, Scully began to question his own management style. He strongly believes that being brutally honest is the best policy, but accepts that it isn't always received well by others.
"I always wanted to be honest in management," he states. "I was as honest as I possibly could be. In certain situations, people would turn around and say 'oh God, don't say that' and I understand that bit.
"When I left Shamrock Rovers, it wasn't because of football-related incidents but it was political issues. I can only look and think to myself 'do I believe this is right?' and I didn't.
"I've had a couple of bad departures from clubs, but I look back and I don't regret one of them because I know that I stood up for what I believed was right.
"I left Shamrock Rovers before they went into that stadium, and it knocked me back a little bit."
A return to the First Division followed with Limerick in 2009. It was another testing challenge but the club was crowned champions under Scully three years later.
"I would have had a little bit of an identity thing in that I had left Rovers where people were saying my man-management skills weren't great and I wasn't helping the players enough on that side of it," he explains.
"You evaluate yourself. I was looking at it and I tried to change a little bit for the first year at Limerick. It was a funny period in my career and I didn't like it. I looked back on the first year and thought 'this is not me, I'm not doing it the way I believe'.
"I was disappointed in myself because I changed a little bit. I wanted to get back into football and I had a real desire to win. I set a high standard of the way I want to do things. In the last year-and-a-half, Pat O'Sullivan came in and put some real money into the team. He bought some really good players and we got promoted from the First Division.
"Again, I had clashed with the board and we seen things a little bit differently in situations. That's another part of modern football where you have an owner who has money. Would a manager turn around to Roman Abramovich at Chelsea and say 'I don't agree with you' and get away with it? I would, and that's my nature.
"I was delighted we won the First Division with a great set of lads and probably the best staff I've ever had."
Since exiting Limerick in late 2012, Scully has opted to step away from the League of Ireland altogether due to certain sides of the game he finds it tough to deal with.
"I'll never forget it, we went over to the Uefa headquarters in Switzerland," he says. "I did all my badges and I loved the courses. The FAI don't get enough credit for the courses they set up for people.
"I remember a real defining moment. It was an international manager and one of the statements he made was 'in management now whether you like it or not you have to lie. That's the way it is. If you think you can tell players the truth then you're delusional and you will get yourself into real trouble. You have to lie and, more importantly, you have to be a good liar'.
"I worked hard at those courses studying and I was awake most of the night thinking 'you're in the Uefa headquarters, the home of football, and an established manager is standing up and saying you have to lie?'.
"I could never get my head around it. That's the not the way I see football and it's not the way I want football to be. I've always loved the sport and I just thought it was really sad.
"It was one of the reasons why I didn't go back into football after I left Limerick. I just said to myself that I'm not going back again, I'm not willing to compromise my beliefs to do that.
"The way I like to manage and deal with things is probably not suitable to a lot of people.
"You're constantly trying to push for improvements and I found people would be going 'Jesus Christ, could you not just relax and calm down?'. You win a league and it's good but you want to push on again, get better and improve the club in any way you possibly can.
"I love football but I don't like the political side of it. I had enough of it as I felt I was banging heads too much and people were saying I was argumentative and troublesome. I wouldn't disagree with that. That's my opinion, but I would see it differently.
"That would be the main reason why I stepped away from football and said I'm not going back. I'm happy with the career I've had from a playing and management point of view.
"Going back to my father who I admired so much — If you getting paid for something do the job and I did that. I can look at every club and every target they set for me, I've done that. I've never been relegated or failed at any club where I've left them in a worse position than they were when I came. I've improved every club I've been at and I believe that's because I love football so much and stick to my principles.
"You look around and you see loads of incidents where you have to lie and put your values to one side and that's why I don't want to be in football. It's not the person I want to be.
People might not like me, but they will always say I was honest. I've said things to people's faces and not behind their back, and that's important as well."
So if the right club were to come knocking, would there be any chance of persuading him to make a return?
"I wouldn't go back," he replies. "I do a little bit of coaching with my son's U10s team in Naas, which I love. It's trying to give something back to the sport that has been so good to me.
"I honest to God hope that football will return to having that honesty about it again. It's a great game and it's a shame that the political and business side of it has taken over the sport too much as it's not for the better of it.
"I've made decisions and I don't regret them. I've got a great family, a lovely wife and beautiful children. If the consequences of those decisions mean I never go back to football then I accept that and I don't have any problem with it.
"I've had a wonderful life and hopefully I have few more years left to go yet!"
The42 is on Instagram! Tap the button below on your phone to follow us!