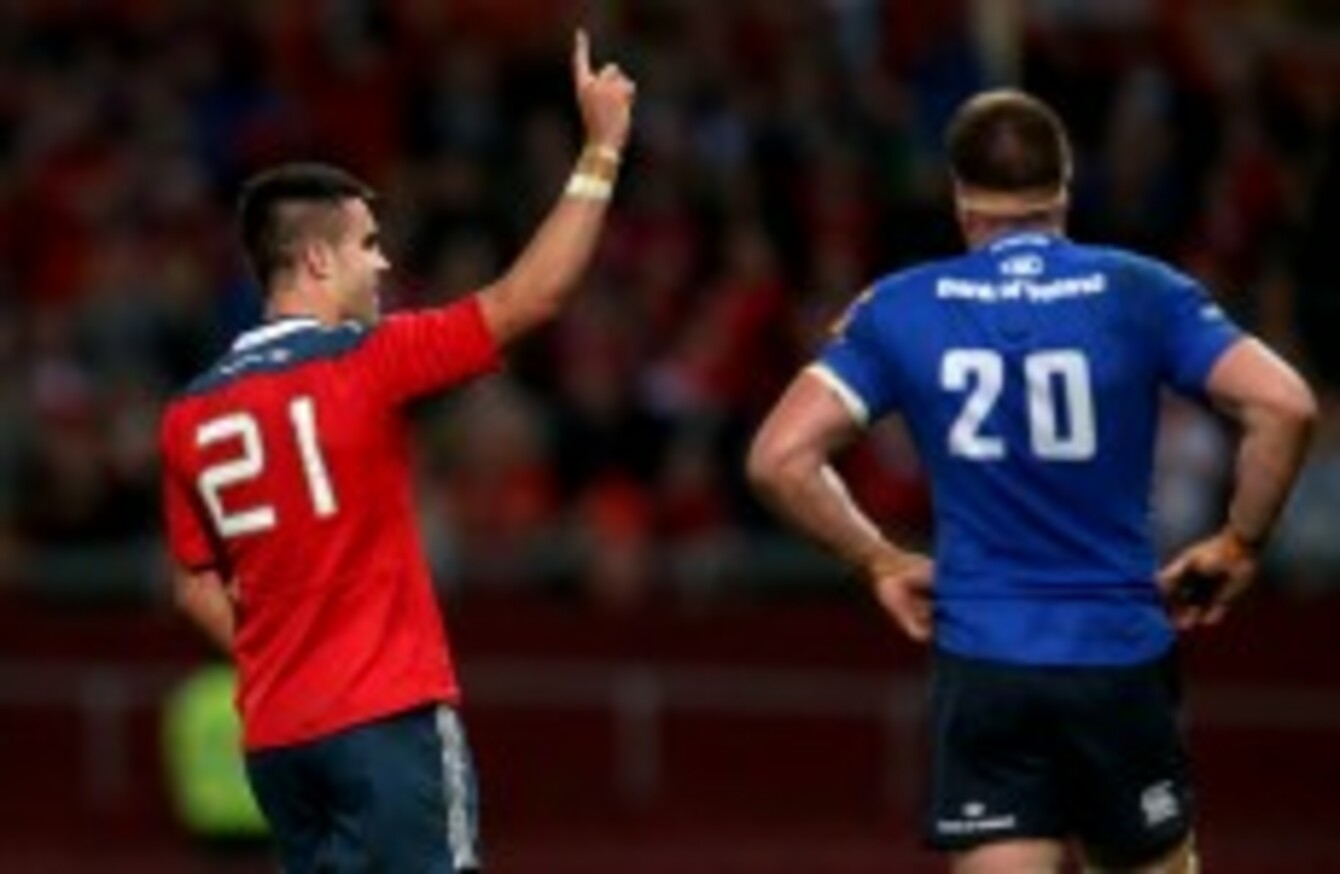 Conor Murray celebrates after guiding Munster to victory over Leinster.
Image: ©INPHO/Ryan Byrne
Conor Murray celebrates after guiding Munster to victory over Leinster.
Image: ©INPHO/Ryan Byrne
ROB PENNEY WAS full of the joys of New Zealand's spring when he stretch his legs under the table for his post-match interview.
His was a job well done, but despite his face being the definition of satisfied Munster's head coach would spend his time heaping the praise onto his playing staff.
Penney has had to wait just over a year to claim the bragging rights in this special kind of derby. The players who invest in his methodology though, have endured 29 long months since last seeing off their eastern rivals.
"Any time you get a result against Leinster is going to be satisfying, They are a terrific side," Penney said.
"They've obviously been the best side in Ireland for a while and in the Pro12 last year. That's given us a big boost going into the Heineken Cup in terms of confidence."
He later added: "Personally, it's bloody great to have a victory against a great side. That's just always good from a coaching perspective, to have a tight win against a good side. I'm just really pleased for the lads, they're the ones who do all the work."
Penney's work will come soon enough, but for now it seems that Ian Keatley has eased one of his coach's headaches. Munster's 19 points all came thanks to the 26-year-old's boot – as long as you include his inch-perfect cross-field assist for Keith Earls' try.
"It was challenging with that breeze. The boys were saying it was much stronger down there than it looked," says the Kiwi still decked out in shorts.
"It was an excellent piece of vision from Ian Keatley to put that kick across, to see Earls out there and he finished brilliantly. And the game really hit its straps from then on."
While Conor Murray's input off the bench was even more telling than it was impressive, his suitability to this level of the game was never in doubt. For the Dubliner, kicking his side to victory against his former employers was a great  finger-on-lip 'ssshhhh' to his doubters.
For now however, his coach seems quite happy to keep him guessing whether the number 10 jersey will be going to him or JJ Hanrahan from week to week. It does seem to be getting the best out of him after all.
Unleash
"It's nice of you to think that," Penney says to bat away the suggestion that Keatley out-shone Ian Madigan; the man who appears to be Joe Schmidt's second-choice out-half.
"I thought [Keatley] had a terrific game. He's done a sterling job in the jersey for all the time since I've been here. The performances last year and this have been first-rate. So it's a credit to the guy. He's an intelligent, very keen and committed young man and he deserves some kudos when he does do well.
"Equally, Madigan had a very useful game and he's obviously a talented footballer that's going to challenge teams as well. You see [Paddy] Jackson kicking goals all over the park on Friday night too.
"So Irish rugby is in reasonable fettle in that 10 area, which is good news with the number one fella [Jonathan Sexton] out of the district. So there's good depth there, and we still have JJ to unleash."